City Guide: 48 Hours in Brooklyn
If you want to see the best of NYC you have to get out of Manhattan.  Namely to the borough that brought us diverse artists such as Jay-Z, Woody Allen, Mos Def, Barbara Streisand, Jerry Seinfeld and seemingly one million others. Brooklyn is an enchanting place born on the backs of immigrants. It's a borough of two million incredibly diverse people, sitting happily across the East River from Manhattan, quite content to observe the concrete jungle from afar.
There was a time when you didn't leave the 'island', when you were careful which train you got on. All that has changed in the past fifteen years. Now Brooklynites would be quite pleased to never leave. Yes it still has its grittiness, its underdog spirit; you can see signs that it had to work a little harder for respect, for attention. The inhabitants still share these characteristics. Creativity collides with energy and individualism. The alternative, the bold, the weird and unique are celebrated, all of which leads to some strange and beautiful permutations.
Manhattan has the industry, but Brooklyn has the flavour. Manhattan has the grid-like order, Brooklyn has the beautiful chaos. I have never missed, or appreciated, the borough more than when living away from it. Trying to narrow down the best of the borough is like a sick game of Sophie's Choice where we somehow end up winners…it's a lot to pack into a weekend, but this isn't about setting limits, it's about setting goals.
DRINK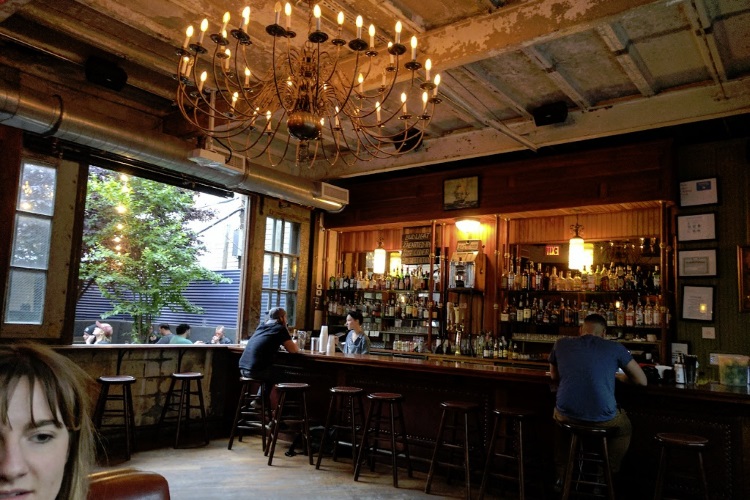 3 Diamond Door
Champagne on tap. Need I say more? Add a backyard, a free jukebox filled with eclectic hits and a healthy does of Bushwick cred and this bar might become your new summer favourite. Its basically an 'old man bar' filled with Brooklyn babes.
211 Knickerbocker Ave, Brooklyn, NY 11237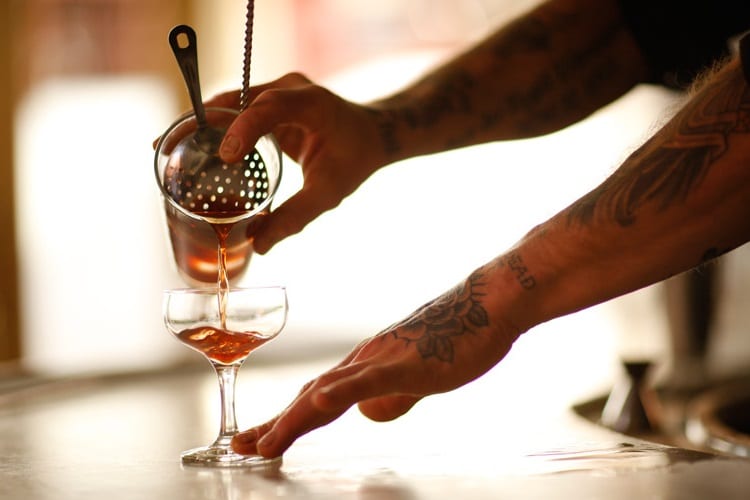 Delmano
Some of the best cocktails in town. Intimate little nooks to canoodle in. Resident DJs keep funk and soul on rotation. Oysters and homemade ricotta the line your belly. There are no signs so trust your Google maps, or simply follow the off-duty models.
82 Berry St, Brooklyn, NY 11211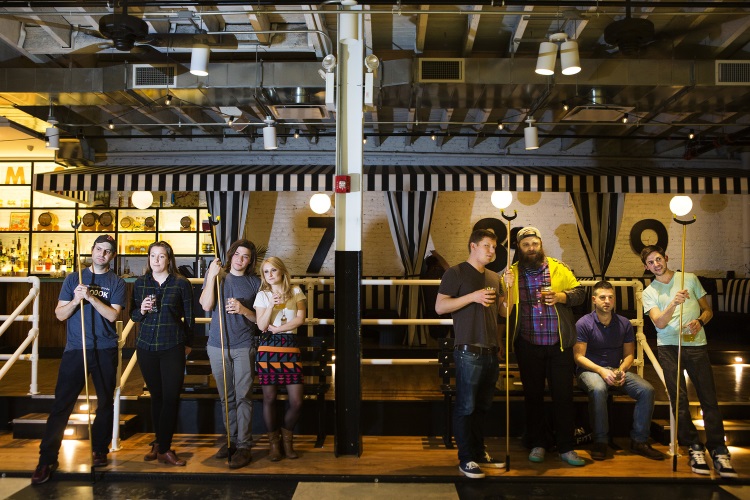 Royal Palms
I want to hate this place. I really do. Much as I have tried, I just can't. An indoor shuffleboard court built in an old garage. How hipster. How cliché. But also how fun. Tropical tiki drinks and warm tunes, indoor food trucks and shuffleboard team tattoos.
514 Union St, Brooklyn, NY 11215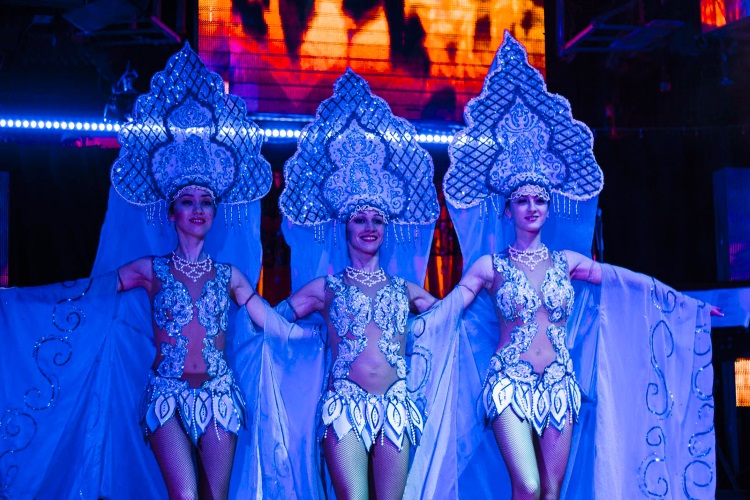 Tatiana's
A magical spaceship (the Q train) transports you out to mother Russia. Where vodka and caviar flow like "the Trevi Fountain" (according to their website). Where you hear no English and everything you witness makes no sense. It's like you crashed a wedding, bar mitzvah, Cirque de Soleil and RuPaul's Drag Race all rolled into one. Maybes it's the litre of vodka you have swilled, or a shellfish induced hallucination, whatever it is, don't ask questions, just enjoy the ride. You're going to have to trust me on this one.
3152 Brighton 6th St, Brooklyn, NY 11235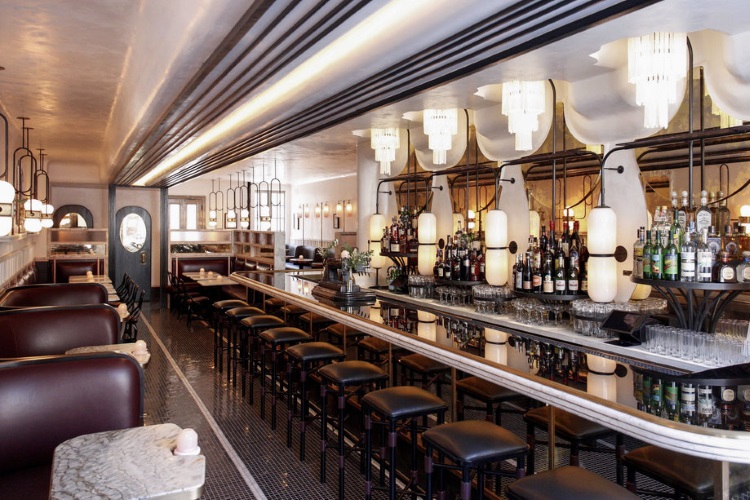 Elsa
A long favourite of the East Village has moved eastward to join its Greenpoint sister, Ramona. Beautiful people in a beautiful Art-Deco setting drinking beautifully made cocktails. The crowd and music force you to sit a little too close to converse. Which is a good thing.
136 Atlantic Ave, Brooklyn, NY 11201

Achilles Heel
This is where hipsters would go if they were Brooklyn dock workers from the turn of the century. Cozy and casual with excellent snacks and bevvies. Tattoos, plaid and shaggy man-buns are de rigueur. This is the place to go to either start or end your day-drinking bender.
180 West St, Brooklyn, NY 11222
EAT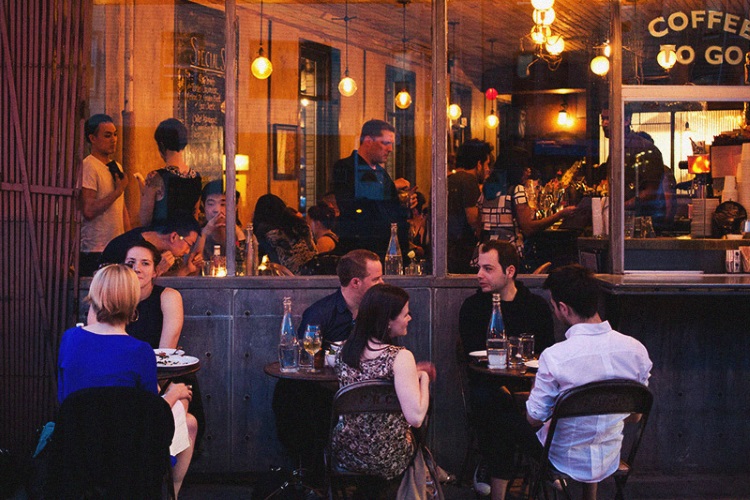 Five Leaves
Super fresh produce served up on a busy Greenpoint corner. This place is so delicious I had a friend essentially move in, to the point we just referred to it as 'his office'. It's that good. Five Leaves got a rocky start after co-founder Heath Ledger passed before it's opening, but his family ensured his dream would play out. The Australian-American food has proven such a hit that an LA version is now in the works.
18 Bedford Avenue, Brooklyn, NY 11222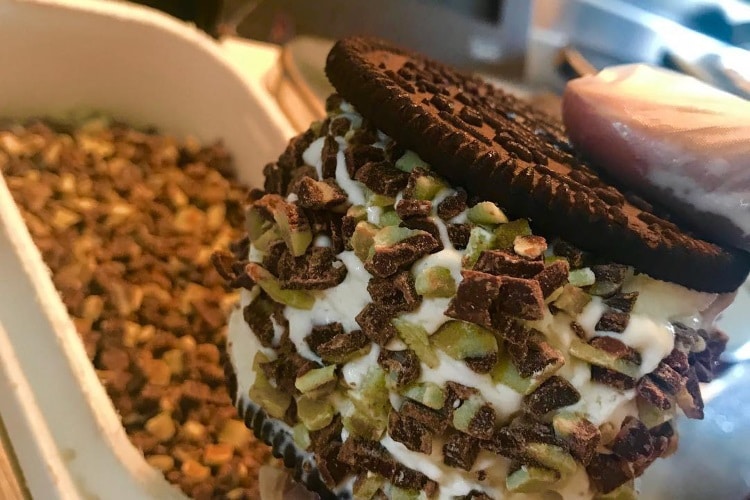 Brooklyn Ice Cream Factory
With two outposts, the Brooklyn Ice Cream Factory delivers fresh, rich, flavourful ice cream in ample portions. Grab a lady, grab a cone and play out your postcard aspirations on the Brooklyn Bridge.
1 Water St, Brooklyn, NY 11201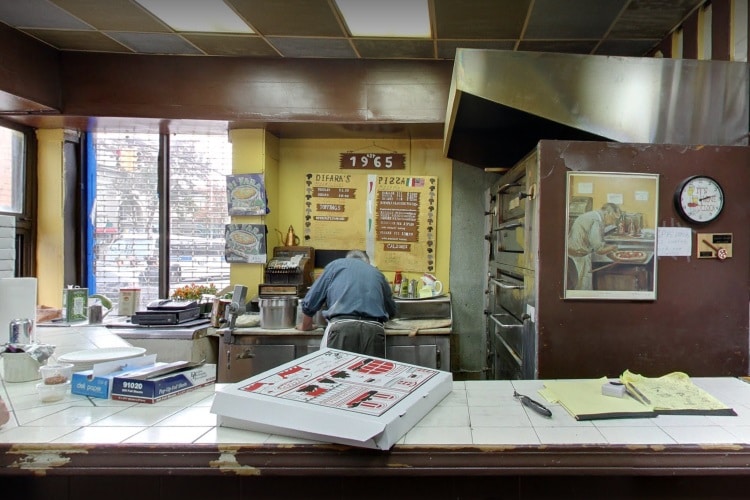 Difara
Pizza is a divisive subject in NYC. Everyone has their favourite that they are prepared to passionately defend to the death. However there is one pie that that rises above the drama and is nearly, universally, heralded as the best. It's a hike and there will be an hour or three wait (yes I've waited), but quality takes time. Old Man Dom DeMarco still lords over the oven, so make sure he hasn't called out sick otherwise, no pies.  So maybe they have been shut down over sanitation issues once or twice, no bother, its just 'Mad Man Dom' reaching into a 420 degree Celsius oven, with bare hands, to remove said pies. Not rodents. They cant stand the wait or the heat.
1424 Avenue J, Brooklyn, NY 11230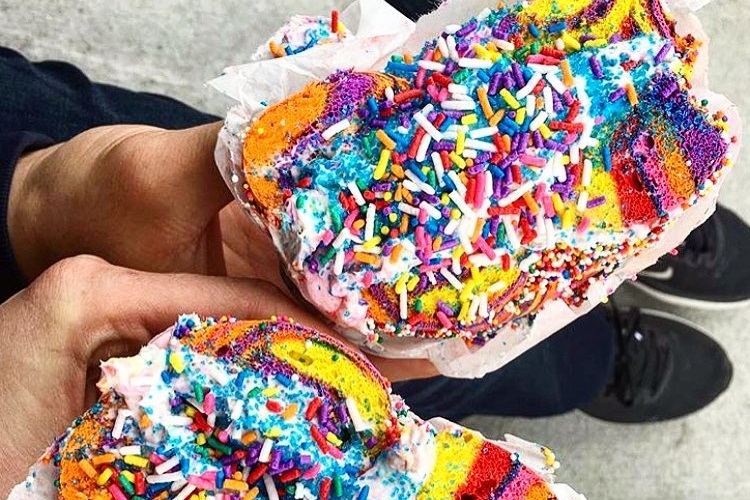 The Bagel Store
Like pizza, bagels too can be divisive. The Bagel Store of Brooklyn serves up some of the best 'chewy on the inside, toasty on the outside' bagels, topped with some of the most diverse schmears found in the borough. I hate that they now serve rainbow bagels, cragels, schmagels and all that other trendy crap. Their originals are 'hands down' the best and can hold their own without needing an Instagram feed.
754 Metropolitan Ave, Brooklyn, NY 11211

River Deli
Now this place is old school, original Brooklyn. All cobblestones and row houses and proper stoops. It also just so happens to serve some of the best Italian in the most relaxed, unpretentious setting. Low lighting and cosy seating makes this place date night fodder. Good wine and food followed by an evening walk along the promenade to seal the deal.
32 Joralemon St, Brooklyn, NY 11201

Sweet Chick
Of course there is a soul food, southern inspired brunch spot in Williamsburg; this neighbourhood has everything. Famous for their chicken (and vegetarian chicken) and waffles, Sweet Chick must have a witch doctor on staff because their food cures even the most stubborn hangovers. And like neighbouring Five Leaves, Sweet Chick also sports a big name investor in the form of Nas, and LA ambitions. This place has also played host to Mobb Deep's (RIP) NYE party, Tupac's restaurant pop-up and Raekwon hosted it's one year anniversary. The food, and the sound track, have proven to be a winning combination.
164 Bedford Avenue, Brooklyn, NY 11211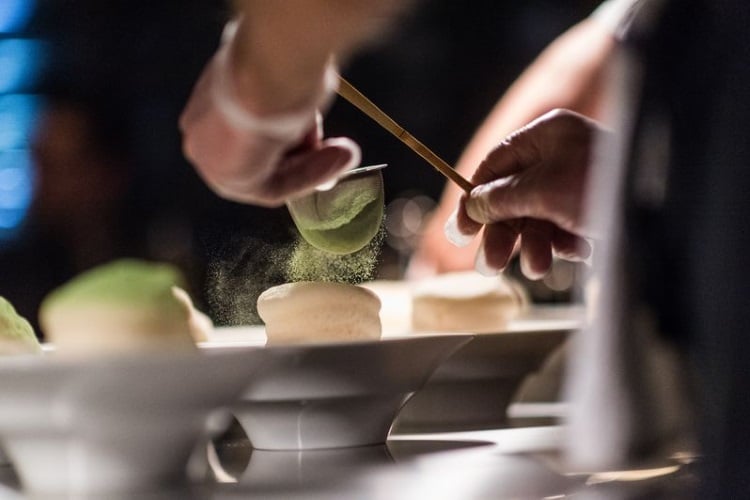 Honourable mention – Chef's Table at Brooklyn Fare
A seat at the Chef's Table is an impossibly difficult seat to get. Having earned THREE Michelin stars, Brooklyn Fare's 18 seats are known to be booked solid months in advance. Being the first restaurant outside Manhattan to earn that distinction, Chef Cesar Ramirez, serves up 24 Japanese inspired courses, with wines, for an eye-watering $500 price tag. It also just recently moved to Manhattan. Booo.
431 W 37th St, New York, NY 10018
SHOP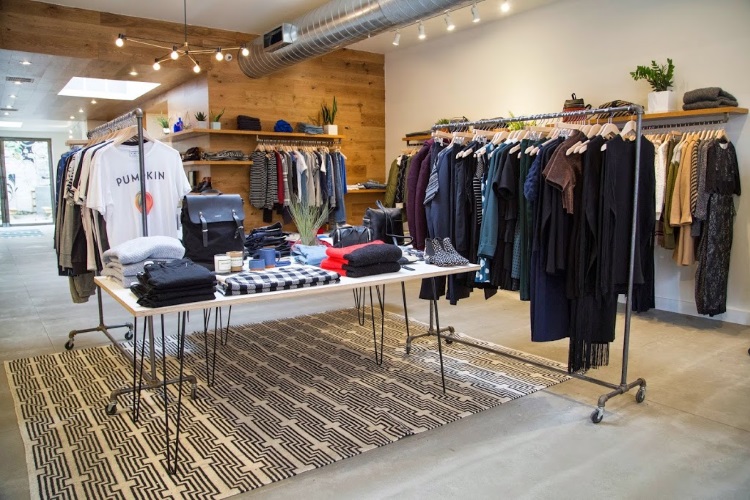 Concrete and Water
A lifestyle boutique born in Brooklyn. Concrete + Water is from the city, but not necessarily of it. As inspired by the vibrant colours of the tropics as the muted tones of the street; Concrete+Water has staples that lend a carefree note to classic styles.
85 Driggs Ave, Brooklyn, NY 11211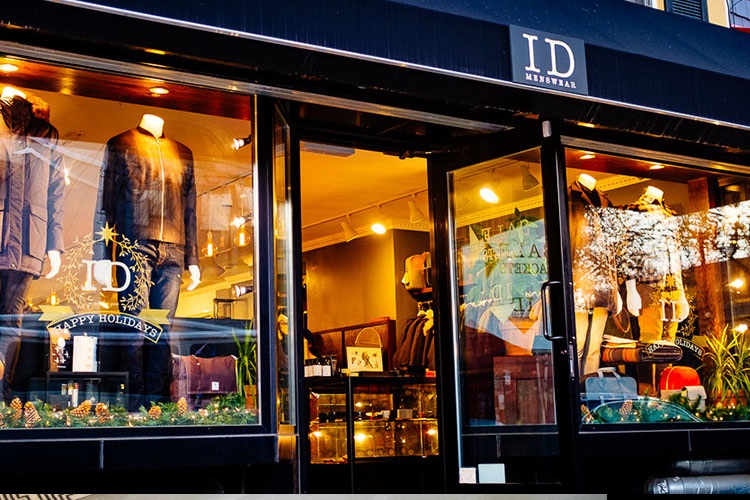 ID
Essential styles. Essential brands. Essentials for men.  Don't overthink it.
232 Bedford Ave, Brooklyn, NY 11249
Catbird
If you are traveling with a lady love, do yourself a favour and make a quick stop at Catbird. The Brooklyn mecca of all things sparkly and fun. It's tiny and full of super unique pieces made by local artisans. She will thank you.
219 Bedford Ave, Brooklyn, NY 11211, USA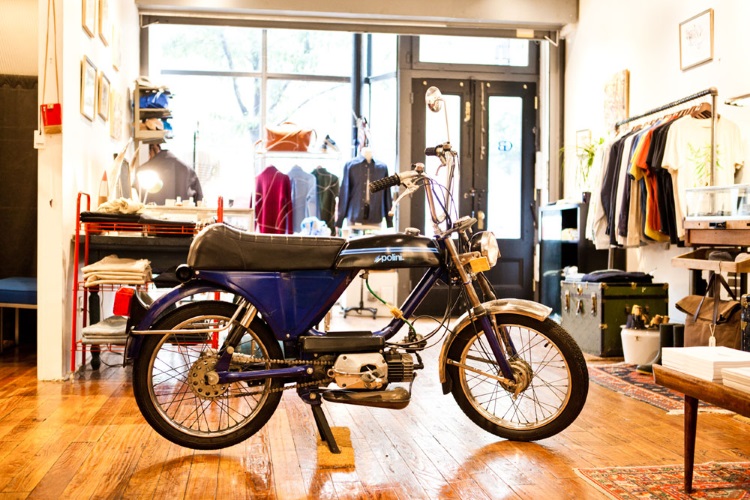 Goose Barnacle
A beautifully curated shop of men's and unisex styling's. The walls are covered with local artists' works also available to take home.
91 Atlantic Ave, Brooklyn, NY 11201
COFFEE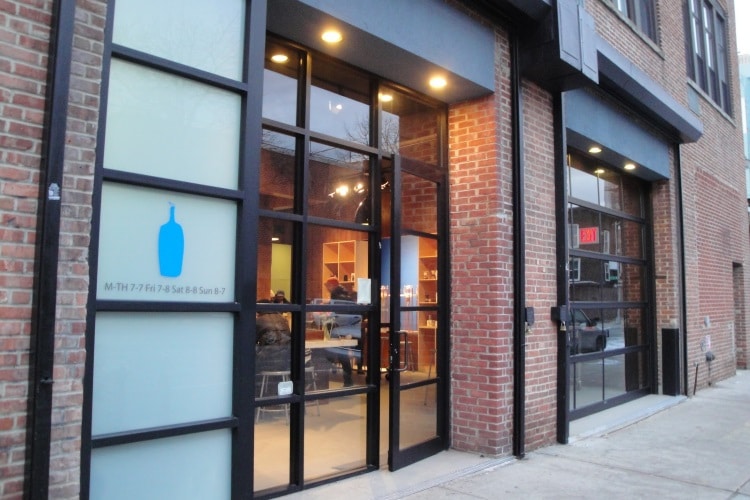 Blue Bottle
To the outsider it looks snobby and pretentious with twee moustached men carefully measuring, heating, pouring and timing like the scientists they aren't.  But the quality of the beans, roasting, grinding and pouring more than make up for appearances.
160 Berry Street, 85 Dean Street, 203 7th Avenue Brooklyn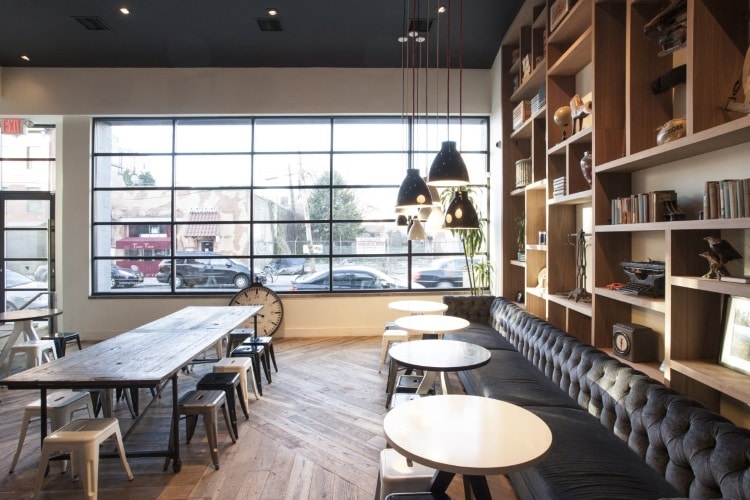 Toby's Estate
The Aussie outpost has found itself quite at home in Brooklyn.  With their own roasters on site, their comfy space finds itself the 'home office' of many a freelancer. Much to the chagrin of neighbourhood inhabitants there is a Starbucks across the street, but that chain cannot hold a candle to the skill of the Toby baristas. Leave Starbucks to the tourists.
 125 N 6th St, Brooklyn, NY 11249
STAY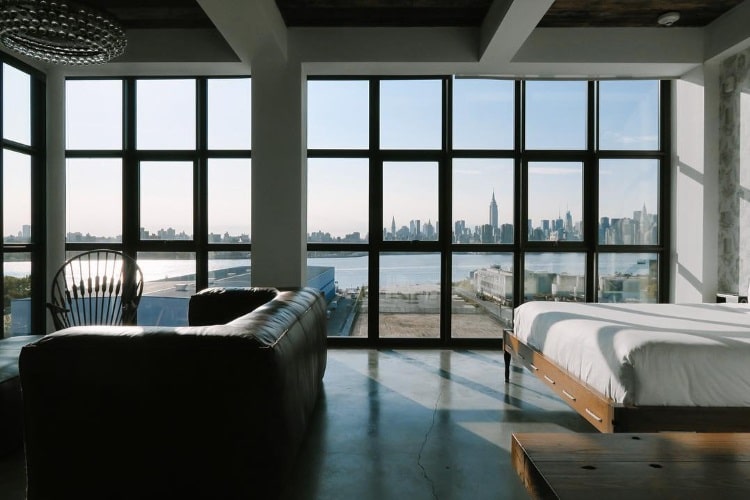 Wythe Hotel
The 'original', luxury, hotel in Brooklyn. Note that this is luxury by Brooklyn standards; which emphasise the skyline views, warehouse feels and exposed brick, not the size of the rooms. On site are also the excellent restaurant Reynaud and rooftop 'views for days' bar called The Ides. This is the sort of place you stay at when you want to impress your girl, your friends, your family. Midweek there are some deals to be had too.
80 Wythe Ave, Brooklyn, NY 11249
TO DO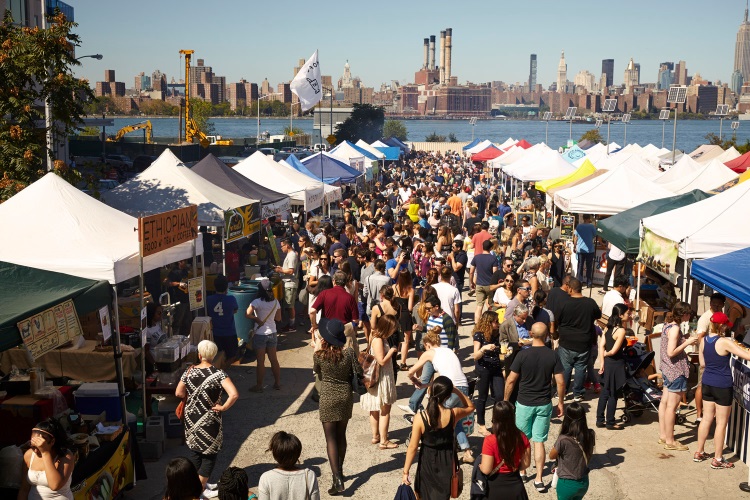 Smorgasburg
Gather 100 of the top Brooklyn and city eateries; add a dash of weekend tourist, plus some sun and music and the occasional dodgeball pit, there is something for every palate. Legit it's impossible not to find something delicious here.
90 Kent Ave, Brooklyn, NY 11211 (Saturday) -and- Prospect Park (Sunday)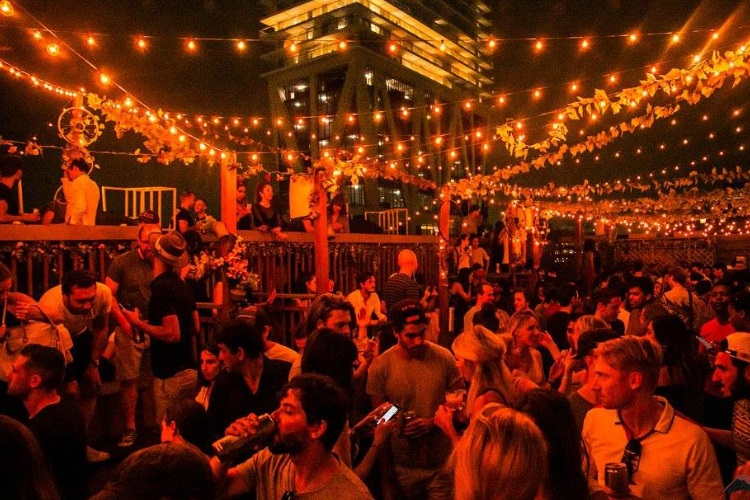 Output
Hands down the best sound system in Brooklyn. Output (and Input, the indoor version) rivals the old mega clubs of Chelsea and Meatpacking. No longer do Brooklynites have to venture into the city for top DJs and dancing. In fact it's the city folk turning 'bridge and tunnel', crossing the river east to get their fix.
74 Wythe Ave, Brooklyn, NY 11249

St. Anne's Warehouse
Located in "Down Under the Manhattan Bridge Overpass aka DUMBO", St. Anne's is easily one of the most progressive of the 700 cultural institutions that call Brooklyn home. Commanding the respect of some of the world's top actors and artists, St. Anne's regularly hosts ground breaking performances and retrospectives that earn acclaim worldwide.
45 Water St, Brooklyn, NY 11201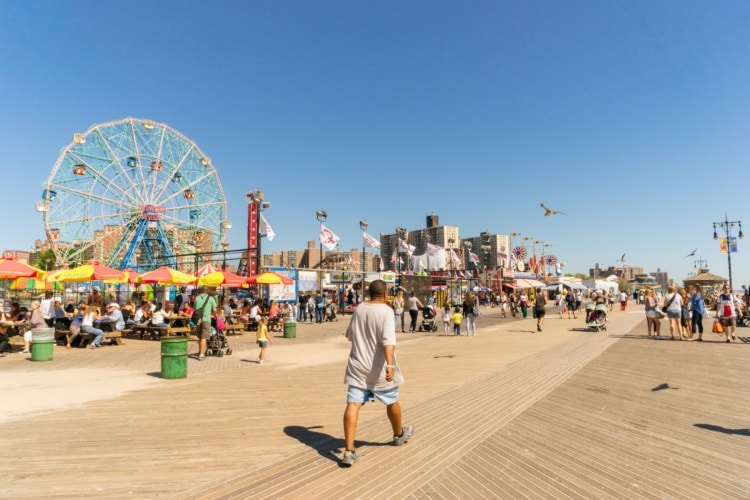 Coney Island
Fancy a visit to the Cyclone (one of the oldest wooden rollercoasters – which means its rickety as hell) or an authentic carnival side show (full of chicks straight out of Suicide Girls)? What about a Nathan's Hot Dog or a parade of Mermaids? Coney Island is kitschy and cheesy and decrepit in the best possible way. Where else can you swim, spot some whales, watch a baseball game, eat some hot dogs, see some sword swallowers and elude death (maybe some people have been killed riding the coaster) all in one afternoon?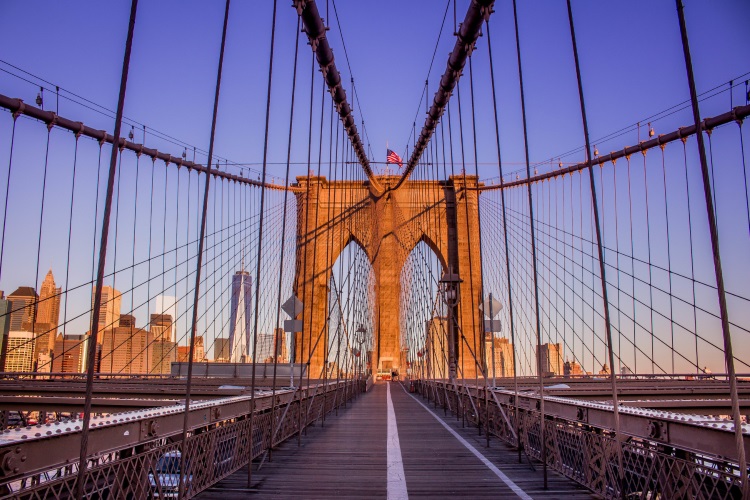 Brooklyn/Williamsburg Bridges
Walk or bike over any of the Brooklyn to Manhattan bridges to guarantee some killer views of both boroughs and the East River. Its scenic, good exercise and will make you feel like you're in a romantic comedy staring Kate Hudson and Matthew McConaughy.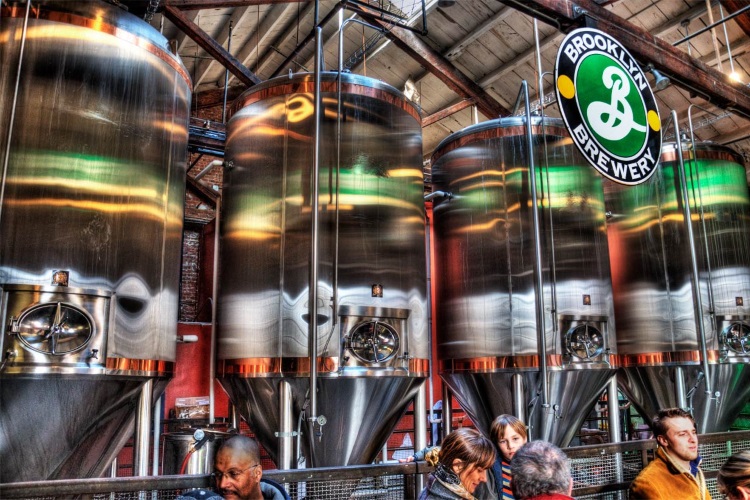 Brooklyn Brewery
The borough that inspired a beer! No stop to Brooklyn would be complete without a tour of the brewery. Shenanigans ensue on Fridays when tours are free, 14 beers are on tap and pours are $5 each. The queue starts at 5pm for a 6pm start. You gotta love a place that will also let you order delivery pizza to your table or bring your own takeaway.
79 N 11th St, Brooklyn, NY 11249, USA