City Guide: 48 Hours in Boston
Massachusetts got it start in much the way many places got their start; wanting to maintain their cultural identity and freedom, the founders 'discovered' someone else's land, took it and started to convert the prior inhabitants. Sigh. The Pilgrims, and two dogs, escaping religious persecution in England, landed in Massachusetts, at Provincetown, on November 11, 1620. Quickly realizing they might not actually have any valid 'claim' to the land, as they had originally planned to head to Virginia, they spent the next month on their boat, the Mayflower, hammering out details in a compact that essentially said they would remain allegiant to the King regardless of location. They finally dropped anchor in Plymouth on December 16. Thanks to an earlier expedition by Frenchman Samuel de Champlain, which inadvertently spread disease and wiped out about 90% of the Native American Patuxet tribe, the Pilgrims faced little opposition from the local population when they decided to make this land their new home.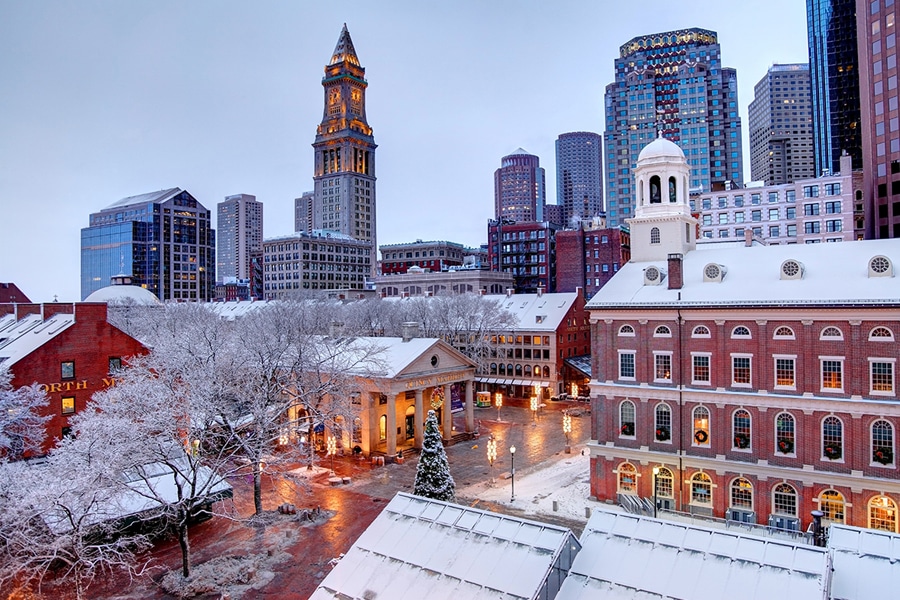 Woefully malnourished and under-prepared for the brutal New England winters, which annihilated half of the Mayflower passengers in a few months, the population wavered around 50 for the first few years, regardless of how many replenishment ships of bodies were sent from the motherland. No thanks to William Mullins, whose luggage consisted solely of 126 pairs of shoes. We aren't sure what exactly he was preparing for in the 'new world'.
All that being said, if you made it a few years in Massachusetts, you were a 'hard as nails' sort who could handle anything. This survival instinct and outcast mentality has continued to this day. The Boston sports teams are some of the best, yet prone to underdog reputations. The world class institutions of education, well over 100 in the greater-Boston area, breed 350,000 brains annually, that forever challenge the status quo. Even the industries that take hold in the region: medical, bio-tech, science and technology, are known for pushing the boundaries of what's possible, even when common sense tells you otherwise.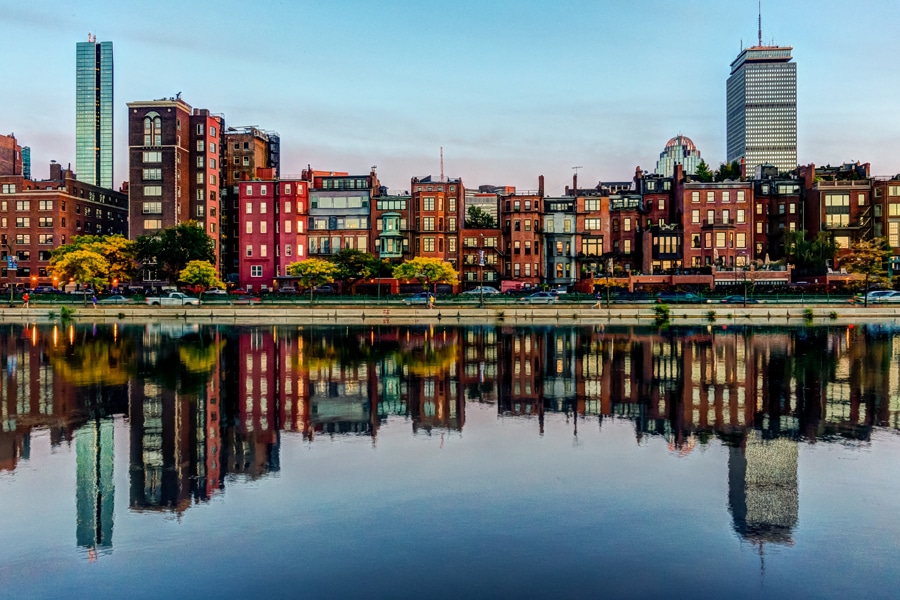 When you're from Boston, you're from Boston for life. I lived for over a decade in New York, and now call Sydney my base, but I will always consider Boston home. I have written about cities throughout Asia and Europe, yet it's taken me years to turn a lens back to Beantown. For this I have an Aussie friend to thank. In the planning of her holiday trip she went on and on about how much she loved visiting New England. Though it is a city of firsts (first subway, first public park, public beach, library, college and fire department), when living there one finds themselves endlessly complaining about the T, the 'blue laws', the shitty winter weather, the Yankees, the insular small-town feel and the bad drivers (who take pride in aiming for pedestrians). However, given a little distance, and a few oceans, even the small town feel which I took for granted, is suddenly reminisced upon with a warm, glowy feeling.
DRINK

Grendel's Den
Sorry to report but Happy Hour is illegal in Massachusetts. Thanks to the puritanical 'blue laws' from years past, (laws designed to restrict or ban some or all Sunday activities for religious reasons, particularly to promote the observance of a day of worship or rest) it is still illegal to have drink specials, discounts or anything that would wantonly encourage bad behavior. A wonderful workaround is found at Grendel's Den, who instead have famously tasty half-priced appetizers, for which there is no law barring!
89 Winthrop St, Cambridge, MA 02138

Haley Henry
A wine bar in the heart of Downtown Crossing. Established in 2016, it is a magical place, where laughs are had, plans are made and neighbors come together to toast one another's health. It is meant to educate, to inspire & to introduce new wines and experiences to whomever walks through the door. Also super famous for their tinned fish!
45 Province St, Boston, MA 02108

Yvonne's
Fancy and hip cocktails in the Downtown Crossing neighborhood. Borderline too fancy for a town known for its Irish dives.
2 Winter Pl, Boston, MA 02108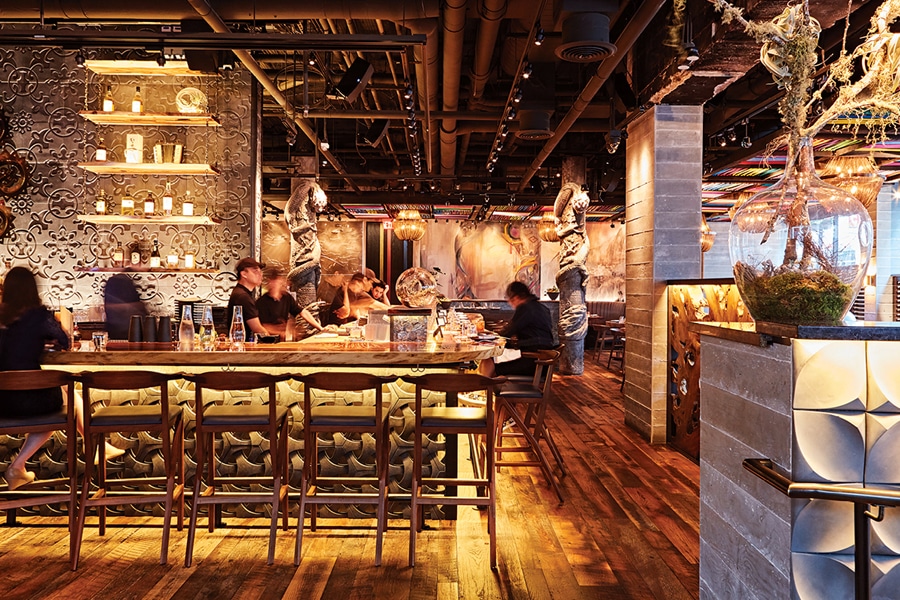 Ruka
Next level fancy cocktails that mix Japanese and Peruvian influences. Definitely date-night worthy.
505 Washington St, Boston, MA 02111
Shojo
Located in downtown Boston's Chinatown neighborhood, Shojo offers a bar with inventive cocktails and a Japanese spirit list unrivaled in the city. Trendy, late-night gastropub with elaborate murals dishing up offbeat takes on modern Asian fare. The menu changes seasonally to incorporate the best ingredients available.
9 Tyler St, Boston, MA 02111, USA
Silhouette Cocktail Lounge
Boston loves a dive. The recipe for a superlative dive bar is simple: cheap drinks, good music, and a feeling of belonging for every sad sap who saunters in. The Silhouette Lounge delivers all of these ingredients, with a few grubby-but-great enhancements: dartboards, free popcorn, and stools so tattered they look like they've endured a natural disaster. If you're looking for panache, look elsewhere. If you're looking to drink away the blues via $8 pitchers of 'Gansett and talk to strangers, sidle up to the bar at 'the Sil.'
200 Brighton Ave., Allston, MA
COFFEE

Ogawa Coffee
A few coffee artisans from Kyoto, Japan, set up their first international outpost in Boston a few years back, and coffee in Boston, has never been the same since.
10 Milk Street, Boston, MA, 02108

Blue Bottle
A major player in today's third wave coffee culture with an emphasis on single origin beans.
800 Boylston Street, Suite 25 Boston, MA 02199

Dunkin' Donuts
A Boston native, in 1950, Bill Rosenberg opened the first Dunkin' Donuts shop in Quincy, MA. Just five years later, a franchise legacy was born. Now found in 41 states and 36 countries, the caffeine crack that is known as 'Dunks' will forever be a mainstay in Boston. Life in Boston runs on it.
EAT

Toro
Award-Winning Spanish Tapas in the South End by Chefs Ken Oringer + Jamie Bissonnette serves up celebrated tapas, cocktails & Spanish wines.  This upbeat, casual restaurant features an eclectic wine menu and a classic-inspired cocktail menu. Reservations a must.
1704 Washington St, Boston, MA 02118

North Square Oyster
Seafood spot putting a modern twist on traditional plates & cocktails in an airy, buzzy space. A New England style seafood restaurant great for locals and travelers alike.  Located in the North End, on the Freedom Trail, just a couple doors down from the Paul Revere House, and overlooking North Square – the oldest public square in America. This place is chock full of aphrodisiacs.
5 N Square, Boston, MA 02113

JP Licks
Ice Cream is a year-round obsession in Boston. Even in the dead of winter, under meters of snow, you will find queues at JP's.
1312 Mass Ave. Cambridge MA 02138
     
Alden & Harlow
Subterranean restaurant serving creative New American fare & cocktails on tap in rustic-chic digs. Off-duty office for models and Harvard students alike. Alden & Harlow serves thoughtfully sourced, honest American food in a subterranean, modern and comfortable space. Inspired by the gathering of family and friends at his home kitchen table, Chef Michael Scelfo prepares bold and flavor-forward food that honors tradition of place in its quality. Reservations a must.
40 Brattle St, Cambridge, MA 02138, USA

Little Donkey
Heavily influenced by global cuisine and local market fare, Little Donkey's ever changing menu provides guests the opportunity to sample food from all over the world. The menu is complimented by an extensive wine, cocktail and rotating beer selection. A sister restaurant to Toro, Little Donkey is helmed by two James Beard award winners.
505 Massachusetts Ave, Cambridge, MA 02139

Mike's Pastry
Mike's or Modern. The debate rages, and will continue to rage, for years to come. These two North End institutions have a bitter rivalry over their epic Italian pastries. I choose Mike's based solely on the quality of their pinolis cookies.
300 Hanover St, Boston, MA 02113
Check It Out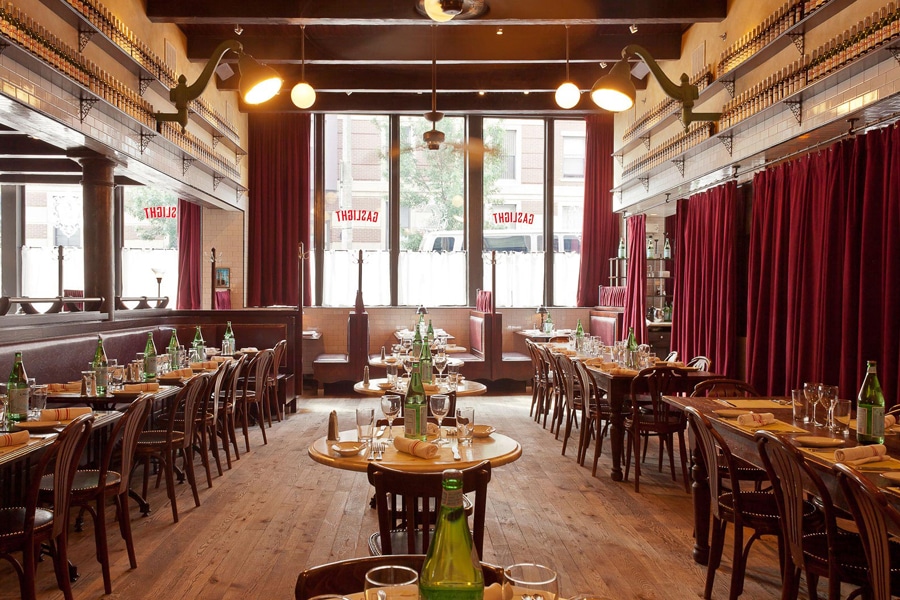 Gaslight
Lively French brasserie offers a sophisticated spot for classic eats & drinks in a hip room. This place gets quite rowdy and boozy for a fancy French spot. Its also full of dark and cozy corners for when you want to get close.
560 Harrison Ave, Boston, MA 02118, USA

Barking Crab
Lively waterfront seafood joint with open-air picnic-table dining & views of the Boston Harbor. Not the "typical" Boston seafood restaurant, The Barking Crab offers the casual atmosphere of a coastal clam shack in a funky urban setting, with a marina alongside for easy access by water, and all the exciting resources of Boston only a short walk away. This place is the sort of place that requires bibs and hand wipes by the dozen.
88 Sleeper St, Boston, MA 02210
STAY

Verb Hotel
Dating from 1959, this trendy music-themed hotel with a retro-chic vibe is across the road from baseball games at Fenway Park. Quirky and colorful with memorabilia galore.
1271 Boylston Street Boston, MA 02215

Liberty Hotel
The Charles Street Jail (built 1851), also known as the "Suffolk County Jail", is an infamous former jail and found on the National Registers of Historic Places. The Liberty Hotel, as it is now known, has retained much of its historic structure, including the famed rotunda.
215 Charles Street Boston, MA 02114
SHOP
 
Bodega
Shoe, cap & sportswear retailer hidden behind an entrance disguised as a convenience store. A highly curated mix of exclusive collaborations and pieces from over 100 top brands.
6 Clearway St, Boston, MA 02115

Riccardi
Hip, bi-level boutique featuring brand-name luxury apparel, sportswear & jeans for men & women. Where Kanye would shop if he were in town.
116 Newbury Street, Boston MA 

Bobby From Boston
Bobby From Boston has evolved from a personal collection to a showroom, to an internationally recognized source of premium men's and women's vintage clothing. Every detail in the carefully curated space celebrates Bobby's passion and the shop continues to be a primary resource for the movie industry as well as major fashion labels such as Ralph Lauren, Jcrew, Tom Ford, LL Bean, Abercrombie, and Tommy Hilfiger.
19 Thayer St, Boston, MA 02118

Sault
Hip boutique offering classic & vintage apparel, accessories, grooming products & gifts for men. Emphasis on classic New England prep and ivy league styling.
577 Tremont St, Boston, MA 02118
TO DO

Fenway Park
Though generations have come and gone, Fenway Park remains, much like it did the day it opened on April 20, 1912. Walk towards the famous CITGO sign in Kenmore square and grab a 'Yankees Suck' shirt on the way. Baseball season is long, so chances are you might be visiting during the season. If not, head to TD Garden for the Celtics or Bruins. You can tell a lot about a city by its sporting traditions. Great people watching and many drinking opportunities to be had.
4 Yawkey Way, Boston, MA 02215

Freedom Trail
I love taking friends on the Freedom Trail. Its a great, few kilometer walk through the history of the region. A wonderful stripe is literally embedded in the sidewalk, so its completely cake to follow. We Bostonians are very very proud of our history. Revolutionary War facts were drilled into our heads from a young age – it didn't hurt that we lived amongst the literal homes/fields where this history took place. I grew up outside Boston in an area famous for the 'shot heard round the world' – Concord MA. Home of the Alcott sisters, Thoreau and Ralph Waldo Emerson. I am sure we could draw some conclusion about the ample nature in the area and the abundance of boredom the long winters caused which sparked creative writing.
Boston Common Visitors Center 139 Tremont Street, Boston, MA 02111

Sports Museum
The Sports Museum is housed on Levels 5 & 6 of the TD Garden, which features a half-mile of exhibits celebrating the history and character of Boston sports.
100 Legends Way, Boston, MA 02114

Isabella Stewart Gardner Museum
A little culture for your visit. Designed like an Venetian palace, the museum houses the very fine private collection of Mrs. Gardner. Just as famous is the unsolved art heist that took place here in the 90s. To this day, the $500 million dollar heist, is the most valuable in history.
25 Evans Way, Boston, MA 02115

Harvard Square
Walking around Harvard Square has heaps of academic atmosphere, plus you can pretend to channel all the famous former students. Jump on the T towards Alewife, alight at the Harvard Square stop, pop by the Coop and grab a maroon jumper so you look the part. The area has tons of bars, cafes, restaurants and shops, plus you can wander through the quad. Natalie Portman lived in Elm Yard Dorm, Mark Zuckerburg lived in Kirkland House (where Facebook was born, literally), JFK in Winthrop House, Bill Gates in Wigglesworth. The list of former students is pretty damn epic, as is the price tag for attending.

The Middle East
This bi-level small and loud Central Square landmark is really all about its live, local, after-hours, rock-club scene in the downstairs lounge.  Young, punk pre-show crowds still flock to the decent, super-cheap Middle Eastern grub that's catered to the American palate and fits the funky vibe; behind the scenes, fast and friendly servers are busy keeping the whole chaotic (in a good way) operation under control.
472-480 Massachusetts Ave, Cambridge, MA 02139

Harpoon Brewery Tour
Famous for their UFO series of brews, Harpoon got their start much like many local breweries. Some guys went on a dude trip to Europe, fell in love with the beer culture, and decided to replicate it back in Mass. for their friends. Now you can visit and sample heaps of brews and take a tour. Love Beer. Love Life.
306 Northern Ave, Boston, MA 02210