City Guide: 48 Hours in Huntington Beach
An Aussie will feel right at home in Huntington Beach, California, also known as Surf City USA. True to its official nickname, this sun-basked destination is a veritable mecca for surfers. The legacy began back in 1914 when George Freeth of Hawaii surfed at the opening of the Huntington Beach Pier. Eight years later, another Hawaiian native came to these parts in pursuit of some killer waves. His name was Duke Kahanamoku and he was an Olympic gold medalist and renowned surfer, whose statue remains perched across from Huntington Beach Pier to this day.
Of course, this California beach city is about far more than its legendary surf culture. For starters, it's just an all-around great place to chill out or go for a walk. As a crisp ocean breeze flows through your hair, you take in the gorgeous people and beautiful coastal scenery around you. The city is also home to terrific seafood, fun bars, acclaimed resorts, epic bike rides, surf schools, surf competitions, and a surf museum. Okay, so maybe it is mostly about the surfing here. Let's take a tour.
You'll also like:
City Guide: 48 Hours in Houston
City Guide: 48 Hours in Boston
City Guide: 48 Hours in Brooklyn
Stay
You might venture to Huntington Beach with visions of sleeping on the sand or in an RV, and you certainly wouldn't be the first. However, if you'd prefer to rest your head in a more hospitable and luxurious setting, we've got you covered.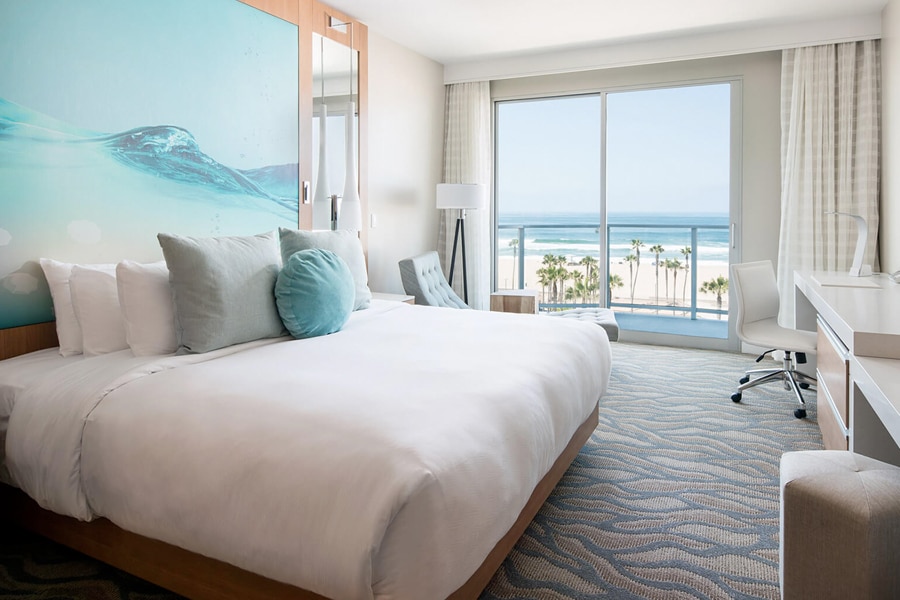 Paséa Hotel & Spa
Located directly across the street from the mighty Pacific Ocean, this premium hotel delivers everything you can possibly ask of it. Ocean views? Check. Plush rooms with soaking tubs and wet bars? Check. Trendy restaurant? Bar and lounge? Relaxing spa? Your own freaking surf butler (should you be in need of one)? Check. Check. Check. Check. Paséa Hotel & Spa is also just a short walk from the Huntington Beach Pier and a short drive from Newport Beach.
21080 Pacific Coast Hwy 92648
Eat & Drink
You're never too far from a great meal, a refreshing drink, or a killer view in Huntington Beach, California. That said, some locales are better than others. Here are a handful of personal favourites.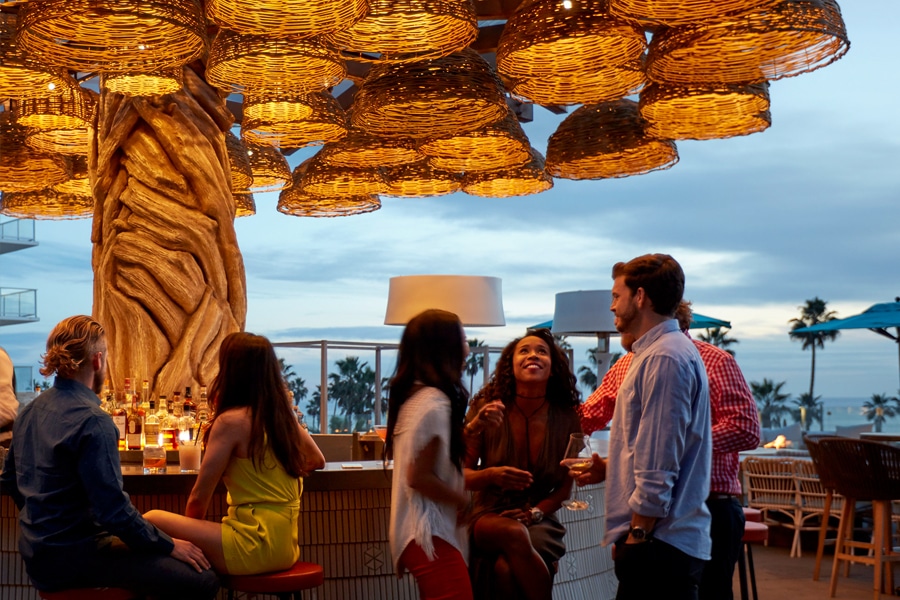 Tanner's
As the distinguished restaurant at Paséa Hotel & Spa, Tanner's has oceanfront dining down to a seductive science. Whether you're seeking a terrific happy hour, chill vibes, unbeatable views, quality seafood, a mouthwatering burger, tasty cocktails, and so much more, you'll find it here. Head up to the rooftop bar—aka Tanner's Treehouse—to sip Mai Tais as you watch the sunset. The restaurant also serves breakfast, brunch, and lunch.
21080 Pacific Coast Hwy 92648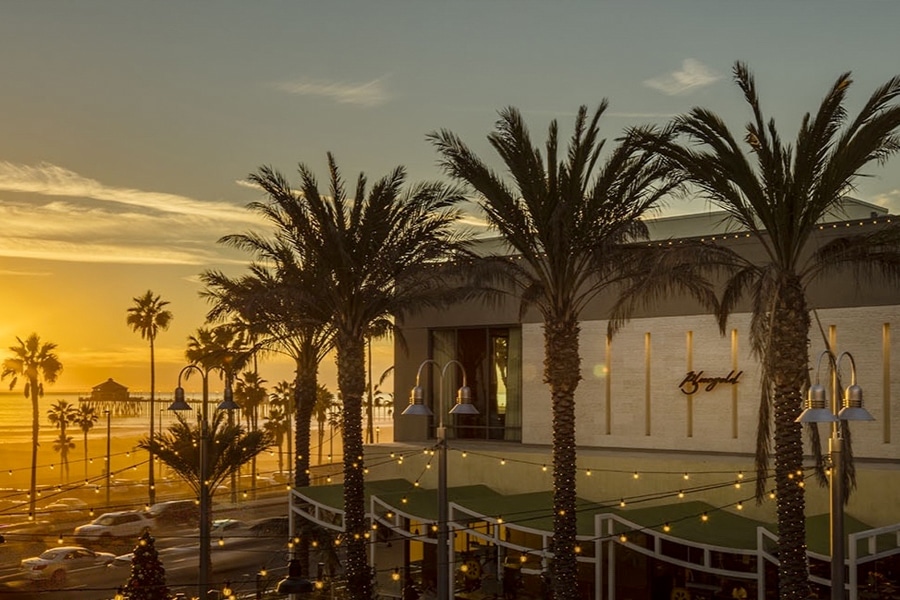 Bluegold
Perched mere yards away from golden sand and rolling waves, Bluegold delivers a quintessential Huntington Beach dining experience. The impressively versatile dinner menu features everything from hearth oven pizzas to paella to chopped salad to dry-aged Tomahawk steak to a deluxe seafood tower. Chase fresh oysters with an inventive craft cocktail while taking in the ocean views. This is what they call that California life.
21016 Pacific Coast Hwy d200 92648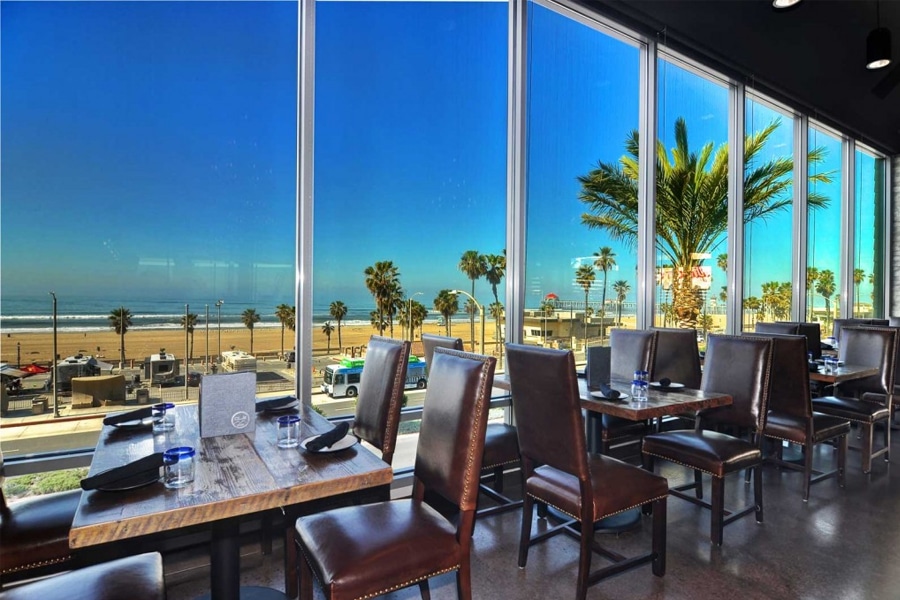 Ola Mexican Kitchen
No trip to Southern California is complete without delicious Mexican food, and you'll certainly find that at Ola Mexican Kitchen. Located in Pacific City, the popular restaurant pairs savoury dishes with fresh margaritas and choice ocean views. Swing by for happy hour or Taco Tuesday to shave a few bucks off your bill, and don't forget that this place serves brunch on Sundays. No matter when you come by, prepare to leave satisfied.
21040 Pacific Coast Hwy F200 92648
Mama's on 39
More than a legendary brunch spot, Mama's on 39 is a Huntington Beach institution. Let Mama take good care of you by way of classic comfort staples, including chicken & waffles and green eggs and ham. Also featured on the menu are a range of delectable cocktails along with bottomless mimosas. Not the brunch type? Don't worry, as Mama's is open for breakfast, lunch, and dinner as well.
21022 Beach Blvd Ste 101 92648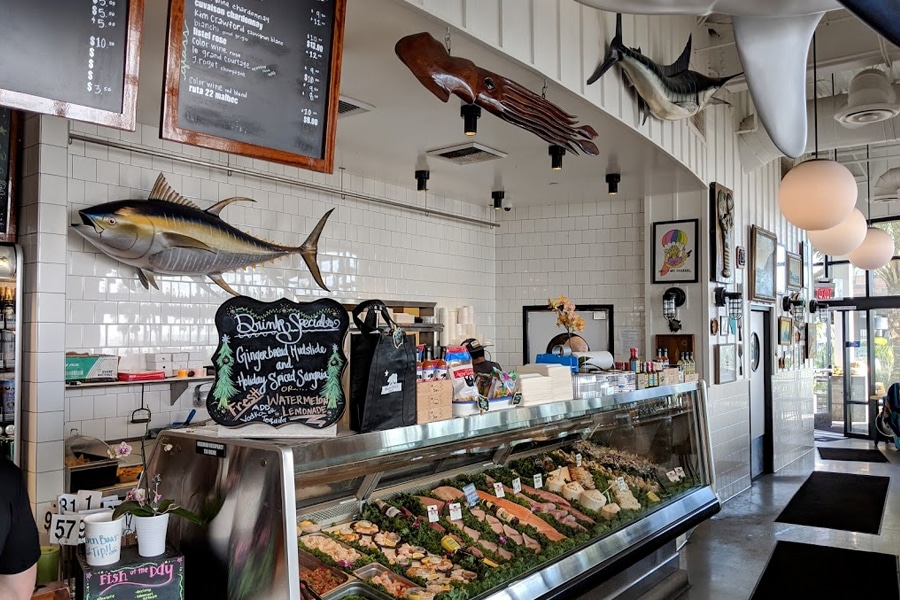 Bear Flag Fish Co.
Unless you're ready to pick up the fishing pole and head on out to the pier, you won't find fresher seafood than you will at Bear Flag Fish Co. The Huntington Beach location projects a casual fish market vibe, and that's the point. If the sound of drinking cold beer while eating Ahi Poke or fish tacos next to the ocean is up your alley, then this joint has your name written all over it.
21058 Pacific Coast Hwy 92648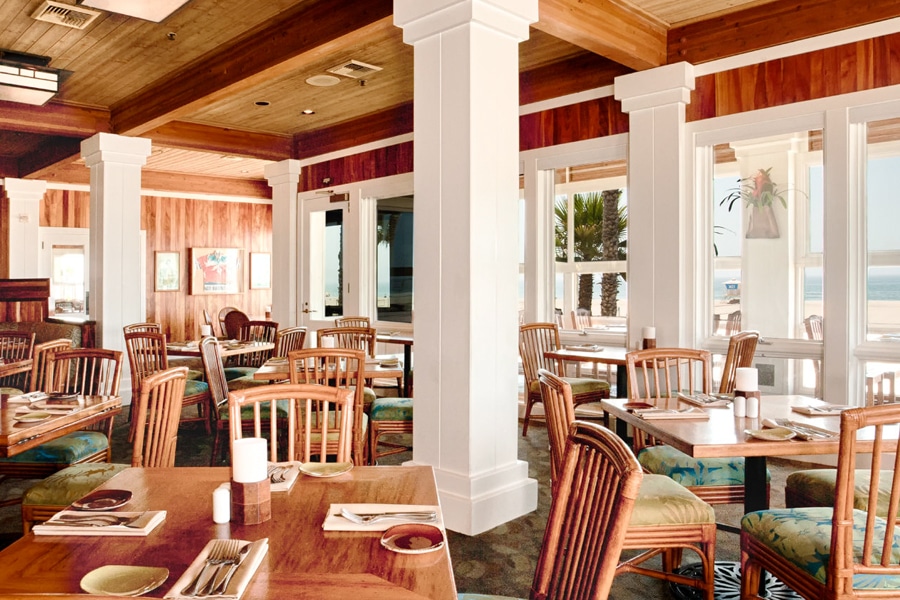 Duke's
As you might recall, we introduced Duke Kahanamoku earlier as the Olympic gold medalist who helped bring surfing to Huntington Beach. Duke is a legend in these parts, to say the least, so it's no surprise that there's a restaurant named in his honour. What is a little surprising is just how good and popular this oceanside hotspot turns out to be. Veer away from the main dining room and wander into the Barefoot Bar, where you'll find great drinks and a terrific happy hour.
317 Pacific Coast Hwy 92648
Things to Do
You won't have to dig through the hotel guidebook to find something to do in Huntington Beach, as there's a flurry of activity in every direction. Of course, don't let that stop you from scoping the following suggestions.
Surf the Pier
For seasoned surfers, Huntington Beach Pier is where some of the best waves in the area break. It's also where tourists gather to watch the surfers in action, making it a place to see and be seen in the most literal sense. We know, we know. If you're an experienced surfer, this is why you came to Huntington Beach in the first place, so you don't need us to tell you about it. Whatever, mate—we're just trying to help. Geesh.
Surf Lessons
So you've arrived in Surf City and only just now realised that you don't actually know how to surf. The bad news is you're a poor vacation planner. The good news is that Huntington Beach is an ideal place to learn the sport, with a full spectrum of waves that caters to novices and experts alike. Furthermore, the beach is one long, seemingly endless stretch, giving you plenty of opportunities to avoid a crowd.
Since grabbing the nearest board and diving right in is a surefire recipe for disaster, you should sign up with one of the city's surf schools. There are plenty to choose from, but we went with Toes on the Nose. Not only does the company provide supremely helpful instruction, but it's also a legendary surf shop and popular clothing line. Suffice to say, they'll take good care of you.
Beach Bonfire
Did you know that Huntington Beach is one of the rare places where they still let people light bonfires on the beach? As such, you can wind down the evening by cooking s'mores next to the ocean. What's even better is that there are companies like Waterfront Adventures that will help you organise the whole thing. In addition to reserving the firepit on your behalf, they provide you with beach chairs, firewood, s'mores supplies, and hot chocolate. Dreamy.
Cycle by Sea
The Southern California coastline is a cyclist's dream come true, with interlinking pathways between some of the world's most famous beaches. It's then no surprise that cyclists and bike hire spots are omnipresent in Huntington Beach. We recommend the scenic ride from Huntington Beach to Newport Beach, which runs parallel to the majestic ocean.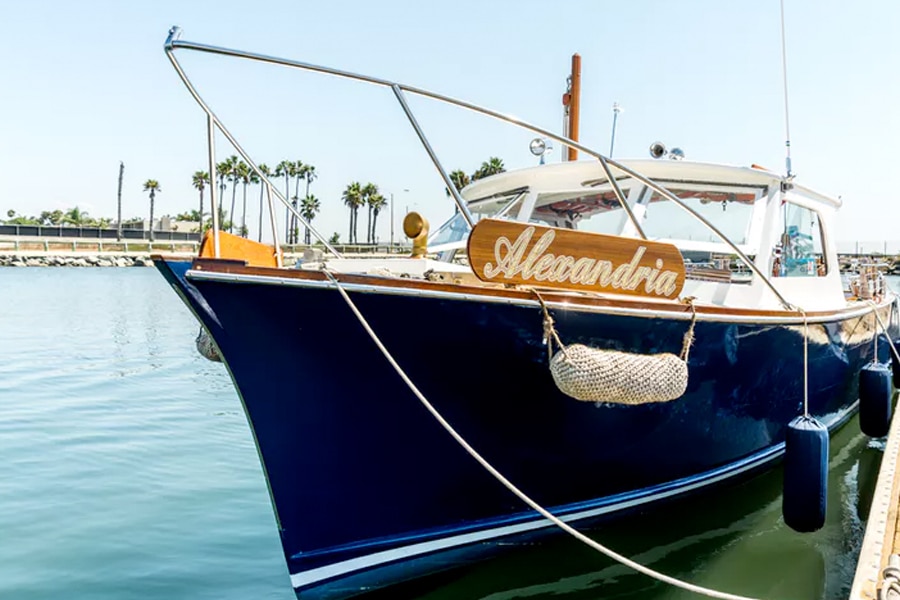 Sunset Cruise
Taking a sunset cruise is usually a hit or miss adventure, but we can personally vouch for Prince Charters. The skipper takes you for a picturesque ride through the maze of canals around the harbour, as you watch the sunset over all of the multi-million dollar mansions in the area. Infusing a palpable element of charm, the experience goes down aboard a vintage boat.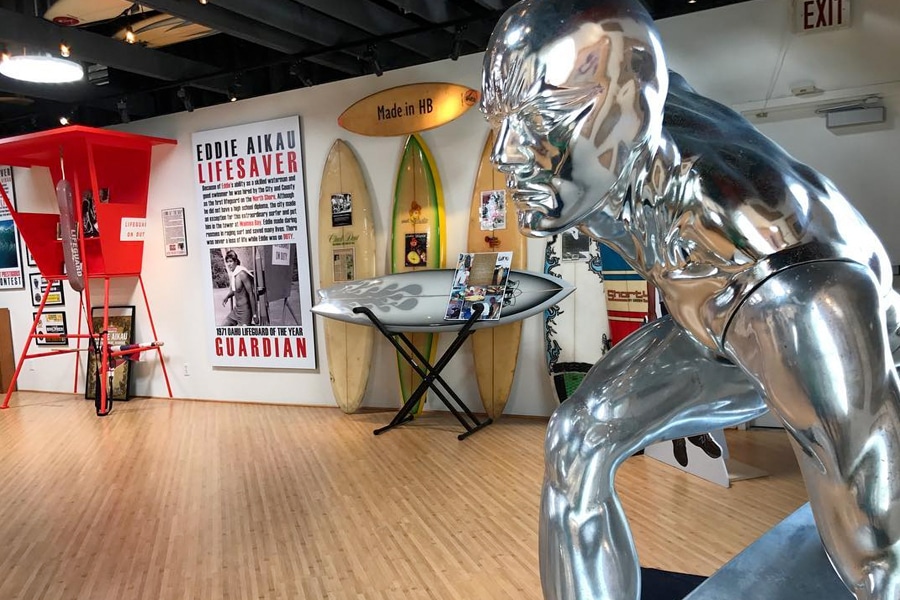 International Surfing Museum
Perched in the heart of Surf City USA, the International Surfing Museum holds court inside an eye-catching art deco building. Its seasonal exhibitions and events celebrate decades of surf history on both the local and global scale. The museum also hosts concerts at the pier on Sundays. In these parts, surfing is a way of life. Immerse yourself accordingly.
Man of Many travelled to Huntington Beach as a guest of Visit Huntington Beach.
You'll also like:
City Guide: 48 Hours in Houston
City Guide: 48 Hours in Boston
City Guide: 48 Hours in Brooklyn