City Guide: 48 Hours in Santa Barbara
Nestled between the Santa Ynez Mountains and Pacific Ocean, Santa Barbara is about as close to paradise as mainland USA can get. However, don't you dare take this SoCal city for some kind of sleepy resort town, as it represents a fertile meeting ground between various cultures, sights, destinations, and activities. Rarely will you find so much to do and see in a place so laid-back and beautiful, which is part of what gives Santa Barbara its unique and irresistible edge.
You'll also like:
City Guide: 48 Hours in Huntington Beach
City Guide: 48 Hours in Boston
City Guide: 48 Hours in Brooklyn
Here's something else to love about this Mediterranean-style mecca: it's somewhat off-the-radar when compared to other popular destinations, especially if you visit during the fall or winter (don't worry—the weather is pretty great all year round). Another refreshing component? Despite the proliferation of old money and proximity to swanky Montecito, the city retains a downright youthful spirit and energy. Some of that is thanks to the local university, but most of it is simply built into the collective consciousness. Beverly Hills this is not and thank god for that.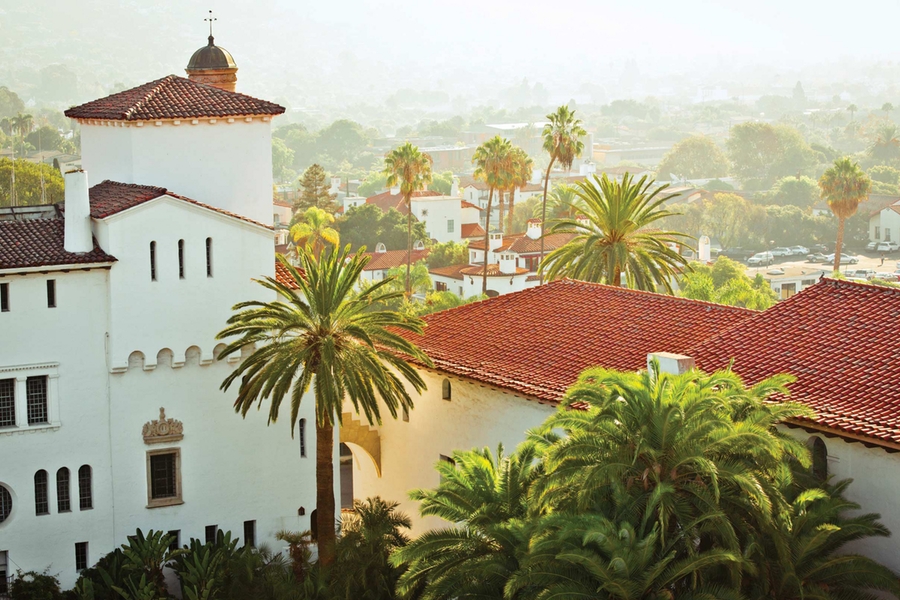 Meanwhile, this little slice of heaven delivers even more than first meets the eye. Not only is it a relatively short drive away from Los Angeles, but there's a thriving wine country and slew of vineyards within its own county lines. That's not to mention the nearby Channel Islands, which represent a mini-vacation unto themselves.
Whether you're hoping to surf, swim, sunbathe, horseback ride, hike, bike, eat, drink, play, hand glide, snorkel, whale watch, learn, or explore, you can do it here and then some. It's where weekdays feel like weekends, where your barista probably moonlights as an Instagram model, and where beach volleyball is a winter sport. It's the American Riviera and you owe yourself a visit. Here's how to do the city right.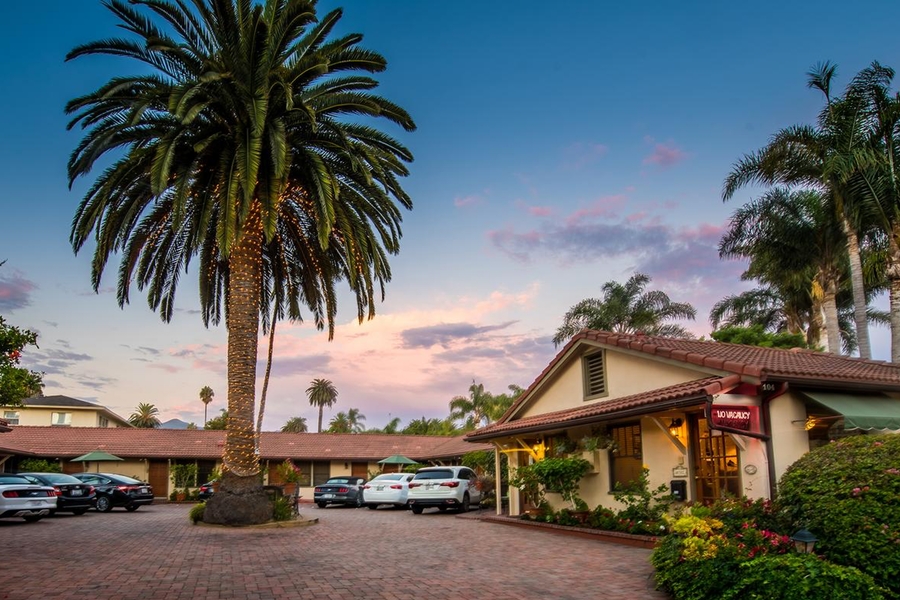 STAY
As you might suspect, Santa Barbara features no shortage of hotels, motels, and resorts. Prices can go as low as US$100 and as high as the moon and your mileage may vary accordingly. If you're hoping to avoid a bad case of booker's remorse, consider staying at one of the following hotels.
Harbor House Inn
Looking for the best bang for your buck? Well, you've found it right here. Located just a few blocks from the ocean, Harbor House Inn consists of various apartment-style rooms, nearly all of which include either a partial or full kitchen. Meanwhile, the service here is so friendly, generous, and just outright stellar that you might start to feel guilty for no good reason.
Hideaway
This recently renovated boutique hotel is clean, cosy, and equidistant to the beach and the famous Funk Zone. The staff is welcoming and the value is nearly unbeatable.
Eagle Inn
Presuming you don't have gobs of money to spend on accommodations, here's another boutique hotel that delivers a premium experience and ideal location at an affordable rate. It's run by a small family and there's a good chance you'll know each one of their names by the time you leave.
Rosewood Miramar Hotel
If you feel like splurging then we have just the hotel for you. Perched on 16 acres next to Miramar Beach, Rosewood is every bit as luxurious as it looks and costs. Between its terrific location, posh oceanfront restaurant, elegant bar, farm-to-table eatery, and exquisite rooms, you might forget to leave altogether.
Four Seasons Resort The Biltmore Santa Barbara
What is there we can say about this resort that the words "Four Seasons" don't already say for themselves? Set against a jungle backdrop with ocean views, it's everything that luxury travel is supposed to be and more.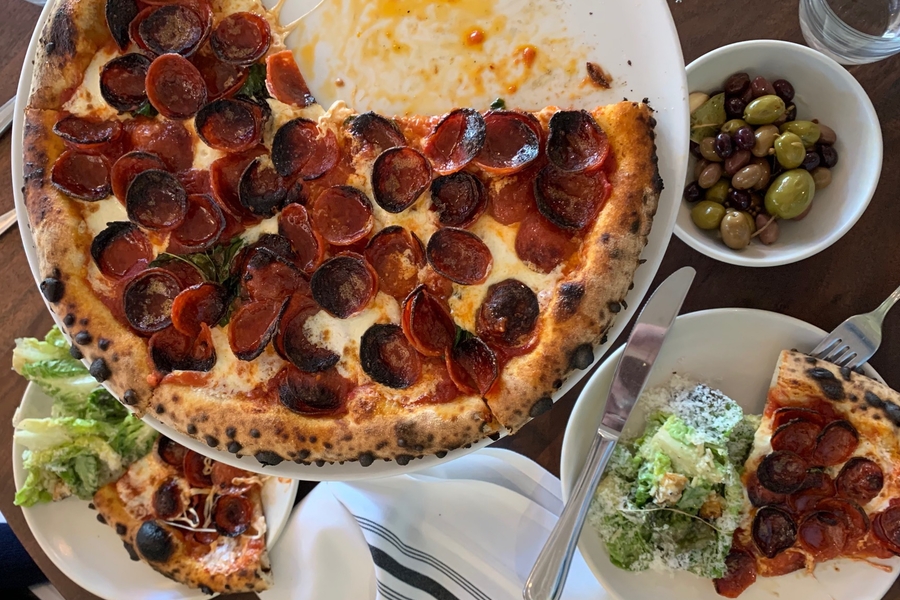 EAT
Given the average cost of a home in Santa Barbara, you might think the city was all five-star dining and prestigious supper clubs. However, almost the exact opposite is true. In fact, this might be one of the most generally approachable dining scenes you can find in Southern California. Of course, if you're craving a little more opulence and exclusivity, there's always Montecito. Here are some of the best places to eat.
Bettina
What was once a mobile catering concept is now a cosy brick-and-mortar in Montecito, where you'll find some of the best pizza in all of Santa Barbara County (no, we're not being hyperbolic). Using ingredients from Santa Barbara Certified Farmers' Markets, husband-and-wife team Brendan Smith and Rachel Greenspan crank freshness and flavour out of every spare bite. Look up from your delicious food or craft cocktail every now and then and you just might spot a celebrity.
Boathouse at Hendry's Beach
A must-visit locale, Boathouse at Hendry's Beach occupies its own little oceanfront corner of the world. While that alone makes it worth your time, the popular brunch and dinner spot refuses to merely coast by on its epic location. Not only is the food fantastic (the breakfast, in particular), but the bar program features impossibly rare whiskeys and tasting flights at impressively affordable prices. Oh, and did we mention the breathtaking sunset views?
Loquita
Putting its own signature twist on traditional tapas, Loquita is one of Santa Barbara's hottest dining spots. The sizes are generous and the flavours terrific, which isn't even to mention the friendly staff and tasty drinks. Book a table in advance or grab the first open seat at the bar to avoid a wait.
Mony's Mexican Food
No trip to Southern California is complete if it doesn't involve copious amounts of Mexican food. Wildly popular amongst locals, Mony's will satisfy your cravings one toothsome taco or burrito at a time.
La Super Rica Taqueria
Wander over to Milpas St to find a seemingly endless bounty of choice Mexican spots, including this famous one. According to legend, it was Julia Child's favourite place to eat when she visited Santa Barbara, which has resulted in all sorts of debates. At the end of the day, these are great tacos on handmade tortillas with great sauces and that's all you need to know.
622 N Milpas St, Santa Barbara, CA 93103
Los Agaves/Santo Mezcal/Flor de Maíz
Restaurant mogul Carlos Luna and his team oversee this mini-empire of restaurants and bars, which draw from various types of Mexican cuisine. At each location, you'll discover a convivial setting, creative recipes, and a comprehensive bar program. Go during happy hour for the best deals.
Brophy Brothers
Located at the end of a pier, Brophy Brothers matches its fresh seafood with thrilling harbor views and a lively crowd. Quick tip: get a table by the window and order the clam chowder.
Chuck's Waterfront Grill
For classic maritime vibes, a fresh catch of the day, and a stiff drink, Chuck's Waterfront Grill definitely has you covered. Grab a table on the heated deck and pull up close to the firepit while you munch on seafood that came right off the boat, taking in the beauty around you. The restaurant also cooks up a mean steak.
Cold Spring Tavern
Deep in the mountains of Santa Barbara is one of SoCal's most legendary destinations. True to its origins as an old stagecoach stop, Cold Spring Tavern retains a heritage vibe by way of various antiques and rustic features. Enjoy a hearty meal and a cold beer while listening to the occasional live music performance against a woodsy backdrop. Sure, you might find yourself drinking and eating next to a Hell's Angel, but that's part of the fun.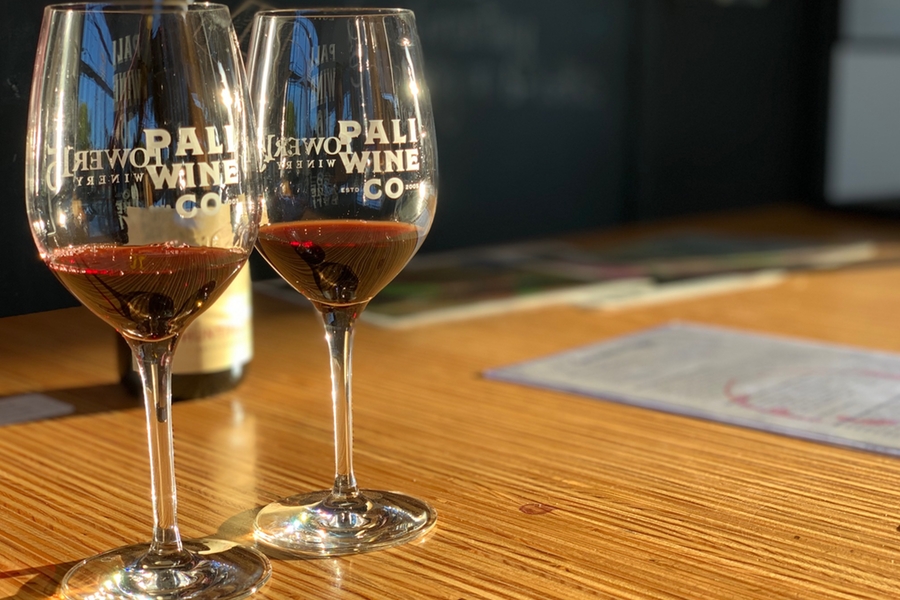 Drink
If you're anything like us, you save your best drinking for vacations. Even if you don't, you'll find Santa Barbara's array of bars and wineries impossible to resist. Let's get into it.
Urban Wine Trail
Why try just one winery when you can try them all? Grab a map and go exploring through the heart of downtown Santa Barbara, hopping from one tasting room to the next. Pali Wine Co. was a personal favourite.
Santa Barbara Wine Country
Venture beyond the city limits to discover one of the most beautiful and rewarding wine regions in all of the US. Not only will you find vineyards big and small, but the wines themselves are frequently fantastic and the views are tough to beat.
The Lark
While the food at this converted fish house is certainly nothing to scoff at, the drinks are next level. Plus, it's located smack in the middle of the Funk Zone.
The Good Lion
Here's a bar (and music venue) so intimate that they might get mad at us for talking about it. Be sure to pop in, but don't tell them we sent you.
The Glass House
Modern mixology gets the treatment it deserves at this popular outdoor bar, which is located right on State Street. In contrast to a slew of overly inventive drinks, these ones actually deliver on their promise of nuance and flavour.
Lab Social
If the sound of drinking delicious craft cocktails in a speakeasy setting is right up your alley, then consider this your new favourite bar.
Honor Bar
Despite its high-end clientele, this Montecito-based restaurant and bar won't gouge you out of your vacation budget. Grab a table on the patio and people-watch in style as you sip on something nice.
Third Window Brewing
Like so many thriving cities, Santa Barbara has given way to a number of microbreweries. At this one, Belgian tradition gets a SoCal injection and the results are nothing short of fantastic. Oh, and the food is great too.
Handlebar Coffee Roasters
Get your morning off to the perfect start with a hot coffee or latte from this local shop. Brought to us by former professional cyclists, Handlebar roasts its own beans and exudes passion at every possible turn.
DO
Hopefully, you didn't spend all your money on food, drinks, and accommodations, because Santa Barbara is an absolute hotbed of additional indoor and outdoor activities. Here's a cursory glance at the adventures lying in wait.
Channel Islands
You'll need more than 48 hours on your hands if you're going to hit up the Channel Islands, but trust us when we say it's worth it. Forming an eight-island archipelago, it's located in the midst of a national marine sanctuary. Leave technology (except for maybe a camera) behind as you partake in a nature-based experience of epic proportions, which can include hiking, kayaking, snorkeling, camping, and sightseeing. Wildlife is everywhere and the memories will last you a lifetime.
Funk Zone
Located in downtown Santa Barbara, the Funk Zone consists of various galleries, murals, shops, restaurants, bars, taprooms, and wineries. That makes it a perfect place to spend the day, hopping around from one experience to the next while taking in the culture around you.
Electric Bike Tour with Cal Coast Adventures
One of the best ways to explore Santa Barbara is to hop on an e-bike and go for a long ride. Enter Cal Coast Adventures, which doesn't just have e-bikes for rent, but also offers private guided tours. Opt for the latter and you'll go everywhere from the beaches of Montecito to nearby State Street. You can also rent kayaks, surfboards, mountain bikes, or whatever else your adventure might call for.
Butterfly Beach
With so much beach at your disposal, it's hard to choose a favourite. Nevertheless, Butterfly Beach earns high marks from visitors and locals alike.
Santa Barbara Courthouse
What's so special about a courthouse? You might ask. Visit this one and you'll find out.
Surfing
The Pacific Ocean tends to be colder than the Atlantic, but that's what wetsuits are for. Zip up and hit the nearest pipeline, SoCal style.
Hiking
If you're more of a mountain person than a beach person, Santa Barbara provides in spectacular fashion. Stray from the bustling piers and Spanish-style buildings and take to the nearest hiking trail.
Stearns Wharf
The tourist vibes are strong at Stearns Wharf, but you should go anyway. In addition to restaurants and shops, there's a cool sea center with various creatures inside it, many of which you can touch.
Santa Barbara Harbor
Home to boats, restaurants, shops, a maritime museum, views, and the occasional sea life (i.e. crabs, sea lions, etc) the Santa Barbara Harbor is well worth your time.
Whale Watching
From late November through to April, hordes of Pacific gray whales migrate through the Santa Barbara Channel. As such, this is one of the best places in America for whale watching. Your odds of spotting a dolphin are also quite high.
Horseback Riding on the Beach
Bringing multiple fantasies to life, you can go horseback riding on the beach and then brag to your friends back home about it.
Museums
As if there already wasn't enough to do, Santa Barbara also features a respectable slate of quality museums. That includes the recently renovated Santa Barbara Museum of Art, as well as various others.
Santa Barbara Zoo
The Santa Barbara Zoo might not be the biggest zoo you ever visit, but who can argue with its prime ocean-adjacent location?
Fishing
Charter a boat and take to the ocean, where an abundance of sea life awaits. For those who want to stay ashore, Stearns Wharf is also a popular fishing locale.
State Street
Overflowing with restaurants, bars, theatres, and shops, State Street is the main artery cutting through Downtown Santa Barbara.
FLOAT Luxury Spa
The name pretty much says it all and this local retreat duly abides. Prepare to drift away before emerging with a new and rejuvenated disposition. This is what vacations are all about.
Man of Many travelled to Santa Barbara as a guest of Visit Santa Barbara. 
You'll also like:
City Guide: 48 Hours in Huntington Beach
City Guide: 48 Hours in Boston
City Guide: 48 Hours in Brooklyn