Moss Hotel is Hobart's Newest Reason to Visit
It's a funny thing that Hobart has become the thinking man's winter oasis. At the same time of year that the Instagram-focused set scoots over to Europe for Aperol Spritzes on the Amalfi Coast, those more ponderous, introverted types are making the short trip down south, to a place that shouldn't be as hospitable during the coldest months of the year as it is.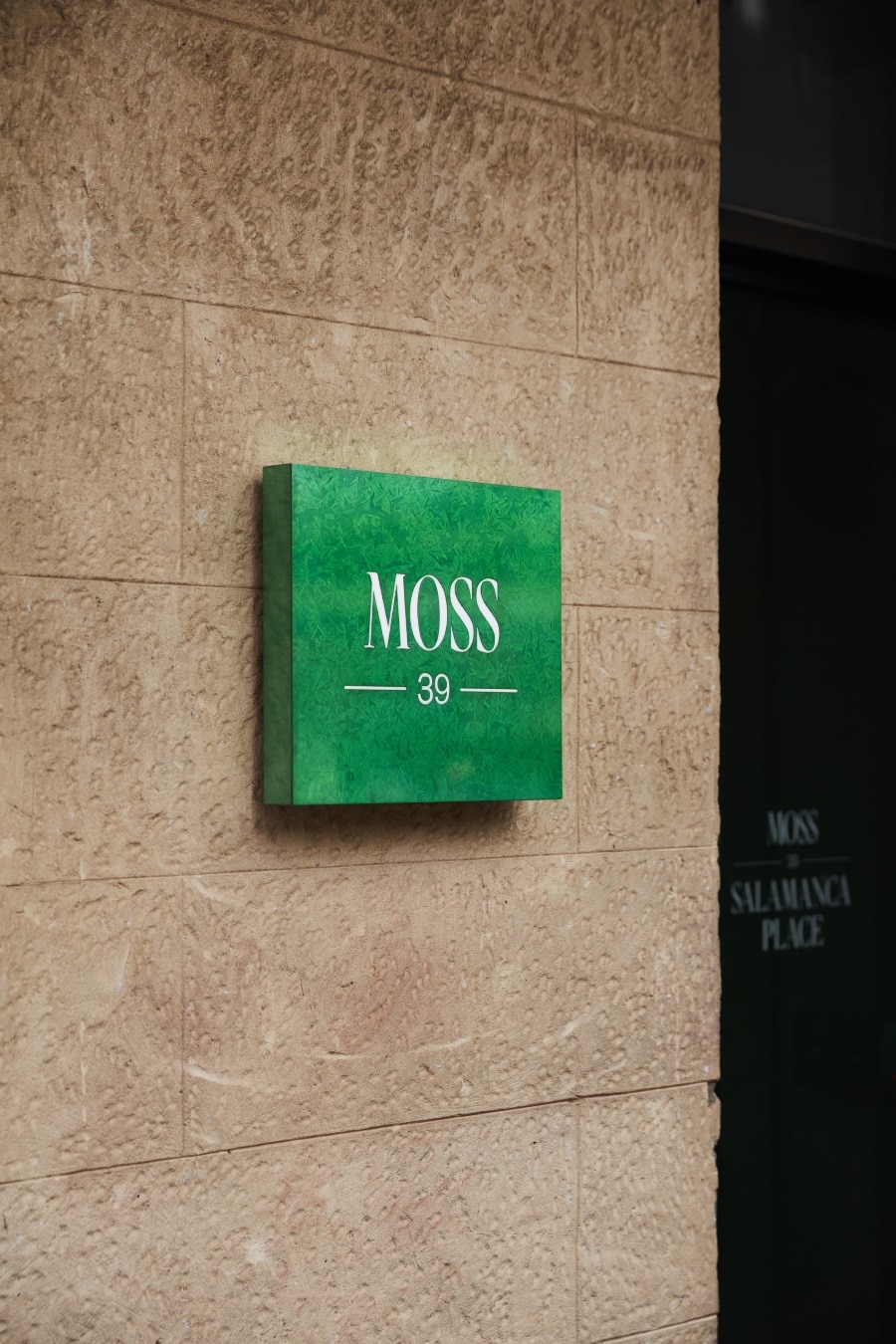 Undeniably, the cult of Dark Mofo, and, indeed, MONA as a whole, has helped to draw more people in each year, but it's not the crowds that maketh the cosy and welcoming zeitgeist imbued in this small city during winter. Sure, the fact that Hobart is abuzz with life (and a slew of venues that stay open late) helps, but it's the hideaways, the indoor fires and the unfettered historical reminders–everywhere you look, mind you–that collectively make Hobart the sort of place where you inevitably want to settle in with a bottle of Gamay, a good book, and forget about the cold weather, and everything else, outside wherever you may be.
Split across two sites separated by a road and another large building block, Moss is one very welcome addition to a city that has long been overdue for a proper boutique hotel.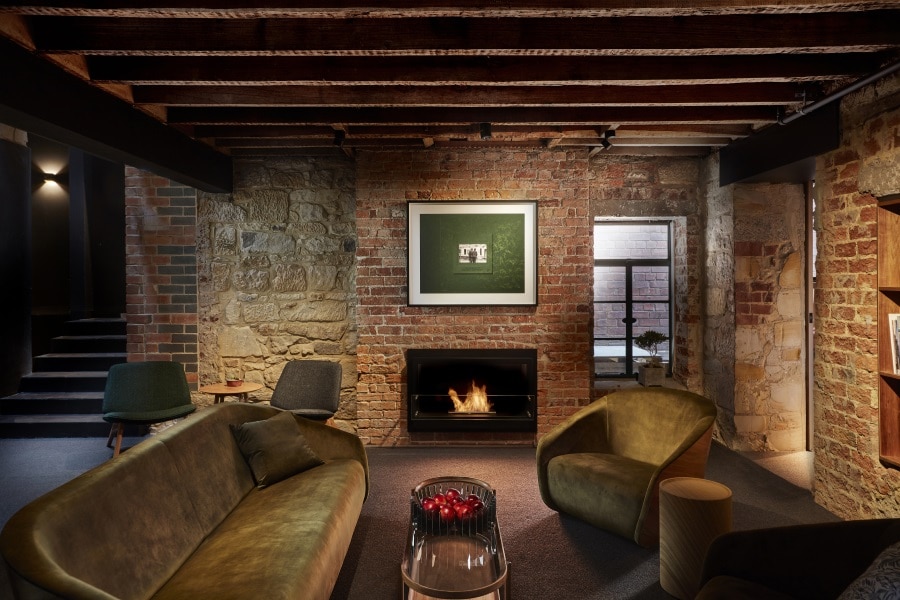 Semi-hidden in plain sight, through a sliding glass door tucked between a pub and a sandstone wall on Hobart's iconic Salamanca Place, Moss is no marble-entranced, grandiose exercise in luxury. It is, however, a very appropriately-appointed slice of comfort, with a delightfully well-executed local bent (the two-storey indoor wall of plants are all sourced from Mount Wellington, and serve as a living homage to the naturally verdant Tasmanian wilderness). The pick-marks in the sandstone walls are just as they were when they were cut from the local quarries and turned into blocks by convicts nearly 200 years ago.
Rooms differ, too, offering a genuinely unique hotel experience. While green is a constant theme throughout, the minimalism of the beautiful photographic prints showing off some of Tasmania's most stunning and recognisable sights, simply tacked to the wall, is perfectly offset against the luxuriant feeling of the things that matter: namely the bathroom details and bedding. Even the handsoap is sexy.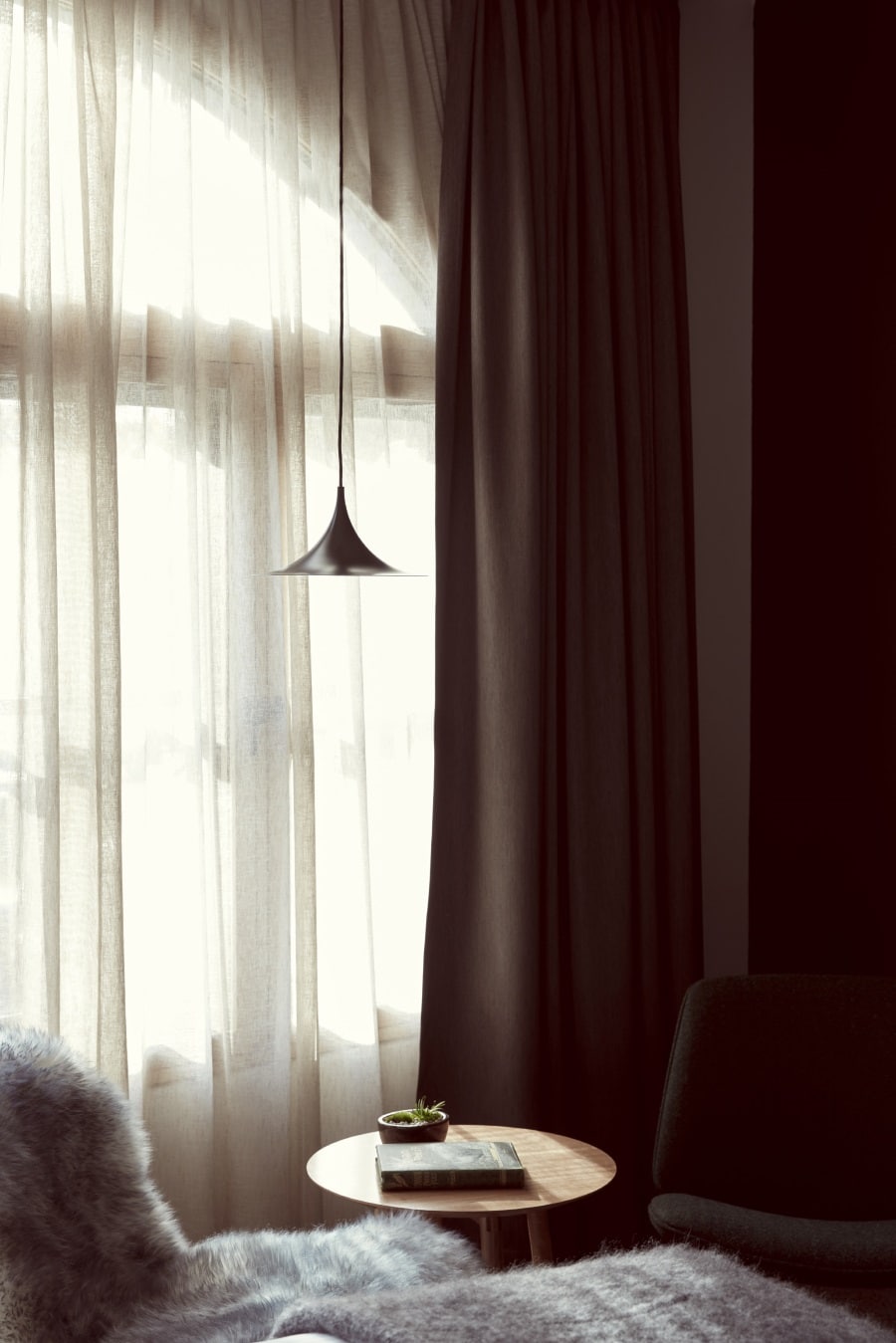 Roughly one half of Moss Hotel is located at 39 Salamanca Place, with the rest at number 25 (opening later this year). Its location makes it a perfect jumping off point for the rest of Hobart: right next to Prince's Wharf No. 1, across the harbour from the old IXL jam factory.
From here, one can walk the cobblestone streets, step right into the heart of the famous Salamanca markets on a Saturday morning, or hire a motorcycle and explore Tasmania the proper way. And, as each room has character, coming back to the comforts of Moss after a day out and about feels homely and inspired. Looking up to exposed beams supporting corrugated iron, for example, is a grounding contrast to the high-thread-count sheets and oh-so-comfortable mattress in which you will ensconce yourself before an inevitable sleep-in.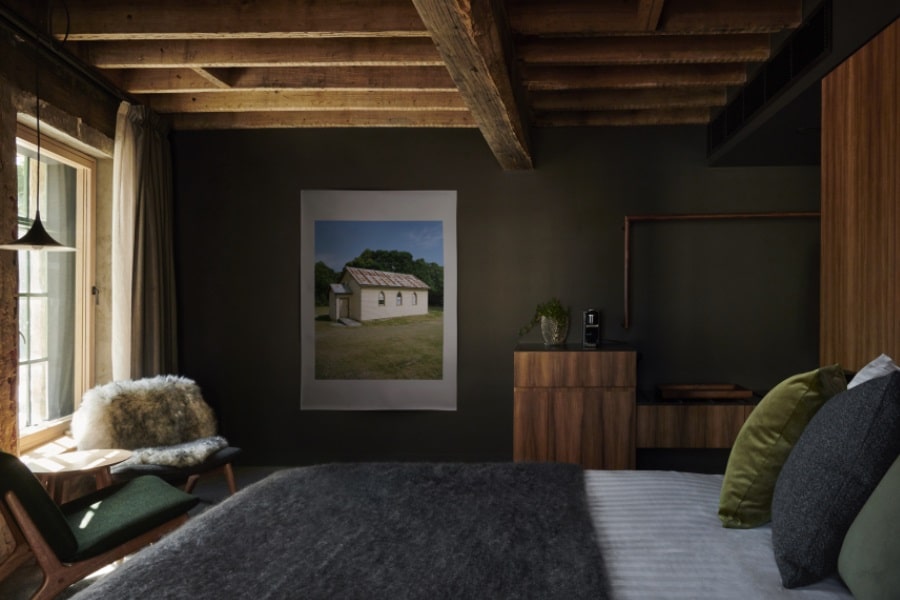 A well-appointed mini-bar adds a few nice touches to remind guests that they're definitely not in a Travelodge, though being above Salamanca, you can find just about anything you need within 20 metres of the lobby. And, though bars and restaurants line Salamanca, the rooms are surprisingly quiet (that is Georgian architecture for you), providing a proper escape from the madness of Dark Mofo below on the night Man of Many visited.
And as the hubbub of activity at night turns into the cold winter morning, light pierces the loft windows and the vista of wooden sailboats in the harbour is a welcome start to another day in this green winter paradise, and feels far more rewarding than any amount of Aperol, or photos of white buildings and blue water, ever could.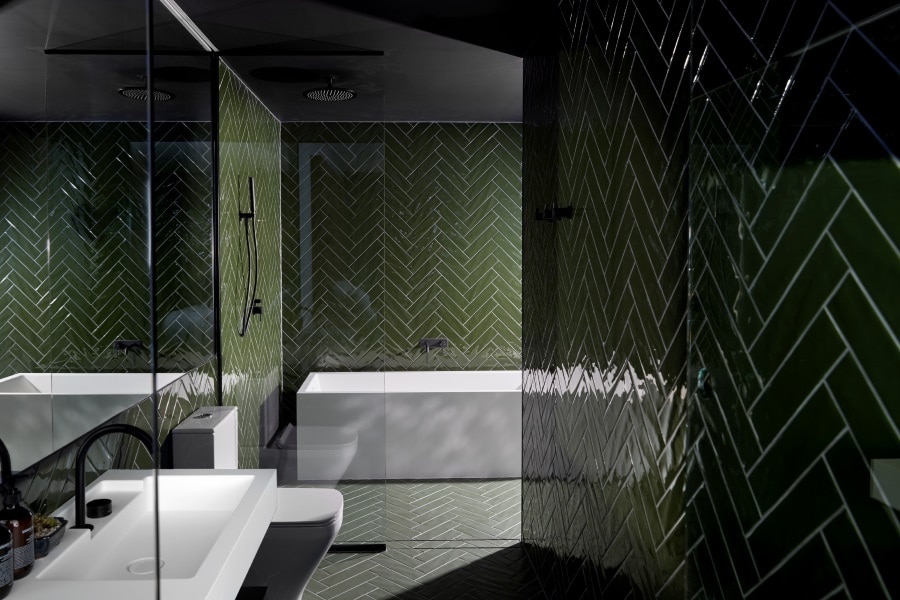 Hobart, and indeed greater Tasmania, has enjoyed a deserved uptick in tourism of late, and it's not surprising. It's a beautiful place to visit, and it offers unrivalled food and wine experiences with a sense of quietude befitting a proper holiday (you know–that thing people purportedly do to relax?). But Moss feels like it's the hotel Hobartians deserve, and its visitors have been crying out for; a grown-up sanctuary for the uncompromising traveller who would prefer to pick out their own bottle of Pinot rather than have a fuss made of them by a doting porter.
Much like the island state it calls home, Moss is friendly, cosy, beautiful, welcoming and, of course, very green. But it's also testament to Hobart's tendency to surprise, and provide an experience that would have most visitors bragging via every social media account they could.
Though, if you're anything like us, you'll be too busy with a local whisky and a good book to even find your phone.