Top 10 Must-Try Adventure Activities in South Africa
With its never-ending variety of outdoor adventures, South Africa is quite simply an Aussie traveller's dream come true. Whether you're looking to surf, bike, swim or paraglide, you'll find it here in epic fashion. How do we know this? Because we just got back from visiting. During our trip, we swam with the seals, surfed with the pros, and even jumped off one of the world's biggest bridges… with bungee chord attached of course. See? We told you this place has the Aussie spirit written all over it. Should you get the chance to visit South Africa, here are 10 must-try adventures to make your trip worthwhile.
Abseiling Off Table Mountain
Abseiling (aka rappelling) involves descending by rope down a mountainside at a steep vertical angle. And Cape Town's Table Mountain is one heck of a place to abseil. If you get a moment to look around you, you'll see majestic views in pretty much every direction. Of course, should you prefer to focus on the task at hand, we certainly wouldn't blame you. Be prepared for the experience of a lifetime.
Quad Biking Tour of Soweto (Soweto Outdoor Adventures)
Short for South Western Townships, Soweto is situated on the border of Johannesburg's mining belt. To claim that this cluster of towns is overflowing with history would be putting it mildly. Everything from a gold rush to the Bubonic plague has passed through these parts at some point over the past century and a half. Needless to say, it all makes for one heck of a Quad Biking Tour. With a Soweto Outdoor Adventure guide leading the way, you'll cruise along dusty back roads through townships waving at the friendly kids, and hit up Vilakazi Street, where both Desmond Tutu and Nelson Mandela once resided. It's also the only street in the world two Nobel Peace Prize winners lived on. Various packages are available.
Book with Soweto Outdoor Adventures
Orlando Towers Bungee
Nothing says "adventure" like bungee jumping off cooling towers in the heart of Soweto. For that, Orlando Towers Bungee (or Soweto Towers Bungee) has you covered. To partake is to jump directly off the bridge connecting the Orlando Towers, which are as distinct for their graphic exteriors as they are for their visual prominence. Thrilling is hardly the word.
Swimming with Seals at Hout Bay
What better way to swim than with the seals? Indeed, if throwing on a snorkel and swimming underwater with friendly, semi-aquatic mammals sounds like your idea of a good time, then, by all means, head on over to Cape Town. There you'll find Cape Town Bucket List, which makes good on its name by providing you with an experience you previously only dreamed of.
AfriCanyon Storms River Kloofing Experience
A popular pastime in South Africa, kloofing (aka Canyoning) involves descending down a narrow, occasionally treacherous ravine. Of course, that's just one of many adventures available at AfriCanyon near Plettenberg Bay. Whether you want to wade, jump, zip-line, swim or slide, you can do it here and then some. Meanwhile, pristine water and natural beauty is surrounding you on all sides.
Paragliding over Cape Town
The same company (Cape Town Bucket List) that allowed you to swim with the seals can also hook you up with an unforgettable paragliding experience. Strap up and soar through the air like a bird, taking in the glorious scenery around you. The wind is in your hair, the city is at your feet, and the adrenaline is surging through your veins. This is what adventure-based vacations are all about.
Bloukran's Bungee
If jumping off the Orlando Towers is a little too urban for your tastes, then, by all means, head on over to Bloukran's Bungee. Surrounded by cliffs and trees, you'll be jumping from the world's biggest bridge bungee in a fall that stands 216 metres high. There's even a restaurant on the premises to overlook those sealing their fait, assuming you can whip up an appetite at some point during the experience. Quick tip: maybe save the meal until after you've jumped.
Surfing at Jeffrey's Bay
If you follow surfing, then odds are you saw Aussie legend Mick Fanning punching a shark during competition at J-Bay in 2015. While that's not necessarily a ringing endorsement for Jeffrey's Bay, if you're passionate about surfing you should definitely go anyway. Beginners can sign up for surf lessons with a local pro, while more experienced surf dogs can gear up and head straight out to those beautiful, iconic waves. If you prefer land to sea, there's also sandboarding nearby, available through Jeffrey's Bay Adventures.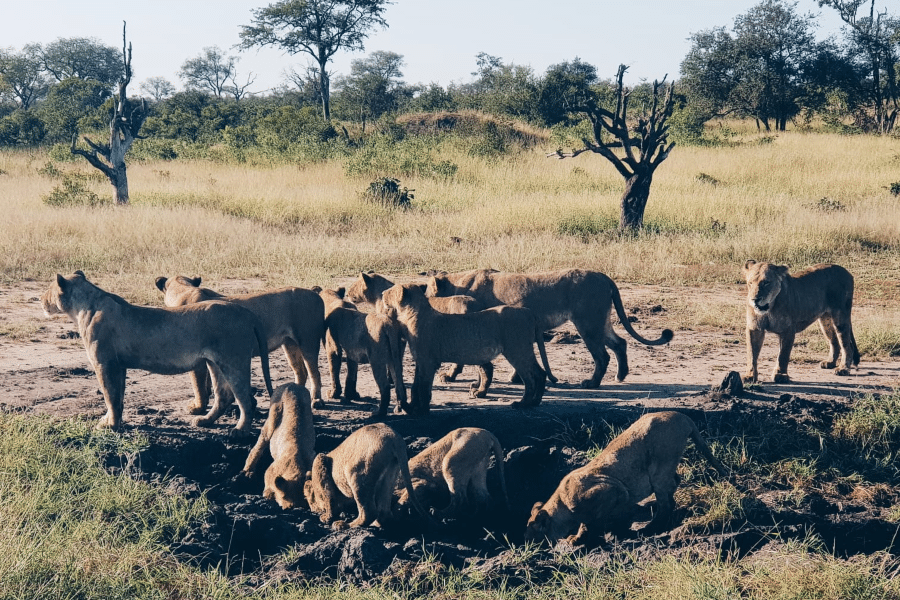 Safari in Kruger National Park
No trip to South Africa is complete without at least one safari experience. At Kruger National Park, you'll get that experience in spades. We personally recommend staying at the Honey Guide Tented Safari Camp, which plunks you down right in the middle of everything. Bring your camera. Duh.
Shark Diving in Gansbaii
Remember that scene in "Jaws" when Richard Dreyfuss descends underwater inside a shark cage? As it turns out, Marine Dynamics offers the very same experience, you know, minus the whole part where the shark rips your cage to shreds. To ensure as much, a certified marine biologist is on hand during every excursion.
Have you subscribed to Man of Many? You can also follow us on Facebook, Twitter, Instagram, and YouTube.
Man of Many travelled to South Africa as a guest of South African Tourism