United Airlines 787 Dreamliner Polaris Business Class Review
Serving Melbourne and Sydney with flights to Los Angeles, San Francisco, and now Houston, the United Airlines 787 Dreamliner Polaris is a dream come true, indeed. Well, the Business Class is anyway and being that the flight to Houston is around 15 hours each way, leisure is key. Thankfully, the airline duly abides by way of premium food, endless entertainment, and top-shelf service. Plus, who can argue with custom bedding from Saks Fifth Avenue? Suffice to say, the 787 Dreamliner Polaris makes good on the notion that the journey can be just as rewarding as the destination, if not more so.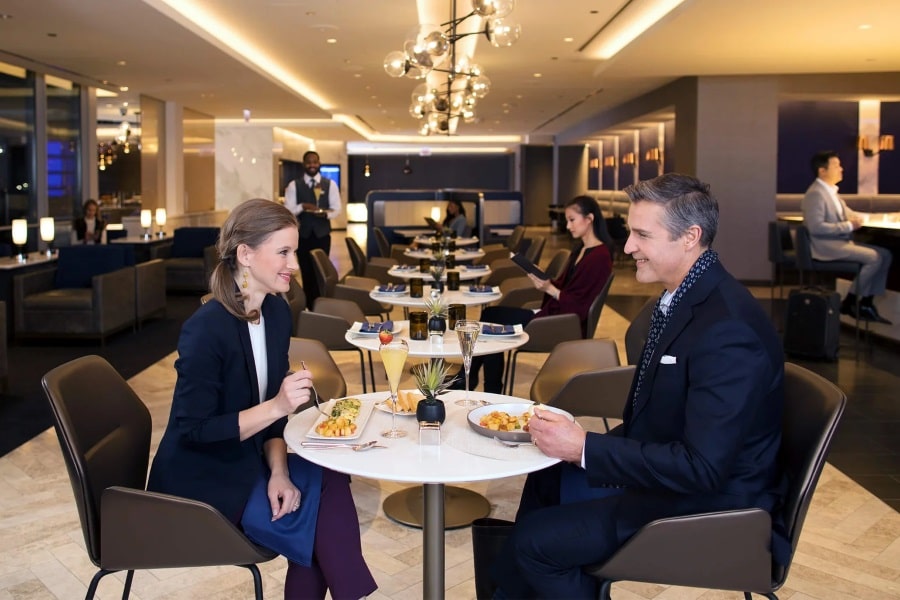 United Polaris Business Class Lounge
United Polaris Business Class Lounges are available in limited supply on the world stage, so we were lucky to find one at the George Bush Intercontinental Airport in Houston. What's even better is that the lounge is simply bursting with modern comfort and efficiency. Enter beneath a ceiling of constellations to find yourself flanked by luxury on all sides.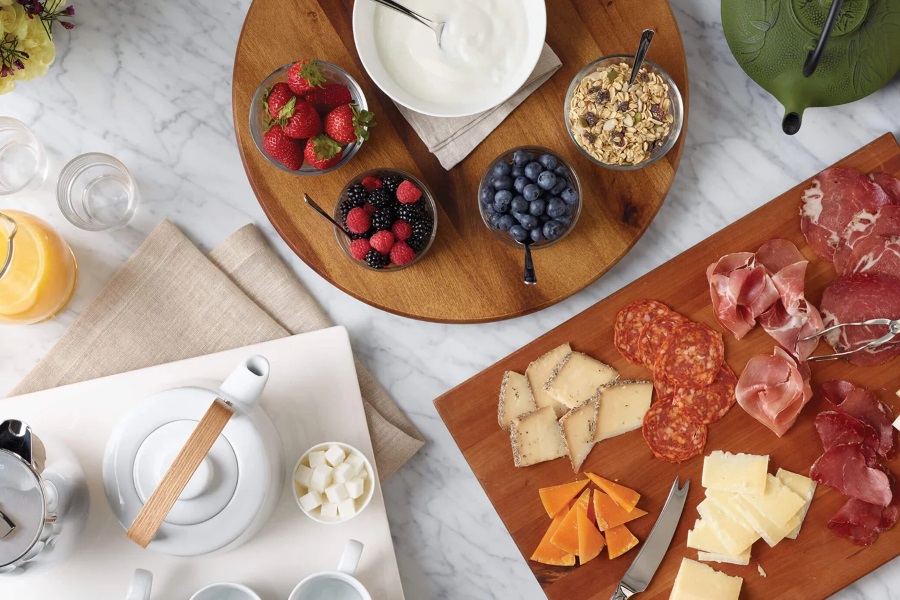 Features include 191 seats, swaths of power outlets and USB ports, two private daybeds with bedding from Saks Fifth Avenue, six shower suites with rainfall showers, and a private dining area with table service. Driving home the sophisticated vibe are striking works of contemporary art on the nearest wall. As if it's not already obvious, you'll want to set aside some time to enjoy the experience should you be flying out of Houston.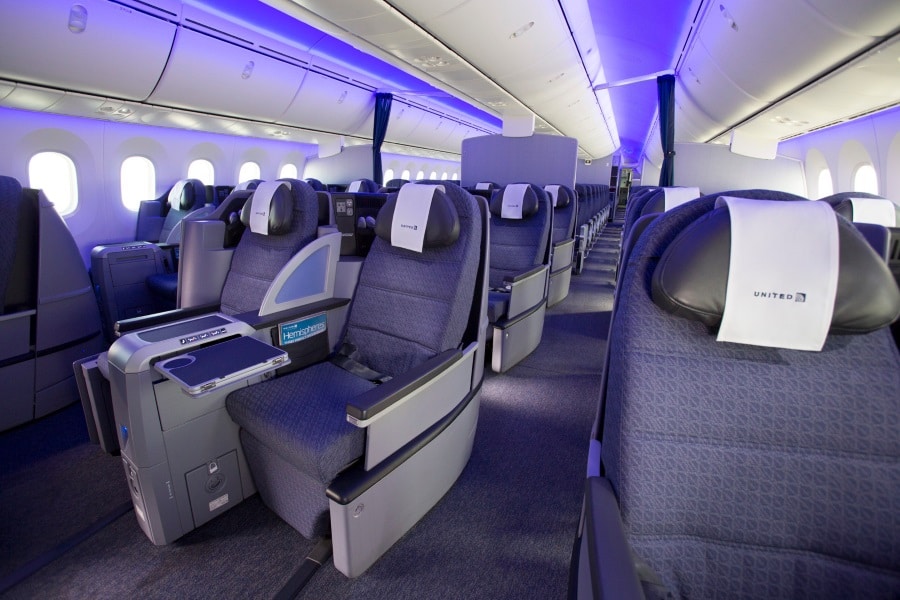 United Airlines 787 Dreamliner Polaris Business Class Seats
Arranged in a 2-2-2 formation across two zones and eight rows, the seats in the 787 Dreamliner Polaris are divided by a somewhat anemic privacy screen. However, that's pretty much where our complaints begin and end (well, that and the lack of immediate aisle access from the window seats). Otherwise, the Business Class seats deliver copious amounts of comfort and no shortage of benefits. Featuring a colourway of blue and grey, each one is equipped with a universal powerpoint, USB port, reading light, storage shelf, and personal entertainment screen with a padded ottoman underneath it.
Given the flight length between Sydney and Houston (and back), some quality rest can make for a world of difference. Thankfully, that's where the Business Class seats truly shine. Each one reclines into a 180-degree bed that's 20.6″ wide and about six and a half feet long. Meanwhile, the bedding is provided by Saks Fifth Avenue, a company that knows a thing or two about luxury. As such, expect a sumptuous duvet and the kind of pillow that will put you right to sleep.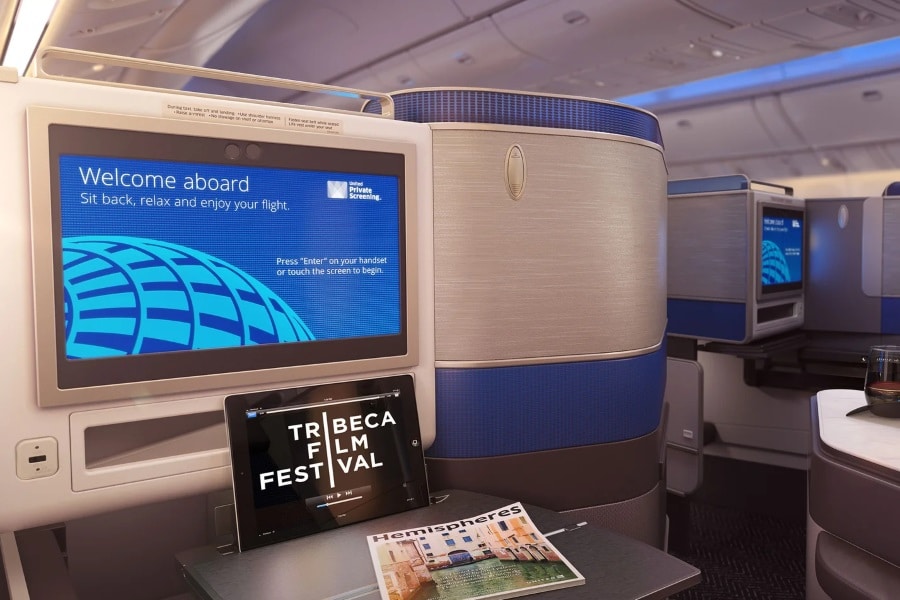 United Airlines 787 Dreamliner Polaris Business Class Entertainment
Unless you can sleep for 15 hours or more (and if you can, we salute you), you'll want to take advantage of the 40.6 centimetre HD screen before you. Controllable via touch or remote, the screen offers more entertainment than you could possibly digest, no matter how many long-distance flights you take. We're talking 280 movies–from new releases to foreign classics to festival winners–along with a variety of shows, games, and songs. In other words, the United Airlines 787 Dreamliner Polaris most definitely has you covered in the entertainment department.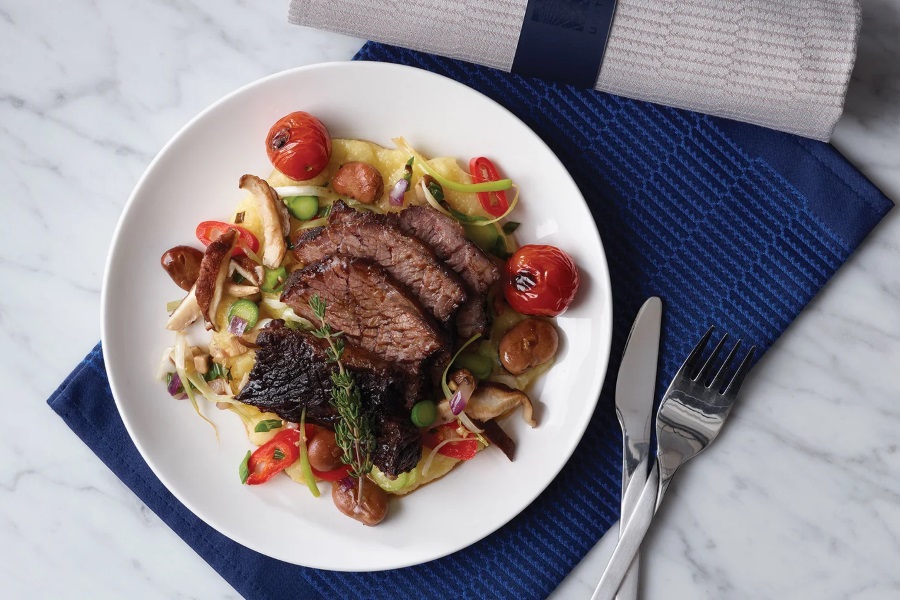 United Airlines 787 Dreamliner Polaris Business Class Dining
As soon as you hunker down in your seat, the nearest steward or stewardess greets you with a glass of bubbly and a chocolate truffle. It's certainly a nice way to whet the palate or ease the mind (or both). Meanwhile, water bottles, sandwiches, cookies, soft drinks, cocktails, beer, and snacks are available during the flight.
As for the main dinner course, the Business Class menu offers a modest array of delectable dishes. Think pan-fried chicken breast with a chestnut-raisin sauce or Hapuku fish fillet with sun-dried tomatoes and a side of pea risotto and you've got a good idea of what lies in wait. While some bites are better than others, very few will have the words "airline food" flashing across your mind. Be sure to pair your dish with a glass of chardonnay, or maybe a nice Reisling, and definitely save room for dessert.
Speaking of dessert, you can choose from a tasty selection of cheeses or go all in by making your own sundae. Should you go for the latter, you'll have options like whipped cream, hot fudge, and butterscotch, with a cherry on top, naturally. Bringing it directly to your seat is one of the cabin's crew members, who's consistently prompt, professional, and courteous, as we can attest.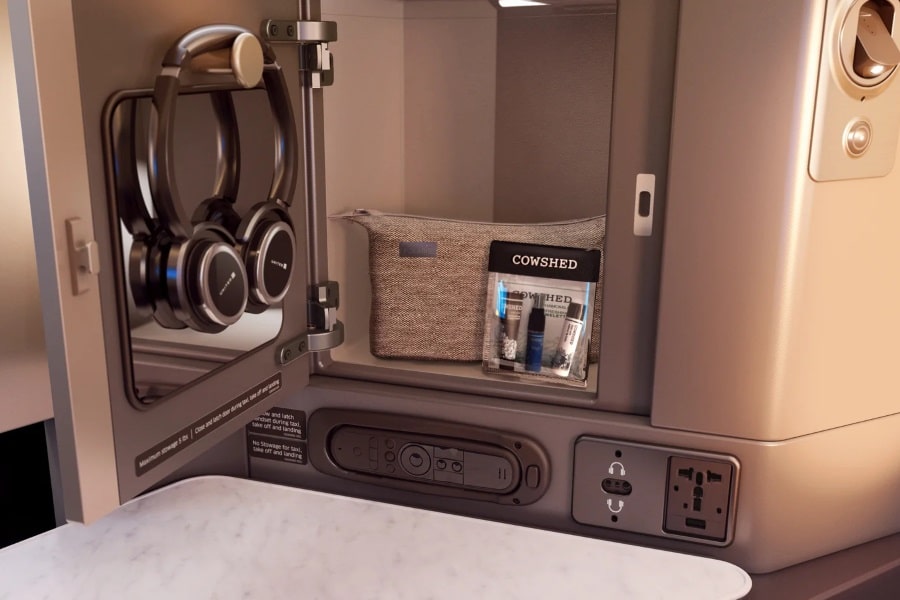 United Airlines 787 Dreamliner Polaris Business Class Amenities
Provided to every Business Class passenger is a navy blue amenities kit. Inside you'll find a contour eye mask, cosy socks, a floral-scented pillow mist, and skincare essentials from Soho House & Co's Cowshed Spa. Available on request are extra goodies like pyjamas or a second comforter. To put it succinctly, the Dreamliner Polaris doesn't slouch when it comes to amenities, which round out the premium experience with both quality and finesse.
Man of Many travelled as a guest of United Airlines from Sydney to Houston.