Dolphins in Venice, Drunk Elephants in China, Mother Nature is Thriving in a Human-Free World
While us humans are relegated to our homes, doing our best Rear Window impersonations, it seems social distancing has yet to hit the animal kingdom. With the streets free from the hustle and bustle of modern civilisation, mother nature has had a chance to take back what's rightfully hers. Italy's famous floating city, Venice, where quarantine measures have been in place for close to two weeks has welcomed back some unexpected guests. The once crowded canals that famously house singing gondola drivers and tourists have been completely cleared out, making way for a pod of dolphins to claim the twisting aqua-tracks.
You'll also like:
These Famous Logos Cop a 2020 Coronavirus Redesign
Bangalay Luxury Villas is Your Next South Coast Winter Escape
International Flights to Return in October
Venice hasn't seen clear canal water in a very long time. Dolphins showing up too. Nature just hit the reset button on us pic.twitter.com/RzqOq8ftCj

— Luca (@lucadb) March 17, 2020
Beginning early last week, Venetians noticed the water within the canals was rapidly changing. With such little activity on the surface, the darkened blue turned opaque, crystal clear enough for residents to see fish in the canals for the first time in years. They weren't the only ones to notice either. Videos showing swans floating peacefully down the famed waters blew up on social media, but the best was yet to come. On Tuesday, Venice locals shared breathtaking videos of the dolphin pod playfully perusing the pristine waters. Twitter user Gianluca De Santis' video has already hit 850,000 views, attracting hundreds of comments from users calling for a ban on the boats to reduce water pollution. While the Venetian dolphins certainly appeared to be enjoying themselves, they've got nothing on a pair of elephants who have become celebrities in China.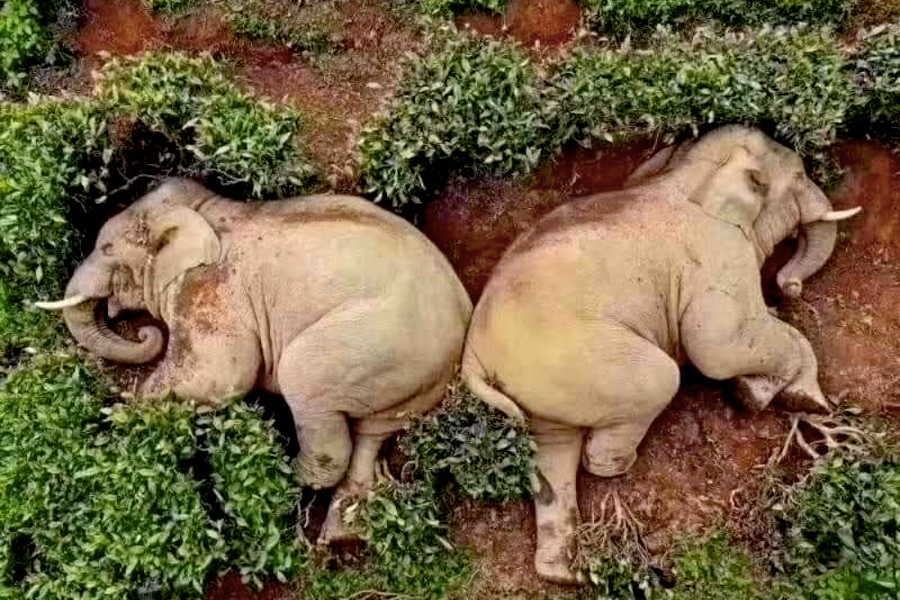 Reddit user ADarkcid shared a photo early Thursday morning showing two male elephants sleeping, after getting so drunk on corn wine they passed out. "While humans carry out social distancing, a group of 14 elephants broke into a village in Yunan province, looking for corn and other food. They ended up drinking 30kg of corn wine and got so drunk that they fell asleep in a nearby tea garden," they wrote.
---
Featured Video from Man of Many
---
ADarkcid admitted he didn't research the image, but in a Twitter thread, conservationist Parveen Kaswan revealed it wasn't out of character for elephants to dip into the stong stuff.
https://twitter.com/ParveenKaswan/status/1240226535832817666
According to reports, the elephants stumbled upon country-made alcohol hidden in tribal belts while raiding crops in Wunnan, China. These two got a little carried away and ended up out for the count, but you can't really blame them. We've all been there, had a bit too much to drink, woke up with beer-fear and hoped no one would remember the stupid things we did the night before. Unlucky for these two, elephants never forget.

You'll also like:
These Famous Logos Cop a 2020 Coronavirus Redesign
One of the Most Famous Private Islands in the Bahamas Could Be Yours for $20 Million
8 Best Underwater Hotels for a Luxury Aquatic Getaway

---
Featured Video from Man of Many