Virgin Australia Business Class Review
With its neon lighting, curvy lines and luxurious perks, Virgin Airlines immediately distinguishes itself from the competition. Raising the bar on that singular momentum is Virgin Australia Business Class, which most definitely aims to please. Whether you're taking a quick flight from Melbourne to Sydney, or in for the long international haul, Virgin Australia Business Class will make sure you pass the time with absolute comfort and ease. Specifically, the popular airline equips its Business Class section with cushiony leather seats, top in-flight entertainment, tasty food, and a variety of alcoholic beverages…and that's just on the Boeing 737 or Embraer E190. Hop aboard the Boeing 777 or Airbus A330 and now you're riding "The Business", which offers even more amenities and luxuries. Just how much more, you might ask? Read our Virgin Australia Business Class Review to find out.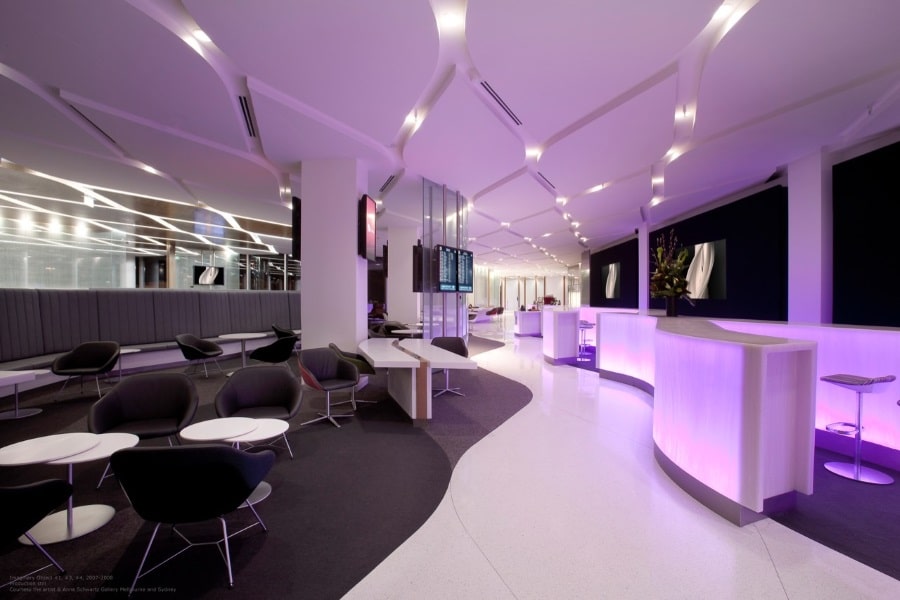 Virgin Australia Business Class Lounge
As a Virgin Australia Business Class traveller, not only will you enjoy exclusive pre-flight benefits like Priority Check-In and Priority Boarding, but you have prime access to the Virgin Australia Business Class Lounge while awaiting your departure. In Sydney (which we'll use as a template), that means entering a domain instantly and distinctly emanating with Virgin Airlines appeal. In other words, modernity is everywhere, primarily in the form of wavy lines, tasteful colours and plush seats. The Virgin Australia Business Class lounge is commodious, convenient and loaded with goodies. Additionally afforded by the layout is an innate sense of privacy no matter where you might be sitting, which for some business travellers can be downright essential.
Depending on when you arrive at the lounge, there may or may not be a hot menu item of the day available. In the meantime, you can make to do with a smorgasbord of complimentary salads, fruits, sandwiches, deserts and Aussie delicacies spread out across a buffet table located toward the back. Also available is wine, beer, juice, soda and delicious barista-made coffee. With the exception of the hot food menu items, coffee drinks and certain alcoholic drinks, more or less everything is self-serve.
Whether you're seeking work or play, the Virgin Australia Business Class Lounge has you covered. More to the point, the lounge includes a range of HD flat screens, free WiFi, a bevy of newspapers and magazines (including access to over 2000 digital publications), informal work areas, individual workstations, printers, photocopiers, charging stations and more. Not featured in the Sydney lounge–but present at other locations like Melbourne–is a private meeting room that can be booked by the hour or day.
Virgin Australia Business Class Seating
Not all Virgin Australia flights are the same, nor are all Business Class sections. Specifically, shorter flights include a regular Business Class section, while longer flights feature "The Business", Virgin Australia's name for its top-shelf Business Class experience. In both regular Business Class and "The Business", you'll settle into a premium leather seat, flanked by signature purple hues on all sides. Similarly, you'll have access to a variety of entertainment options along with choice food no matter which flight you're taking.
However, "The Business" takes things up a notch in terms of space and comfort, with plush seats that convert into fully flat beds. On the 777 (which handles international flights), 37 individual "suites" are arranged in a 1-2-1 formation. Each suite is essentially a forward-facing, cocoon-like chamber, delivering dreamy amounts of privacy, adjustability and convenience. Request a turn-down service, and a lovely crew member will prepare your fully flat bed with large pillows and a doona.
Virgin Australia Business Class In-flight Entertainment
When flying "The Business", you're privy to some truly legendary entertainment. We're talking your own personal 16″ interactive touchscreen on the A330, or your own (whopping) 18″ touchscreen on the Boeing 777. Both of those formidable displays come loaded with over 500 hours worth of TV shows, movies, music and games. Also included in every suite are a pair of noise-cancelling headphones, ensuring a distraction-free experience.
If you're riding select domestic flights on the Boeing 737 or Embraer E190, Virgin Australia will give you a complimentary tablet, along with access to Virgin's Wireless In-flight Entertainment. Once again, 100s of hours of shows and movies are immediately at your disposal. The Wireless In-flight Entertainment is also available through your own personal computer or device.
Virgin Australia Business Class Dining & Meals
No matter which flight you're taking, you're munching on some quality cuisine. To ensure as much, Virgin Australia brought in acclaimed Aussie chef Luke Mangan to create the menu. For shorter flights, you can choose from a variety of salads, gourmet mains and surprisingly sophisticated desserts. On longer flights, you have access to a full three-course meal for lunch or dinner.
Those sleeping overnight will have a continental breakfast waiting for them in the morning. And available throughout the flight are snacks, beers, fine wines, spirits, coffee drinks, teas and other non-alcoholic beverages. Suffice to say, you won't fly hungry or thirsty (unless you want to).
When riding "The Business" on the Boeing 777, you also have the option of leaving your seat to join others at 'The Bar'. Relatively sequestered in the middle of the cabin, 'The Bar' hosts seven seats and plenty of standing room. Order a stiff drink and make some new friends, or even hold a business meeting if you so desire.
Virgin Australia Business Class Amenities
When it comes to amenities, your mileage may vary (pun intended). If you're flying for over 3 hours on the Boeing 737 or E190 aircraft, you'll receive a complimentary comfort pack, which includes essentials like a blanket, pillow and a few random amenities. If you're on the Airbus A330 or Boeing 777 (and departing between 1900-0259), Virgin Australia delivers the goods by way of a personal amenity kit. Inside the kit you'll find REN cosmetics and skin care products, in addition to the aforementioned essentials. Now you're staying fresh the Virgin Australia way. Yeaaah, baby!
Have you subscribed to Man of Many? You can also follow us on Facebook, Twitter, Instagram, and YouTube.