Have Questions You're Too Embarrassed To Ask Your Doctor?
In Partnership with Vault Health
They say a good man is hard to find and so too is a good doctor. Meanwhile, it's hard to find any doctor in some parts. As of December 2018, there were more than 7,000 areas in the U.S. with health professional shortages, nearly 60% of which were in rural areas. Given the ongoing pandemic, one can safely assume those statistics aren't on the wane. This is exactly where Vault Health comes in with its team of top medical doctors, all of whom can be reached through the virtual power of telemedicine.
How Does it Work?
Vault was founded on the basis of a simple goal: to give men an easier way to identify and treat the symptoms of low testosterone levels. Making good on that goal, the company delivers safe, effective, and clinically-proven treatments for not just testosterone deficiency, but potentially related conditions such as erectile dysfunction, hair loss, weight gain, and muscle mass (currently they even offer at-home FDA saliva kits). To make the process as convenient as possible, they provide free online consultations with a licensed medical provider, in-home doctor visits for procedures such as blood testing, personalised treatment plans, free two-day delivery, and ongoing support.
Trusted Medical Professionals
Allow us to introduce two key members of Vault's medical team. First up is Chief Medical Officer Dr. Myles Spar, a former Director of Integrative Internal Medicine at the Southern California Men's Medical Group. A true pioneer in the realm of telemedicine, he's delivered presentations for TEDx, Dr. Oz, Men's Journal, and the L.A. Times. That's not to mention his experiences around the world through Doctors without Borders, or his work with various universities and athletic organisations like the NBA. Suffice it to say, he's exactly the kind of doctor you'd want heading up your telemedicine platform.
Vault is also proud and privileged to have Dr. Alex Pastuszak on board as their Chief Clinical Officer. A clinically trained urologist, Dr. Alex was previously the Assistant Professor of Andrology and Male Infertility in the Department of Surgery at the University of Utah School of Medicine. He currently specialises in the treatment of male infertility and sexual dysfunction and has performed copious amounts of research on certain genetic conditions. Like Dr. Myles, Dr. Alex is no stranger to technology, having developed a vasectomy reversal app in 2012, amongst other things.
At Vault Health, Dr. Myles and Dr. Alex are joined by a team of practitioners and experienced medical advisors. Thanks to the wonders of telemedicine, you can communicate directly with Vault practitioners and even receive prescriptions through an online portal. The entire process is utterly seamless and exactly as convenient as it sounds.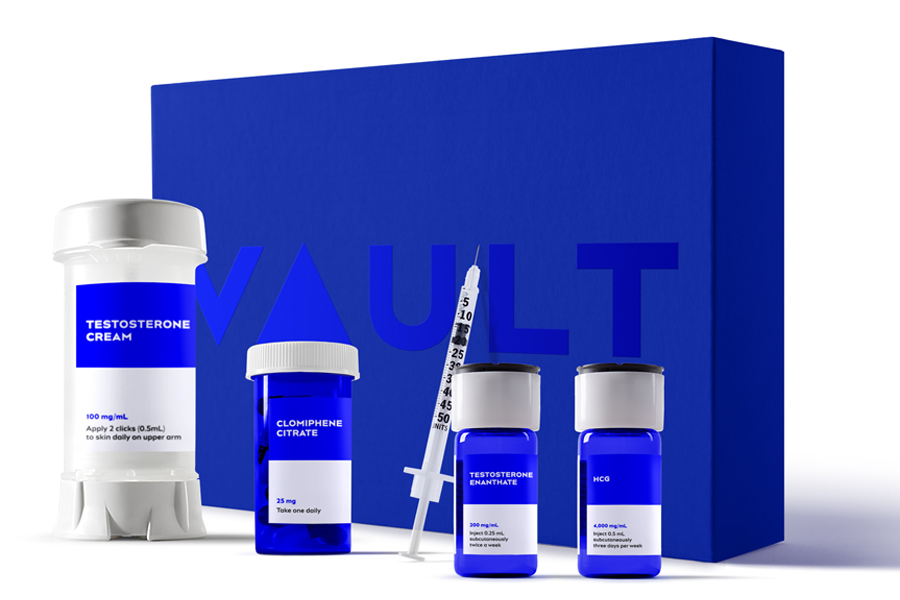 In-Person vs. Online Consultations
According to the American Telemedicine Association, "Studies have consistently shown that…the quality of healthcare services delivered via telemedicine are as good as those given in traditional in-person consultations." Furthermore, 79% of patients said that scheduling a telemedicine follow-up visit was more convenient than arranging an in-person follow-up, according to the Massachusetts General Hospital. Of course, one doesn't need studies to know that telemedicine makes for a sound and convenient alternative to regular doctor visits.
Millions of men struggle with low testosterone levels and erectile dysfunction, but only a fraction of those men seek treatment. That can be due to everything from social stigmas to the inconvenience of tracking down the right doctor to the cost of treatment and more.
Vault doesn't just make the consultation and diagnosis process as easy as possible, but the plans are far more affordable than your standard doctor or hospital visit. Each kit is delivered straight to your door in a discreet manner and ongoing support is provided by way of text, email, or online portal. Get started by answering a simple questionnaire and then take back your life without leaving your home. That's the Vault way.