What's in Rockpool Bar & Grill's $120k Dry Ageing Cabinet?
Though plenty have exited the grand doors at one of the three Rockpool Bar & Grill locations saying: "That was the best steak I've ever eaten", few are probably intimately aware of exactly why. The secret lies in a very expensive dry ageing room.
With up to AUD$120,000 worth of stock at any given time at each of the Sydney and Melbourne restaurants, and up to $80,000 at the Perth restaurant each site buys in two to three full carcasses of premium Wagyu beef each month from their respective suppliers. To handle the ageing of the meat, each Rockpool Bar & Grill has a full-time butcher on-site. No other restaurant in Australia goes quite to this extreme, but then again, no other restaurant is quite the same as a Rockpool.
Rockpool Bar & Grill restaurants are the only restaurants in Australia with this much value in dry ageing cabinets; we spoke with Rockpool Dining Group Culinary Director Neil Perry about exactly what is inside Australia's most expensive fridges.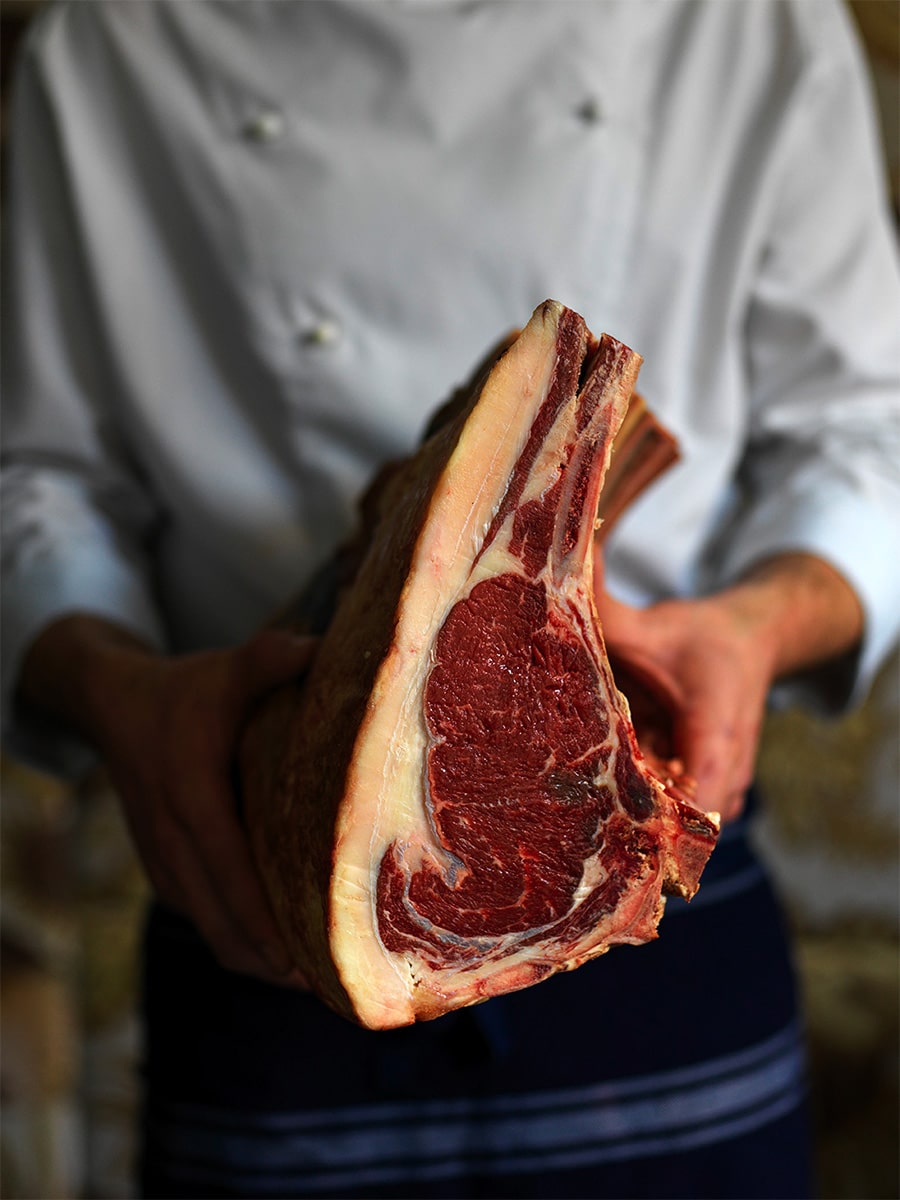 What is Dry Ageing?
In the words of Neil Perry: "Dry ageing brings out the best in beef: the best flavour and the best texture." But what exactly is dry ageing?
In essence, dry ageing beef is the process of drying and dehydrating beef in a controlled environment over time, working within very tight parameters to achieve the desired result.
Beef is stored at zero degrees Celsius, with humidity set at 85 per cent with high air-flow and UV lighting. In the first 14-20 days, enzymes that naturally occur in the beef break down the protein and fat strands, making them smaller and therefore making the beef more tender. They also give off gas as a by-product, and this improves the flavour.
At Rockpool Bar & Grill beef is usually aged from between 28 days and 80 days, bringing a wide spectrum of flavour profiles to the table.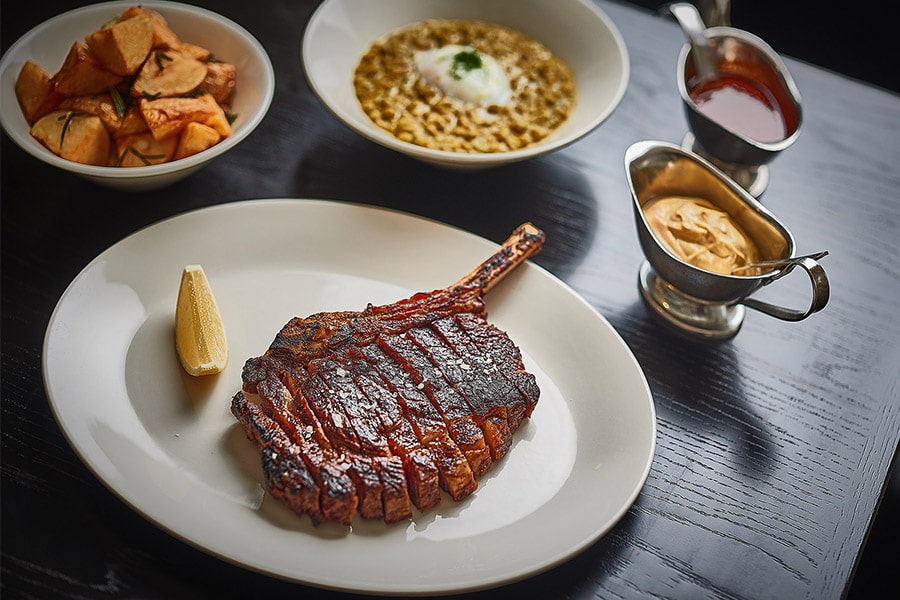 Grass vs Grain – What's the Go?
Most steakhouses list the type of feed on their menus, but what does it really mean?
Simply put, grass-fed animals tend to have a more distinctive, pure beef taste, and an indication of terroir, or the land on which they grazed, while grain-fed animals often have more intensity of flavour, but it's not necessarily beef flavour, rather a flavour picked up from the grain. Grain-fed animals fatten better too, meaning there's more marbling and the steak is more tender.
Rockpool Bar & Grill features a mix of grass-fed and grain-fed beef. "We want to provide variety and balance, as our guests may have a preference for the different flavours imparted on the steaks by the feed consumed."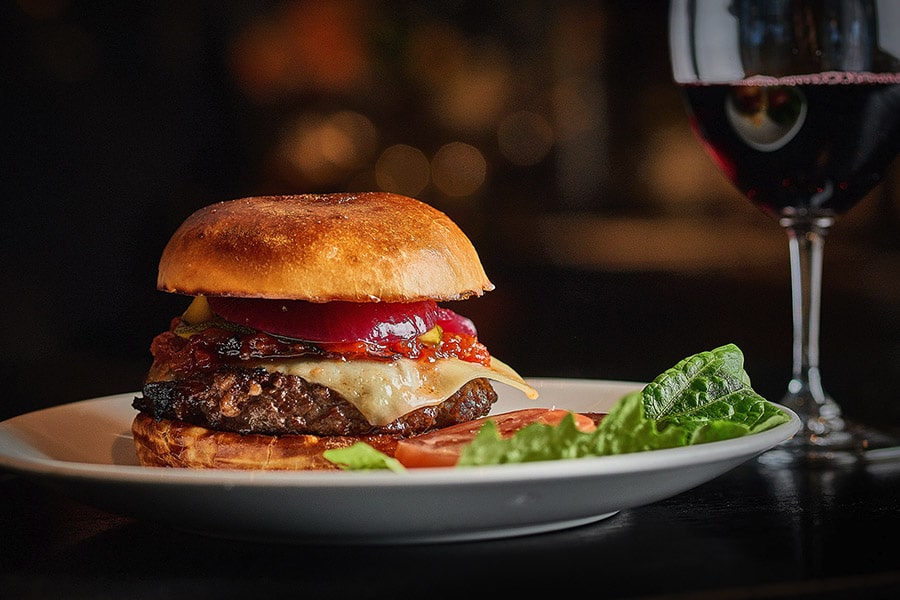 Why Working with Producers is Key
Farm-to-table may sound like a food trend of sorts, but it's a philosophy adopted by Neil and his chefs long before it became popular. "Our suppliers are our lifeline", says Neil. "We're on speed-dial terms with them.
"We source from the very best: beef farmers who grow their cattle slowly, with love, care and respect. In turn, we treat the produce with the highest of respect."
One such relationship that has been nurtured over time is that with world-renowned beef producer David Blackmore who supplies Wagyu to Rockpool Bar & Grill.. Pioneering the wagyu industry in Australia nearly 20 years ago, at his farm in Victoria, he has been instrumental when it comes to raising the bar. "David is still pioneering today", Perry says of his friend and associate.
"He is the only farmer breeding Mishima in Australia, a breed of cattle that predates Wagyu. Mishima is the original native Japanese cattle. He has a very small herd and when we receive a carcass, it is usually sold out within four days. Then we have to wait a month, or more, for the next carcass to arrive. Mishima is found exclusively at Rockpool Bar & Grill, alongside another exclusive Blackmore breed, Rohne.
"David won't even tell me the DNA behind Rohne," says Neil. "Again we are the only restaurants that he supplies."
"David is a legend, it is as simple as that. Outside of Japan his Wagyu is definitely the best product there is."
Rockpool also sources Black Angus from Cape Grim, in the north-west of Tasmania, home to the world's cleanest air. Raised on utterly pristine pastures, it is widely considered some of the finest grass-fed cattle in the world, and the clean flavours in the aged beef that result are highly indicative of the wholesome terroir.
Meanwhile, grain-fed beef is sourced from Rangers Valley in NSW.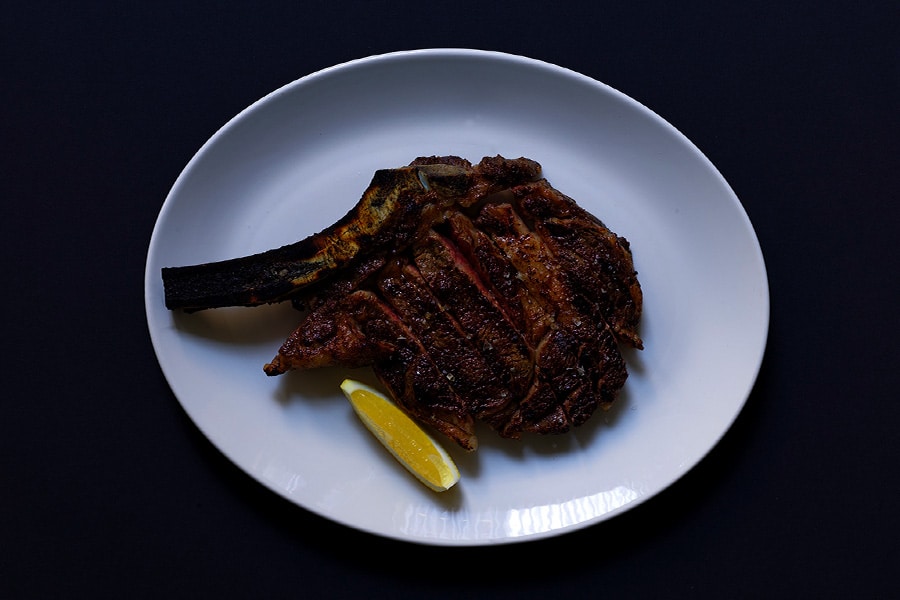 Older Cattle = Better Beef
Another important difference that sets Rockpool apart in terms of quality and flavour is Neil's propensity for using older cattle– "I believe the depth of flavour from an older animal is second to none"– Rockpool sources  60-month-old cattle from Cape Grim
"From time to time we source beef from other farmers, too, including Copper Tree dairy, from where we've just started to buy six to seven-year-old dairy cows. They have the most wonderful acidity and delicious buttery taste", Neil says.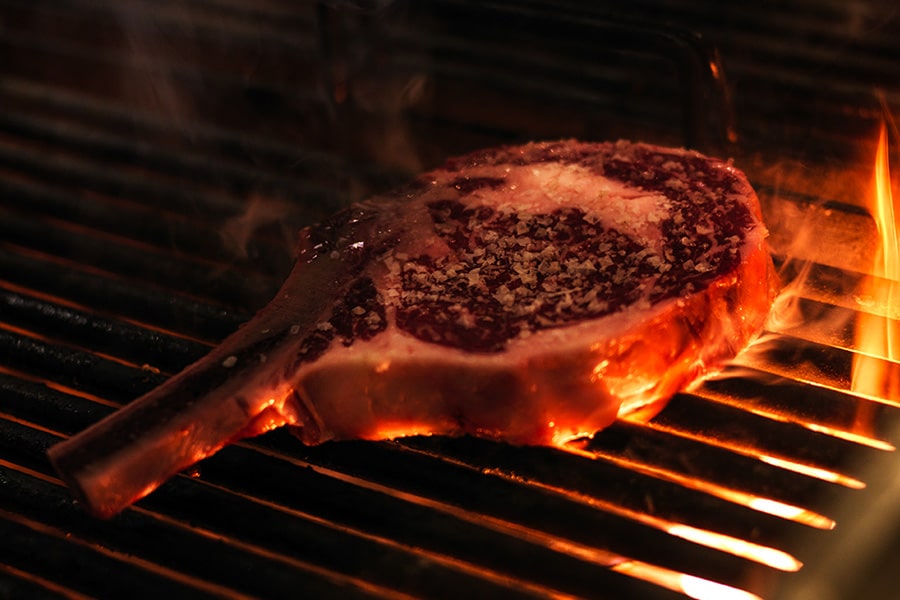 Neil's Favourite Cuts (and How to Cook Them)
Every cut of beef has unique textures and flavours, which means there truly is a cut to satisfy every taste, budget and occasion. These are some of the best:
T-Bone: The T-bone is cut from an area below the backbone of the cow, known as the short loin, and is aptly named after the T-shaped bone holding all the meat together. This type of cut is incredibly tender and needs far less heat when cooking, compared to other cuts. The best way to cook it is medium-rare over wood fire.
Rump cap: The rump cap is a marbled cut from the sirloin and considered one of the most tender and delicious parts of the cattle. Our David Blackmore full-blood wagyu rump cap has a marble score of 9+ and delivers a soft, caramel-like flavour. The best way to cook it is medium-rare over wood fire.
Hanger steak: The hanger comes from the lower belly of the animal and is prized for its full flavour and soft texture. It has an amazing, rich flavour and creamy texture. The best way to cook it is medium-rare to almost medium over wood fire.
Ribeye: Ribeye, as the name suggests, comes from the rib section of the cow. It's cut off the bone and is jam-packed with flavour. It has a high marble score, making it rich and smooth in texture. The best way to cook it is medium-rare over wood fire.