Dyson's Latest Cleaning Range Have Frickin' Laser Beams Attached
Dyson keeps the innovations coming with their latest lineup of floor care products. Consisting of three cord-free vacuums – two of which employ world-first laser detection – the range tackles household dust with the utmost levels of precision. The design and tech alike are conspicuously sharp, making it much easier to maintain a cleaner and healthier home. Indeed, hygienic living spaces are more important now than ever before, which lends these high-performance appliances an extra degree of urgency.
The new range comes on the heels of the first-ever global dust study, which took a comprehensive look at our household cleaning habits and behaviours. It also investigated the relationship that household dust can have on one's personal health, amongst other things. Over 10,000 respondents participated globally, including 1,075 people across Australia. And the results are rather embarrassing.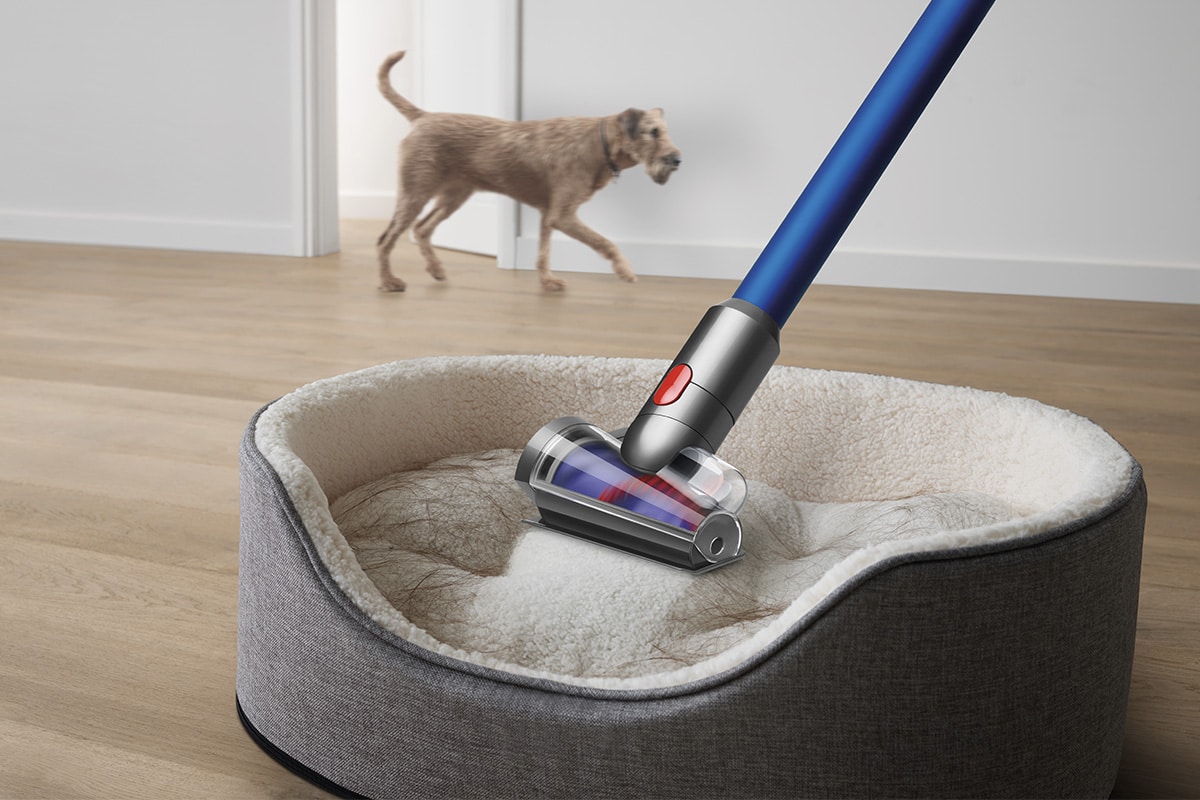 Here are some of the illuminating discoveries:
While 40 per cent of Aussies are cleaning their homes with more frequency in the wake of the COVID-19 pandemic, they still clean less regularly than people in places like China and Italy.
About a third of Aussies think dust is relatively harmless while 60 per cent are unaware of the potential link between household dust and viruses.
A mere half of Australians only clean their home occasionally or when it becomes visibly dirty, increasing their potential exposure to invisible household dust, viruses, and microbial build-up.
4 out of 5 Aussies don't clean their mattress regularly, even though millions of dust mites can live in a single mattress.
1 out of 5 Aussies wears outdoor shoes in the home, thereby increasing the microbial landscape present in dust.
Despite its seemingly harmless properties, dust can be downright toxic to one's personal health. Within the household, dust is a complex variety of particles and components, including dead skin cells, hair, dust mites, bacteria, viruses, mould, and small insects. When inhaled, these components can exacerbate asthma symptoms and respiratory allergies while causing irritation to the eyes, nose and throat.
Dyson Floor-care Range 2021
Dyson's new lineup is brimming with advanced tech and cord-free efficiency, each vacuum helps you tackle dust on a frequent basis, giving your lungs the freedom they deserve. Putting allergies aside, who the heck doesn't want a dust-free home? Here's a closer look at the brand's three latest appliances: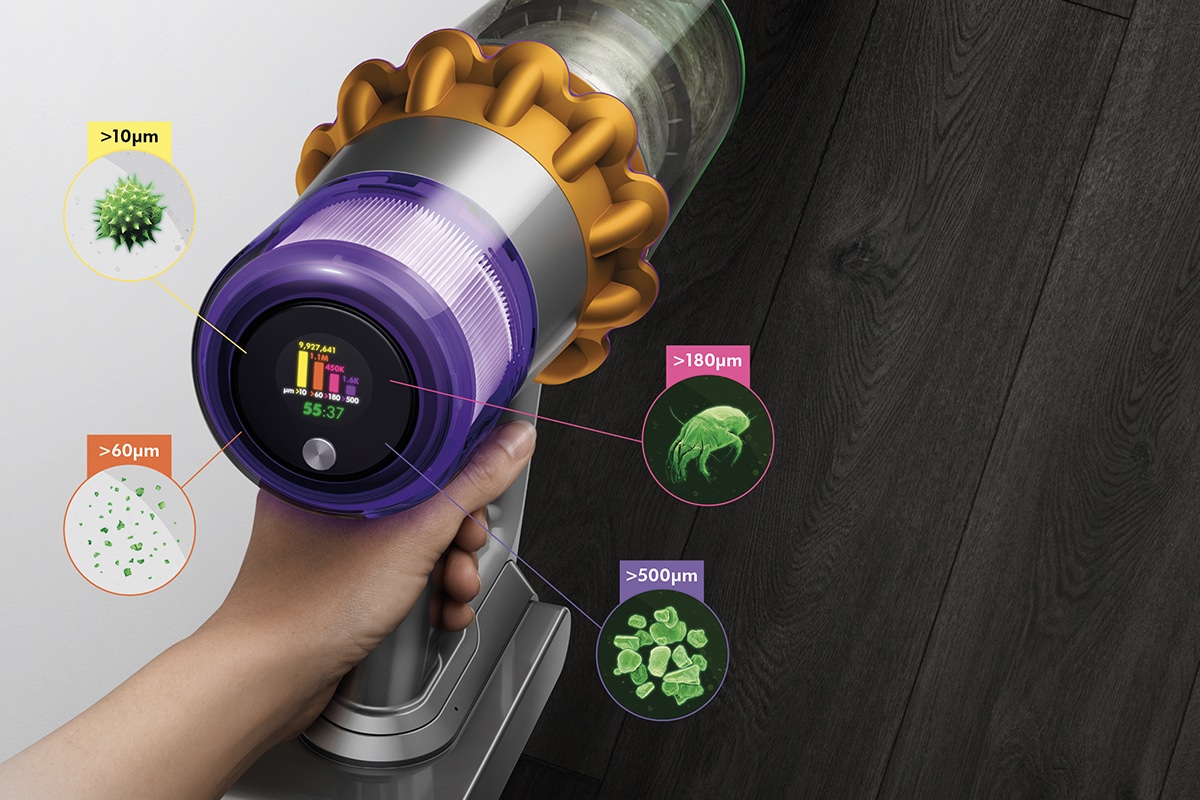 Dyson V15 Detect
Developed by 370 engineers across the globe, Dyson's V15 Detect is the world's first vacuum to feature advanced laser dust detection technology. Integrating a powerful diode laser directly into the Fluffy cleaner head at a perfectly angled position, it detects hidden dust particles as small as 10 microns (naked to the human eye).
Of course, advanced lasers are but one amongst a number of modern specs that this sleek appliance has in store. For example, Acoustic Dust Sensing displays both the size and number of sucked-up particles on a built-in LCD display. Equipped with a piezo sensor, this technology automatically increases suction power when it encounters different floor types and dust amounts.
Thanks to a Hyperdymium motor and 5-stage filtration system, the V15 Detect delivers ultra-powerful suction and captures 99.999 per cent of dust particles as small as 0.3 microns from spaces large and small alike. The vacuum also features a new anti-tangle High Torque cleaner head, which now has a conical brush bar with 56 polycarbonate teeth. By automatically clearing hairs from the brush bar, the detachable cleaner enables a tangle-free cleaning experience.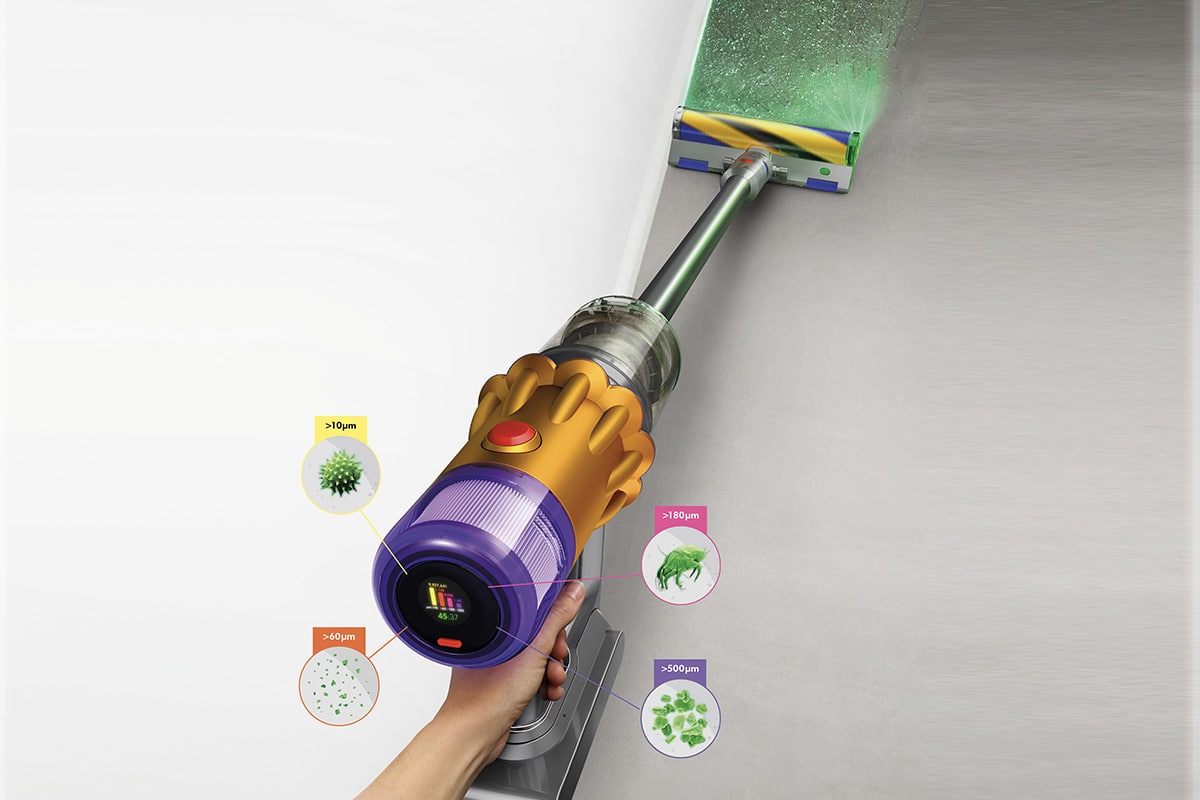 Dyson V12 Detect Slim
Scaling the V15's technology down to size, Dyson's V12 Detect Slim puts all the same goodness in a more compact body. You still get the advanced laser dust detection, powerful motor, piezo sensor, 5-stage filtration system, anti-tangle brush bar, and cord-free usability, but in a smaller form.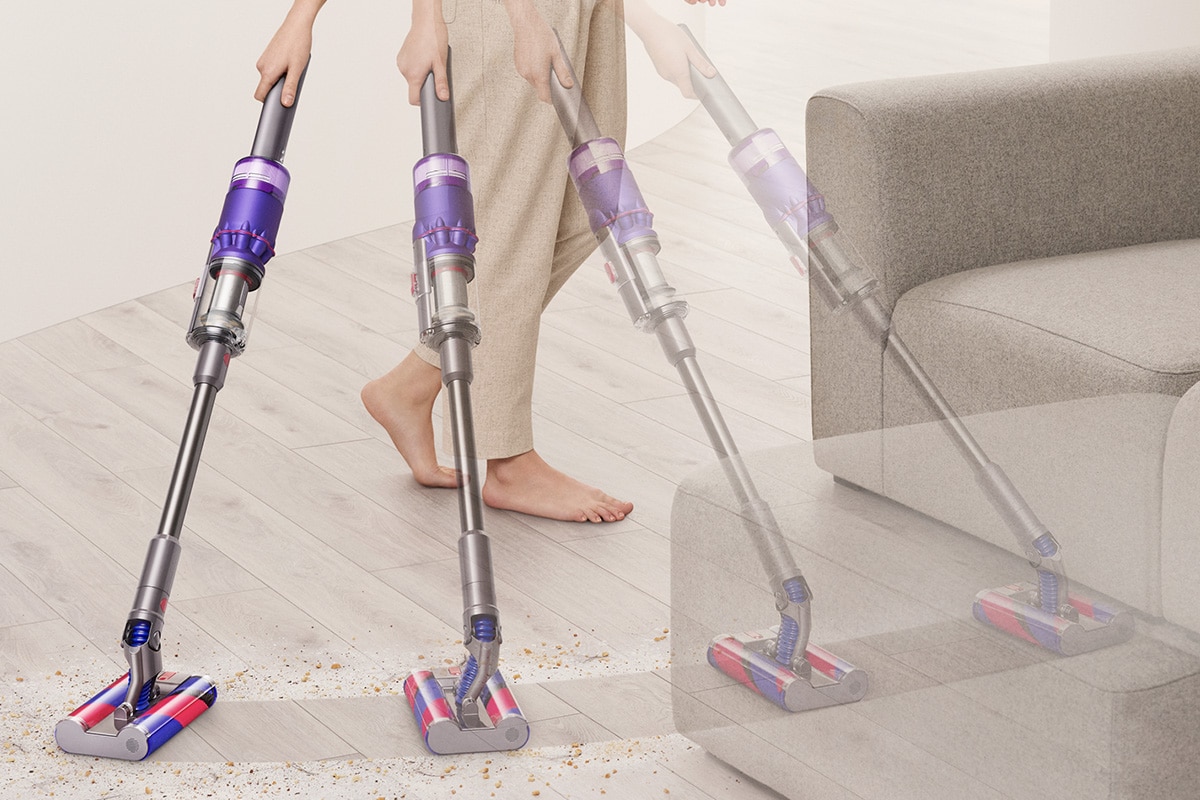 Dyson Omni-glide
True to its name, Dyson's Omni-glide is the brand's slimmest and most manoeuvrable vacuum to date. Engineered for daily spot cleaning, its omnidirectional fluffy cleaner head can glide in every which direction. The vacuum has been rearranged into an in-line format, allowing it to lie flat and thereby penetrate the tightest of spaces.
Compact and cord-free, the Dyson Omni-glide makes for an ideal secondary vacuum, especially if you have hard floors and large, open living spaces. Effortlessly gliding in all directions, it tackles large debris and fine dust and all particles in between. Add three tools – a mini motorised tool, a worktop tool, and a combination tool – and you've got the ideal spot cleaning vacuum.
Dyson's new range of high-performance vacuums will be available starting 27 May.
You'll also like:
Dyson's Latest Air Purifier Pulls Triple Duty
Dyson CoVent Ventilator Uses Vacuum Cleaner Technology to Fight COVID-19
The Dyson Lightcycle Morph Lamp Perfectly Illuminates