Pakt Coffee Kit Brews Like a Portable Barista
The team behind Pakt Coffee Kit understand the importance of a quality cuppa. That's why Pakt is both a sleek and portable kit perfect for travellers keen to brew barista-quality coffee from the road. But unlike camping kits on the market, this one is safe and compact enough to fly.
The Pakt Coffee Kit contains everything you need to brew quality coffee. We're talking an electric kettle, the dripper, a travel mug, carry case and a container for holding the coffee. Plus the essential accessories like a tablespoon and paper filters. Each component securely fits inside another like a series of Russian dolls. When it's stored away, Pakt takes up about the space as a pair of shoes within your checked-in luggage or a carry on duffel bag.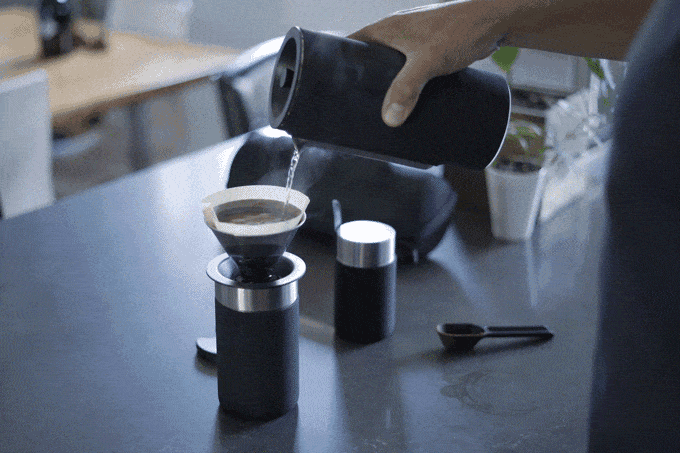 Pakt is made from premium materials, including stainless steel for the interiors with insulated silicone outer shells that stay cool to the touch. The kettle features recessed indents for a comfortable grip, and the dripless pouring spout creates a smooth, slow stream for that perfect spill-free experience.
Those are the facts. It's brewing coffee, not rocket science. Anyway, coffee is more of an art form than a science. The creators of Pakt do want to remind you that for every cuppa you brew yourself, that's one less disposable cup for the landfill. The Kit's coffee container can hold enough to brew about five cups.
Pakt Coffee Kit has so far raked-in over a quarter of a million dollars on Kickstarter, making the travel kit a success. There's still plenty of time for you to lock-in your own Kit for an early-bird discounted price and save some money. Pakt is expected to begin shipping out in December 2019, meaning it could make the perfect gift for that coffee snob in your life.
So whether flying cross country for work or craving a quality cup at your Airbnb, Pakt Coffee Kit is looking more and more promising. Just don't forget to pack the coffee.