Roborock is Slashing Prices on its Robot Vacuum Cleaners for Prime Day
In Partnership with Roborock
Amazon's Prime Day is right around the corner and that makes now a prime time to score some killer deals. If you're in the market for an advanced robot vacuum cleaner, look no further than the ones from Roborock. This leading brand runs the full gamut in terms of price points and features alike so as to leave no potential customer behind. Starting around Prime Day, they're offering discounts of up to 44% off on popular products like the S5 Max with Automatic Mopping and more. Shop, click, and buy and let one of these glorious appliances take care of the rest. Here's a quick rundown of the best deals.
S5 Max
With its super-sized water tank, electronic water pump, spring-loaded mop, virtual no-mop zones, and precision water control, the S5 Max takes mopping performance to spectacular heights. Additional features include precision laser mapping, advanced navigation, and powerful vacuum suction. Put it all together and you get a smart and efficient robot vacuum that covers the best of all worlds for a downright terrific price. Speaking of terrific prices, Roborock is taking $200 off for this year's Prime Day, representing a discount of 36%.
Regular retail price: $549.99
Sale price: $349.99
Dates of Sale: 12th-16th of July.
S7
Hyper-intelligence meets hyper speed on the mighty S7 robot vacuum, which debuted in 2021 at the Consumer Electronics Show (CES). Touting one of the fastest and smartest sonic mops on the market, it cleans with absolute prowess and makes seamless transitions over contrasting surfaces. Upgrades include an improved main brush and a larger battery over previous models. Not just app-compatible, the vacuum is also voice-assistant enabled and thereby responsive to voice commands. It's being offered at 34% off as part of the Prime Day sales event.
Regular retail price: $649.99
Sale price: $429.99
Dates of Sale: 12th-16th of July.
S7+
Whilst similar to the S7 (and that's a good thing), this premium version comes with a convenient auto-empty dock. The even better news is that it can hold up to eight weeks' worth of dust and debris at a time. Bring in the sonic mopping with intelligent lifting, proprietary Hyperforce suction, and other advanced features, and you may never pick up a vacuum for yourself again. Score one for 25% off this Prime Day.
Regular retail price: $949.98
Sale price: $709.99
Dates of Sale: 12th-16th of July.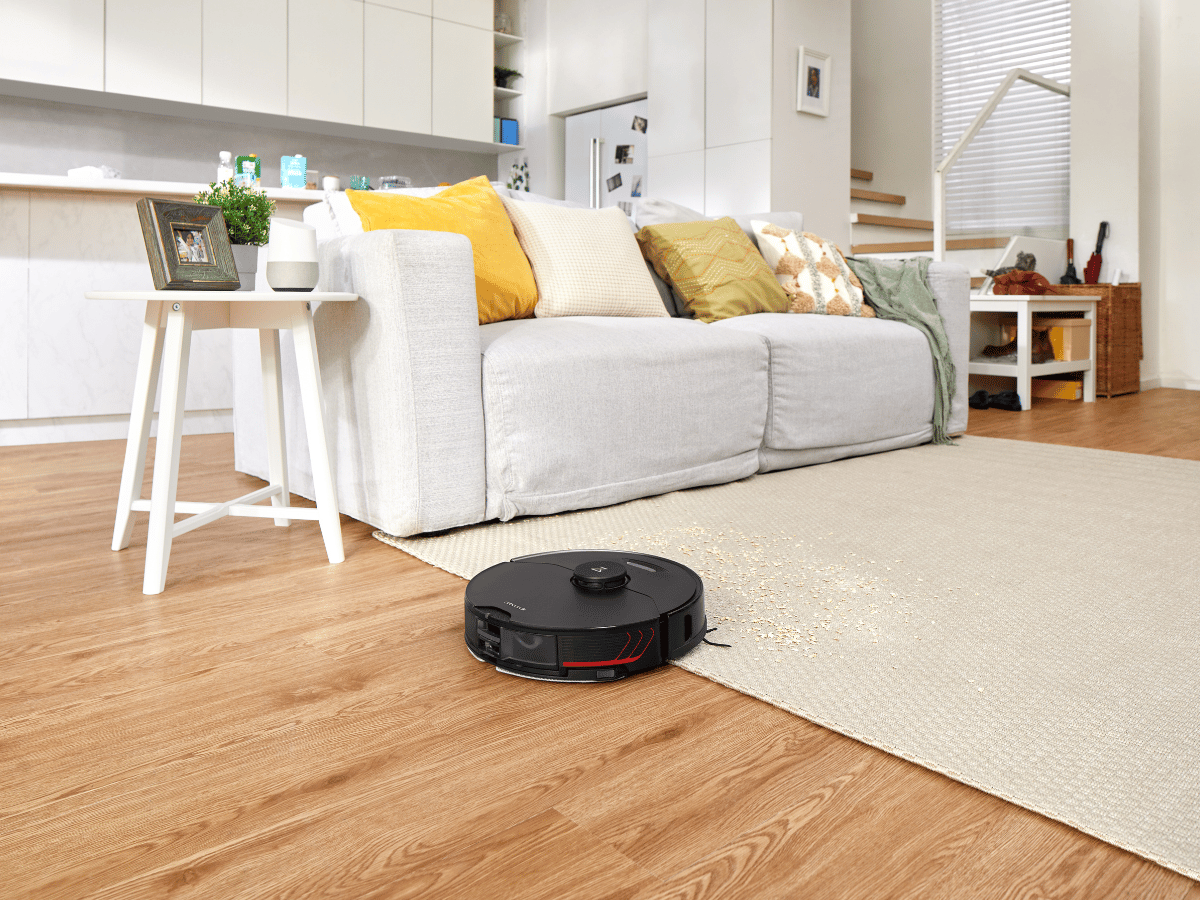 S7 MaxV
Introduced at this year's CES, the S7 MaxV takes the best aspects of previous iterations, dials up the suction power by a significant margin, and incorporates new ReactiveAI 2.0 obstacle avoidance, amongst other things. It also includes a video chatting feature and allows for the use of a special soap solution for mopping.
Regular retail price: $859.99
Sale price: $769.99
Dates of Sale: 12th-13th of July.
S7 MaxV Plus
Take the already formidable S7 MaxV and throw in an auto-empty clean base and you get the new S7 MaxV Plus. It similarly features a groundbreaking ReactiveAI 2.0 Obstacle Avoidance System, which combines an RGB camera, 3D structured light, and neural processing unit. That's just one of the many goodies lying in wait for owners. Take 11% off the retail price as part of the Prime Day sales event.
Regular retail price: $1159.99
Sale price: $1029.99
Dates of Sale: 12th-13th of July.
Q5
Sometimes you just need an affordable and ultra-efficient robot vacuum and that's when the popular Q5 comes out to play. Equal parts intelligent and convenient, it covers the cleaning basics with exceptional panache. Using a PresciSense LiDAR system, patented Sensient Sensor Array, and multi-level 3D mapping, it navigates your home with ease, tackling dust and debris with up to 2700 pa of suction power. Schedule cleaning times and create custom routes as you behold the many wonders of this intelligent appliance, which is available for just $309.99 around Prime Day.
Regular retail price: $429.99
Sale price: $309.99
Dates of Sale: 8th-13th of July.
Q5+
You may have picked up on a pattern by now and the Q5+ keeps the tradition alive, taking the Q5 and throwing in an auto-dust emptying feature. Expect the same tier of suction power along with precision mapping, custom cleaning routines, and more. For the Prime Day sales event, Roborock is taking a generous 30% off the regular retail price.
Regular retail price: $699.99
Sale price: $489.99
Dates of Sale: 8th-13th of July.
In addition to the deals mentioned above, Roborock is slashing prices on products like the Q7 Max+ and E5 robot vacuums and Dyad upright vacuum as part of the Prime Day sales event. There's never been a better time to pick up what this leading brand is throwing down. Welcome to the wonders of modern convenience!