Roborock's New H7 Handheld Vacuum Hits All the Right Performance Marks
In Partnership with Roborock
Best known for their stellar (and ever-growing) range of robot vacuum cleaners, Roborock is putting some extra power in your hands…literally. The pioneering brand has just launched the new H7, their second-generation cordless stick vacuum. Picking up where its mighty predecessor left off, this sleek appliance delivers an impeccable balance of cleaning power, usability, and maneuverability. It also features new options so as to enhance and improve your cleaning experience. As always, this beloved brand seems to have thought of everything. Act now and you'll receive an early bird special of $449.99 only available between the 6th-8th of July.
Roborock set an industry benchmark with their original H6, which was the first cordless stick vacuum cleaner to incorporate a lithium-polymer (LiPo) battery. Running on the very same technology, the new H7 touts upgrades in the form of a lighter design, increased suction power, reduced charging times, more storage options, and improved maintenance. Expect zero compromises when it comes to performance and convenience alike, as this leading brand wouldn't have it any other way.
Buy it here with the early bird discount
Here are some of the H7's key benefits and features:
Powerful cleaning – Cranking out 480W of power, the vacuum creates maximum suction of 160AW.
Long-lasting battery – When operating in eco mode, the H7 delivers a substantial runtime of up to 90 minutes.
Decreased charging time – You can fully charge the battery of this wireless bad boy in just 2.5 hours flat, representing a 37% time reduction compared to the H6.
New ultra-light body – Weighing a mere 3.2 lbs, the H7 is conspicuously easy to maneuver and transport.
Larger dustbin – An increased dust bin capacity of 500 ml means less frequent emptying for you.
Disposable dust bags – Perfect for allergy sufferers (or anyone who simply doesn't like dust in their face), an optional dust bag helps reduce dust spray while enabling effortless bin emptying.
Attachable mop (sold separately) – Purchase the adjoining mop, attach it with ease, and you can seamlessly switch the H7 into mopping mode.
Magnetic attachments – The H7 features a Magnetic Easy Store System (aka MagBase), allowing you to collect all the accessories at once and then store them compactly when your cleaning is finished.
Advanced particle capture – Using multiple cyclones plus HEPA filtration, the H7 captures 99.99% of particles as small as 0.3 microns.
Customisable options – Different suction modes are available at the tap of a button.
Built-in OLED screen – Use the screen to check the suction mode or monitor battery life as you clean.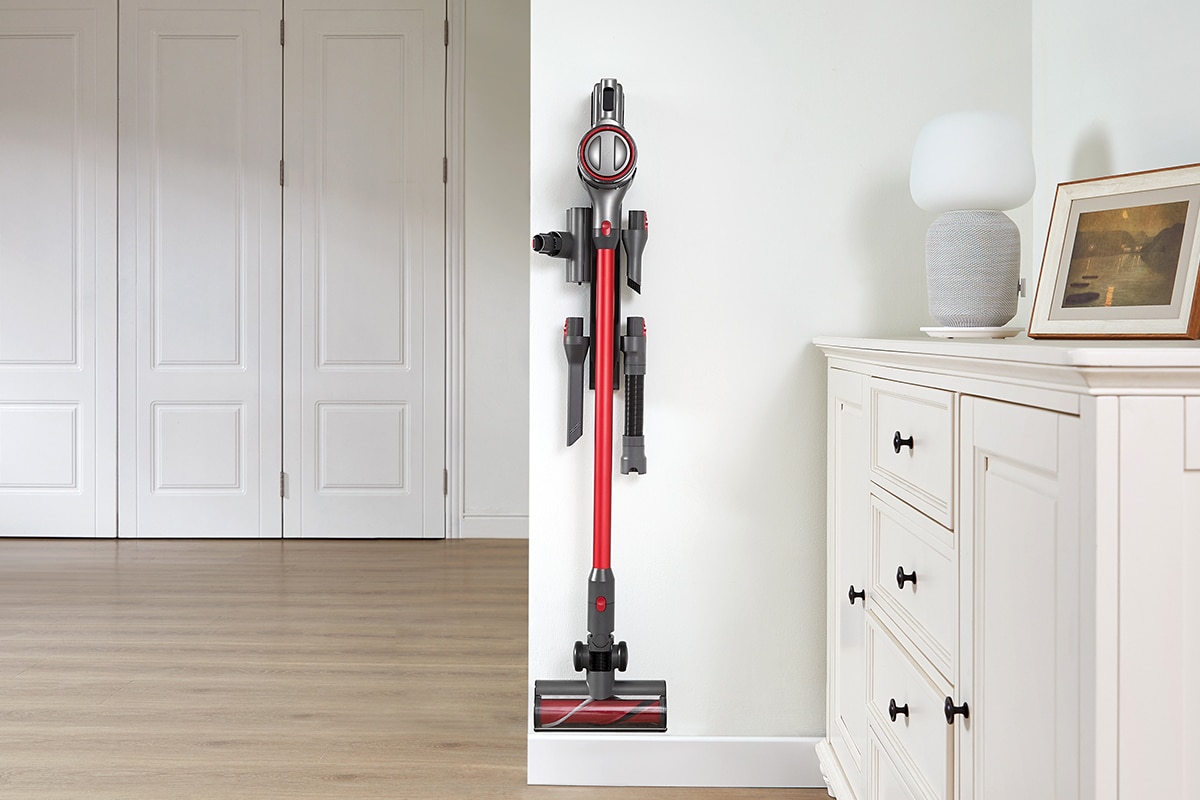 Roborock spends painstaking amounts of time in research and development and it shows on the new H7. Their latest cordless stick vacuum was also the result of intensive customer feedback, hence the lighter design, increased suction, and reduced charging time (to name just a few improvements). It's available now for an early bird discount price of US$449.99 compared to its retail price of $499.99. Pick one up today and put the power in your hands