Take the Labor out of Labor Day with this Robot Vacuum
In Partnership with Roborock
Roborock vacuums are a great thing that keeps getting greater with each subsequent generation. Effortlessly intelligent, they're also convenient, long-lasting, powerful, quiet, and sleek. And for a limited time, they're more affordable than ever before. From 31 August to 5 September, the brand is hosting an exclusive Labor Day sale with generous discounts of up to 42% off their top-selling models. If you've been thinking about buying a robot vacuum like the acclaimed S6 or an S7 + H6 bundle, now is definitely the time to act.
Roborock S6
The popular S6 tackles dust and debris with the utmost tier of modern efficiency. Thanks to advanced technology, this vacuum can map out your home and clean one room, many rooms, or the entire house with a few taps on your phone. It has the suction power to lift AA batteries and yet it's quiet enough to clean in the dead of night. Snap-on the mop attachment and the appliance takes on even more functionality, bringing your floors to a truly shiny gleam.
Here are some other key benefits:
Incredibly Smart
Looking for superior intelligence? You've found it with the S6:
A high-precision laser navigation system maps each room of your home in real-time.
An adjoining app allows you to name each area of your map, schedule cleanings, create no-go zones or virtual barriers, and more.
Fast-thinking algorithms calculate the most efficient way to cover an entire room in one pass.
14 built-in sensors collaborate to create fall avoidance, surface awareness, height sensitivity, escape route calculation, and more.
Astoundingly Clean
Matching brawn to its brain, the S6 features the following:
Enough suction power to lift steel ball bearings and the toughest dirt (even with a full dustbin).
The largest battery in its class, which lasts for up to 3 hours on a single charge.
A floating main brush and variable speed side brush, tackling the ground, corners, and edges alike.
High-density and high-flexibility DuPont bristles (created exclusively for Roborock).
A Z-shape cleaning pattern that leaves no spot behind.
Climbs easily over 0.8″ thresholds and carpets, automatically switching to max power for carpet cleaning.
Adjustable and balanced water flow delivers even distribution and a tailored mopping experience.
Remarkably Convenient
What, you thought we were done? Here are even more benefits of the S6:
It's up to 50% quieter than the previous model (Roborock S5).
Tidy charging dock cables tuck away neatly inside the dock so as to eliminate tangling.
Pop-out and snap in the dustbin in seconds and empty it in moments.
Snap-on the water tank to start mopping and snap it off with similar ease.
The vacuum recharges automatically when the battery is low and returns after charging to continue where it left off.
Key parts are easily detachable for maintenance and cleaning.
Disposable mop pads are provided in the box.
Normally offered at either the retail price of US$649.99 or the sale price of US$599.99, the Roborock S6 is available from 31 August to 5 September at the shockingly low price of just US$379.99. That represents an additional discount of 42% off the already discounted price. Like we said earlier: now is the time to act.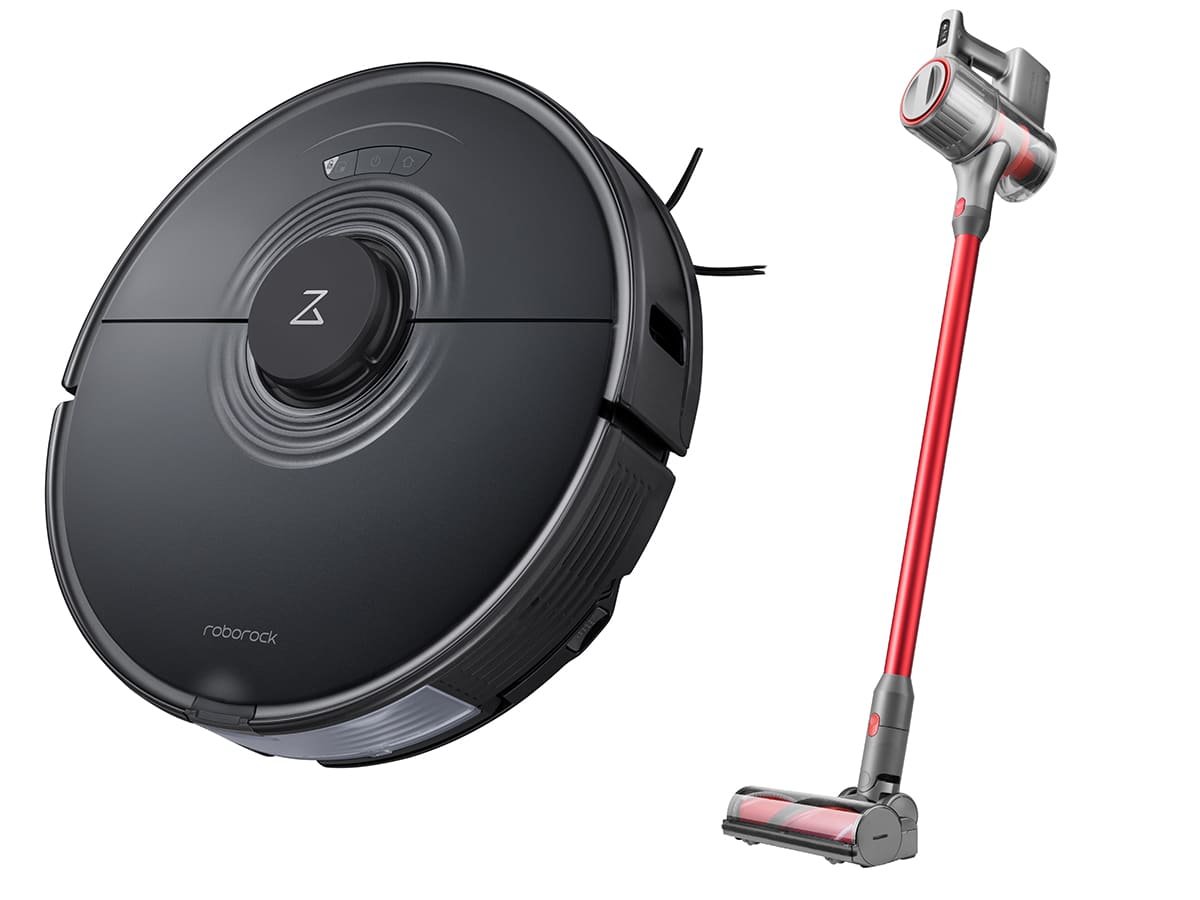 Roborock S7 + H6 Bundle
If you want to cover all your bases for an incredible price, consider the Roborock S7 + H6 bundle. Consisting of the latest-generation robot vacuum and a signature cordless stick vacuum, this package normally retails for US$1149.98. As part of the Labor Day sale, that price goes all the way down to US$749.99. Here's what you get:
Roborock S7
Roborock's all-new S7 simply smokes the competition and cleans even deeper than its outstanding predecessors. Bolstered by cutting-edge sonic technology, this lean and mean machine scrubs floors up to 3,000 times per minute, eliminating crusty dirt and stains with unparalleled efficiency. Bring in the brand's first auto-lifting mop—which intelligently detects carpets—and that deep clean goes even deeper.
Here are some other incredible features:
All-new rubber brushes stick closer to any type of floor for a better clean.
HyperForce suction generates insane amounts of power, resulting in more durability and fewer tangles.
A huge battery, dustbin, and 300ml water tank means less work for you.
Precision LiDAR navigation updates route efficiency algorithms to improve upon multi-floor mapping, area control, no-go zones, and other key features.
An adjoining app allows you to control the robot from near and far alike.
We're merely scratching the surface of what the S7 has in store. Take everything we said above about the S6 and crank the intelligence, performance, and convenience dial even higher and you get the idea.
Roborock H6
Sometimes, you need to put the cleaning action in your hand…literally. Enter the H6, an ultra-sleek cordless stick vacuum of conspicuous power and maneuverability. Benefits include:
Constant 150AW suction power
Carpet boost detection
Lightweight design
5-Layer HEPA Air Purification Filter
Long-lasting battery life
Ready to take the labor out of Labor Day? If so, purchase the Roborock S7 + H6 bundle and save about US$399.99 in the process. Dust and debris don't stand a chance.