$60 Million Byron Bay Mansion Goes Up For Sale
Images via RealEstate.com.au
Would you spend $60 million on a house that hasn't even been built yet? Well, RealEstate.com.au wants everyone to know that the option is totally there. Overlooking Main Beach in Byron Bay, the proposed three-storey home has been listed as an off-the-plan sale by luxury property agency Beauchamp Estates for over $60 million. Reckon they'll accept Afterpay?
You'll Also Like:
Inside Floyd Mayweather's New $24 Million Miami Beach Mansion
Malibu Real Estate Gets Hotter with $65 Million Home
Step Inside 'Rainbow Six' Author Tom Clancy's Insane Triple Penthouse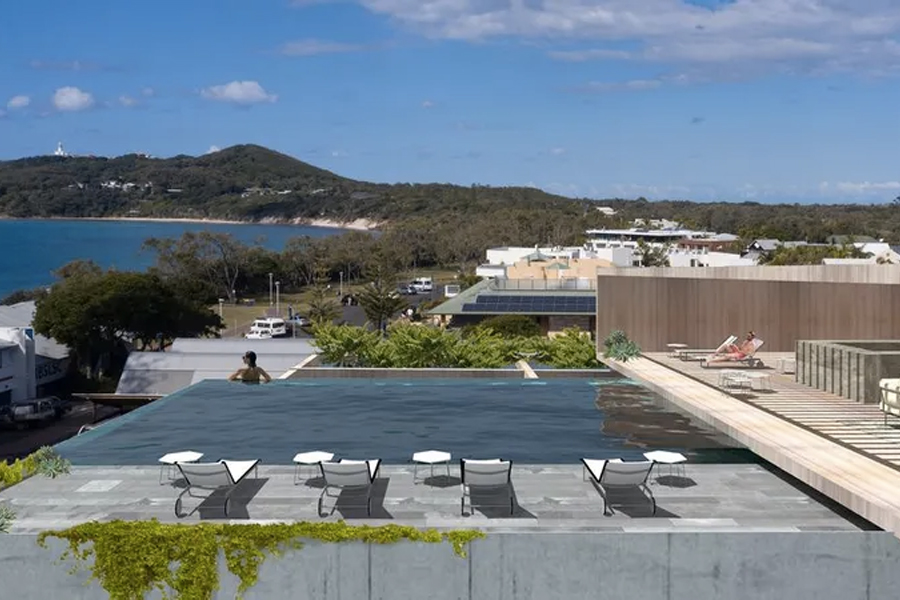 According to RealEstate.com, the new mega-mansion will be taking over a quarter acre block on the Bay Motel site at 12 Bay Street, the AUD$61.3 million proposed house will sit right next door to the Byron Beach Hotel, which recently sold for $100 million. Contracted by Adam Hammond of Cavvanbah Projects back in August 2020 for $30 million, there's a lot of money involved in Byron Bay property.
So much so that Mr Hammond reckons the house "will likely have a net worth of at least half a billion dollars". And despite Chris Hemsworth's House in Byron Bay is Huge, "the profile of this sort of person — they may be Australian — but likely not, as billionaires are fairly thin on the ground here."
So what makes this proposed building so damn expensive. The site is currently zoned for mixed-use meaning it could feature a combination of retail, commercial, and residential spaces. The area underneath the house could accommodate two world-class restaurants on the ground floor, each with approximately 200 sqm and outdoor dining areas. And the cherry on the top? A secure elevator that goes directly to their private 'chef's table' dining room.
Should its future owner decide to cash in on the mixed-used opportunity, Mr Hammond said they would be looking at over half a million dollars a year income just with the retail space. And that's before taking into account subletting the second residence.
Although no potential buyers have been named, the off-the-plan sale will allow the buyer to customise the finished design as they see fit. To give us an idea of what to expect, Melbourne architect John Bornas from Workroom Design came up with the design concept — his fifth Byron project to date.
With the team expecting to lodge the development application for the project with Byron Shire Council in February we look forward to bringing you more updates about this outrageous $60 million Byron Bay property.
You'll Also Like:
First-Ever Bentley Residences Luxury Tower Coming in 2026
Malibu Real Estate Gets Hotter with $65 Million Home
Step Inside 'Rainbow Six' Author Tom Clancy's Insane Triple Penthouse