Circular Quay's $200 Million Revival is Up to You
Circular Quay is getting the makeover it finally deserves with the NSW Government asking Sydneysiders to give their say on what will happen to the iconic location, four years later than initially planned. Set to improve public spaces like shops and restaurants, in addition to upgrading the transport interchange for trains, ferries and the newly installed LightRail, Circular Quay is on its way to an AUD$200 million revival.
You'll also like:
A Look at the New $750 Million Sydney Fish Market
Aussie Surfer Fends Off 'LandCruiser-Sized' Great White Shark
35 Places You Can Buy Face Masks in Australia
Coming five years after Mike Baird's NSW Government unveiled plans for the upgrades, construction won't start until 2023. A date contingent on gaining approval. Described as a "cross-government effort," the community is now getting involved alongside Transport for NSW, the Department of Planning, Industry and Environment and other government agencies, to share their ideas on how to renew Circular Quay.
Developing initial design ideas will be the dual consortia of CQC Partners and Plenary Group, selected by the NSW Government and Transport for NSW, for Phase 2 of the Structured Market Engagement. It comes as plans for the new AUD$750 million Sydney Fish Markets were recently fast-tracked, with construction expected to be done by 2024.
According to the media release, the planned renewal will cater to all customers, in addition to meeting the expected demand for future transport services. Establishing a thriving hub for both locals and tourists is at the top of the priority list, with a mix of shops, dining and cultural experiences coupled with Circular Quay's unique heritage.
It's this unique heritage that Transport for NSW is blaming for the delays, citing that important heritage considerations take time. According to Labor transport spokesman Chris Minns, over $30 million has been spent with only "a couple of media releases" to show for it. Around $850,000 was also awarded to PriceWaterhouseCoopers to provide a team of specialists for commercial and financial advice on the project.
Accusing the Berejikilian government of "talking a big game and not delivering," the opposition members think instead of "talking about fast-tracking projects – well just doing things on time would be a start." A spokeswoman for Transport Minister Andrew Constance, however, claimed the project was well into procurement, adding to the government's $100 billion infrastructure program.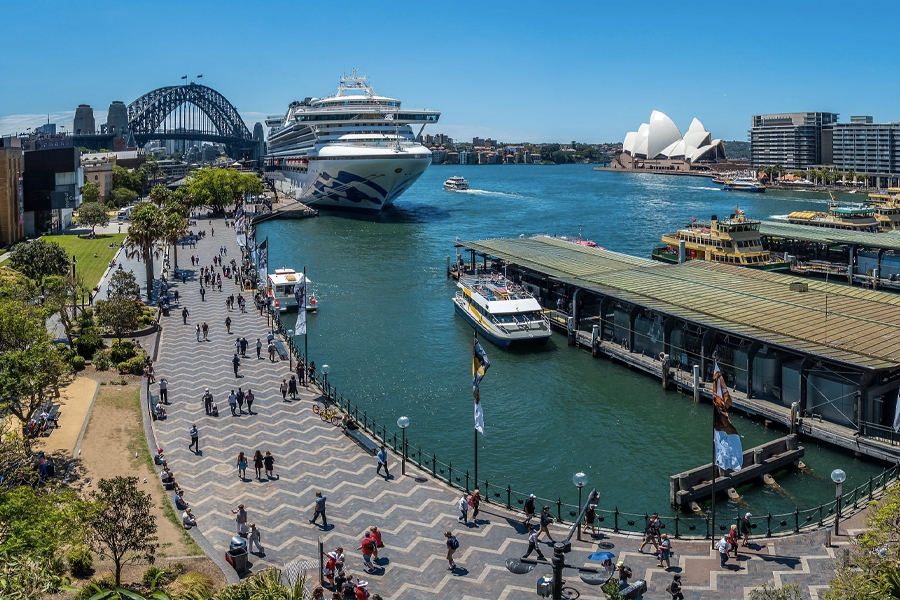 Already included in the proposal is a reimagining of public spaces, new ferry wharves and an upgraded train station. Although these upgrades may face a significant hurdle in the form of John Bradfield's controversial elevated train line.
Originally planned to be underground, the state government eventually decided on Bradfield's 1924 "grand 'elevated' open-air" design, similar to that of Central Station. With work delayed and postponed due to World War II, a Planning Committee in 1936 proposed instead to allow for unimpeded ground-level views from the water to the street. Instead, they installed the Cahill Expressway in 1958, connecting the Bradfield Highway with Macquarie Street, and adding another level of infrastructure.
With the latest changes focused on ensuring "better accessibility, connections and enjoyment for the community," Transport for NSW reckons the revival is "an opportunity to strengthen our economy and inject some magic back into this vibrant waterfront location".
Citing space needed for "15 million visitors and 64 million public and active transport trips" per year, Transport for NSW believes the area is also reaching its capacity for "events like Vivid and the New Year's Eve fireworks each year." Transport for NSW is aiming to create an area that "Sydneysiders can be proud of." Acknowledging community input as a "vital part of the planning process", everyone will be able to have their say.
With makeover plans still in their early stages of consultation, exact details on the delivery of the Circular Quay precinct are likely to change before any final approval.  To make sure your voice is heard, click this link before 31 August to have your say.
You'll also like:
A Look at the New $750 Million Sydney Fish Market
Aussie Surfer Fends Off 'LandCruiser-Sized' Great White Shark
35 Places You Can Buy Face Masks in Australia