The Most Insane Garage We've Ever Seen in Sydney
Sydney's Bat Cave
This underground garage was designed for billionaire Bruce Wayne to house his Murciélago, Aventador and Alfred's Rolls Royce, with a hidden compartment below for the Batmobile (or Tumbler). Sorry. I've mistaken this ultra-modern luxury space for a scene from The Dark Knight.
This Sydney garage was actually designed for a family to accommodate its increasing number of cars as the children reached driving age. With no additional space on site for a larger garage, the solution was to relocate below ground. Architect Angela Kent of Kenström admits the term "bat cave" was thrown around.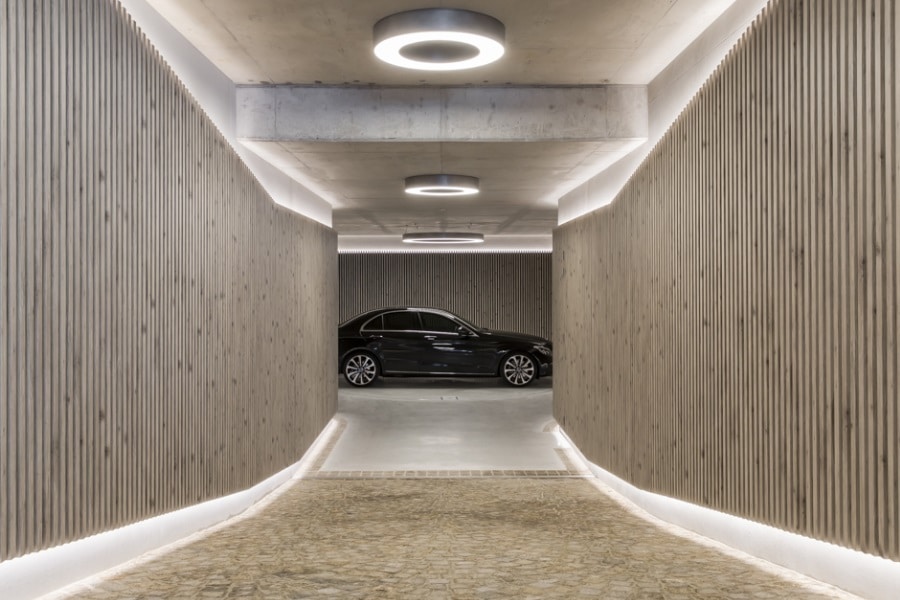 Kent ditched the reflective, glossy showroom route, instead focusing on creating a warm and calm atmosphere that would transition to the rich detailing inside the house. Using Japanese made Ever Art Wood aluminium battens quashed fears of mould growing in a space deprived of natural light. With a photorealistic timber finish, the exterior grade battens were the perfect material.
A 12mm concrete overlay replaces large format tiles, enabling the builders to achieve a virtually join-free surface. The floor was hand trowelled to a low sheen. The aluminium battens together with the concrete floor create an elegant space that's also durable and low maintenance. The way a garage should be.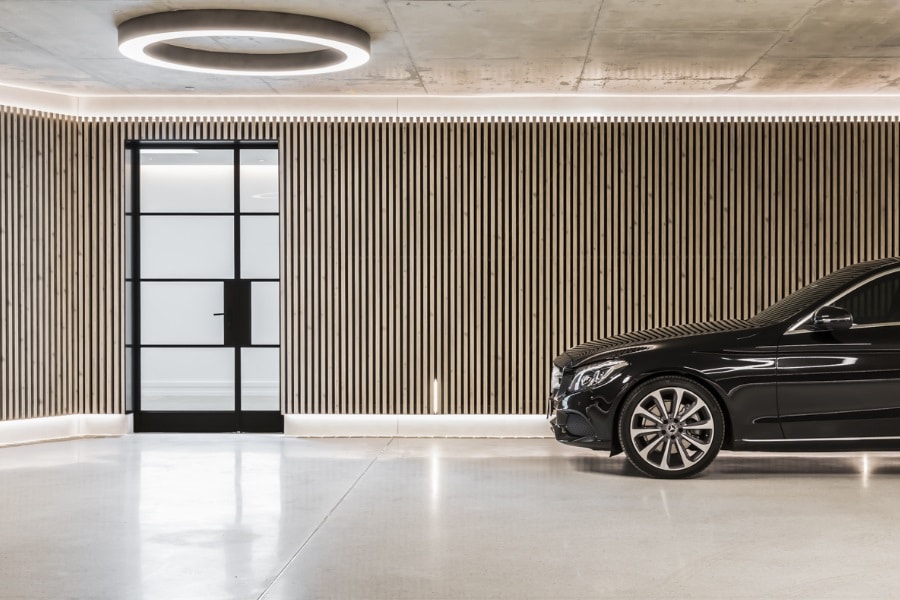 LED strip lights are fitted behind the wall battens at the skirting, and small vertical marker strips are used to delineate the parking bays for 5 cars. The lighting design highlights the curved walls and lines of the battens creating a calming, rather than industrial atmosphere.
With its striking batten-lined walls and smooth concrete surfaces offset by beautiful lighting, the garage is a triumph of considered simplicity and materials. The project highlights how advances in technology (and owners chequebooks) expand the possibilities for architects and designers. It's a real shame this beauty is hidden away from public view.
Source – The Local Project
Photography – Pablo Veiga