Melbourne's Federation Square is Copping a $20 Million Upgrade
Good news everyone, Melbourne's Federation Square is getting an AUD$20 million upgrade, the largest in its 18-year history, bringing community and cultural activities "front and centre". Instead of an Apple Store, the heritage-protected site will be transformed under the need for far-reaching reform and a renewed focus on quality civic and cultural activity.
Funded by the Victorian State Government's $2.7 billion Building Works stimulus program, $20 million will be injected into the site to improve the visitor experience, with a strengthened focus on greater recognition and celebration of First Peoples cultures. With the 2017 plans for an Apple Store nowhere in site, there will be a greater emphasis on connecting sports and arts precincts to the area, in addition to emphasising the importance of the Yarra River.
You'll also like:
Sydney is Scoring a Huge Interactive Van Gogh Exhibition
Australia 108 is the Tallest Residential Tower in the Southern Hemisphere
Circular Quay's $200 Million Revival is Up to You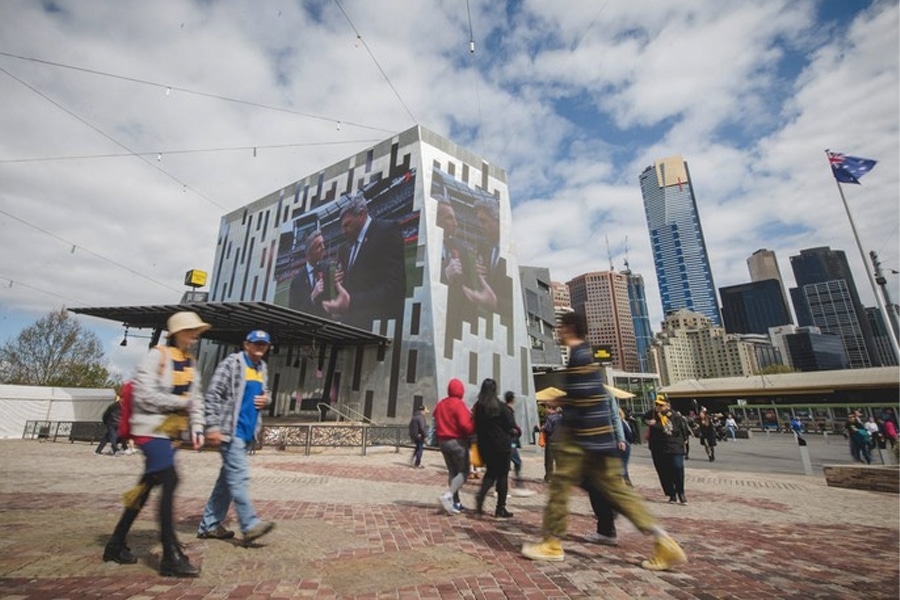 Coming as part of a review into Federation Square, first built in 2002, which found it was at odds with Victoria's culture and community. With nearly 2000 contributions, the review calls for a new immersive regional experience centre to promote the state's best food and wine, music and culture. Or just another way for Melbourne to say it's better than Sydney. Or as one tourism stakeholder described so eloquently, "a rolling program of world-class food and wine and a gateway to other Victorian experiences and places."
Minister for Creative Industries, Martin Foley described Federation Square as "much loved and widely valued" during the introduction of the review asserting the area "can play a part in the civic, cultural, design, and now economic revival of Melbourne and Victoria. Making sure the Square is recognised and governed as a key cultural and creative entity, joining our other cultural icons, is a good start," Foley said.
Looking to "reassert its status as Melbourne's civic and cultural centre" the review recommends putting the visitor first, in addition to defining what Federation Square stands for, with several stakeholders reporting increased commercial activity at the expense of its "vibrancy". Victorian government architect Jill Garner, who co-chaired the review, said the design strategies and principals acknowledge both "the heritage status of the place and inform future enhancement."
Despite being "under increasing financial pressure to meet significant asset maintenance and renewal costs" the State Government has accepted the recommendations of the review. These include establishing a "more sustainable business and operating model," a "refreshed retail and hospitality offering", and an aspiration to "match the quality of the original," enabled through a design advisory board.
Professor Donald Bates of LAB Architecture Studio, the architects behind Melbourne's award-winning Federation Square, told The Age there should be a more immediate focus on activating the riverfront. "We designed Federation Square to be a place you can pass through or participate in, before or after your way to the MCG or to the tennis or the rectangular stadium, among many other things," said Bates. "There's this huge public domain on the south side of Federation Square but no place to stop and get a drink, a coffee or a sandwich, and I think it really needs it."
However, 9to5mac's Michael Steeber cheekily pointed out the similarities the review shared with the initial Apple Store plans. Referencing the review's recommendations, Steebar pointed out the familiar wording of both proposals. Another Twitter user was just surprised there is still no city store for Apple in Melbourne.
(Hint) pic.twitter.com/Cz84bPZkbk

— Michael Steeber (@MichaelSteeber) August 22, 2020
???? they tried

— Michael Steeber (@MichaelSteeber) August 23, 2020
You'll also like:
Sydney is Scoring a Huge Interactive Van Gogh Exhibition
Australia 108 is the Tallest Residential Tower in the Southern Hemisphere
Circular Quay's $200 Million Revival is Up to You