Stay in a Hidden Nordic Tree House with Woodnest Cabins
Birds build nests in the top of trees for safety. Helen & Hard Architects have a different reason for building their nests at the top of the trees. Given that their Woodnest Cabin is located in Odda, Norway, that reason is pretty obvious—the stunning view. From that perch, guests in the cabin are able to connect with nature in a way few other creatures on Earth can.
You'll also like:
Stealth Pavilion is a Ridiculous Gym Hidden in Plain Sight
Step Inside 'Rainbow Six' Author Tom Clancy's Insane Triple Penthouse
Get Your DIY On With This Flat-Pack House From MUJI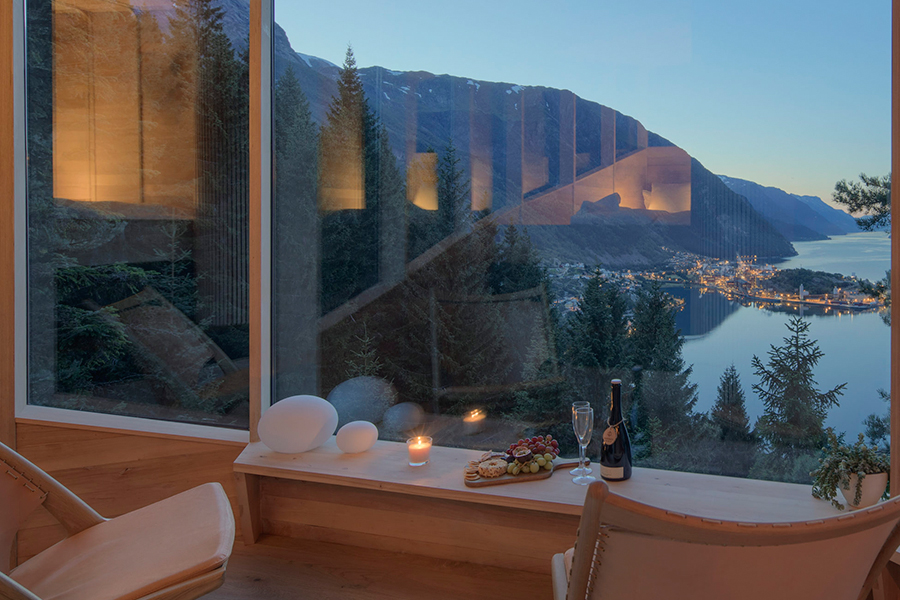 "Stemming from the client's wish to create a unique spatial experience that connects to both the ordinary and the extraordinary sensation of climbing and exploring trees," explain the architects, "our aim was to create a space that truly embodies what it means to dwell in nature." Because the cabins float approximately 15 to 20 feet off the ground, the experience of dwelling in nature happens without impacting the forest floor.
The houses are accessed via a small timber bridge. Much like a bird's nest, these nests are also cozy spaces. There's only 160 square feet to work with, so the architects had to get creative with how it was organised. In that space they included a bathroom and bedroom that flank either side of the entrance. Heading past those rooms, you'll enter the kitchen and living area, which has a glass façade that opens up to a stunning view.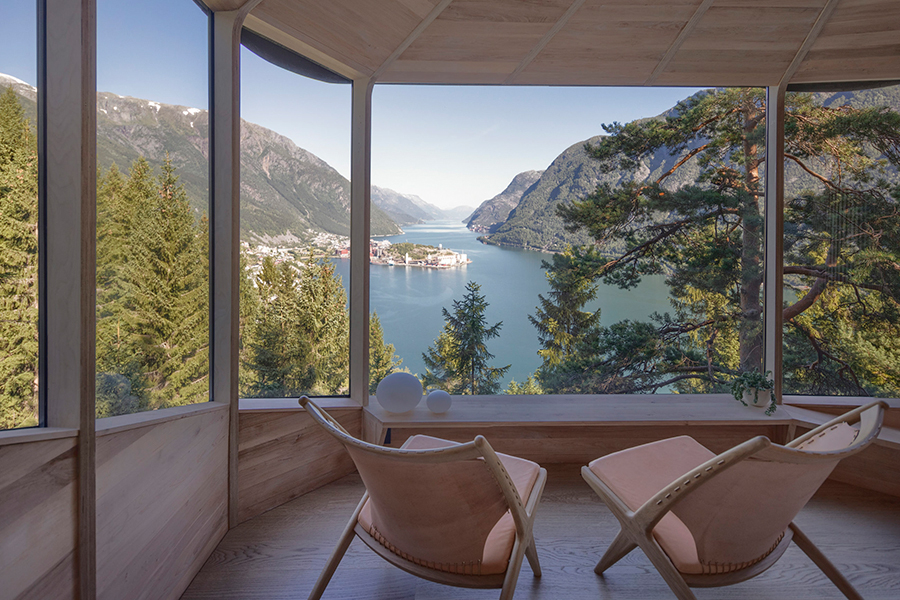 The exterior of the Woodnest Cabin is clad in untreated shingles, giving the nest the appearance of a pinecone and helping it to blend into the forest even more. Each of the cabins uses a single tree for support and rests on a steel collar that allows the tree to continue growing through the coming years.
The interior is finished in a vernacular wood style, incorporating the timber for its structure. From these peaceful nests, guests can relax in the calm of nature as they take in a view of an extraordinary Norwegian fjord.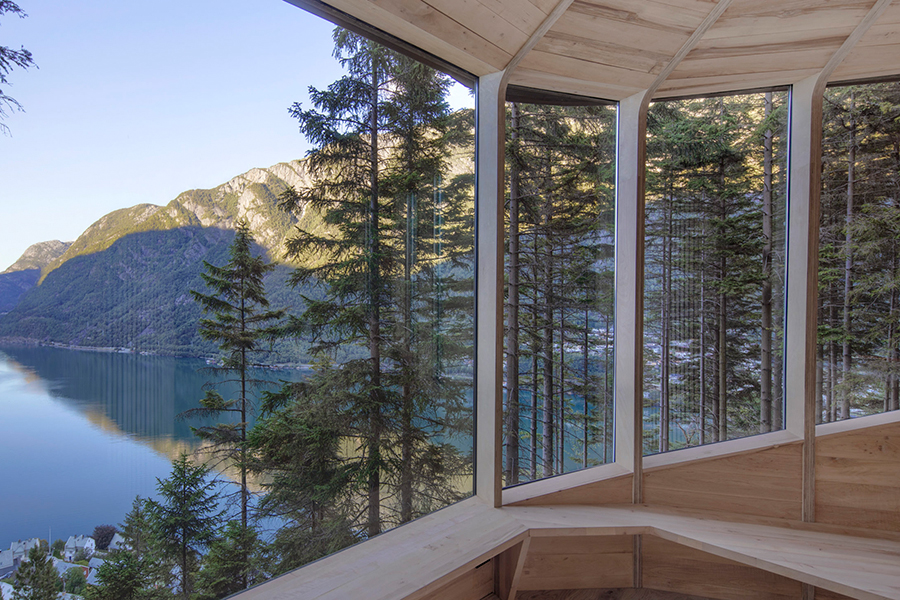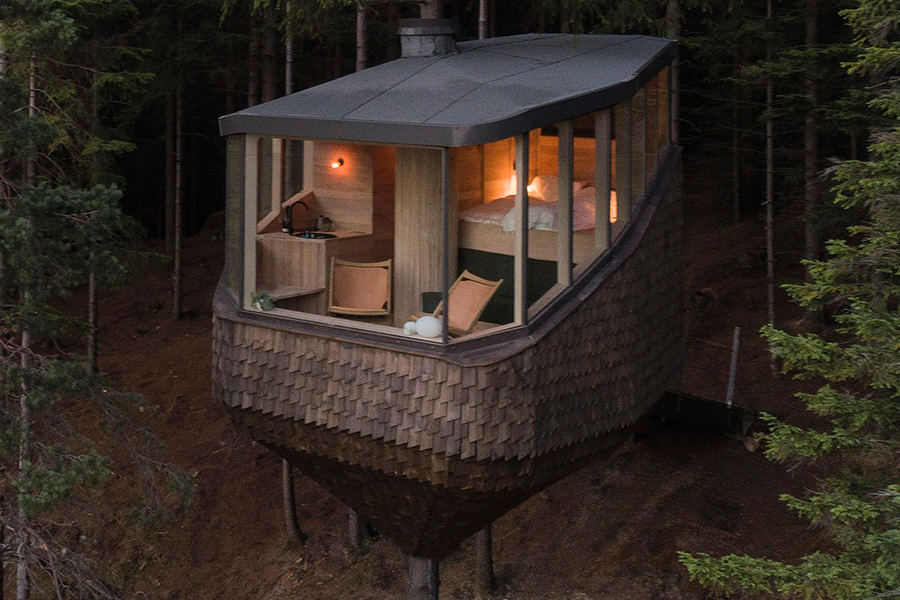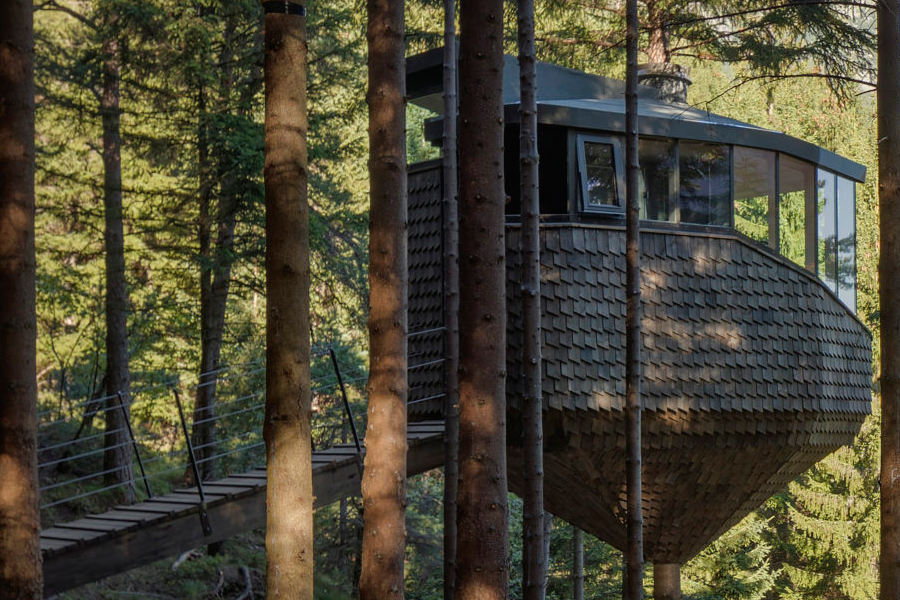 You'll also like:
Stealth Pavilion is a Ridiculous Gym Hidden in Plain Sight
Step Inside 'Rainbow Six' Author Tom Clancy's Insane Triple Penthouse
Get Your DIY On With This Flat-Pack House From MUJI