It's been more than 125-years since Daniel Swarovski first mastered the art of crystal cutting and the brand has been offering the most sought-after and longed for holiday gifts since. For many, these pieces are simply an annual reference point for the holidays, and for others, a luxurious focal point of any room. Innovation and design have poised Swarovski as one of the world's premier jewellery and accessory brands, and today, the family carries on the tradition of delivering extraordinary holiday styles to men and women around the world.
When briefly taking a glance at the brand's history you find decades of evidence for their innovation and strategy. Creating the first 'diamond for everyone' in 1891, to opening their first boutique in the 1980s where it coined a fascination for the crystal figurines that make up the limited-edition Christmas collection today. The brand has stood the test of time and equipped everything from American Jazz Halls to Parisian couture houses along the way.
7 Decorative Crystal Gifts for Home this Holidays
The Swarovski Holiday Collection is a traditional Christmas gift that needs no introduction. It was Daniel Swarovski's vision to create a diamond for everyone, and by infusing this creative process with a trend-focused and meaningful story within each and every piece a yearly tradition was born.
Proprietary techniques bring these pieces to life. Techniques such as Pointiage brings a luxuriously textured contrast to the highly polished crystal and offers elegance, prowess, power and an ultra-precise quality to work all done by hand. You'll find attention to detail that ensures each piece will be made of the highest quality. Expertise is clearly infused in every piece from Swarovski and we've curated a selection of our favourite gifts for the holidays down below. Let's check them out.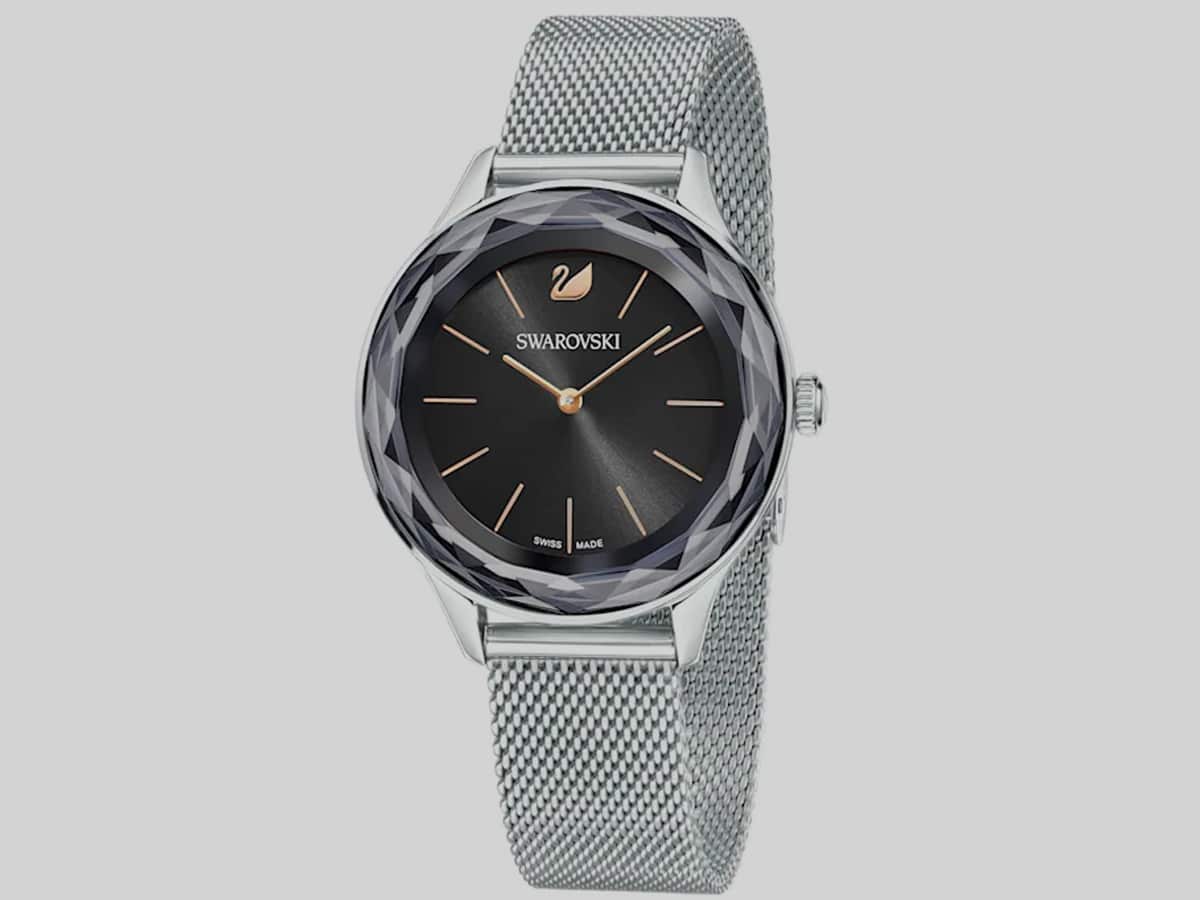 1. Octea Nova Watch
Part of the Octea Nova collection, this Swiss-made watch from Swarovski offers the best of the brand's crystal cutting heritage and expertise right on your wrist. Both bezel and glass are made from one piece of crystal (68 facets) and the trend-focused Milanese bracelet is made of metal. The stainless steel case and black sunray dial elegantly contrast with rose gold indices. A statement piece for Sunday lunch, or wear out with a suit.
Case: 1 3/8 inches
Strap: 6 1/2 inches
Material: Crystals, Stainless steel
Made in: Switzerland
Mechanism: Quartz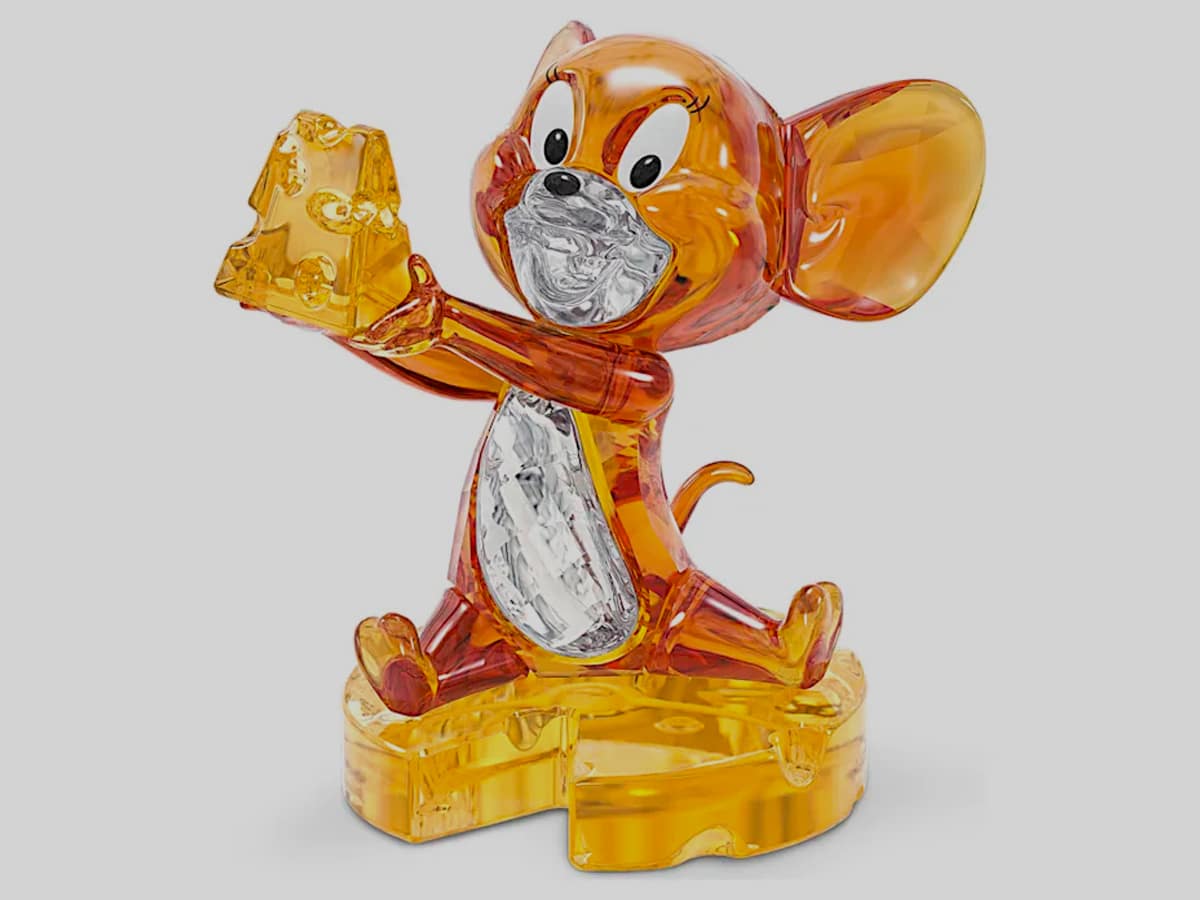 2. Tom and Jerry – Jerry
One half of the famous Tom and Jerry cartoon duo, Jerry is the crafty mouse who is always one step ahead of Tom, the house cat (also available). This piece from Swarovski is a great addition to anyone's collections and we can't imagine a better addition to our desk than this little guy here. Jerry is pictured happily seated on a wheel of cheese captured in a range of genuine yellow and orange hues (171 facets). Whether you're rekindling childhood memories or you're purchasing as an endearing gift for friends or collectors this one is sure to be greatly appreciated.
Size: 1 3/4 x 1 5/8 x 1 7/8 inches
Also available: Tom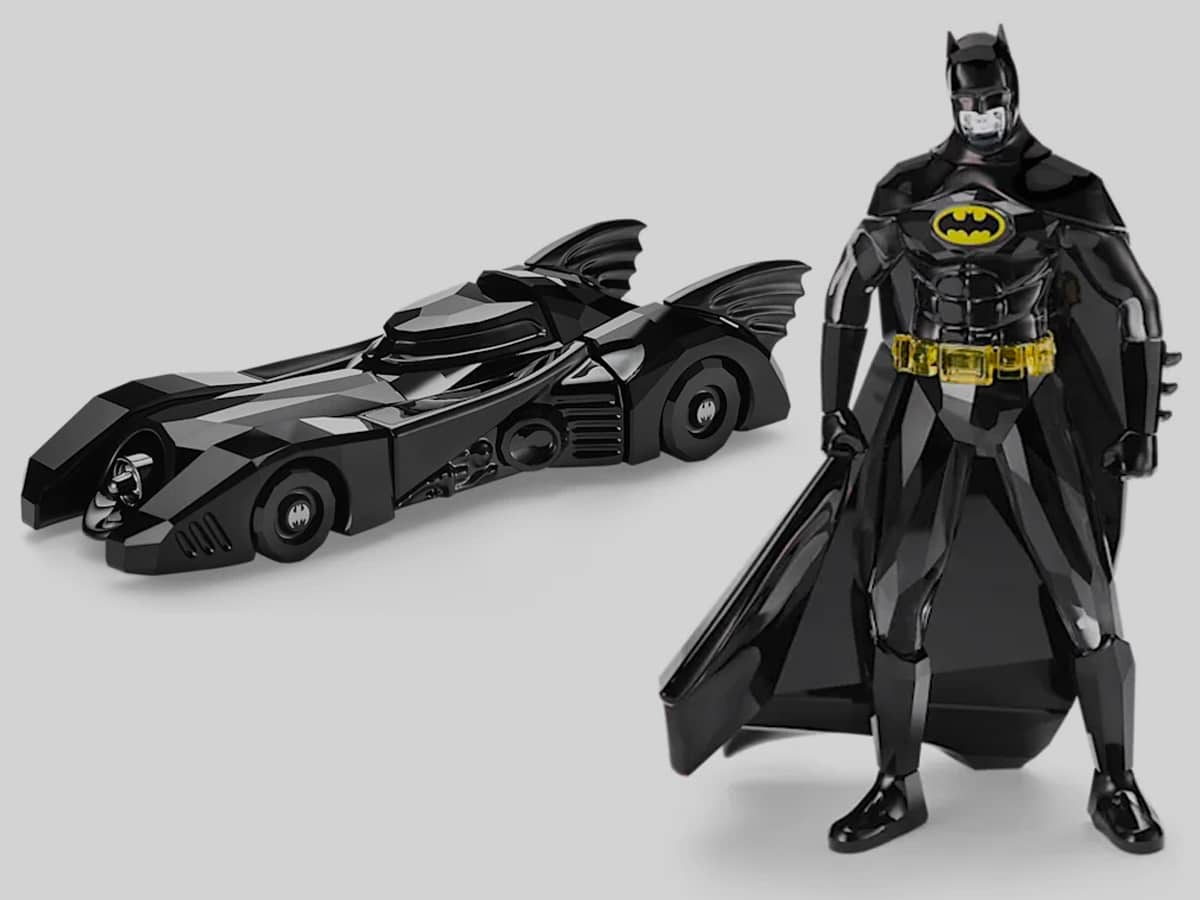 3. Batmobile
Actually, maybe this one might be better for the desk! It doesn't get much cooler than a Swarovski crystal Batmobile this holiday season. A legendary piece of the franchise, this piece is made from jet black Swarovski crystals with 473 facets. Simply put this is a must-have item for any passionate collector and a great gift-giving idea for DC fans. Quite frankly, you'll have to run as this one is sure to sell out quickly.
Size: 1 1/4 x 5 3/4 x 2 1/4 inches
4. DC Comics Superman
While he might not be riding in something as cool as the Batmobile pictured above, Superman is doing his own thing with an array of awesome coloured Swarovski crystals. Standing dramatically and sparkling vibrantly with 553 exquisite facets, we love the way the red cape seems to billow behind him. Rounding out this special piece are bright yellow highlights inside the iconic 'S-Shield' on the chest.
Size: 5 3/8 x 3 3/8 x 1 7/8 inches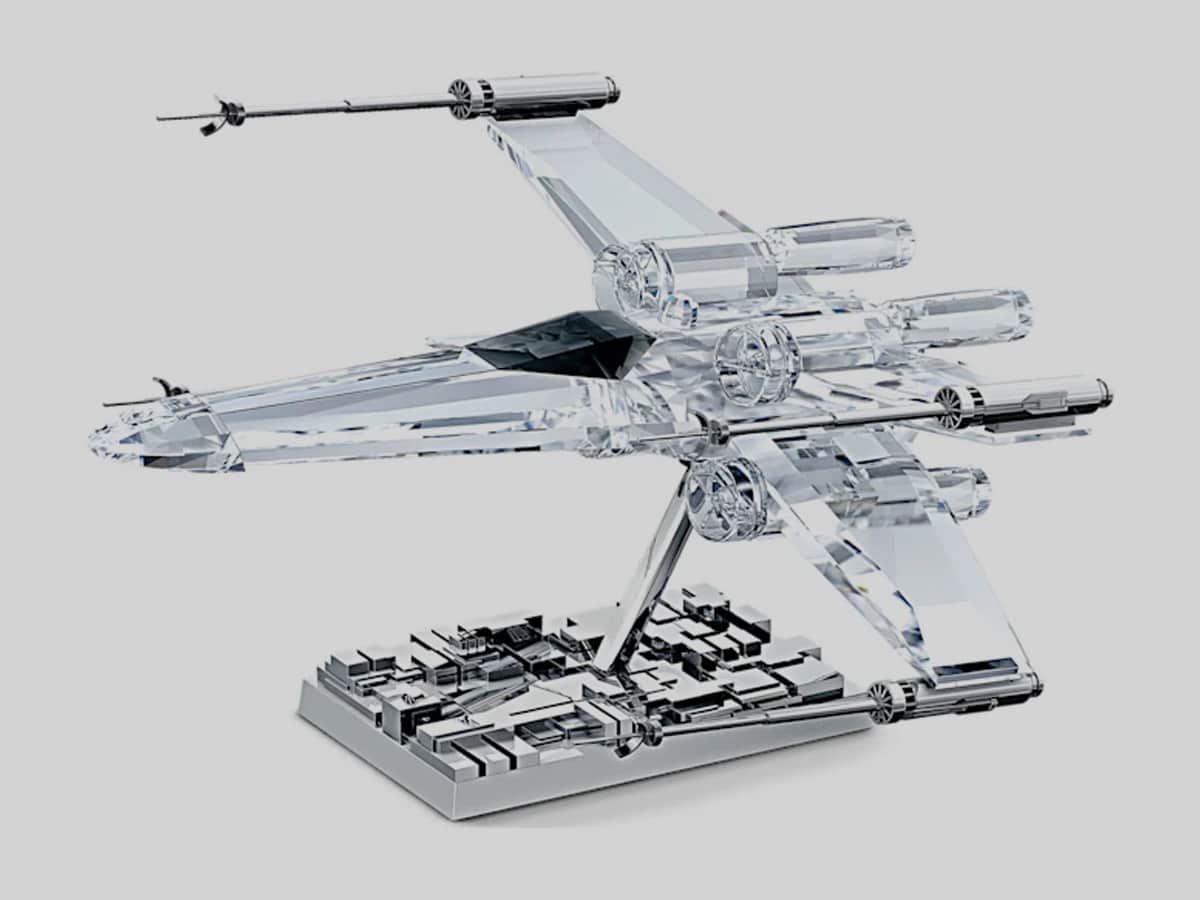 5. Star Wars – X-Wing Starfighter
Switching sides, this is the first of three awesome Star Wars collection pieces we'll be highlighting in our curation. There are plenty more available online so be sure to check them out if we missed your favourite Star Wars figure! The X-Wing Starfighter is seen here with 744 expertly cut crystal facets that render the fighter's distinctive design down to small details such as the engine ports. The famous laser cannons are polished and brilliantly contrast the crystal finish of the ship.
Size: 5 1/8 x 2 7/8 x 4 1/2 inches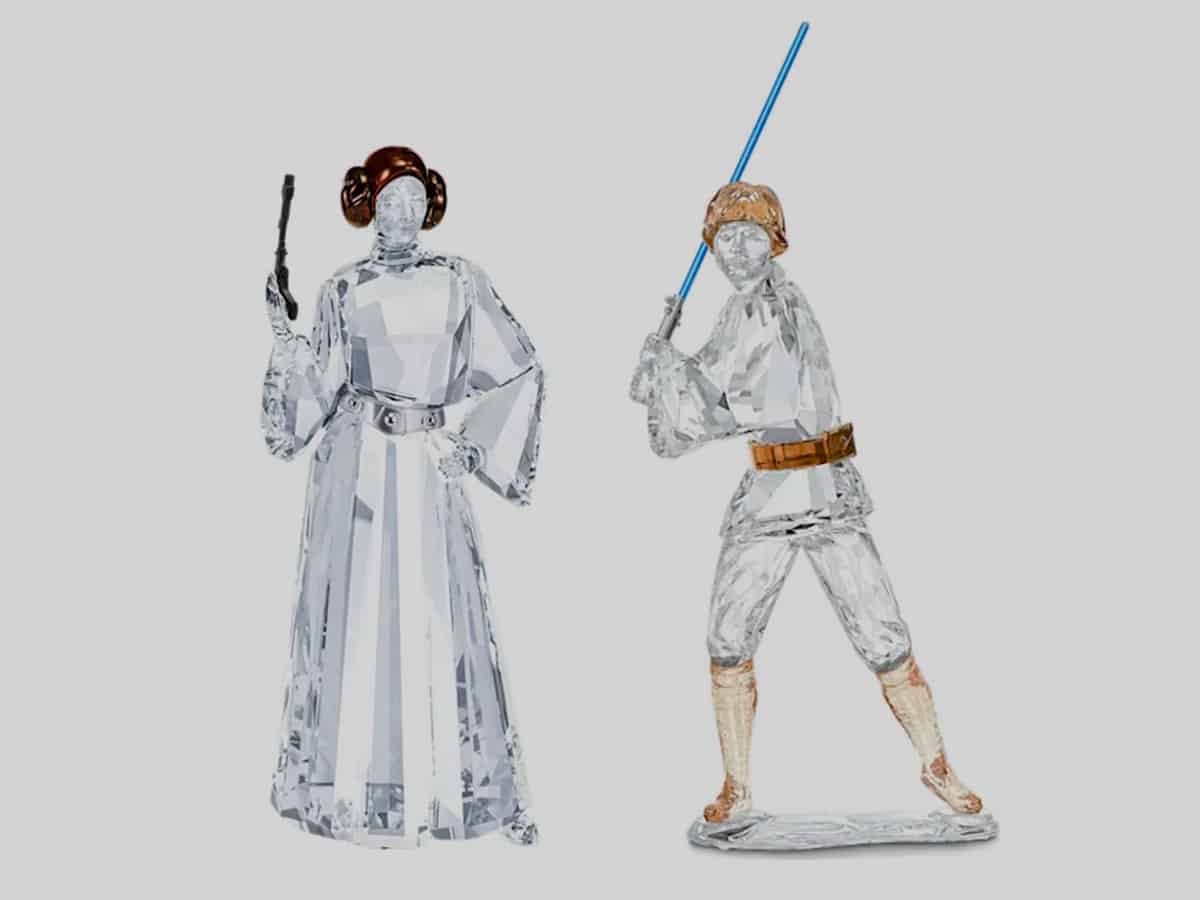 6. Star Wars – Luke Skywalker
While Baby Yoda might've stolen the spotlight from our mate Luke Skywalker, he certainly makes a case for himself here with this striking Swarovski figure. Luke Skywalker is finished with 411 expertly worked facets of sparkling crystal, highlighting everything from his beige boots to his blond hair and brown belt. Our favourite aspect is the famous lightsaber finished in an authentic shade of brilliant blue lacquer. Standing in a battle-ready pose on a clear crystal base, he's ready to join even the biggest collectors lineup.
Size: 5 1/2 x 2 1/4 x 1 3/4 inches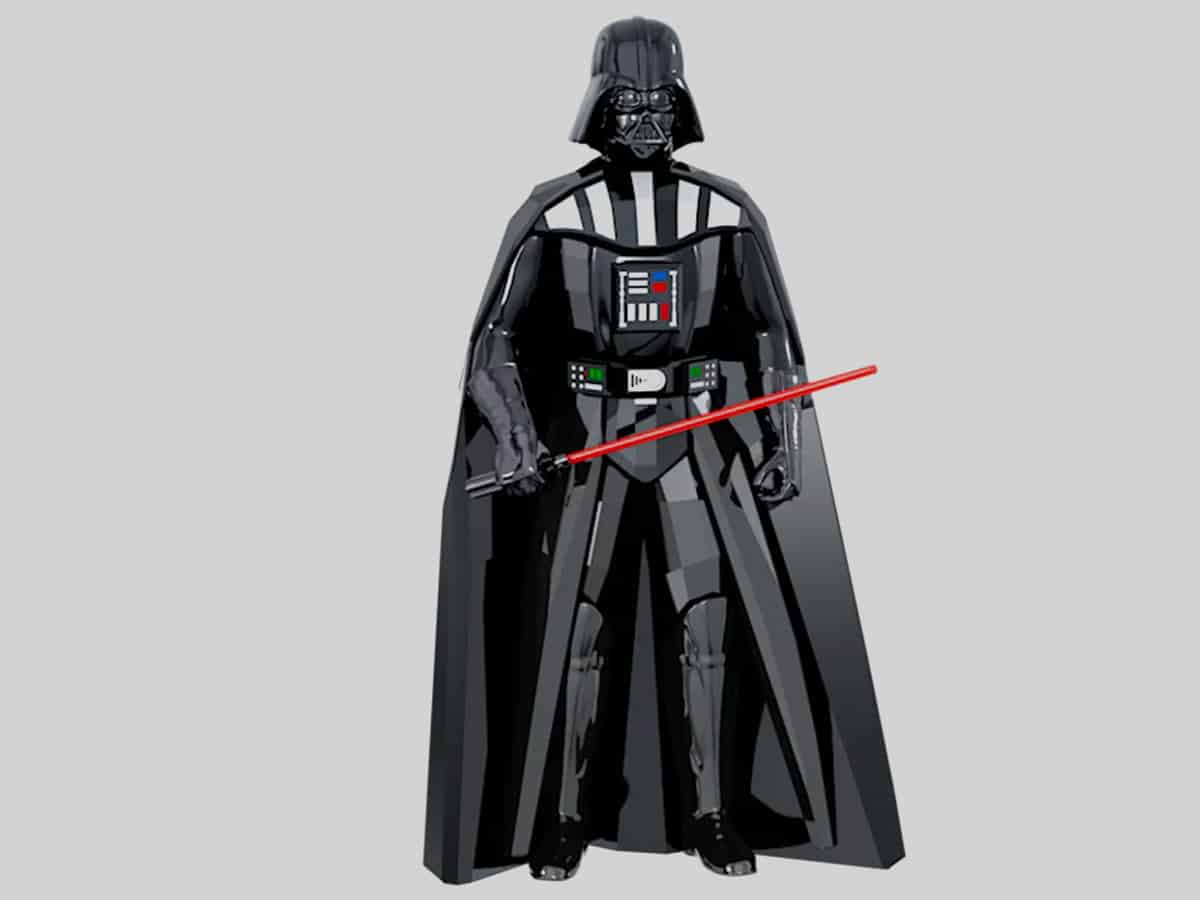 7. Star Wars – Darth Vader
There's something cool about black crystals and the Star Wars Darth Vader does his best to drill that idea home. One of the most iconic villains in film history, Vader is expertly crafted in black crystal with 551 facets. His outfit features intricate detailing and the classic red lightsaber is finished in metal with red varnish.
Size: 5 1/8 x 2 7/8 x 3 inches