Ditch the Shed and Get the Doer Toolbox
Doer is a "tool shed in a box." What does that mean? It means that Doer fits 12 tools—a hammer drill/driver, a drill press, a jigsaw, a scroll saw, a circular saw, a table saw, a hotwire cutter, a table hotwire cutter, a table sander, a mini lathe, a worklight, and a lantern—all into a single, portable toolbox.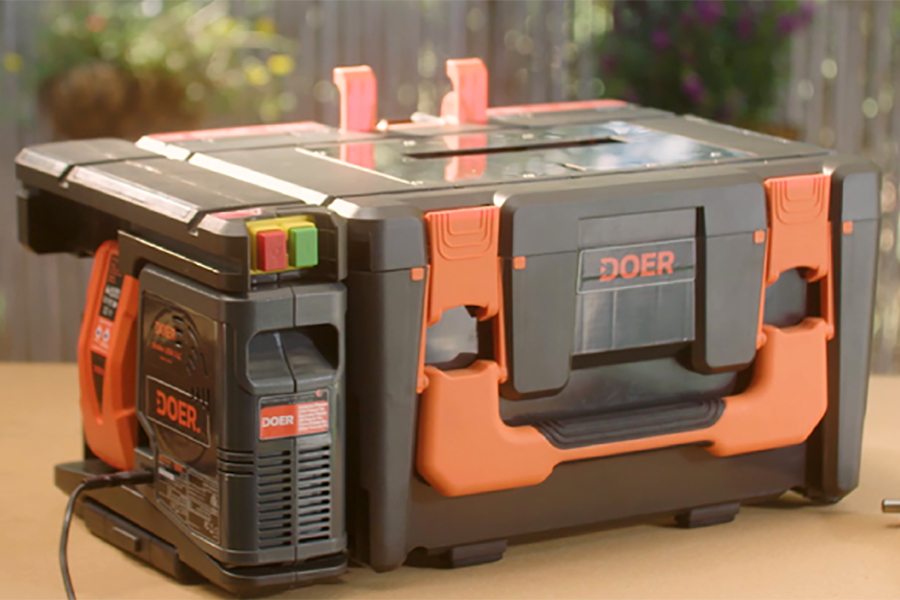 The system works using a universal grip that the battery snaps onto. The grip then connects with the tool you're wanting to use—from the drill to the circular saw to the mini-lathe. Those transformations take only seconds, so you're not wasting time reconfiguring your worksite trying to get the correct setup. And when you need one of the tabletop tools, simply use the Doer's box and you have a stainless steel platform for tools like the drill press or the table saw.
In addition to space for storing all the tools, the Doer box has extra compartments to store small tool bits and blades. The included protractor lets you measure angles for cuts and works as a mitre gauge for the table saw. When it comes time to pick up and go, the Doer box has a telescoping handle and wheels to help you get to where you're going more easily.
The Doer also comes with a table saw shield for safety, a drill press post that doubles as a table saw fence, a drill press lever that can also be used as a push stick, and two batteries (a 4.0 Ah battery and a 1.0/4.0 Ah battery). Doer is compatible with both AC and DC power thanks to its AC/DC adapter, so you can work off of the batteries or plug into a wall.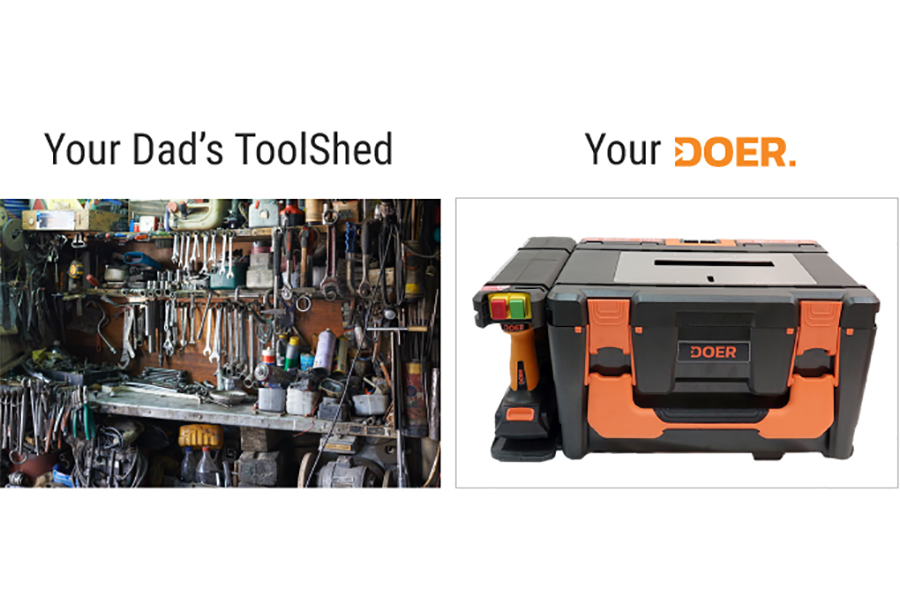 Doer was created by Stellen, a group of veteran labour workers who have been working to perfect the "toolshed-in-a-box" concept for over a decade. Their first product, the Power8, offered eight functions in one case. Doer re-engineers and re-designs that concept to include four more tools. You can pick up a Doer on their Kickstarter page with early pricing of only USD$499. There are also plenty of add-on options.