$6,590 Saint Laurent Rive Droite x Bang & Olufsen Beosound Edge Goes Full Circle
Venturing deeper into the music market, Saint Laurent have released a limited edition Beosound Edge speaker with Danish luxury audio brand, Bang & Olufsen. This cutting edge sound system was curated by Saint Laurent's creative director Anthony Vaccarello, designed to represent an amusing and chic version of the French fashion label's universe.
You'll also love:
'The Winter Game' Saint Laurent Rive Droite Capsule Adds Skis, Snowboards and Sleds
Bang & Olufsen's $12,000 Beovision Contour is an All-In-One TV and Music Experience
Bang & Olufsen Unveils First Wireless Gaming Headset – Beoplay Portal
Resembling a contemporary art piece with its minimalistic design and perfectly circular aluminium frame exterior, the speaker is customised in a smooth marble print with a matte black aluminium finish. Compatible with Bluetooth and AirPlay, the multi-room speaker was selected to showcase both brand's penchant for artistry and craftsmanship.
The speaker features three directional sound settings for unique listening experiences, including the True360 omnidirectional mode, which according to a release from Bang & Olufsen, will fill an entire room with sound. Additionally, the Active Bass Port innovation is designed to deliver potent deep tones. Not just a pretty face, this collaboration comes with all the high-tech bells and whistles you'd expect from a top-tier audio device.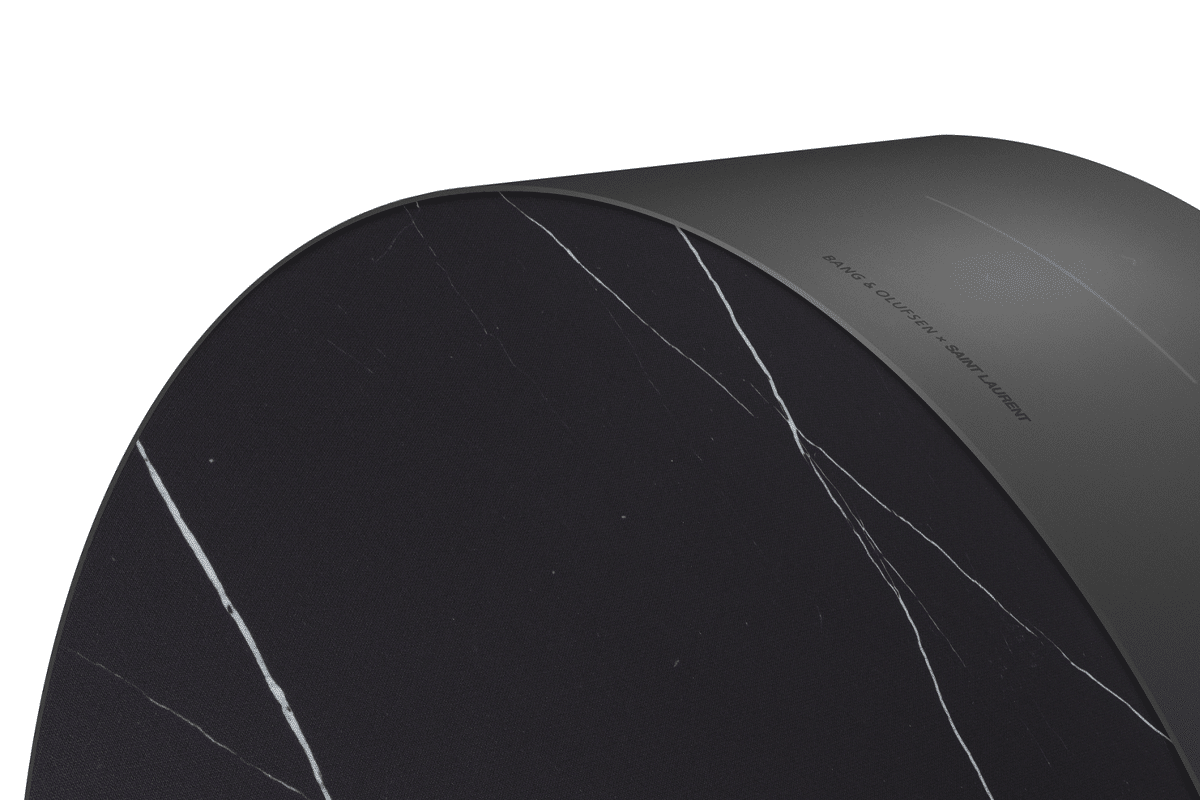 Due to proximity sensors, the Beosound Edge lights up the interface as you approach. The touch-sensitive aluminium surface allows you to start, stop and change tracks with a simple tap and is calibrated to detect the force of your touch when you adjust the volume. This limited-edition collection will set you back a cool AUD$6,590, and unfortunately is only available to purchase in-store in Paris or LA.
Saint Laurent Rive Droite Paris
213 Rue Saint-Honoré
75001 Paris
France
Saint Laurent Rive Droite Los Angeles
469 N Rodeo Dr
Beverly Hills, CA 90210
USA
You'll also love:
'The Winter Game' Saint Laurent Rive Droite Capsule Adds Skis, Snowboards and Sleds
Bang & Olufsen's $12,000 Beovision Contour is an All-In-One TV and Music Experience
Bang & Olufsen Unveils First Wireless Gaming Headset – Beoplay Portal