How to Host a Party like an Absolute Legend
In Partnership with Jim Beam
A few canapes with your sparkling, Charles? Perhaps a dash of caviar on the side, Geeves? Let's face it, the intricacies of hosting a top-tier dinner party are often wasted on us. Give us a backyard, a big TV and a slab of meat any day of the week, and we'll be golden. But that's not to say you can't elevate your shindig to the next level. In fact, you could learn a lot from Charles and Geeves, even if you refuse to admit it. And like all good things, it starts at home.
In the wake of recent events, millions of people have developed an appreciation for a little 'at home' social enterprising with mates. Whether that means kicking back and watching the footy or attending a full-blown backyard bash, we'll never underestimate the value of mates ever again.
More likely than not, you're probably gearing up to invite friends and family back into your homes and backyards. And as the respectable gentlemen you are, you won't want your humble abode looking anything less than a million bucks. You'll want to set the tone with a welcoming atmosphere and an attractive environment that's filled with everything a man could ever want. So, if you're looking for something that's a little less 'Cocktail Dress' and a little more 'Cocktail Party' (emphasis on the party), we've got you covered. Here are six ingenious tips for hosting the blokes, guaranteed to make your next experience one you'll always want to remember.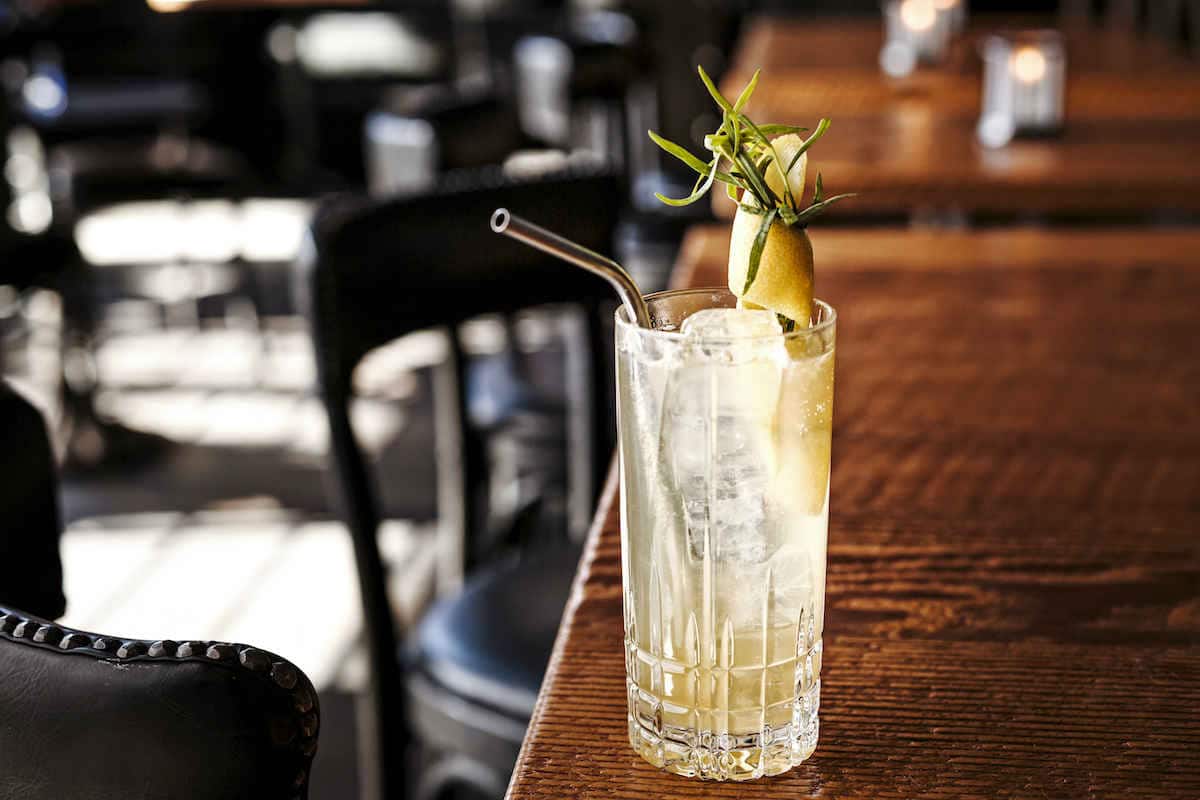 1. Welcome Drinks
There's a couple of must-do's when it comes to hosting the blokes. Mailing it in with tinnies or long-necks can always take you the distance but that's like settling for a Kia when we all want the Ferrari. Simply put, there's nothing as impressive as having a couple of cocktails in the chamber ready to go when the fellas come around. Better yet, it's a great way to show your smarta** mates the type of sophisticated legend you actually are. Checkmate, champion.
We're here to help all the fellas out there, so we've gone the extra mile and put together two fail-safe cocktails that are sure to impress:
1. Jim Beam, Soda, Lemon & Lime
What you'll need:
30ml Jim Beam White label
15ml lemon cordial (Bickfords preferred)
5ml lime cordial (Bickfords preferred)
Soda water
Tall glass
Garnish – fresh lemon & lime wedge
To make the cocktail:
Add 30ml Jim Beam White, 15ml of lemon cordial & 5ml of lime cordial to a tall glass.
Fill 3/4 with ice & top with soda water.
Garnish with a fresh lemon & lime wedge.
2. Jim Beam Clermont Whiskey Sour
What you'll need:
60ml Jim Beam White
30ml orange juice
15ml lemon juice
Dash of sugar syrup
Dash of egg white (optional)
Garnish – Orange wedge and cherry
To make the cocktail:
Place all ingredients into a cocktail shaker.
Dry shake (shake without ice).
Add ice and repeat the shake.
Strain into a rocks glass filled with ice.
Garnish with an orange wedge and a cherry.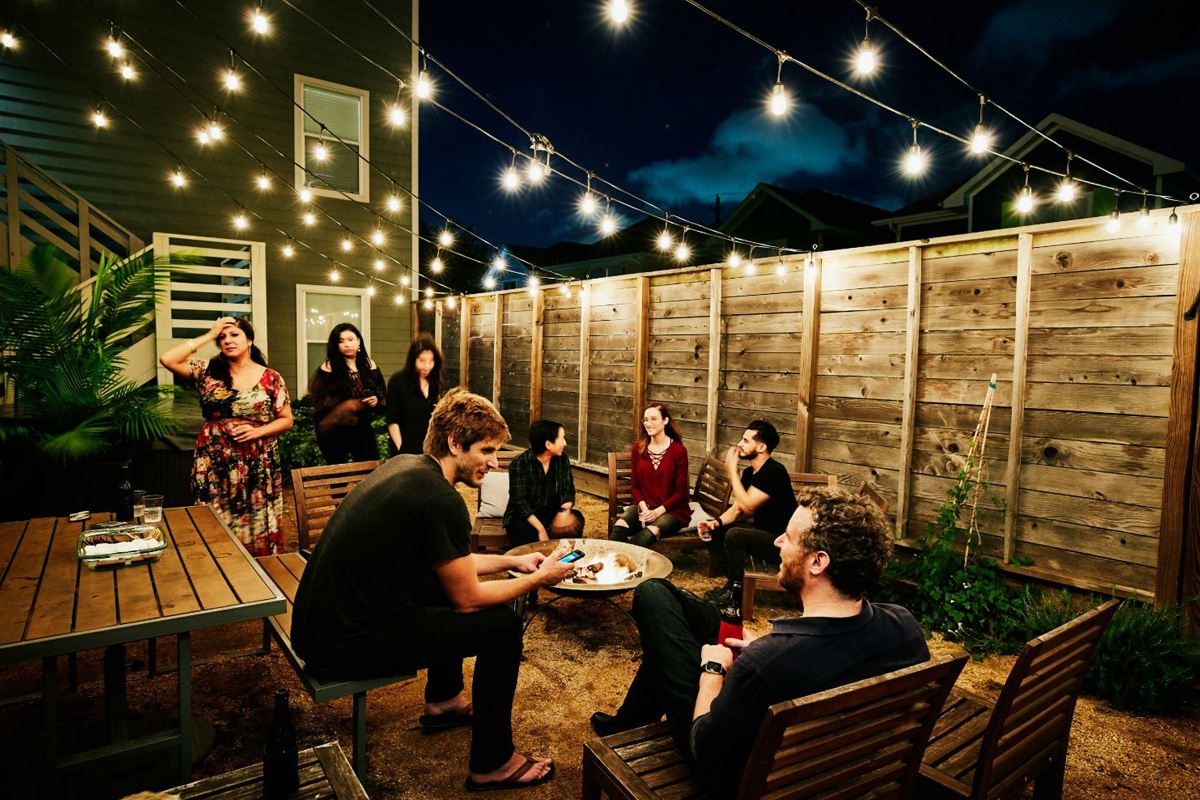 2. Have Plenty of Comfortable Seating
Inside or outside, your mates will need somewhere to kick off their shoes and relax after a tough day doing absolutely stuff-all (as usual). When it comes to a proper shindig, the two-footed sway simply won't do. Comfortable seating is key, and you'll want to make sure you have enough because no one loves rubbing knees with their best mate before midnight.
White plastic chairs are the go-to when you're in a corner, but like plain salt on your hot chips, they just won't give your guests that 'wow' factor you're looking for. Instead, opt for something made of metal or wood construction. These materials have greater durability and better aesthetics than a piece of white plastic. Best of all, they won't break when big Gus parks himself up for the arvo. Combine a few metal or wooden chairs with some cushions and you're almost ready for any bloke hosting occasion.
Hot tip: For larger outdoor events, consider setting up picnic blankets, cushions or benches.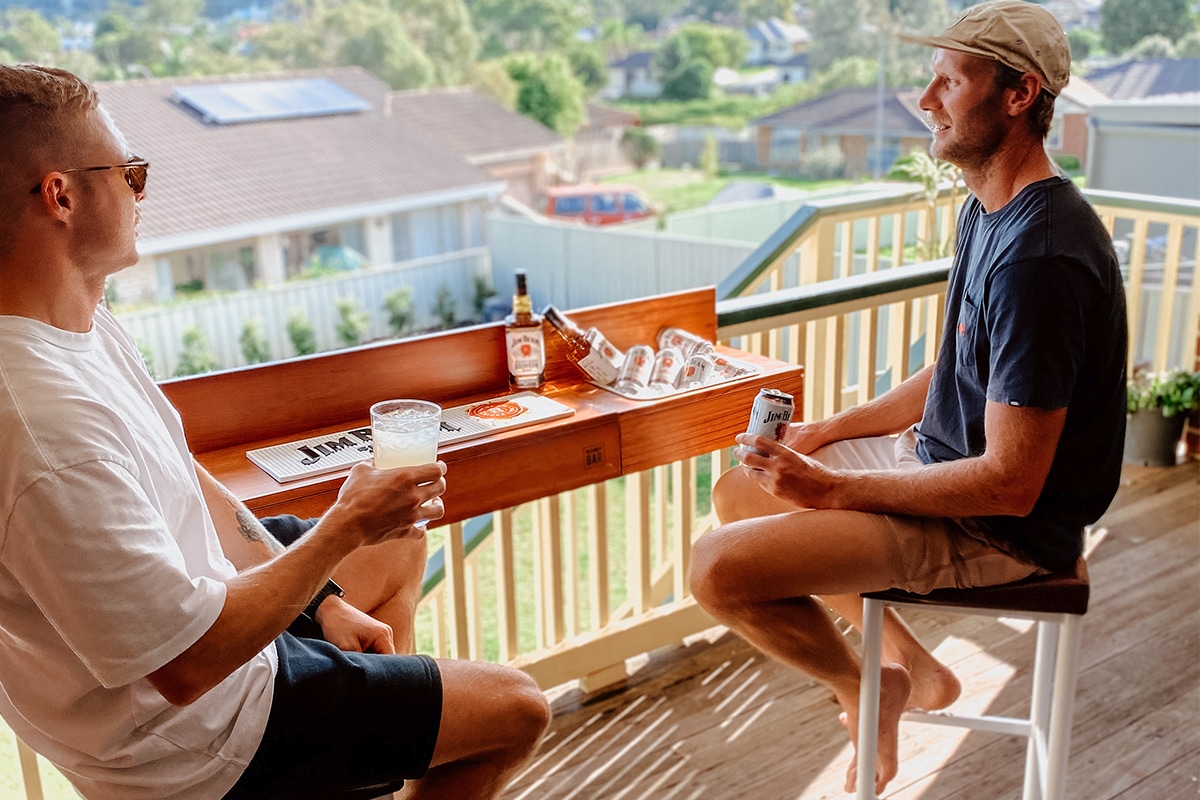 3. Set-Up a Quality Drinks Bar
You're striving to be the host with the most right? Well, there's only a handful of things that you MUST have to ensure a good time with the boys and a bar is right up there. Imagining a world where you don't have space for a full bar set up is saddening. But a bar cart or trolley with a bucket of ice next to it can save the day when you run out of room. Better yet, our mates at Jim Beam have come up with a solution to everyone's problems.
Look, setting up a bar cart is a big hassle, especially when Gary is going to walk right past it and polish off all your bourbon anyway. So to help tackle the situation, Jim Beam has come up with the Backyard Bar competition, where you could win a backyard bar valued at over $20K! The ultimate tool for hosting the blokes, Jim's Bar features a rustic setup complete with a minifridge, banging Bluetooth speakers, branded bar stools, and more. With the footy now in full swing, we honestly can't think of a better way to host the lads.
No backyard? No problem. Runners up will also win one of their balcony bar prize packs (thanks to Bondi Bar), transforming your balcony into the perfect drinking destination, along with other great prizes to help get the party started.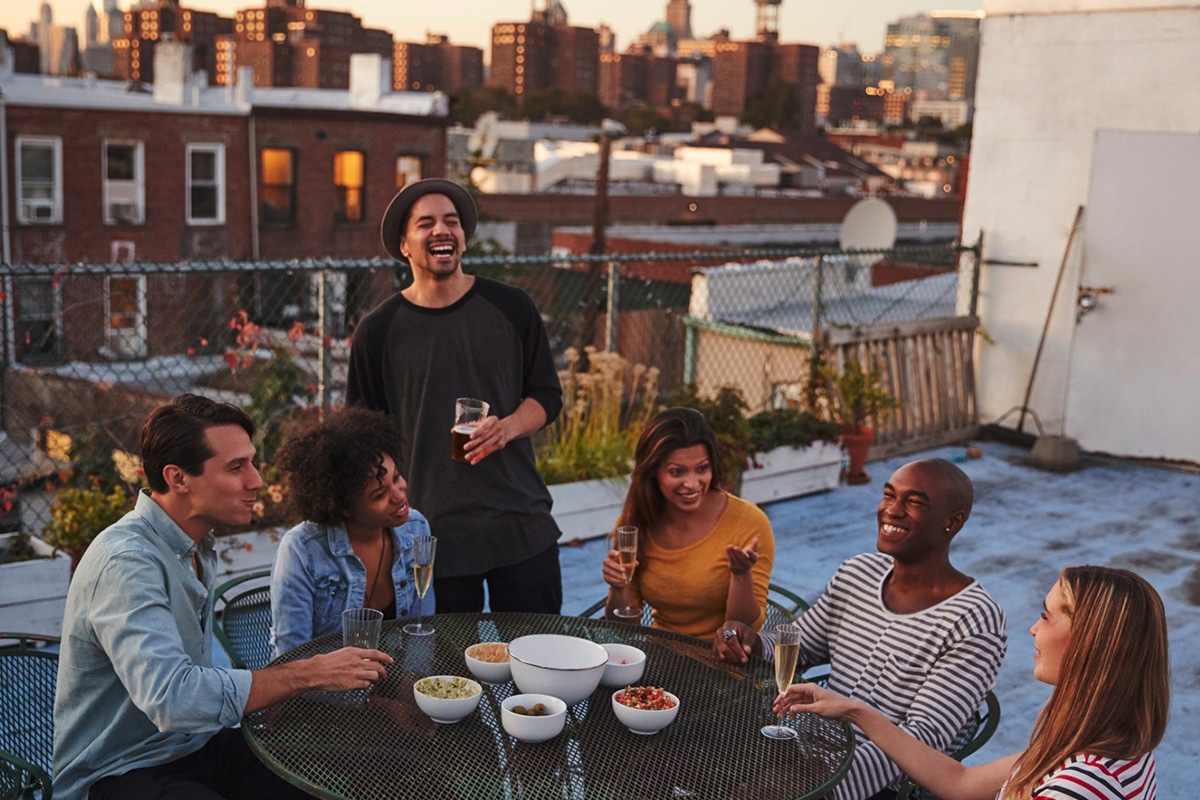 4. Add Some Greenery or a Touch of Colour 
Nothing says "welcome to my 1 bedroom inner-city studio" more than blank walls, boring furniture and a 70-inch TV that takes up most of the visual space. To avoid this conundrum, we recommend adding a touch of colour or greenery into your home. We're talking about going and grabbing yourself a new rug, adding finishing touches like paintings, or smaller ones like quality indoor plants.
Indoor plants are super trendy and they can breathe new life into the room (literally). A 1989 study by NASA showed that the leaves, roots, soil, and associated microorganisms of indoor plants act as a scientific means of reducing indoor air pollutants. They actually "destroy the pathogenic viruses, bacteria," in your home and convert these air pollutants into new plant tissue! Convinced yet? Regardless, even fake greenery can function as a veritable decor-booster that fills out the interior space by adding detail and creating ambience.
Hot tip: Avoid garish colours. Aim for neutral hues that produce a welcoming ambience.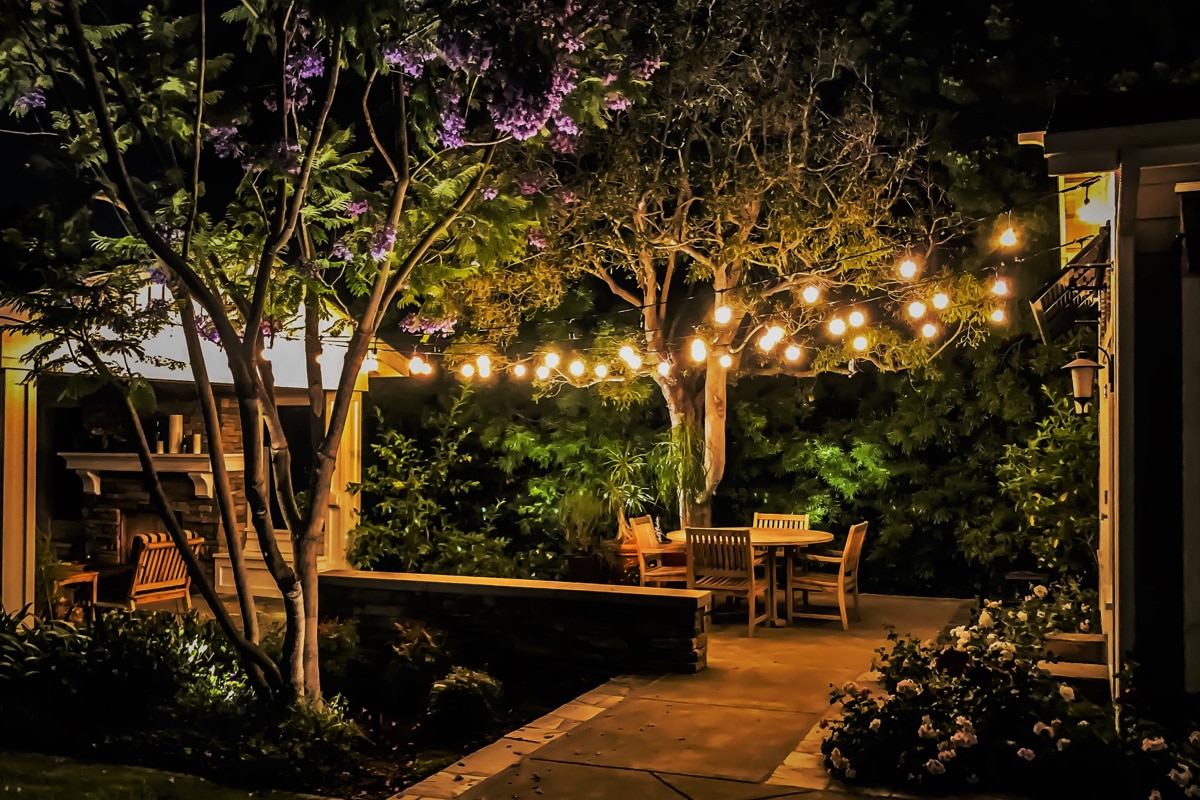 5. Good Lighting
Incorporating good lighting, whether indoor or outdoor, can make or break the entire experience when you host the blokes. It's as easy as taking cues from the trendiest pubs, clubs and bars by sticking to warm lighting throughout the joint. But there are a few terminologies that you'll have to get your head around before you string up the fairy lights.
When we refer to 'warm light or warm-white light' we're talking about lights within the 2400K-3200K or 'Kelvin' range. Essentially, the lower the 'K or Kelvin' rating, the warmer the lights will appear. So before you make the trip to the local hardware store, you'll want to get the colour temperature scale under control.
Once you've got that down, the next step is working out what kind of lights you want. We recommend 'festoon lights' as they're perfect for stringing up over outdoor areas. Most festoon lights on the market are warm-white and connect together for longer runs of 10-20m. They also plug straight into a power-point with a safe low-voltage transformer. Before buying any outdoor lighting, check they're waterproof. Make sure they have an 'IP' rating higher than IP53.
Hot tip: Aim for 'warm white' lights in the 2400K-3200K colour temperature range.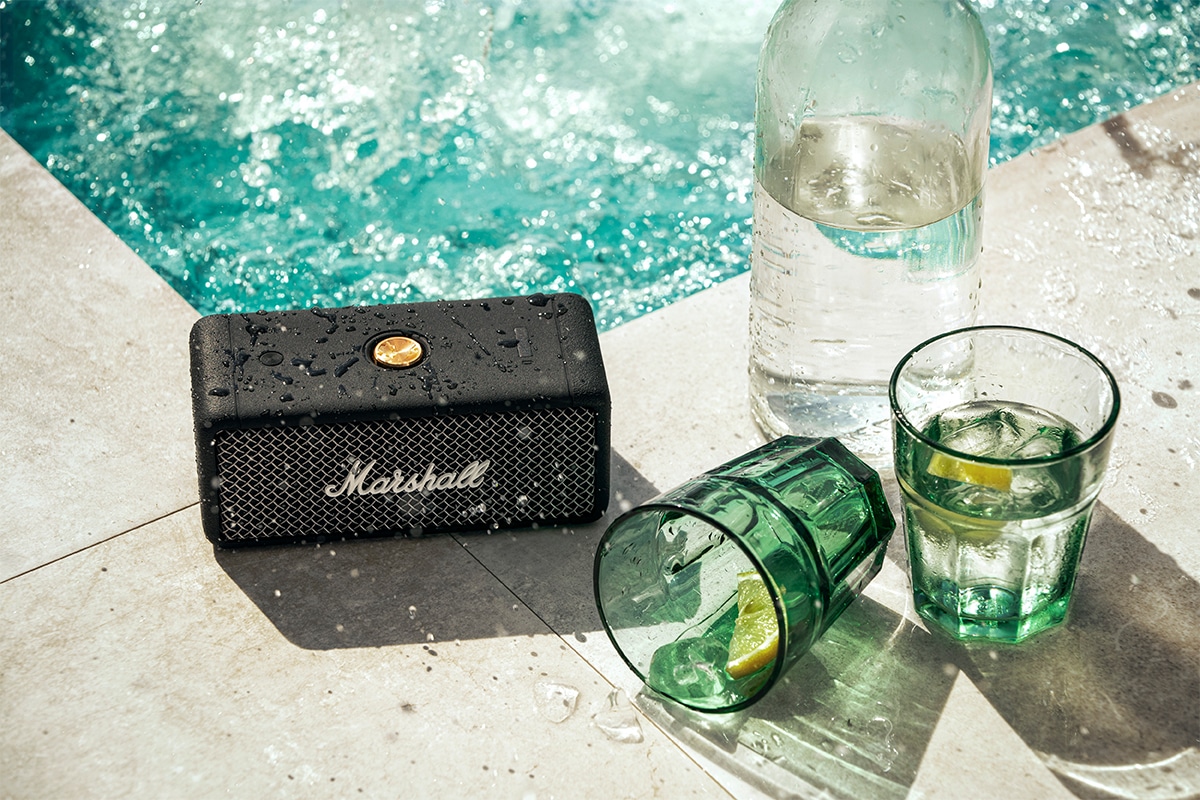 6. Remember the Music
It seems like a bloody no-brainer really doesn't it? But music is so firmly ingrained in everyday life that we practically take it for granted. Music sets the mood for the occasion, but bear in mind that while you are a big fan of 'lo-fi techno party-rock dubstep' your mates probably aren't.
In fact, sometimes the best music to play when hosting the blokes is something a little more understated so try something neutral, or even a custom playlist suited for the occasion, "Hey Alexa, play some cool vibes for the boys".
At the end of the day, we definitely take notice when music should be playing and it's not. So whatever you do, don't be the guy who threw the most awkward party ever by forgetting to put on some quality music or at least some sports in the background.
Hot tip: Invest in high-quality Bluetooth speakers, they are your best friend.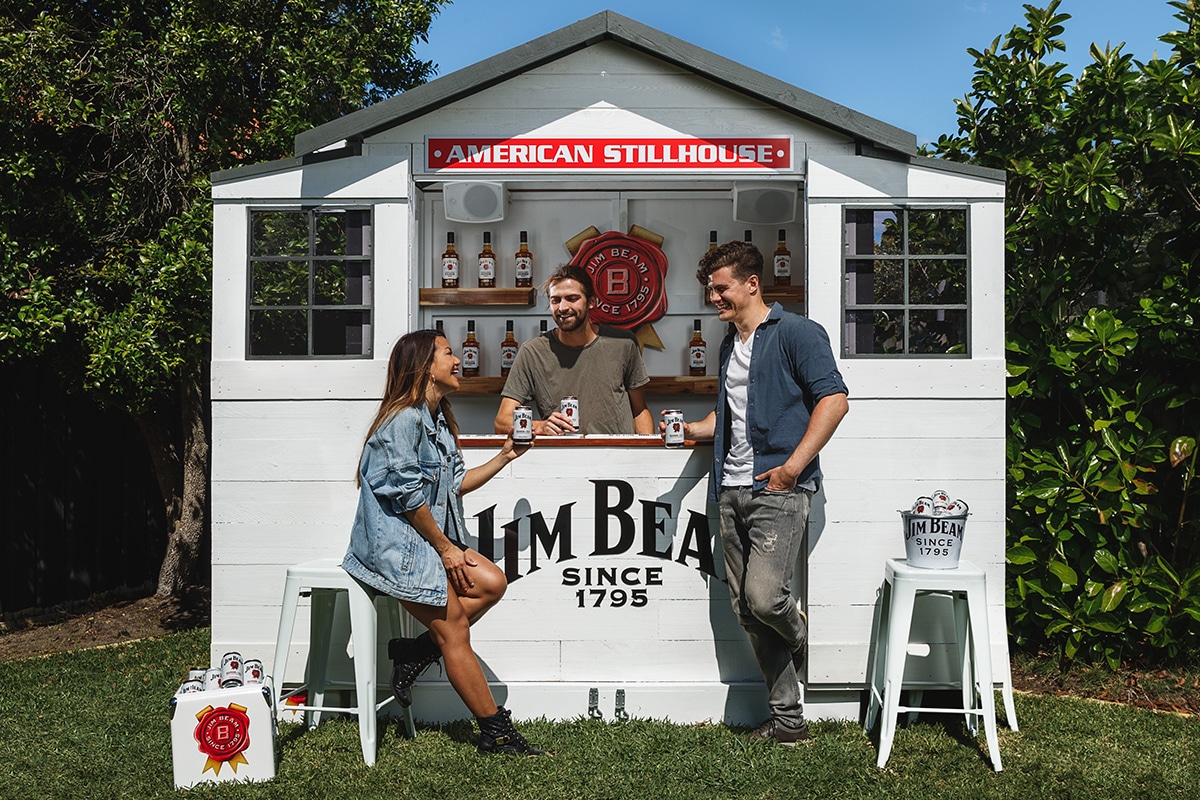 Jim Beam Backyard Bar Competition
Jim Beam knows all about the power of a good get-together, hence their motto of 'Always Welcome.' To celebrate, the popular whiskey-maker is hosting an incredible Backyard Bar competition. One lucky winner will receive a $20k bar setup, including bar stools, Bluetooth speakers, Jim Beam product, and more. Runners up will also win one of their balcony bar prize packs, along with other great prizes. We're talking a Jim Beam & Cola 10 Pack, a bottle of Jim Beam White Label 700ml, and a branded Jim Beam cooler – keeping your drinks cool well into the night.
Always welcome, indeed!