The Cast Iron Pan That Cost $100,000
How much do you invest in your "fun" projects? Chances are, you're not slapping down $100,000. Butter Pat's founder Dennis Powell did just that, however, spending $100,000 to make a cast-iron skillet just like the ones they used to make. And while Powell has no interest in starting a business, his skillets have taken off, becoming a favourite among chefs and hitting the tops of reviews like Consumer Reports.
You'll also like:
Weber Workshops HG-2 Perfects the Grind
Can This Robot Vacuum Change the Way You Clean?
AnZa Concrete Coffee Machine Makes One Brutal Brew
"The precipitating moment was: I was at home cooking, I dropped my grandmother's pan, which was the only pan that I usually cooked with, I broke it—a great big crack in it," Powel told Inside Hook. "And since I'd always assumed that was going to be something I was going to give to my two kids, and I realised I wasn't going to be able to do that, I decided that I was going to just replicate that pan, almost the way a sculptor goes about saying that they're going to cast a bronze edition of a sculpture."
Of course, it wasn't as easy as all that. Powell had to invest plenty of time researching cast iron pans—from the Library of Congress to the Griswold foundry records. Powell also toured over 20 foundries trying to figure out how to replicate that broken pan. What Powell landed on was a skillet that is just 3/32 of an inch thick and has a roughness average of 90. But when Powell approached foundries with the idea, he was repeatedly told that you can't cast iron to those specifications.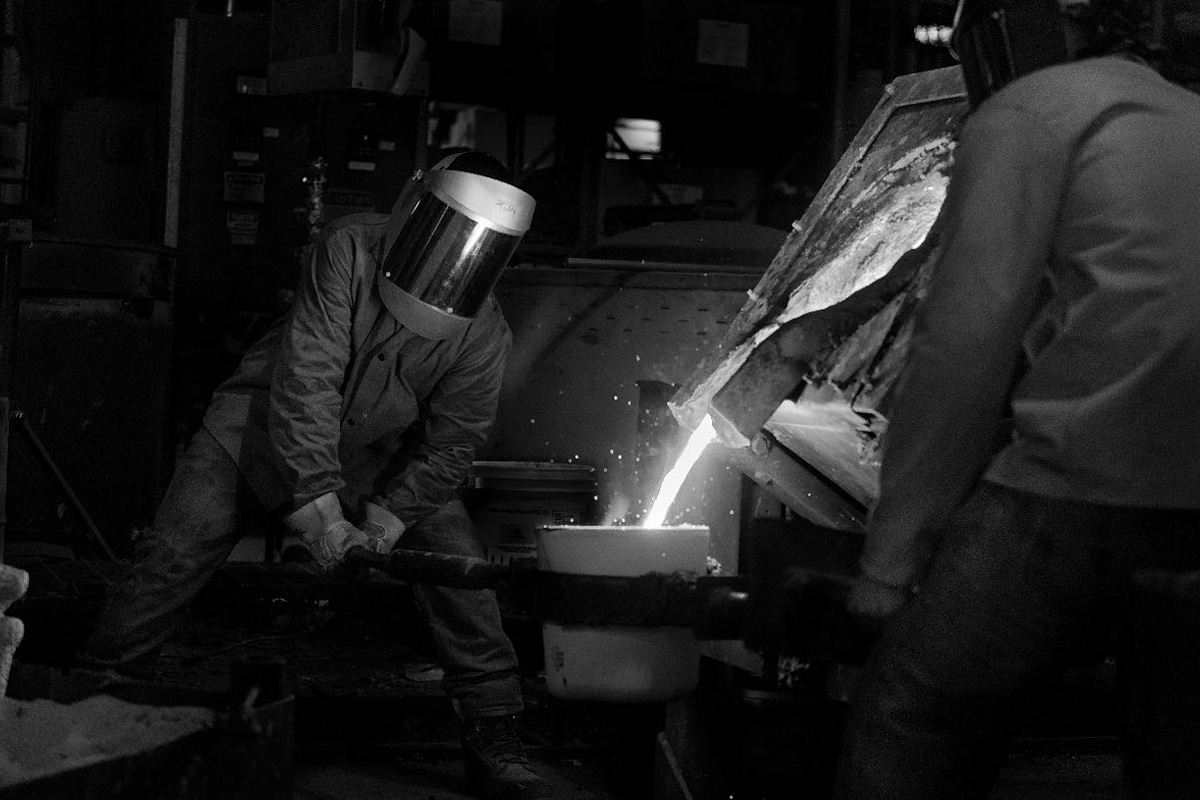 The problem is that today foundries use machines rather than hand casting. That left Powell with the sole option of recreating the process that was mastered in the late 1800s but then lost to time.
Being handcrafted, the pans are limited in quantity, and that's limited Powell's business. "We can only make so many, and that's it. So we're not really interested in getting much bigger. We make what we make and if people don't like waiting to get them, we really don't give a damn. If you want them, you're just going to have to wait for them." For the many satisfied owners of a Butter Pat pan, the wait was worth it.
You'll also like:
Weber Workshops HG-2 Perfects the Grind
Can This Robot Vacuum Change the Way You Clean?
AnZa Concrete Coffee Machine Makes One Brutal Brew