Looking downright sleek and protecting your home in the process, Panasonic's new HomeHawk Floor Lamp is a stylish light source and swift monitoring device rolled into one. We've been keeping one around the office and falling in love with its modernist vibe and blatant benefits. It comes in either an elegant black satin or grey textured fabric finish and we went with the black satin variant, being partial to its minimalist aesthetic. Frankly, we'd keep this lamp around even if it weren't providing extra security, as it really does strike a unique and distinguished chord. Of course, don't take that to mean we're not thrilled with the peripheral perks.
For Panasonic, the HomeHawk Floor Lamp represents a brilliant new chapter in its ongoing foray into home (or office) security. Unlike most monitoring devices, this one cleverly conceals itself within a functioning floor lamp. And not just any floor lamp, but a slim and sophisticated stunner that imparts with a smart ambient glow and blends with pretty much any modern decor. Bring in the high-quality camera system and your regular home monitoring gear seems almost clunky and conspicuous by comparison.
One might even say that Panasonic's HomeHawk Floor Lamp provides a glimpse of the future, hence all the awards. Whereas most current security devices come in the form of traditional cameras or gadgets, the floor lamp opens up the door to all sorts of possibilities. We won't ruminate as to what those possibilities might be—because that's Panasonic's job—but we can certainly attest that this ingenious floor lamp makes for a truly promising start.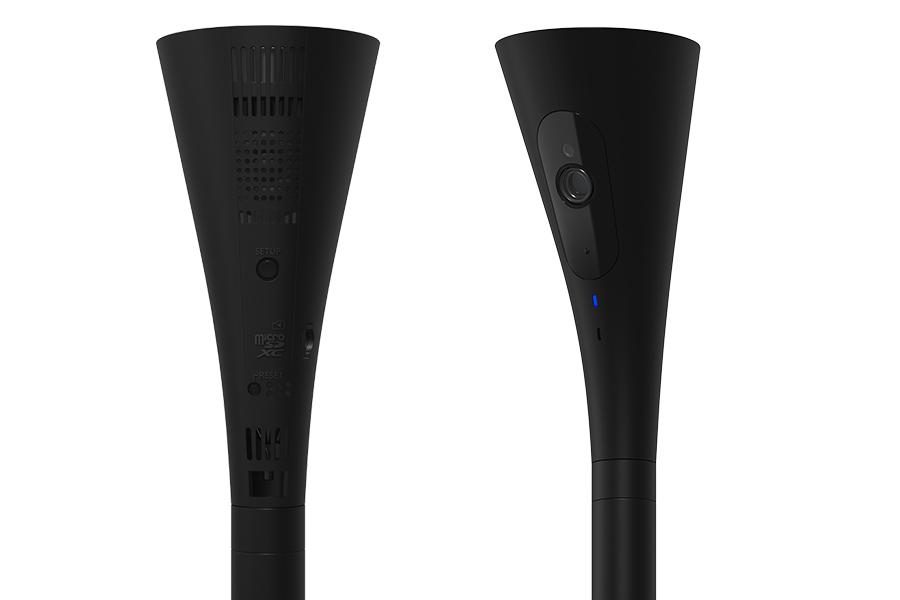 Simple, reliable, and secure, the HomeHawk Floor Lamp includes a built-in camera with a 140-degree wide-angle lens for wall-to-wall coverage. As with Panasonic's regular security gear, this one is motion-activated and equipped with two-way talk, allowing you to communicate directly with pets, friends, family members, and intruders alike. It also delivers 1080p Full HD resolution with color night vision, providing real-time monitoring to your mobile device. Pick up a large capacity microSD card (sold separately) and the motion-activated video will record directly onto the card for long-term storage and playback.
Easy to instal and effortlessly adept, the HomeHawk Floor Lamp pairs with most major Smart Home Assistants (Amazon Alexa, Google Assistant, etc), which can be used to control the ambient light settings. Choose between three separate heights and two different styles and situate the lamp in an area that will offer the most coverage. Thanks to Geo-Fencing, the camera springs to life the moment you leave the house. There's also a Privacy Mode, allowing you to turn recordings off and on in seamless fashion. Everything is controllable via mobile app and you'll receive alerts as soon as motion is first detected.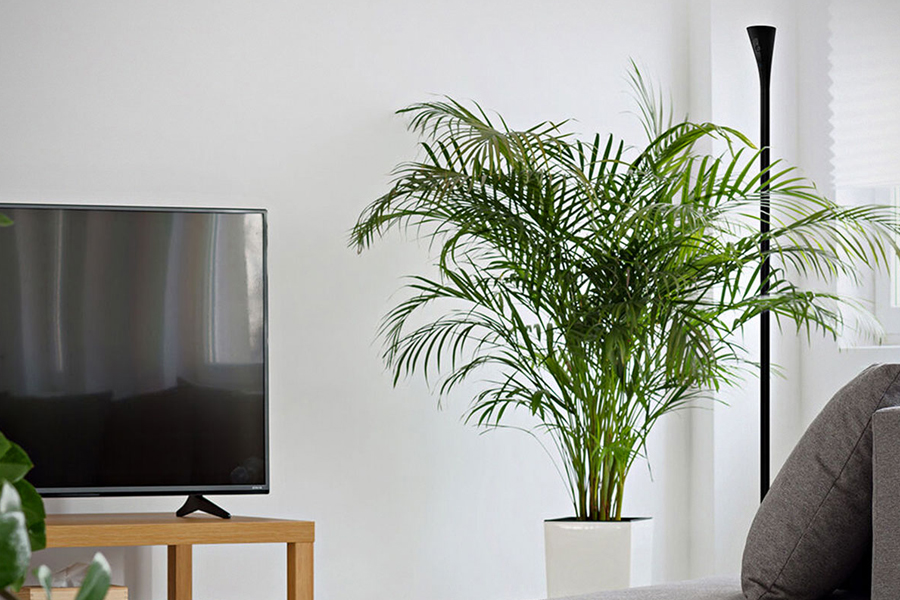 To ensure peace of mind, the HomeHawk Floor Lamp comes with battery back-up in the case of sudden power loss. Meanwhile, there are no monthly service fees, extra contracts, or hidden costs. In fact, the only potential added cost would be if you brought more HomeHawk devices into the mix, which again equates to a one-time purchase. Pair all that with the built-in security features and you're looking at peace of mind, indeed.
Two things you can always use in your home or office? Modern appliances and extra security. With the new HomeHawk Floor Lamp, you get both in one sleek package. It's another notch in Panasonic's proverbial belt, as the brand has been killing it in this particular department. First, there was the HomeHawk Home Monitoring Camera System and now there's this similarly exceptional product, which works like a charm and paves the way for all kinds of possibilities. And that's why the Panasonic HomeHawk Floor Lamp should be your next home security gadget.