Kitchenware masters Zwilling were founded all the way back in 1731 in the heart of Solingen, Germany, where knife-making is basically a way of life. As one of the planet's oldest manufacturers, this brand brings some serious heritage (and clout) to the table when it comes to all things kitchen-related. If they say that they've created the perfect vacuum food storage system—aka the Fresh & Save Starter Set—you better believe they mean it.
As the very name would suggest, the Fresh & Save Starter Set cranks maximum shelf-life out of your tasty leftovers. At the heart of its performance is the magic of vacuum storage, which keeps food fresh for up to five times longer than non-vacuum counterparts. Whether you're hoping to refrigerate, freeze, marinate, prep, or microwave, Zwilling's set has you covered on every front. Save loads of time by shopping once a week and then storing your ingredients or even your cooked meals in these vacuum-sealed containers, where they'll stay completely fresh for days at a time.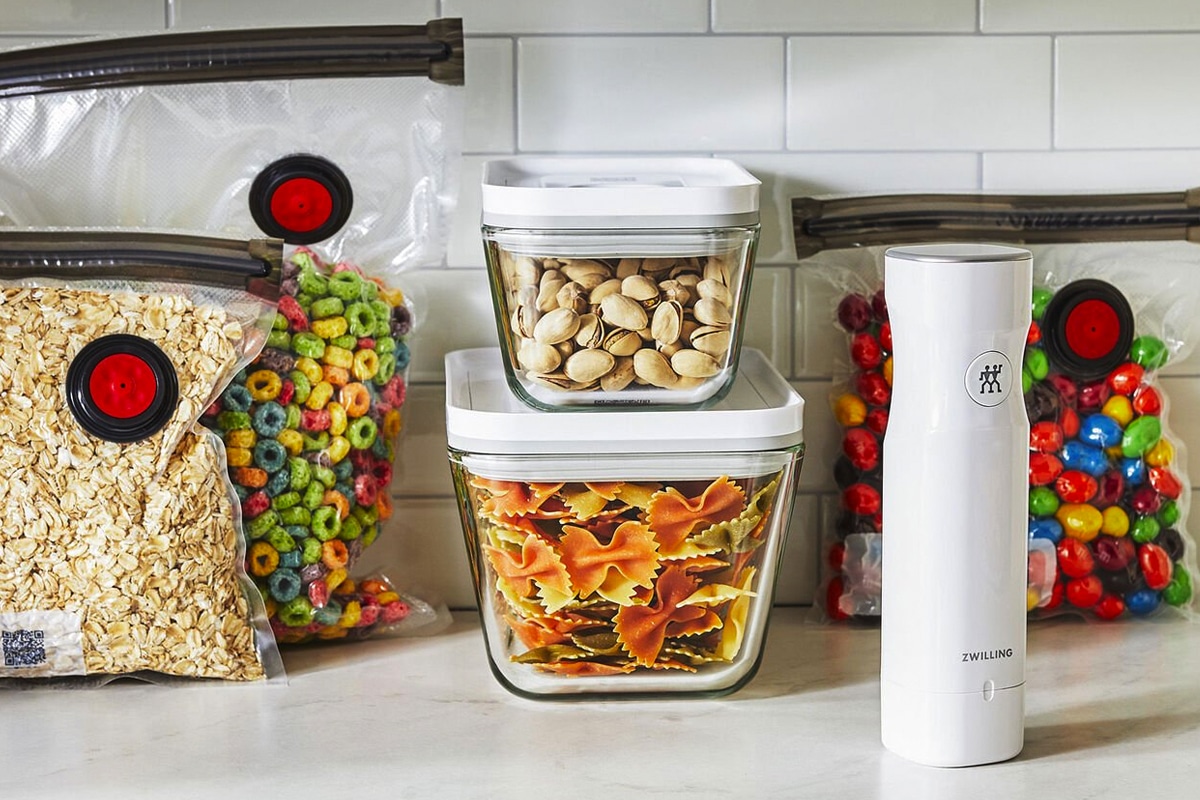 From busy moms to bulk shoppers to recent college grads, there's no shortage of people who can benefit from this wondrous storage kit. Indeed, most of us love good food but have less time than we'd like to cook on a nightly basis. With the Fresh & Save Starter Set at your disposal, you can cook one giant meal or maybe a few different meals on Sunday night, vacuum-seal the leftovers, and enjoy them fresh throughout the week. Not only are you retaining their nutrition, but your reducing food and plastic waste in the process. Put simply, your leftovers have never looked or tasted so good as they do here.
What was that about a vacuum pump? Some of the less kitchen-savvy readers might be asking. But don't be daunted by the term, as vacuum pumping is absolutely effortless. All you need to do is dock the pump onto the pre-existing container or bag valve and push a button. Bam! This miraculous technology instantly gets to work, sucking the air out of the storage vessel and stopping automatically when a proper vacuum seal has been obtained. In mere seconds, you've successfully locked in your food's key flavours, aromas, and vitamins.
Each Fresh & Save Starter Set includes the following components:
1 medium vacuum container
1 large vacuum container
2 small BPA free vacuum bags
2 medium BPA free vacuum bags
1 rechargeable vacuum pump
The set is available with either BPA-free polypropylene plastic or BPA-free borosilicate glass containers. No matter which version you choose, every container is nestable, freezer safe, ovenproof (without the lid), microwave safe (without the vacuum seal), and dishwasher safe. Their adjoining lids feature a double-seal to ensure that no air escapes.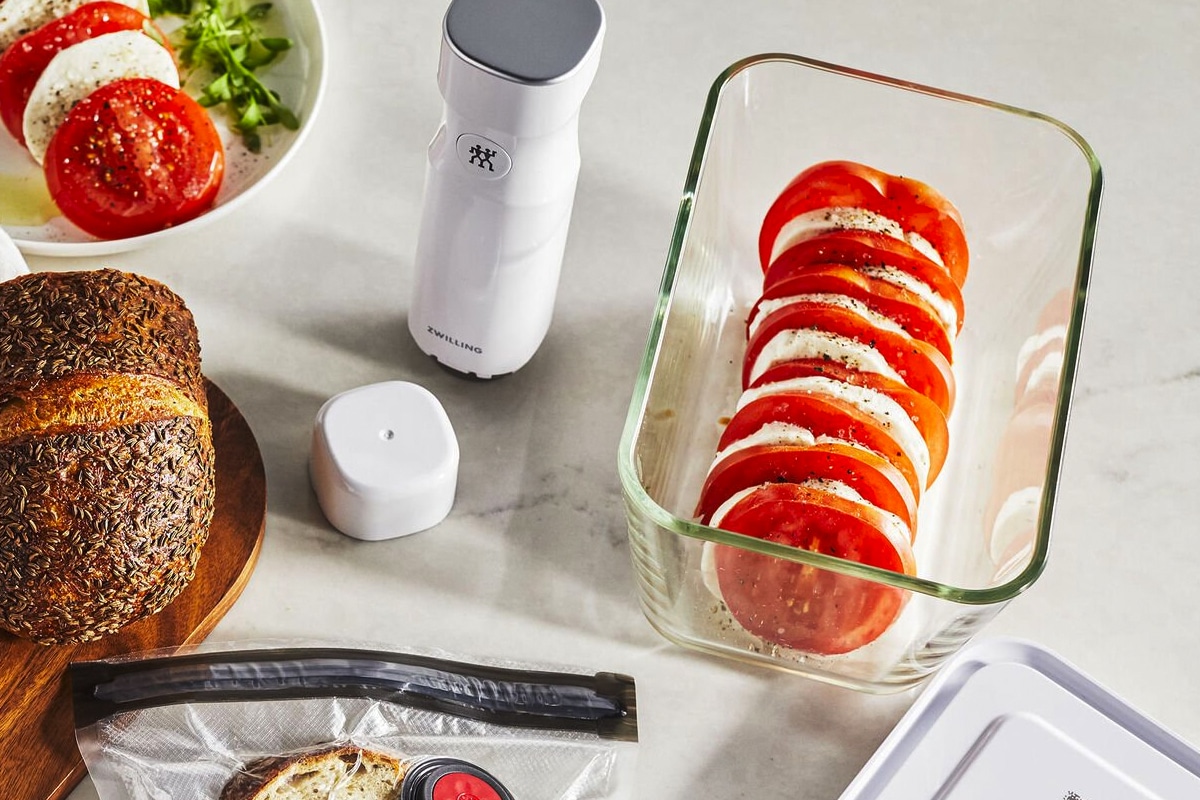 Along similar lines, the set's reusable bags employ easy-zip closure to generate the perfect seal. Each one is freezer safe, microwave safe (without vacuum seal), and dishwasher safe. Use them once and then use them again and again, saving money and optimising food storage while you reduce waste. As you'll soon discover, there's a reason they call it the Fresh & Save.
Last but not least is the adjoining vacuum pump, which comes powered by a lithium-ion battery. Quiet when operating and ultra-compact, the pump is rechargeable via USB. Use it with ease and behold the enduring results, whereas vacuum sealing retains the original quality of raw ingredients and cooked food alike.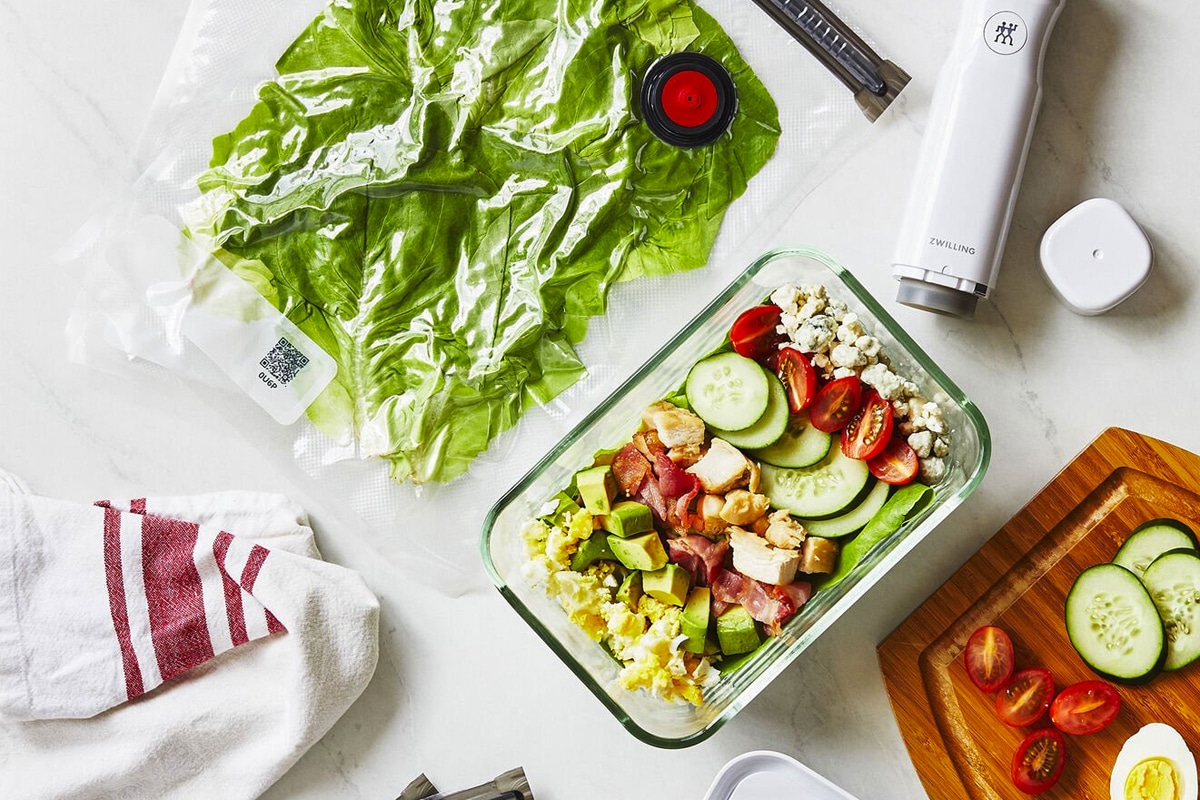 Purchase a 7 piece Fresh & Save Starter Set in either glass or plastic and the brand will include a free 4-pc towel set. You're also welcome to explore the entire Fresh & Save range, which features individual containers, vacuum pumps, wine sealers, and other products guaranteed to extend the shelf-life of your foods or beverages. And who better than Zwilling to provide it? With nearly 300 years of experience under their belt, this brand definitely knows a thing or two about maximising shelf-life!