8 of the Best Bike Multi-Tools for the Rider in You
Assuming you were able to put down the game controller and step outside at least once in the last year, you'll know all too well that biking is so hot right now. Should you join the craze you'll soon start treating your bike like it's irreplaceable–you'll name it, optimise it, and think about it at all hours of the day and night. Sure, doubt us now, but we can already picture you in Speedos and a customised helmet, biking your way across town while shooting cars the crook-eye when they don't give you and your precious bike the right of way. You'll see…you'll see.
---
You'll also like:
22 Home Bike Racks To Make Your Bicycle a Work of Art
How To Plan a Cycling Holiday
Two Friends Rode Bicycles Across Baja & Made a Short Film About it
---
Anyhow, with great bike comes great responsibility. Peruse the following list of best bike multi-tools so that you and your baby don't have a falling out over flat tires and loose chains. After all, should you not uphold your duties as an owner there's surely someone waiting in the wings ready to sweep that lovely bike off its feet…or wheels rather. You get the point.

Full Windsor The Nutter Tool
The Nutter goes for optimal leverage through a signature design that makes it a light-but-sturdy handle and one of the best bike multi-tools at once.
Specs:
Nylon tyre lever
15mm box head spanner
Spoke key
3,4,5,6,8mm hex tool bits
Philips head screw driver
Flat head screw driver
T25 torx bit
Magnetic tool bit extender
Bottle opener
Housed in a choice of a burnt brown or jet black leather and recycled inner tube pouch.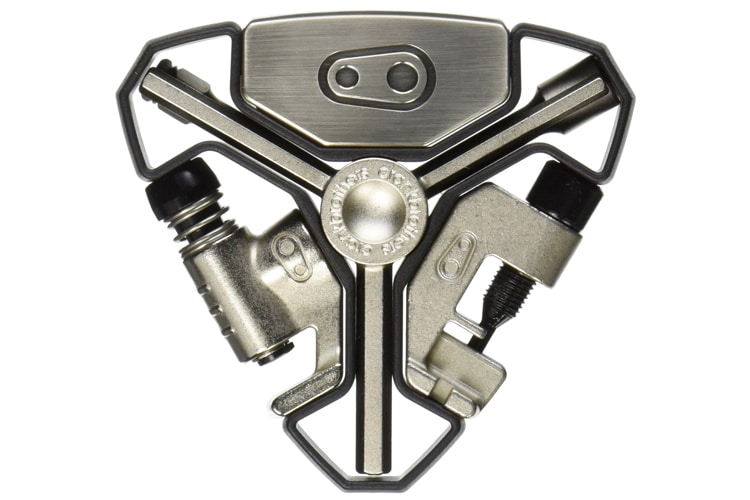 Crank Brothers Y-Tool 16
Shaped like a big stainless steel triangle, the Crank Brothers (love that name) Y-Tool is wonderfully portable and equipped with a slew of wrenches and handy maintenance tools as well as a CO2 tire inflator. Another easy entry on any list of best bike multi-tools.
Specs:
Hex 2, 2.5, 3, 4, 5, 6, 8
Philips
Flathead
Spoke Wrench #0 and #1
Torx T-10, T-2
¼ inch driver
Chain Breaker
CO2 inflator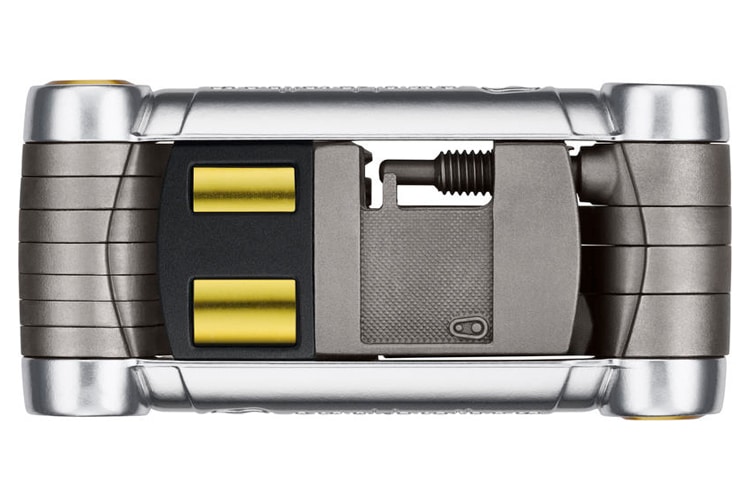 Crank Brothers Pica+ Premium Tool
For those in search of a Crank Brothers upgrade, check out their Pica + Premium Tool Kit, which utilizes investment cast stainless steel and an indexing feature that conveniently organizes your tools like clockwork.
Specs:
Weight: 181g
Length: 91mm
Frame: 6061-T6 aluminium
Tools: investment cast stainless steel
Chain tool: 8/9/10 speed compatible
Spoke wrench: #0, 1, 2, 3
Hex wrenches: #0, 2.5, 3, 4, 5, 6, 8
Socket wrenches: 8, 10
Screwdrivers: 1-phillips
Torx: t-10, t-25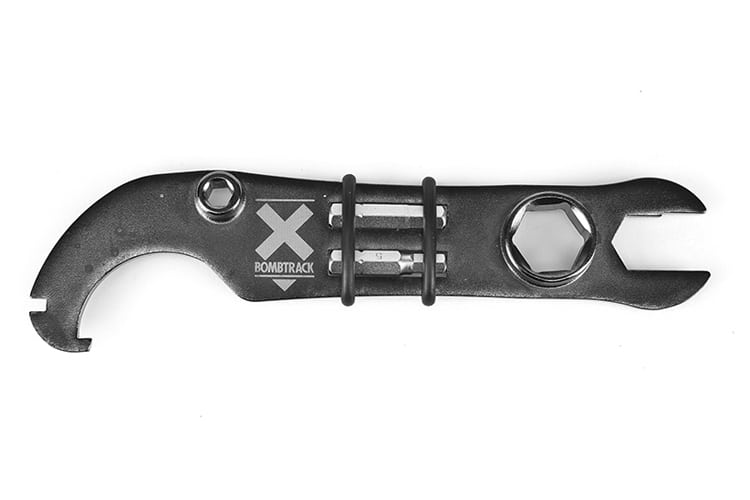 Bombtrack Multix
The Bombtrack is a beautifully designed single multi-tool that can function just fine on its own or pair up with accessories to keep your bike in the best of shape.
Specs:
Black or brown colour
S45C steel and leather
231g
185 x 50mm
5mm, 6mm hex bit
17mm axle wrench
14mm, 15mm open wrench
lockring tool
3.3mm spoke tool
optional tool roll includes x2 streel reinforced nylon tire levers and x6 self-adhesive repair patches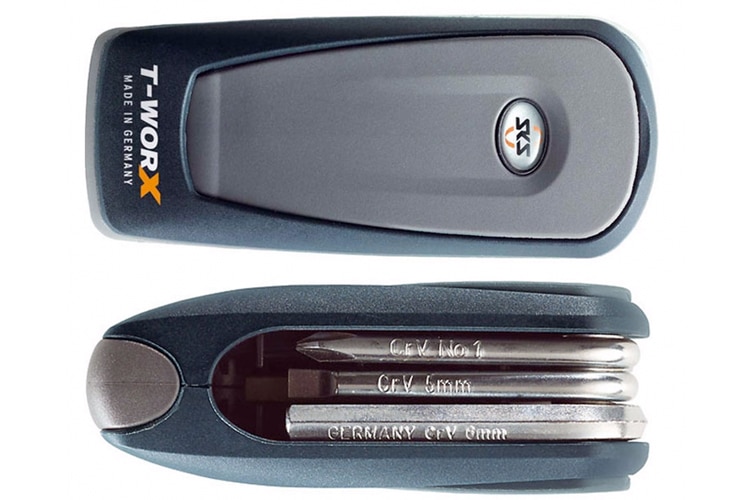 SKS T-Worx
The SKS T-Worx is a compact, affordable option for those who want to keep things basic and dependable in the multi-tool department.
Specs:
Suitable especially for bikes with internally geared hub
Measurements: 94x40x35
Functions: 19
Weight: 203g
All tools made of German high quality chrome-vanadium-steel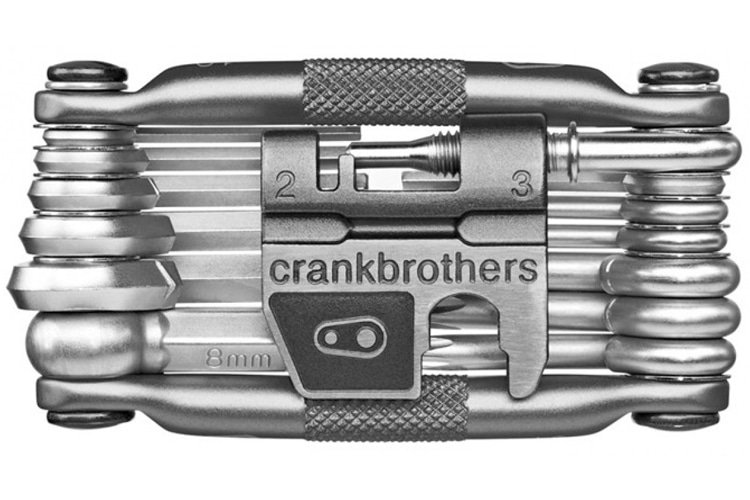 Crank Brothers Multi-Bicycle Tool
The Crank Brothers keep crankin' em' out! That's why we can say with confidence they make some of the best bike multi-tools you'll find. This particular 19-function multi-tool is a pocket-sized entry that ensures you never have to leave home without your handy repair kit.
Specs:
Measurements: 1 inches x 5.8 inches x 4.6 inches
Functions: 19
Weight: 175g (without tool flask)
Made of 6150 Hi-Ten Steel
Stainless and polymer carrying case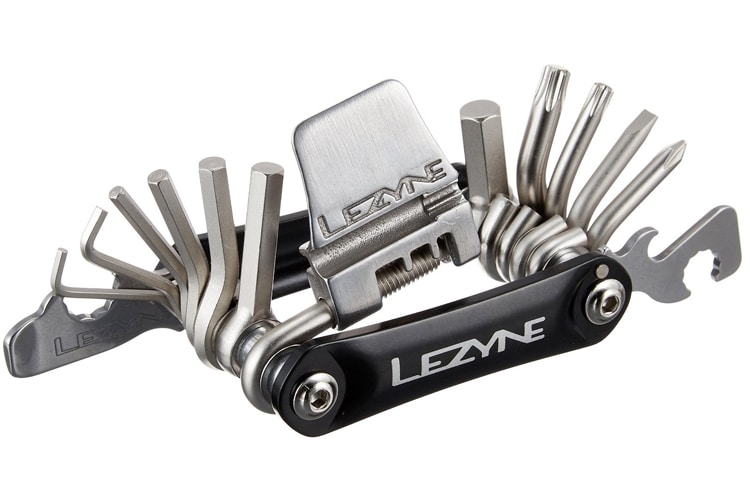 Lezyne Rap 20 Multi-Tool
The Lezyne Rap 20 boasts superior ergonomics and steel fastening hardware all within one of the best bike multi-tools that can fit in the palm of your hand.
Specs:
Ergonomic forged aluminium side plates
Forged, wrapped center-pivot crv + anti-corrosion bits
20 functions
Chrome vanadium steel fastening hardware
Cast stainless steel chain breaker
Three spoke wrenches integrated into chain breaker
Weight: 7 ounces
Dimensions: 7 x 4 x 1 inches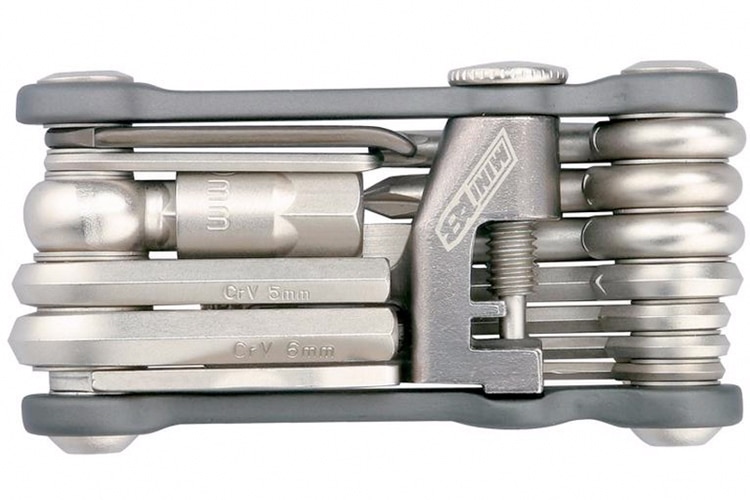 Topeak 18+ Mini Tool
Another Swiss-army knife on steroids, the Topeak 18+ Mini Tool is light and trusty and made from forged alloy.
Specs:
Tire Levers: Super Hard/Anodized Aluminium
Spoke Wrenches: 15g/14g
Tool Material: Hardened Steel
Tools: 18 total
Torx Wrench: T25
Bag Material: Neoprene
Size: (L x W x H) 8.2 x 4.3 x 2cm
Screw Drivers: 1 Phillips/1 Flat
Allen Wrenches: 2/2-L/2.5/3/4(2 each) 5/6/8/10mm
Body: Forged Aluminium
Bottle Opener: Steel
Chain Pin Tool: Chain Pin Breaker
Chain Tool: Cast chromoly Steel
Weight: 185g
Have you subscribed to Man of Many? You can also follow us on Facebook, Twitter, and Instagram.
---
You'll also like:
22 Home Bike Racks To Make Your Bicycle a Work of Art
How To Plan a Cycling Holiday
Two Friends Rode Bicycles Across Baja & Made a Short Film About it
---