$3,000 TEDPoP Rooftop Tent is Built for the Whole Family
Rooftop tents have revolutionised camping by transforming just about any vehicle into an RV. The drawback has been that the size limitations have kept occupancy low, and access has been limited to just one side of the vehicle. South Korea outdoor brand TEDS is changing all that with the TEDPop Pop-Up Dual Expandable Rooftop Tent. This new tent sleeps up to five people, making it a fit for many families, and it offers two entries, so you're not crawling over people to get in and out.
You'll also like:
Thule's Tepui Foothill Rooftop Tent Takes Half the Space
EXOD's Ark is an Inflatable, Hanging Tent
Superlite is the World's Lightest Hardshell Roof Tent
TEDS claims that the new rooftop tent is the "world's first and only pop-up dual expandable hardshell rooftop tent." What that means is that the tent has two extension panels that expand the tent's size while also offering a 360-degree view. You can access the tent via ladders on both sides, a design that TEDS says is more stable and secure. The tent is made of breathable canvas material as well as a hard shell that serves as a roof for the tent.
The tent also features a thermal layer just below the waterproof fabric, which helps to keep moisture and condensation out while still allowing the tent to breathe. Each side of the tent also features windows for even more visibility and ventilation. The expandable portions also feature star view windows so you can enjoy the night sky.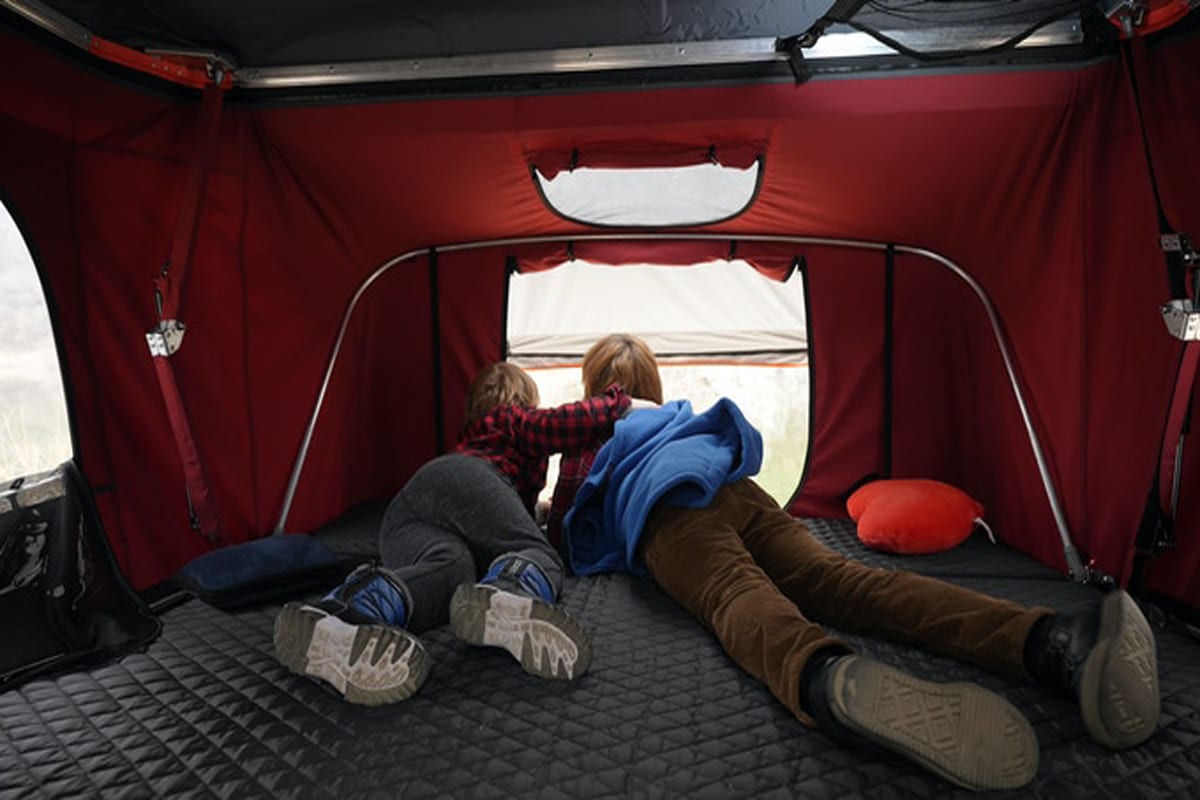 Setting up the tent is a breeze. Once you've installed the tent on your vehicle, setting up the tent is just a matter of letting the condensed strut bar do it works, opening the tent automatically. Then just fold out the extension panels. The TEDPop comes in a white or black hardshell case with dark wine red, grey, or green canvas. You can pledge to support the expandable rooftop tent on Kickstarter. For USD$2,890 you can get in on the Early Bird pricing or pay USD$3,090 for the full price.
You'll also like:
Thule's Tepui Foothill Rooftop Tent Takes Half the Space
EXOD's Ark is an Inflatable, Hanging Tent
Superlite is the World's Lightest Hardshell Roof Tent