Santa Claus might be the ultimate adventurer. Able to travel around the world and across time zones delivering presents, all in a single night, and while chowing down on god knows how many servings of cookies and milk! If you know someone who could match Jolly Saint Nick on his adventurers from the North Pole, you best dive into our latest Christmas gift guide for some of the latest and greatest equipment.
Much like Santa's sleigh is stacked with gifts, this Christmas Gift Guide comes loaded with adventure-ready gear, rough-and-ready apparel, and a handy dose of innovative tech from incredible brands like Porsche, Apple, Nike, YETI and The North Face. Whether you seek tranquil serenity in mother nature, a Bear Grylls trek through the wilderness, or the streets of an unexplored city, there are plenty of gift options for all adventures this Christmas.
You'll also like:
Christmas Gift Guide 2022 – Fitness Freak
Christmas Gift Guide 2022 – Tech Head
Christmas Gift Guide 2022 – For Mum
Christmas Gift Guide 2022 – The Golfer

BioLite FirePit+
Want to enjoy the warmth, smell, crackle and feel of a wood campfire without any of the suffocating smoke? Biolite's FirePit+ is your smokeless solution. Their portable fire pit's patented air flow system ensures hyper-efficient flames and clean combustion, so you don't have to worry about it getting in your eyes or on your clothes. Designed for a variety of outdoor activities, their high-tech design allows you to cook dinner, roast marshmallows, or simply kick back and relax all at your own convenience.
Using either charcoal or wood for fuel, it has a durable enamel coating and larger perforations within the mesh, allowing a more radiant heat for those cooler nights. We also love that this versatile charcoal grill has four fan speeds to choose from, allowing you to control the size of the flames, and the removable grill is ideal for hibachi-style cooking. Best of all, the unit includes a rechargeable battery to operate the fan and a free app to control the fire pit via Bluetooth. – AU$446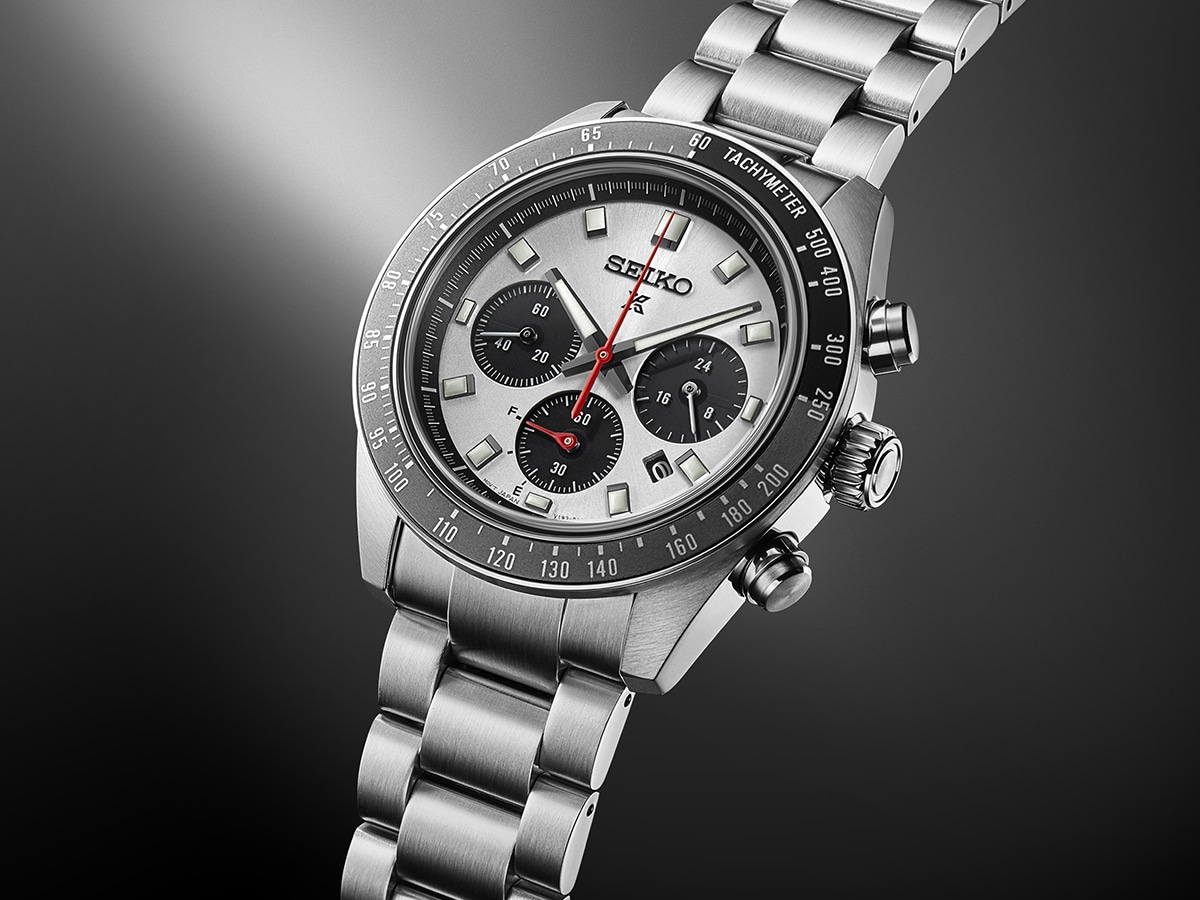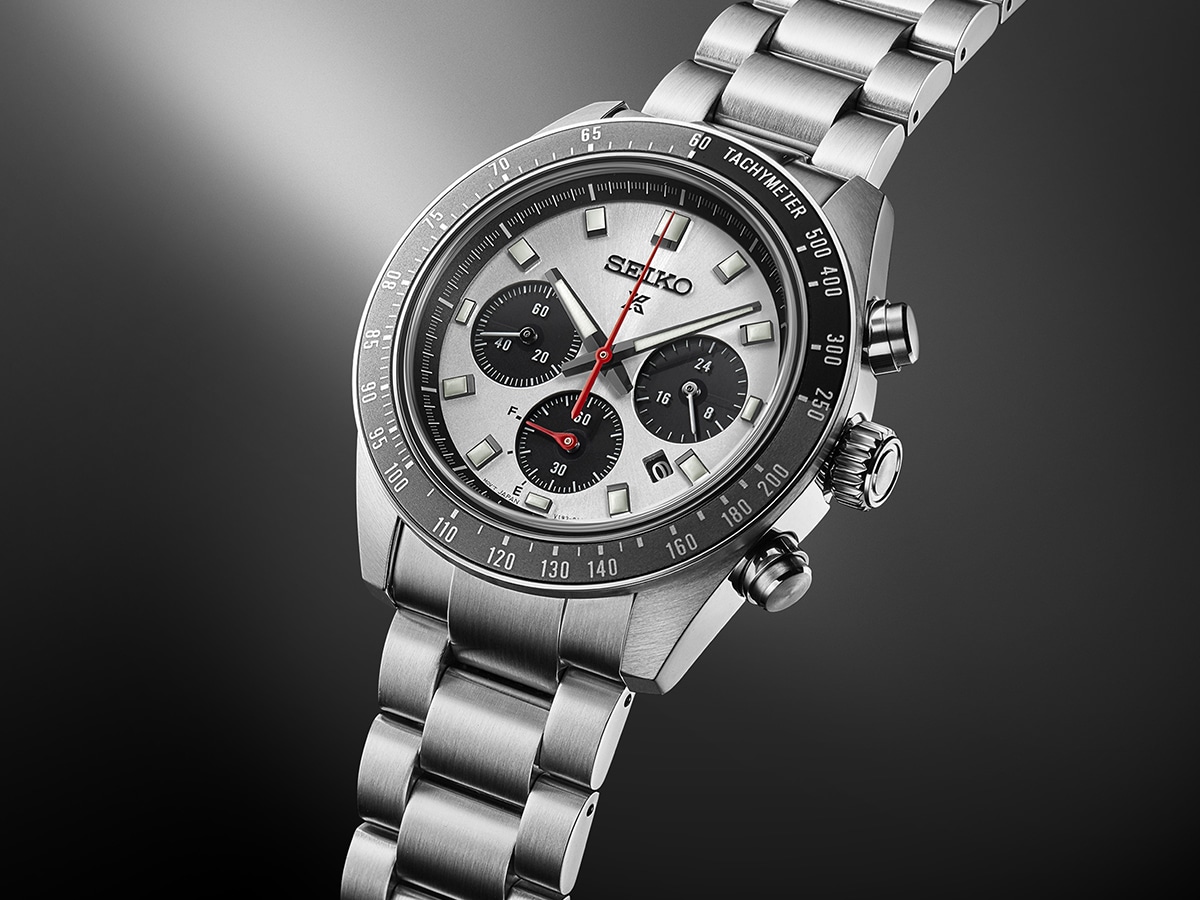 Seiko Prospex Speedtimer Solar Chronograph
Heritage meets innovation with the Seiko Prospex Speedtimer series, which brings vintage design into the current era. Drawing upon the iconic style of 1960s and 1970s predecessors, each model runs on in-house solar Calibre V192 and delivers a host of contemporary functions. Additional touch-ups such as a 39mm case diameter and curved sapphire glass were likewise applied in accordance with modern expectations.
Available in a variety of iterations, the Seiko Prospex Speedtimer features a 60-minute chronograph, 24-hour subdial, and touch-activated power reserve indicator. Combine that with a coloured aluminium bezel and you get a bona fide sporty stunner, which wears its functional layout like an aesthetic coat of armour. The watch is water-resistant to 10 bar, treated with Lumibrite, equipped with a hairline-and-smooth polished bracelet, and always ready for action. Are you?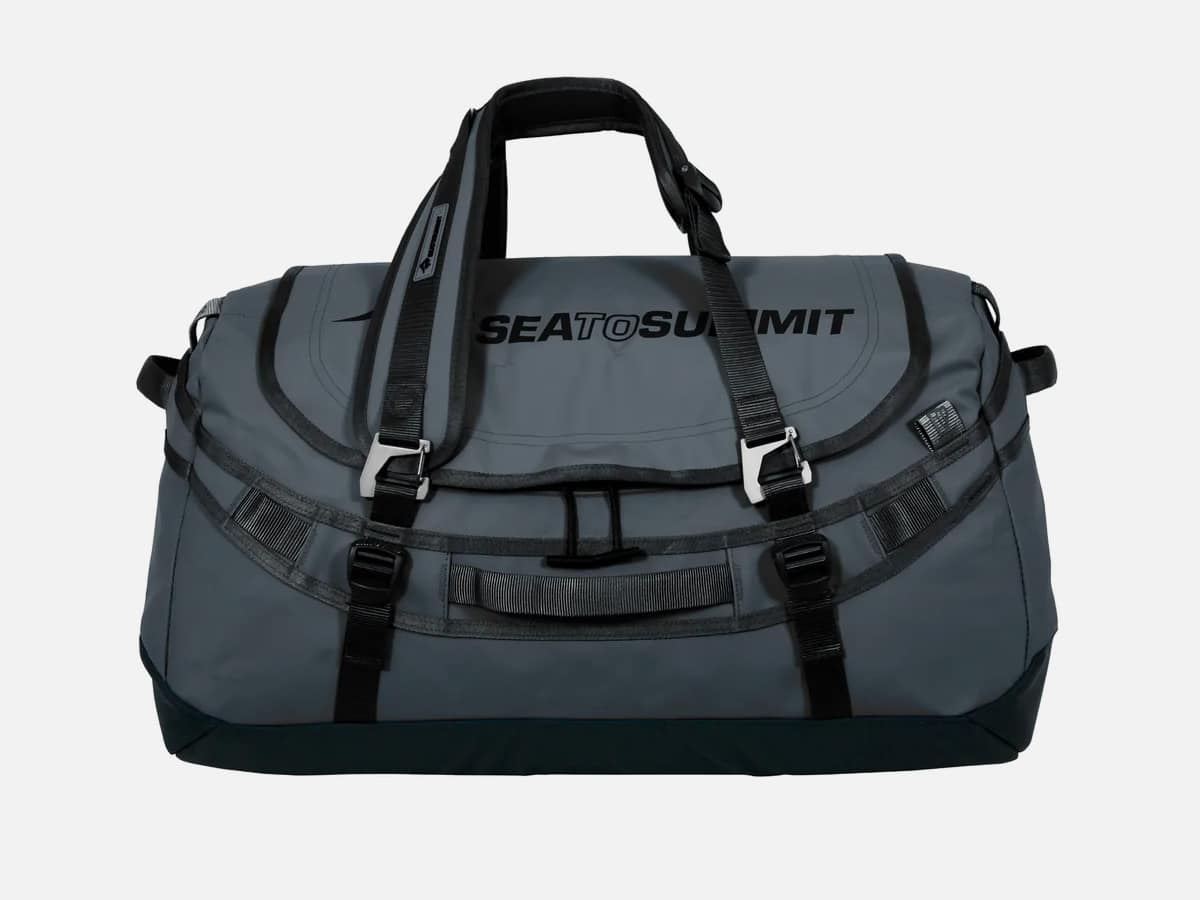 Sea to Summit – Duffle Bag 65L
In partnership with Sea to Summit
Whether you're trekking, travelling or hauling outdoor gear, Sea to Summit's Duffle Bag 65L sets a new benchmark for functionality and quality construction. Featuring a large lid for easy packing and fast access to gear, this carrier is essential for those looking to upgrade and enhance their next adventure.
These rugged load-haulers are designed for a variety of expeditions, boasting multi-functional handles that provide three carry options: hand grip, backpack or single strap mode. Furthermore, it's made from super tough materials like 1000D nylon and waterproof tarpaulin laminate, keeping your valuables safe in any and all weather conditions. – AU$249

Sunday Supply Beach Chair
These lightweight beach chairs from Sunday Supply are built for comfort and style. Boasting a highly-durable custom-made aluminium frame that'll stand up to chlorine and sand, they're the ideal compliment to a day by the pool or an adventure to a secret beach. And at only 2.6kgs, they're lightweight and easy to carry with the help of a removable carry strap and a convenient storage pocket. – AU$169

POND1 Essential
Leaps and bounds above the standard issue pair of speedos you got during school, POND is a standard-bearer for men's swimwear, promising optimal freedom of movement and a perfect fit for all body types. POND1 Essential men's swimsuits are saltwater, chlorine and sun cream resistant, with a UPF 50+ UV protection rating; what more could you want in a pair of classic swim trunks?  – AU$118

Porsche Tequipment Rooftop Tent
Porsche-level quality camping equipment for your adventures? Shut up and take my money! Provided you own a Porsche Macan, Cayenne, Panamera, Taycan or 911 (because a new Porsche is not included in this price tag). If you do, then the uber-luxurious and ultra-comfortable Porsche Tequipment 2-Person Rooftop Tent will take your adventures to the next level! – AU$7,325

Apple Watch Ultra
"Inspired by explorers and athletes from around the world," the Apple Watch Ultra boasts a larger 49mm titanium case and a highly durable and scratch-resistant flat sapphire crystal screen that can stand up to whatever you encounter. Complementing the new rugged design are three exclusive watch bands for outdoor adventures, endurance athletes and extreme water sports and recreational diving. Wherever you explore, exercise or swim, match your Apple Watch Ultra with the Alpine Loop, the Travel Loop or the Ocean Band.
Alpine Loop: Made from two textile layers woven together into one continuous piece without stitching, with a titanium G-hook to ensure a secure fit."
Trail Loop: Thin, lightweight… made from a soft nylon weave, with a convenient pull tab for quick adjustments on the go."
Ocean Band: Moulded in a high-performance elastomer with a tubular geometry allowing it to stretch for a perfect fit, even over a wetsuit. The titanium buckle and adjustable loop secure the band during high-speed water sports."- AU$1,299

DJI Action 2
This pint-sized 4K/120FPS action camera takes an innovative approach to the industry with its magnetic design that allows you to mount the camera to any metal surface you can find. Pushing the boundaries of what an action camera is and isn't, the tiny but mighty DJI Action 2 is a winner in terms of size and portability, with impressive video quality and functionality, in a small package.  – AU$609

Leatherman Wave Plus Multitool
Grab yourself the most popular Leatherman Multitool, recently updated with premium replaceable wire cutters allowing any adventurer to tackle everything from setting up the tent to pulling out splinters. The new and improved design features larger knives, stronger pliers, longer wire cutters, and all-locking blades, fitting more functionality than ever. – AU$186

Patagonia Fitz Roy Sleeping Bag
Sleeping in -7° C temperatures doesn't sound too enticing without the Patagonia Fitz Roy Sleeping Bag. Keep your bits and pieces from freezing off during your winter adventures with this streamlined, 800-fill-power Advanced Global Traceable Down sleeping bag with a 3D-engineered hood built for high-efficiency warmth that's suitable for adventurers as tall as 6'6" (198cm). It's so roomy; Michael Jordan, Rob Gronkowski and Charles Barkley would all fit comfortably! – AU$829.95

The North Face Retro 1986 FUTURELIGHT Mountain Jacket
Transport yourself back to 1986 – Bob Hawke, New Coke, DeLoreans – wearing the Unisex Retro FUTURELIGHT™ Mountain Jacket from The North Face Sustainable collection. Inspired by the old-school design of the eighties, this jacket has all the bells and whistles to deliver an optimised combination of breathable-waterproof protection no matter the adventure, whatever the weather. – AU$600

Biolite SolarPanel 5+
Your adventures into the wilderness won't be technology-free anymore, thanks to the Biolite SolarPanel 5+. This ultra-minimal solar panel features a small, lightweight 5-Watt monocrystalline power supply that can charge phones, tablets, and other BioLite gear in real time. Harness the power of the sun for your next adventure with BioLite. – AU$150

The Prepster Lite 3-Day Emergency Kit
With the trimmed-down Prepster Lite emergency kit, a single person can survive for 72 hours following a major emergency. Stocked with potentially life-saving supplies like first aid essentials, food and water (with up to a 5-year shelf life), inside, you'll find a range of emergency tools and premium comforts that you HOPEFULLY won't ever have to use. But if you do, having the Prepster Lite 3-Day Emergency Kit could be the difference maker. – AU$195

Ikon Pass
The Ikon Pass is all about Yewww! YOU carving up the slopes across 50+ destinations and seven brand-new landscapes–all for the price of one ticket. Your season, your mountains, your crew, the Ikon Pass is your ski and snowboard pass to the most iconic mountains in the world, with exclusive on-mountain discounts and access to sought-after experiences and offers.  – AU$1,911 (USD$1,229)

YETI Roadie 24 Hard Cooler
The YETI Roadie 24 Hard Cooler brings a new meaning to the phrase 'roadie'. As the name suggests, it's built to carry a whole slab of beers (33 cans, to be precise) or a few bottles of wine, yet slim enough to slip into the backseat of the car. Plus, thanks to its RockSolid Strength, this eski is virtually indestructible, making it ideal for the toughest of adventures where drinks are a must. – AU$250

Nixon Bandit Bag
The Nixon Bandit Bag combines EDC and adventuring with functionality and practical style to match wherever your explorations may take you. Featuring zippered pockets and internal organisers like a key clip and slip pockets, plus a breathable mesh back panel for better airflow that cuts down on sweat, it's more than capable of handling your next mountain hike or urbex experience. – AU$35

VSSL Camp Supplies
A virtually indestructible LED camping torch made from military-grade aluminium, topped with a precision compass and ultra-bright 4-mode LED light, that also includes 70 outdoor essentials and tools? That's the VSSL Camp Supplies kit. Inside, you'll find a Canadian Beeswax Candle, Mini First Aid Kit, Firestarter Kit, Fishing Kit, Wire Saw, sewing kit and even a can opener, just to name a few. – AU$145

The James Brand The Ellis Knife
Say hello to the Ellis Knife, the sold-out mainstay pocket knife from The James Brand with a trick up its sleeve: multiple tools for maximum in-pocket functionality. It's a scraper, flat-head screwdriver and a pry bar, all built around a partially-serrated Swedish Sandvik 12C27 stainless-steel blade with a deep-carry wire clip for your pockets. EDC enthusiasts and adventurers will love the bold new look and redesigned form function of this daily workhouse tool. – AU$119

Nike ACG Mountain Fly GORE-TEX
GORE-TEX is teaming up with Nike again for another pair of sneakers with the sole purpose of keeping your feet protected while you explore the city, the woods, or wherever you may go. The Nike ACG Mountain Fly GORE-TEX sneakers have industry-leading waterproofing and a long-lasting, stiff rubber outsole that keeps everything snug and fit. While the flexible ankle cuff keeps out debris, the reflective design elements on the heel and lace cover improve visibility at night. – AU$290
You'll also like:
Christmas Gift Guide 2022 – Fitness Freak
Christmas Gift Guide 2022 – Tech Head
Christmas Gift Guide 2022 – For Mum
Christmas Gift Guide 2022 – The Golfer