Deejo Custom Knives are The Perfect Pocketknife
When friends and business partners Luc Foin and Stéphane Lebeau set about designing the perfect EDC (that's "every day carry" for those of you playing at home) knife, they knew that it had to boast one feature that others lacked significantly: portability.
While the practicalities of an EDC pocket knife may be self-evident, it's a clear fact that most of any pocket knife's time is spent not in use, but rather waiting at the ready. So why, then, are so many "pocket" knives so damn heavy and bulky, and uncomfortable to live in an actual pocket? Setting about to create a low-profile foldable knife that weighed very little without sacrificing usability and quality, the pair came up with Deejo.
With Deejo, Luc and Stéphane decided to make the weight of the knife its most defining feature. So much so, in fact, that they name each of the models after their weight: 15g, 27g and 37g, which measure 7, 9 and 11 centimetres when closed, respectively. The clever design uses minimal parts while still maintaining a high degree of aesthetics and practicality, with ergonomics at the heart of their design language.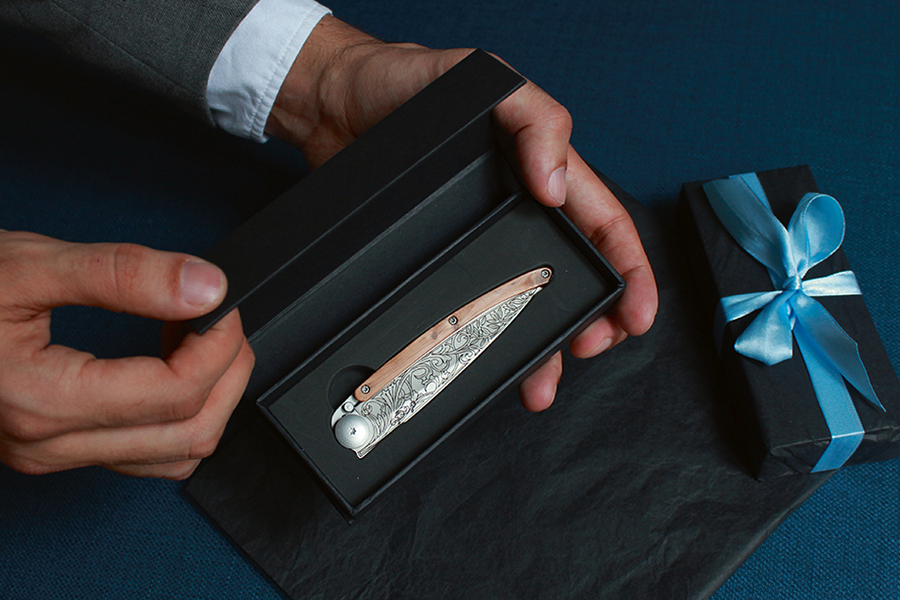 Right down to the discreet but highly functional clip to keep your Deejo exactly where you want it to sit in your pocket, these are knives that have been designed with the user in mind.
An EDC knife is one of those products that prove it's worth time and time again, with more uses than you may first consider. In short, you'll certainly find yourself reaching for it more often than you might think, meaning quality and durability are also hugely important factors to consider.
Deejo's knives are made from extremely hard stainless steel and are delivered-razor sharp (the company also sells a handy sharpener so you can guarantee you'll keep it that way, without causing any nicks or scuffs to the blade), and the low-profile design means that you can have a solid-feeling foldable knife that doesn't need a heavy handle or a cumbersome clasp to provide a sense of quality.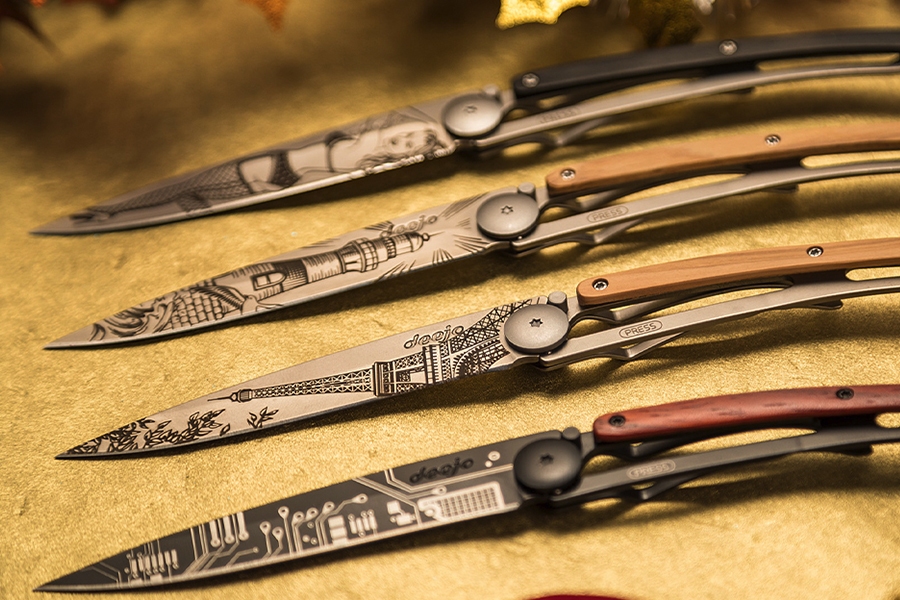 And on the topic of handles, another fantastic feature of these knives becomes apparent the second you visit their site: individuality. With options for naked, multiple colours, coloured wood, natural timbers and carbon fibre, each piece is customisable to the individual.
But the ability to customise doesn't stop there, with over 60 different "tattoos" available to decorate the blade, which also comes with the option of a mirrored, matte or black titanium finish. That's over a thousand options, meaning you can pick one that's uniquely yours, not to mention the ability to add an inscription to the handle when you order online.
All orders are shipped from the brand's headquarters just outside of Paris within 48 hours, meaning that made-to-order doesn't have to mean a lengthy wait time to receive your sweet new blade.
Deejo's online knife-builder makes a visit to their website a pleasure, meaning whether you're in the market for a nice new toy or not, you can have a play and find something that suits your look (that will look so good you'll probably want to click "buy" either way).