Kick Survival's Butt with the Omniblade Multitool by Teryx
Lost in the woods? No problem. Zombie Apocalypse? Bring it on. Mother-in-law visiting? Oh yeah.
Okay, not that last one, but the Omniblade Multitool by Teryx has you covered. The 5-in-1 multitool works as a machete, hatchet, hammer, saw, and knife. The tool starts out as a full tang kukri machete with its characteristic elegant curve. The final inches of the machete also serve as a closed-guard utility knife.
A cut-out in the machete acts as the handle for the knife and for the Tomahawk style hatchet at the other end of the tool. Opposite the head of the hatchet is a hammer that doubles as the guard for the tool's handle. Finally, a seven-inch crosscut handsaw is cut into the back of the machete blade.
The handles can be wrapped with paracord, thus increasing the usefulness of the tool. The tool measures 23 inches in length and is 6.5 inches at its widest. Made of 42OJ2 steel, the tool weighs 29 ounces.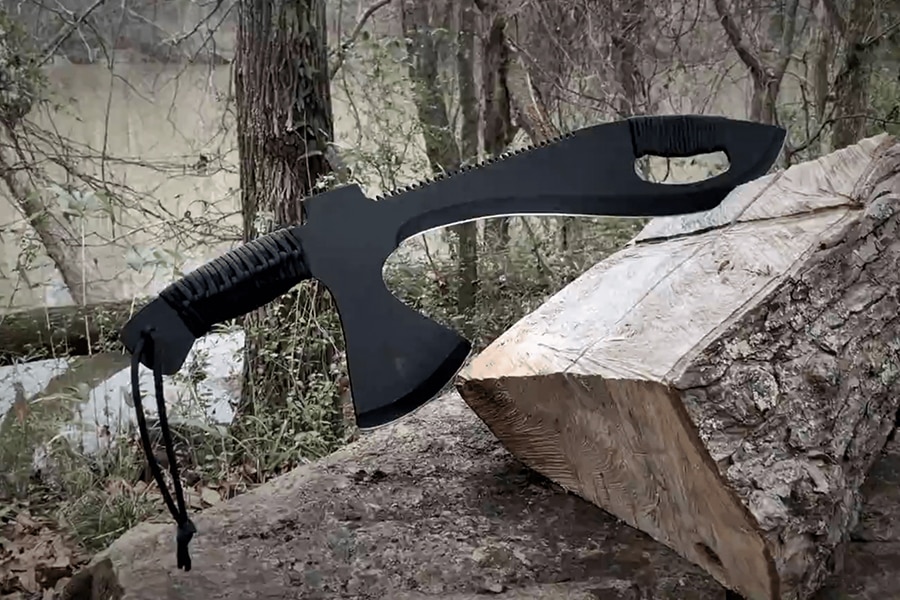 And just to prove out the concept, the inventors of the Omniblade Multitool will be going out on a survival trip, the duration of which is determined by how many backers they get for the tool's production. Each contribution to their Kickstarter fund comes with additional votes that extend how long the guys will stay out—which shouldn't be a problem as long as they have the multitool with them.