ENVO's New Kit Turns Your Electric Pushie into a Badass Snowbike
Being able to go mountain biking in the snow has been a pipe dream for a long time. Even with the advent of fat bike tires has only given a taste of what that dream could be. ENVO has a new take on what riding a bike in the snow could be with their Snowbike Kit. The kit consists of a track and a ski that convert an electric assist bike into a true snow bike.
You'll also like:
Escape to the Cedar Cabin in Thredbo Village this Ski Season
Taiga Motors Hits the Charm with Electric Snowmobile
Aurora Powertrains Debuts World's First Electric Snowmobile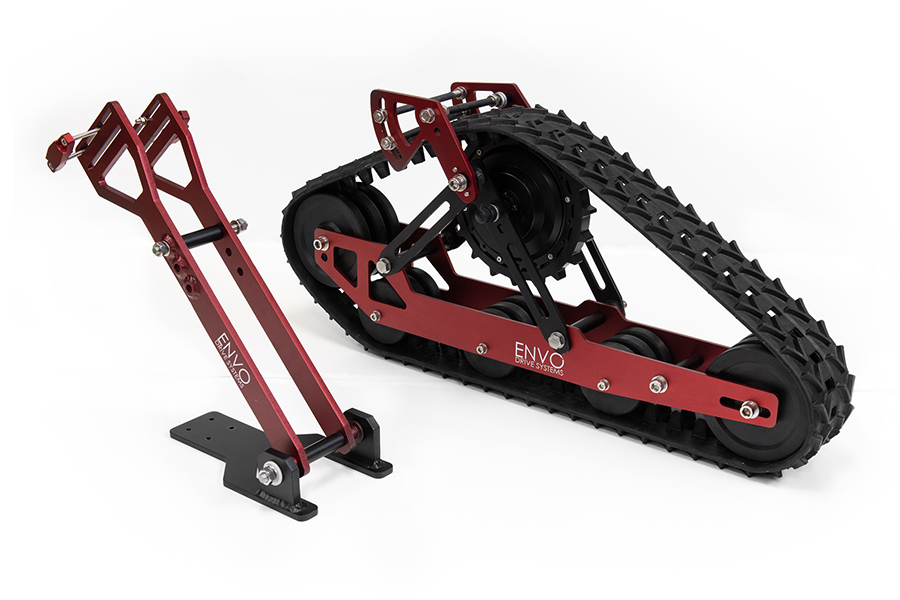 The kit doesn't come with a frame, so you'll need to provide that, but otherwise Envo is sending everything you need to put together what the brand is calling the first pedal-assist electric snow bike. The basis of the kit is the bogie. The unit is made of aluminum and replaces the rear wheel. Inside this unit is a 1,200-watt rear hub-type motor that helps to power the polyethylene rollers along the bottom. These rollers work with the lugged rubber and Kevlar tread.
The unit ties into the bike using the existing chain, which attaches to the sprocket on the side of the motor. A 48V/17.5-Ah lithium-ion battery pack, which is mounted on the down tube, provides the electrical power. When a sensor on the crank detects that you're pedaling, the motor is signaled to kick in, providing assistance.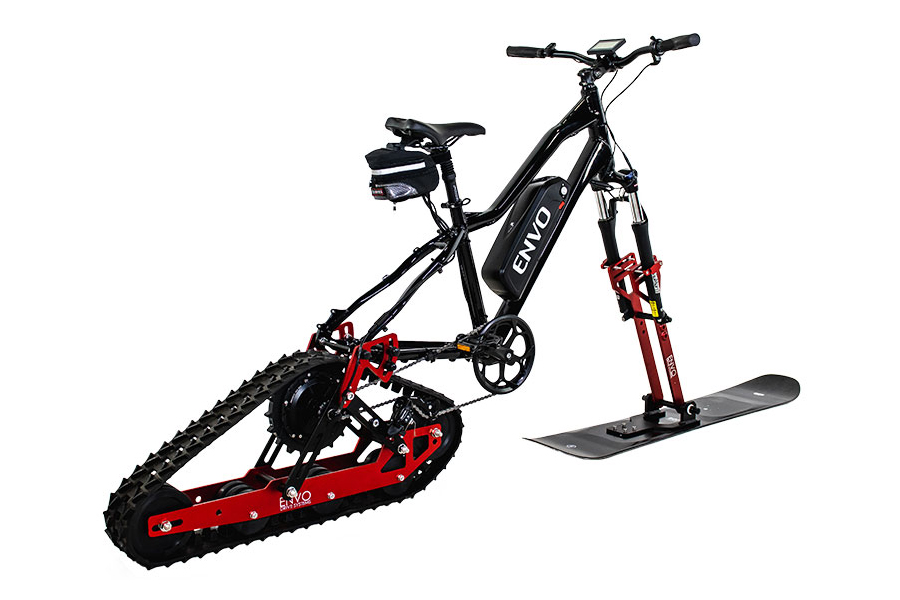 You can also turn on the motor yourself without pedaling using a thumb throttle switch on the handlebar. The handlebars also hold the LCD control panel that displays information on the motor-assist setting, the current speed, and the battery's charge level. You can keep the front wheel in place, but if you're looking to take on deeper snow, there's an adapter that replaces the front wheel with a snowboard (you can even get the snowboard from ENVO if you want).
All set up, you can plan on the motor-assisted kit to provide 11 miles per hour with a range of 6 miles, or roughly two hours of use, per full charge. The Envo Electric SnowBike Kit is available for preorder at USD$2,145, minus the battery which tacks on USD$688.
You'll also like:
Escape to the Cedar Cabin in Thredbo Village this Ski Season
Taiga Motors Hits the Charm with Electric Snowmobile
Aurora Powertrains Debuts World's First Electric Snowmobile