Skiing at Home Takes One More Run on the Slopes
The COVID-19 pandemic led to the closing of a lot of different events and venues. One closure that has gone relatively under the radar was that of ski resorts and slopes. The pandemic was just ramping up as the ski season was winding down, but that still left plenty of people unable to get in those last few runs. One of those skiers missing out was Philipp Klein Herrero, but he wasn't about to let the season end without one more run, so he filmed "Skiing at Home" and posted it for the world to enjoy.
You'll also like:
Snowrider Dirt Bike Snow Kit Keeps You Riding All Year
Burton Step On Snowboard Boot Kit Simplifies Bindings
Skateboarding In A Global Pandemic | COVID-19 Los Angeles
"Just before the current health situation locked us in," wrote Herrero, "I was about to go Freeriding with my family. It was supposed to be the big adventure of the year, the one I had been eagerly awaiting for a year. Therefore, the lockdown had me thinking about skiing the whole time, so I started to think how I could ski without leaving my living room."
Herrero's video was actually shot on a GoPro attached to his ceiling and was submitted by Phillip as an entry to GoPro's #HomePro challenge. The challenge invited anyone around the world to submit their most creative videos and photos, from any device, for the chance to win a HERO8 Black or MAX camera and five years of GoPro PLUS subscription service.
In Herrero's case, he used stop motion, with the camera taking one picture at a time before Herrero would move to set up the next shot. Using sheets to simulate the slope, Herrero climbs the mountain, even using ice picks to scale a vertical section before reaching the pinnacle. There he pauses for a celebration and a selfie. Then it's back down the slope, where he hits a jump, turns a couple of tricks, but ends up crashing in epic style.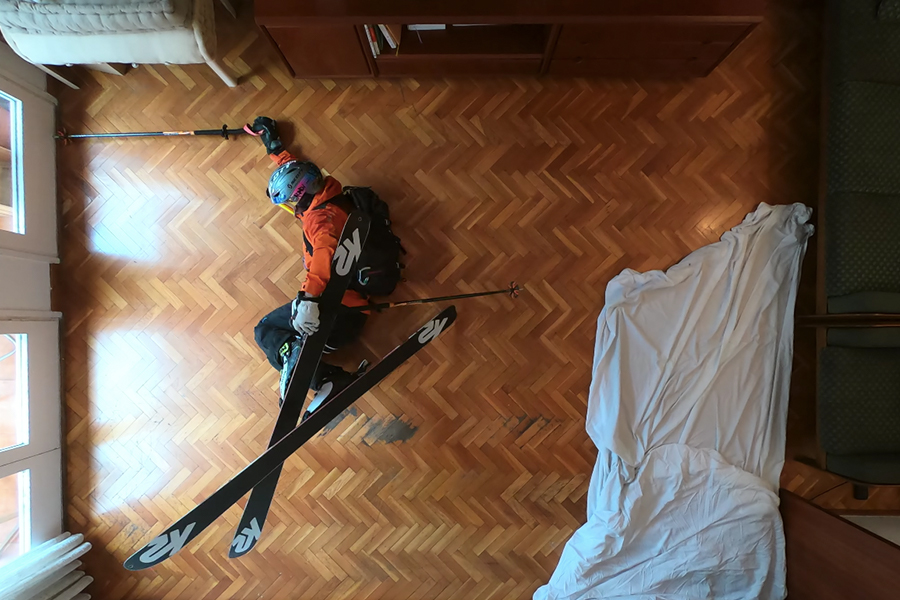 It took an entire day for Philipp to create the video, and that was after a few delays. "Six hours later, everything was in the box! Then I started a four-hour edit, where most time was spent on sound design. My idea was that if someone closed their eyes and only listened to the video, it would seem a real outdoor experience," says Philipp.
It wasn't an easy process. "On a physical note, running a solo production in ski gear in spring in Barcelona while walking with skis on and trying not to scratch the floor was a workout, that's for sure," Philipp states. But the video was worth the effort for the photographer. "Bringing something that sparked in my mind into reality and sharing that happy thought with the world," says Phillip, "every smile makes it worth it."
You'll also like:
Snowrider Dirt Bike Snow Kit Keeps You Riding All Year
Burton Step On Snowboard Boot Kit Simplifies Bindings
Skateboarding In A Global Pandemic | COVID-19 Los Angeles