INTERVIEW: Pierre Gasly Learns to Surf with Mick Fanning
The highly competitive sport of Formula One is no stranger to controversy, and intense rivalries are forged at 300 kilometres an hour. With a contentious shake-up to their team last year, with the departure of Daniel Ricciardo and the switch from Renault to Honda engines, Aston Martin Red Bull had to make a decision about who would sit behind the wheel of their team's second vehicle.
You'll also like:
Top F1 Driver Salaries for 2021 Revealed
F1 Driver Romain Grosjean's 'Miracle' Escape After Terrifying Crash
TAG Heuer Celebrate their Aston Martin Red Bull Racing Partnership Ahead of the F1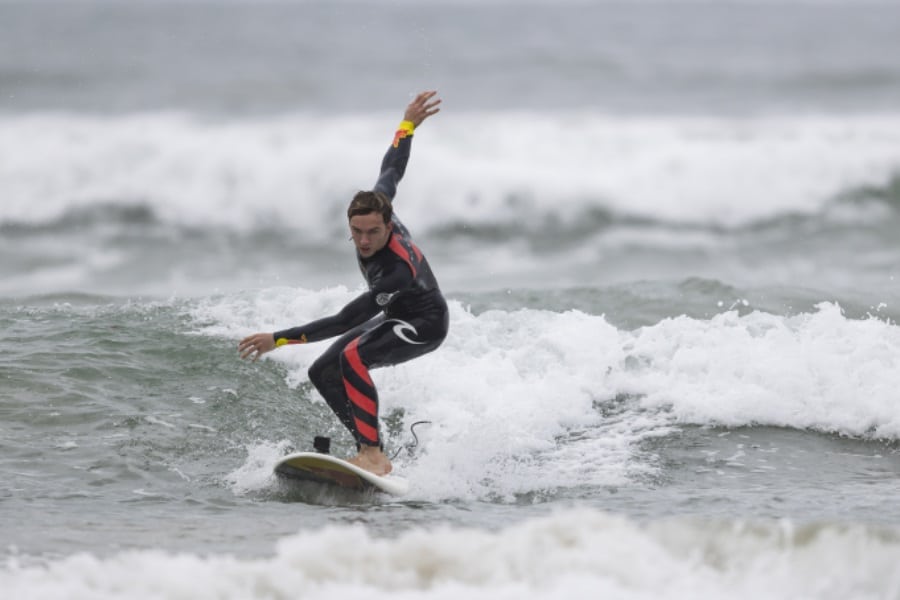 The new talent plucked from the pool? 23-year-old Frenchman Pierre Gasly, who had already completed the 2018 season as a driver for Scuderia Toro Rosso, also owned by the Austrian energy drink giant. Gasly, an affable yet fiercely competitive driver, was announced to be partnered with Belgian-Dutch wunderkind Max Verstappen for the 2019 season, making it one of the youngest teams ever in terms of age, a bold move for the top-three team.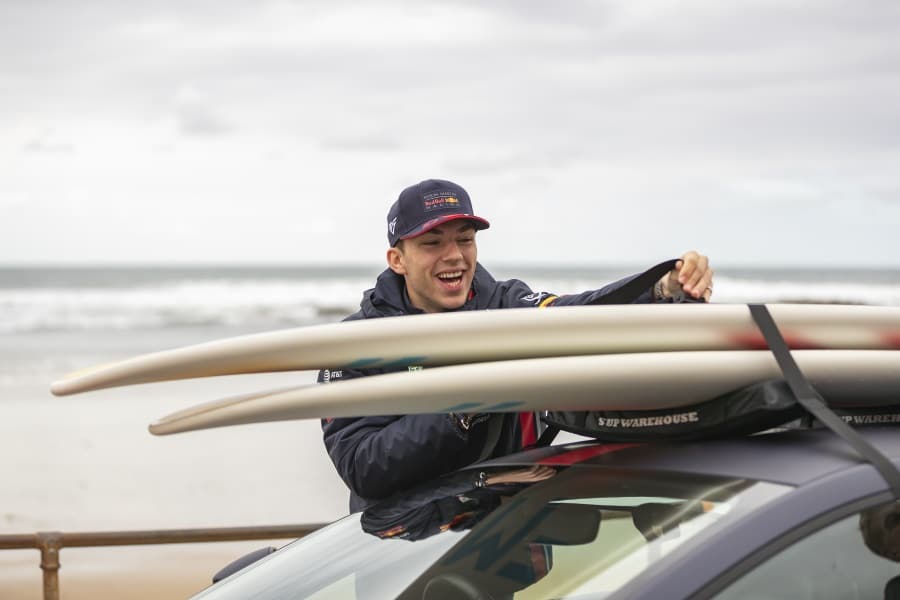 And with the F1 season starting, as it almost always does, in Australia, what better way to welcome him to the team than by pairing him up with fellow Red Bull family member and former WSL world champion Mick Fanning? During a recent surf lesson in Torquay, Victoria, Gasly sat down with Man of Many to talk about the upcoming season, his new Honda engine, and getting caught in the green room with one of the sport's true greats.
Will F1 fans be upset to hear that you're retiring from driving and joining the World Surf League?
Haha! I don't think this is going to happen in the next thirty years or so.
How was it out there? It's not your first time on a board, obviously as you stood up pretty quickly.
This is only my third time. I had two lessons back in France last year and another one the year before but I never really got the hang of it. There were so many people watching, plus I was out there with Mick so I was like ah fuck–I need to make sure I do this right!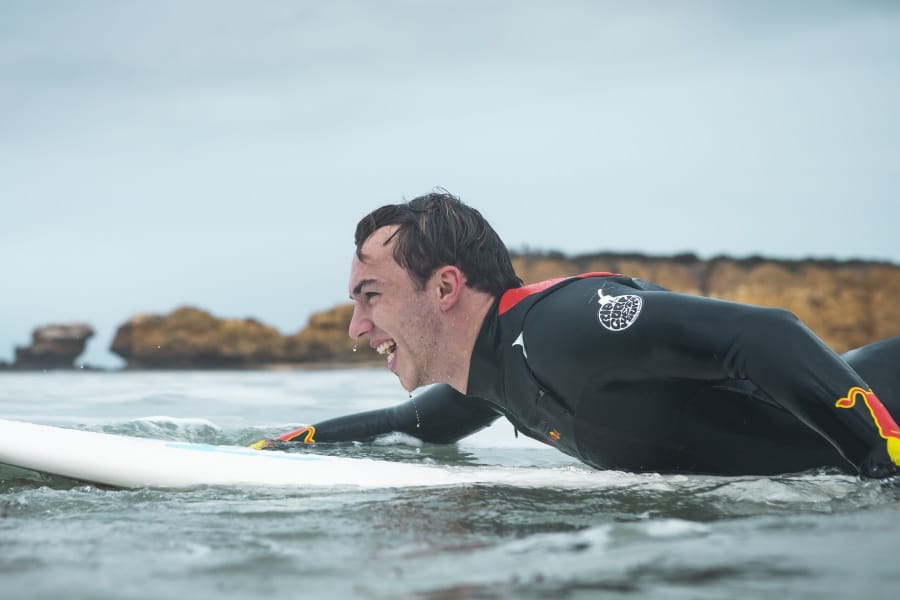 Where've you surfed in France?
Actually not too far from Hossegor, but a bit more north, in Cap Ferret. I never imagined I'd have surf lessons from Mick Fanning. He is legendary, and it was a really amazing experience.
Will it be on your list of things to do every time you come to Australia?
I wish! I wish I could! But I'm not sure. I need to raise my skill level and hopefully, I will be able to do something again in the future.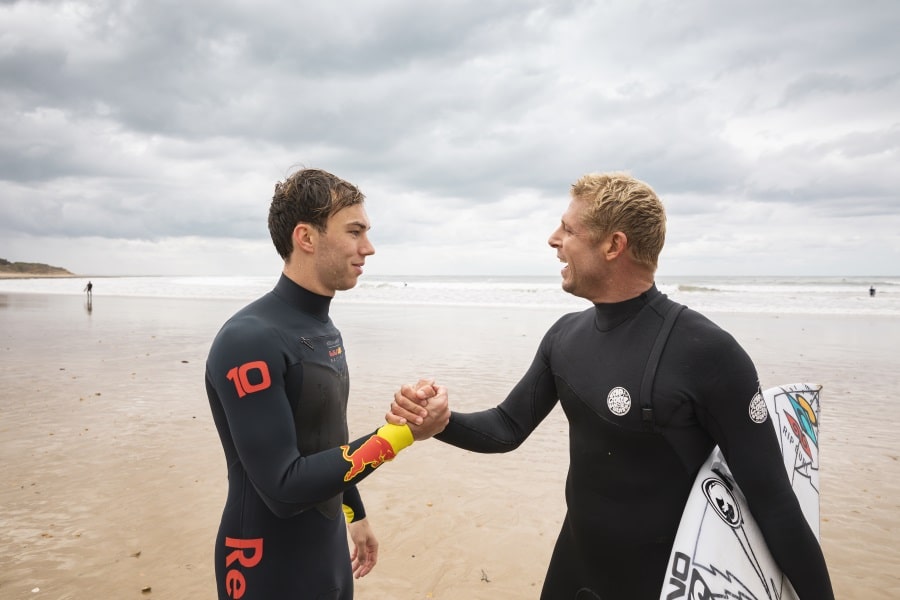 Out of you and your teammate Max, you were the only one to get in the water. Do you think that's going to give you a leading edge on Sunday?
(Laughs) I think that was the experience of a lifetime. It's not every day you get the chance to meet such a legend, and to get in the water with him, so let's say I'm really pleased to have done this.
Will you ever return the favour on the F1 track?
I told him! I told him we need to organise something with some race cars. I've heard he already did something with Daniel (Ricciardo) in the past … I'll see if we can sort something out.
Congrats on your new position, now with Red Bull Racing. Obviously, a huge step and you've had an interesting career; you've moved around quite a bit which gives you a lot of experience. But as a newcomer in the sense of your current role, what are your predictions for this season?
You know what, the best way I've found to get the maximum performance out of yourself and out of the whole team is had by focusing on your own performance. Not really looking at the results but more the process and the things you need to do to actually get those results. I'm not really focused on the end result but more what I need to do inside the team with the engineers, in the simulator, with my trainer, just to be 100% of myself when I come to a race weekend.
As you said, I'm only in my second season in F1, so I know I still need a lot of experience, and to learn. But it's actually the best team to be in to be a world champion. I'll try to get that knowledge and that experience, with the speed I have, to get the best results for them.
How are you liking the new Honda engines?
It's great, it's honestly great. We had a positive first feeling in Barcelona during testing with it. I think it's been a really good step, they are pushing massively at the moment and we can see the improvements. Of course, we are always pushing them to deliver even more. But this is definitely good compared to last year. Hopefully, we can keep improving like this.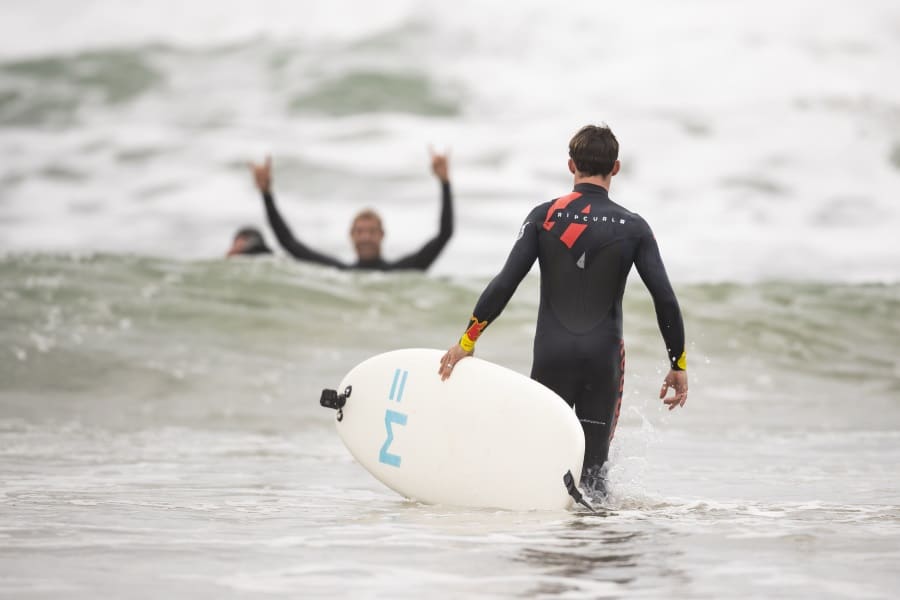 Albert Park is always exciting because it's the first race of the season, but how do you find the track?
I don't have much experience there. Last year was my first time, and it's a pretty tricky track you know it's a street track, really bumpy, quite narrow everywhere. And then the engine blew up after 13 laps so I didn't have a lot of experience after that weekend, but it's just exciting to come back. New tracks are always an exciting moment and, as you say, its the first one of the year, everybody is excited to get back to racing wheels to wheels and yeah, I'm really looking forward to this.
What's your ritual for going into a race? What gets your head into it?
I try to be really focused on the present, and take each session at a time. Before qualifying, I never really think about the race itself, I just focus on the session and the job I need to do right now.
On Sunday, after lunch, I go into my room for 20 minutes, lay down, and have a nap. Most of the time I fall asleep in two or three minutes and then wake up 20 to 25 minutes later. And I just feel pumped, I just feel like I'm full of energy; focused.
That's my way to disconnect and get the energy before the race. Then I do my physical warm up with my trainer, so we have the same routine all the time. I listen to some music, it puts me in my zone.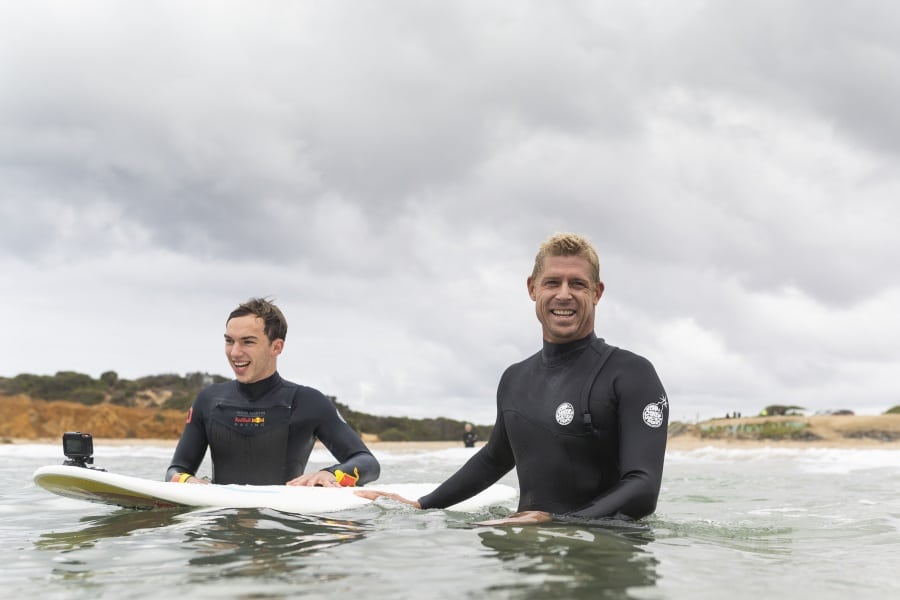 What music?
I'm really into American rap. I love all sorts of music, but in this kind of mood, I just want something that pumps me up. I love 50 Cent, I tend to put this on a lot, but with new songs coming out all the time I always update the playlist.
You're part of the Red Bull family, which covers so many different athletes over the world, with all of their high risk, high reward sports. Do you think there's something to that that you wouldn't get from another team? Being part of that family?
Yeah, I think you're completely right. They are just involved in so many different things. From in the sport itself, also to cultural stuff, whether it's music, whether it's painting, whether it's building planes, jumping in the water, cliff diving, flying helicopters, doing flips and stuff. You just get the chance to meet some incredible people from different sports and share experiences.
The way you prepare yourself, sharing where they live and the crazy stuff they did and trying to basically use their experiences to live some special moments.
It's clearly an amazing opportunity. That's what I said this morning: "Without Red Bull, I would have never been able to meet Mick Fanning." This gives you opportunities and opens doors that would never be possible without it.
It's a great family and I will say (with) all the athletes, it's always great to meet each other, get together, and we always have a good time together.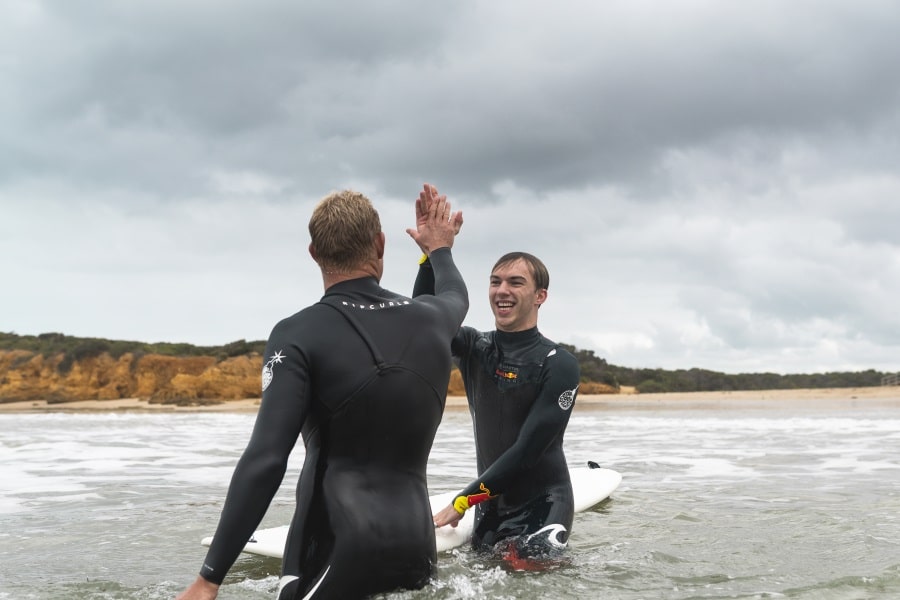 So apart from surfing this morning, do you have any particular highlights of Australia, so far?
You know what really impresses me all the time I come here, is just the fact that people smile all the time. I'm a really positive guy, and that's not always what you get in Europe; there's a lot of complaints about everything, you can always find a way to complain or not be happy about something, but it just depends on the way you look at things.
When you come here and you see people walking by themselves in the streets and just smiling, you know, it gives you a smile as well. It's just this kind of positive energy here that is super cool. It's only my third time in Australia, but every year, I'm always impressed with the same thing.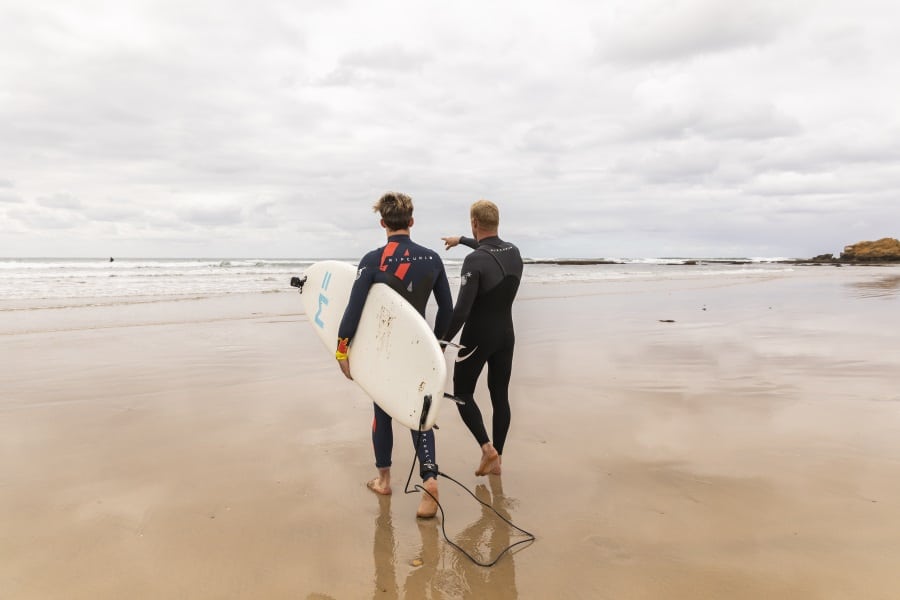 With many more to come, I hope. Lastly, who do you look up to most as a driver?
Senna would be the first one. But then, at the same time Prost, even though they had that fight together. Some people are like: "Ah you cannot go either one" or "You have to go with either one or the other", but fo,r me they are two legends of the sport.
Also, Schumacher, because he's the one I looked up to when I was a kid, physically watching the races, as my first few memories. But then at the same time, you know guys like Lewis (Hamilton), Seb (Sebastian Vettel), even Fernando (Alonso), are guys I looked up to when I was like ten years old. Ten, eleven years old I was in karting, and basically, I was watching them sort of like idols, and now I'm racing with them.
So it's different but I still get that look at legends of the sport and they're really, really exceptional in what they do.
The writer travelled to Torquay as a guest of Red Bull.
---
You'll also like:
Top F1 Driver Salaries for 2021 Revealed
F1 Driver Romain Grosjean's 'Miracle' Escape After Terrifying Crash
TAG Heuer Celebrate their Aston Martin Red Bull Racing Partnership Ahead of the F1
---