WAW Handplanes are a Sure-Fire Way to Improve Your Bodysurfing
WAW Handplanes is an Australian brand take bodysurfing to the next level. Based in Sydney, WAW Handplanes are made from sustainable, recycled and reclaimed materials so you can enjoy barrels without leaving a trace.
Any bodysurfer will tell that you that a handplane is essential for maximising lift, improving manoeuvrability and maintaining power while in the surf. With WAW planes you can achieve all of this while representing a natural and modern aesthetic.
WAW planes are handmade from recycled construction timber, and sustainable plantation paulownia, which is 100% Australian grown, plus recycled wetsuits are used for the adjustable hand straps. The timber handplanes are a thousand times better for the environment compared to most plastic and fibreglass handplanes. Plus they look as sleek as any piece of modern furniture. Timber is not only an environmental choice; it also creates the best performing handplanes. It's naturally buoyant and long-lasting.
The WAW range accommodates everyone from professional bodysurfers through to first-timers and even children. It's all about selecting the right board for your skill level than a design that embodies your personality. If a natural timber finish is not your jam, WAW collaborated with Indigenous artist Zachary Bennett-Brook of Saltwater Dreamtime for a range of hand-painted planes with artwork that represents the many shades of the beautiful NSW coastline. Leashes are recommended for use on busy beaches, big/heavy waves or for small children.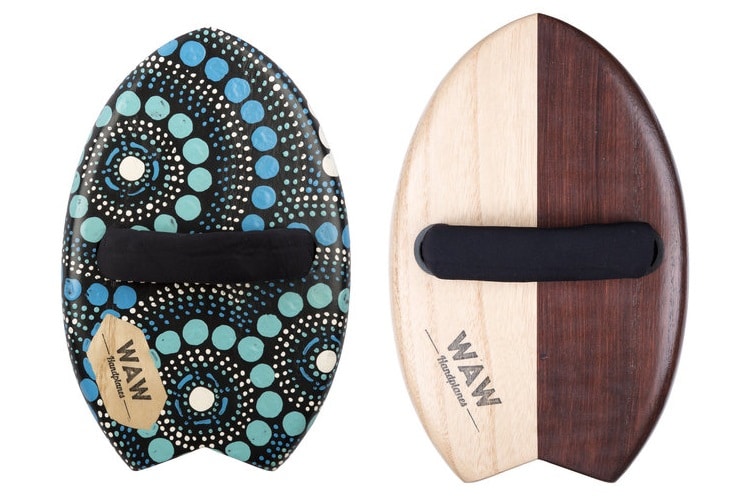 WAW Handplanes is founded by Rikki Gilbey, an environmentally conscious carpenter and body surfer who has combined his woodworking skills, love of the environment and bodysurfing into a brand that is committed to giving back. To date, WAW has recycled more than 200kg of wetsuits previously destined for landfill and planted over 2000 native trees with its One Handplane One Tree program through the Carbon Neutral Charity Fund. That's basically an entire forest!
If you care about surfing and the environment be sure to check out Fin For a Fin – an initiative promoting the coexistence of surfers and sharks.
Have you subscribed to Man of Many? You can also follow us on Facebook, Twitter, Instagram, and YouTube.