How Quiksilver Boardshorts Reflect Surfing's Rapid Evolution
In Partnership with Quiksilver
Few sports continually evolve as much as surfing. While some are reliant upon the advancement of technology to thrive (i.e. F1), and others find their identity in tradition, with little to no changes over decades upon decades (i.e. golf), surfing both adapts to its environment, as well as influences it.
From the size of the boards to the way in which they're ridden, surfing started as a sub-culture which flicked a middle finger to societal norms in the late '60s, and is now a viable career option for those riding their professional crest.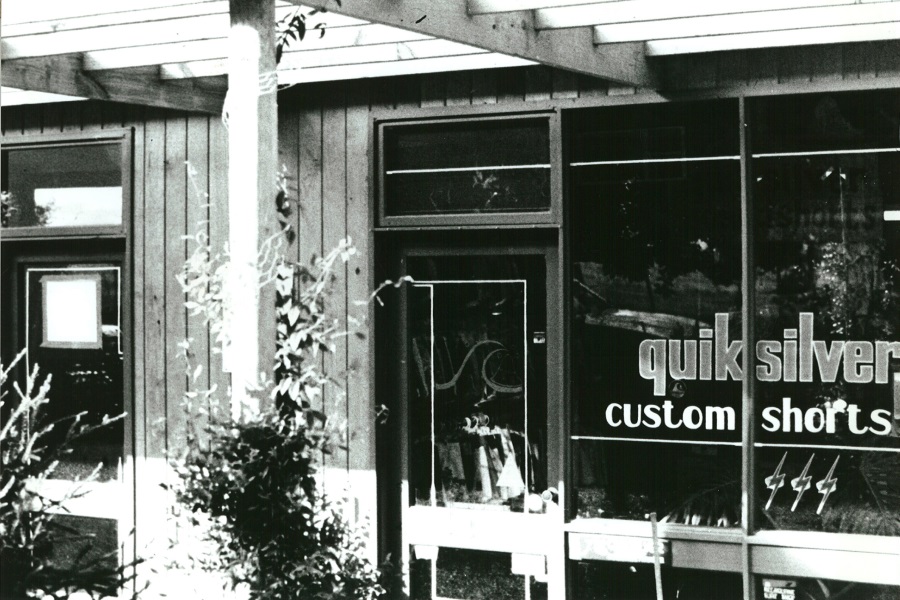 And few countries have had as much influence on the world of surfing as Australia. Since Hawai'ian national Duke Kahanamoku first carved a longboard at Sydney's Freshwater beach in 1915 and stood upon the waves, while onlookers watched in awe, Australia has been obsessed. The V-bottom board, which was instrumental in the development of shortboard surfing, is an Australian invention, and if you threw a dart at a wall covered in varying surfwear brands of international repute, you'd be safe in betting that the name you hit would have found its start down under.
One thing that has remained the same for decades and decades, however, is the truth that every surfer can't wait for the weather to heat up, so they can swap their wetsuits out for the preferred surfing garb: board shorts.
Boardies are more than just a surf accessory donned by denizens of the waves who need a comfy outfit: they're a summer staple for anybody who lives by the sea (and in many cases, nowhere near the sea, too.) And just as the sport for which they were first designed has continued to evolve, so have the offerings from surf companies, who have invested in some seriously scientific, forward-thinking developments to improve how people surf over the years.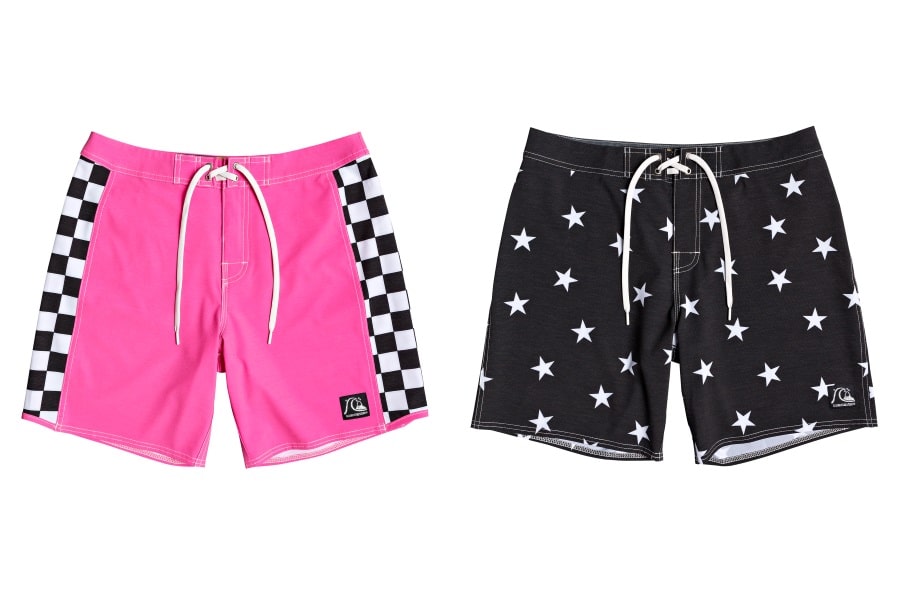 Today, what looks like a humble pair of board shorts often has little in common with those from surfing's nascent days. Newer, lighter materials with moisture-wicking capabilities, tried-and-tested closures, and hi-tech stitching all employed to create the most comfortable pair of shorts with the greatest range of motion possible.
Quiksilver came onto the scene in Australia in 1969, at Torquay in Victoria. In the 50 years since, their boardies have gone through just about every other changing fashion trend you'll find; from tight trunks to baggy shin swingers; neon prints to conservative colourways, and press studs to old faithful: velcro. And, through it all, the brand has stayed true to its motto: 'If you can't rock 'n' roll, don't fucken come.'
This year, Quiksilver released three new capsules to commemorate three of surfing's biggest eras, and how their designs helped shape the way the world viewed surfing. Here, we're taking a look at some of the prints, colours, faces and styles that have proved surf history to be one of the richest and most genuine topics you'll likely find across any sporting discipline.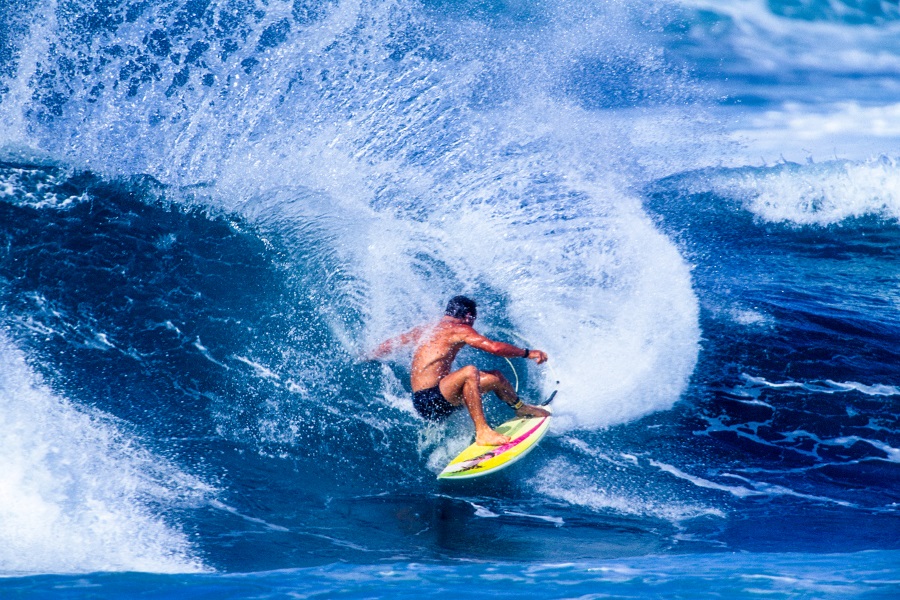 ST Comp
Once the '90s had well and truly established itself as the era of sports innovation, surfwear quickly followed suit, and new materials which allowed for greater movement allowed pro surfers to start incorporating wide, sweeping movements and big aerials into their standard trick procedure.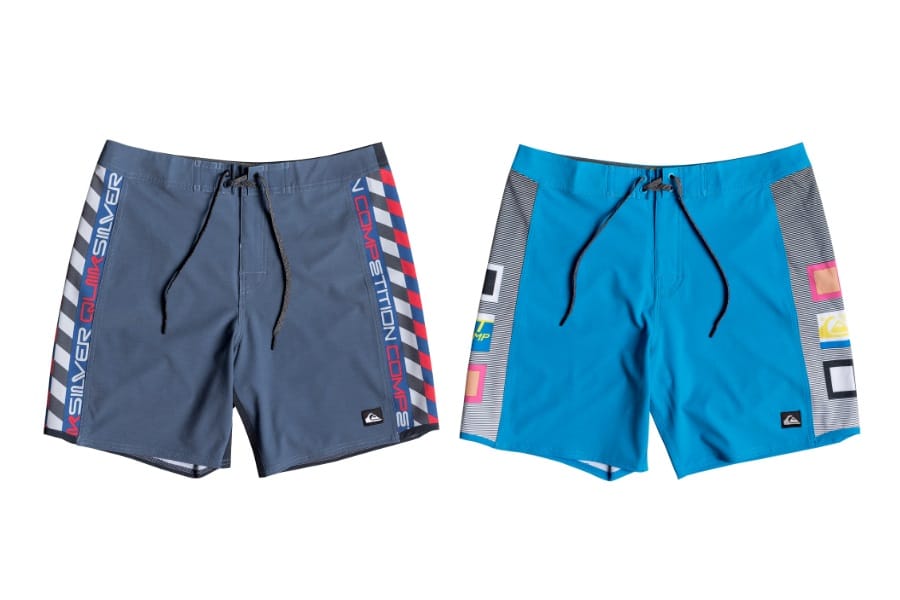 Just as Formula 1 had become incredibly popular around this time, surfing was gaining popularity as a spectator sport and professionals were becoming faster, more dynamic in their performances, and more competitive. What people saw on a wave went from being impressive to those in the know to impressive to everybody, and some of the biggest household names today made first their mark at this time.
One of these names is, of course, Kelly Slater. Shunning the rebel surfer persona, Kelly brought to surfing an attitude congruent with the modern professional athlete. Bursting onto the scene in his rookie year, Kelly's flawless technique was only matched by his willingness and ability to push boundaries. For the first time ever, science and surfing began to collaborate, developing better boards, better fins and Kelly took to this like, well… a fish to water.
Now, three decades on from when he first paddled out in his ST Comp's, King Kelly has announced his retirement. Looking back, there isn't an aspect of professional surfing he hasn't touched, bought, changed or reinvented. Since him, the sport has never been the same and the ST Comp collection is symbolic of this dramatic shift that occurred in the world of surfing–one which changed the world of sport for the better, and forever.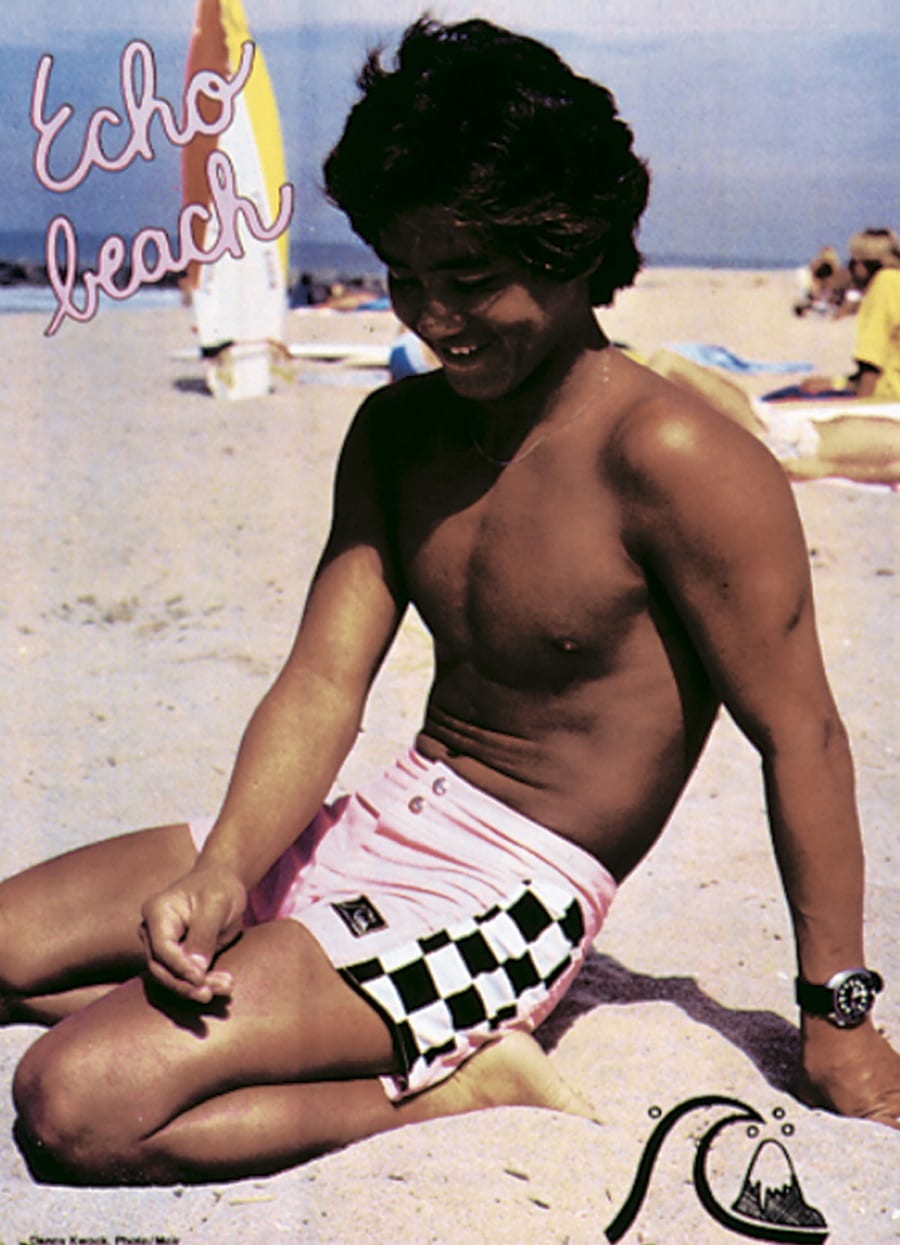 Echo Beach
Having only just been released this week, Echo Beach is one of the most exciting sets of dope designs from an era which left an indelible stamp on surfing.
The name alone brings back flashes of one of the most iconic guitar riffs of 1980. The twang of Martha & The Muffins guitarist Mark Gane's Les Paul–not traditionally an instrument associated with surf– is unmistakeable (and surf has never cared much for tradition, anyway).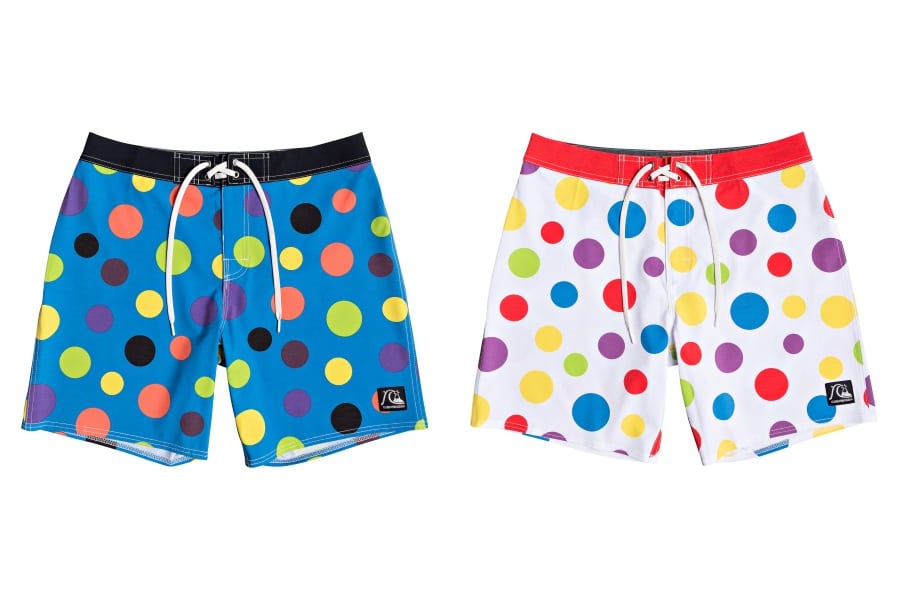 Somebody who never, from nine to five, had to spend his time at work, is four-time world champion surfer Mark Richards, one of the first entries into Quiksilver's extensive stable of talent. Richards wowed the world in the seventies as a teenager and was instrumental in how the Australian perception of surfers changed from being a bunch of long-haired layabouts to their being treated as serious sportsmen.
By the time Echo Beach was blasting the airwaves, Richards had chalked up quite a few serious titles for himself, and Quiksilver's boardies were becoming a common must-have as more and more people started to pick up a surfboard and hit the froth. The Echo Beach capsule from Quiksilver is the sartorial embodiment of one of surfing's most exciting and formative eras.
Warpaint
The awkward end-of-the-'80s-start-of-the-'90s era may have produced some of the most questionable hip-hop (or greatest, depending who you ask), worst hairstyles and excessive use of shoulder pads in the history of, well, clothing, but it also led to a new trend. Grafitti slotted in quite nicely with surfing. Both are rebellious, offering little more than a middle finger to convention, and they both became damn popular as well.
We're not quite sure if Ross Clarke Jones was born not giving a fuck or just used them all up too early in his life, but either way the eighties and Ross was a match made in heaven. The original Australian 'Hellman', Ross never was one for winning titles and looking pretty. All he wanted to do was ride rhinos.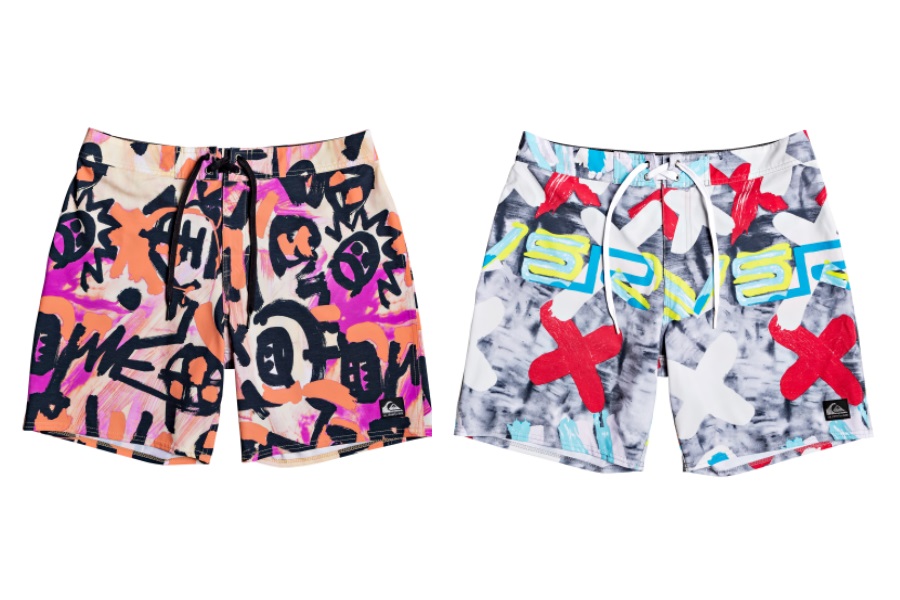 Surfing costs you the price of a cheap board and some time. In a similar way, graf artists could get their art displayed for the whole world to see relatively cheaply, as every building, train and tunnel served a second purpose: a blank canvas. And, also much like surfing, if you were the one spraying the side of a wall, you knew that it was pure art, no matter what 'the man' had to say (and the bigger the wall, whether water or mortar, the better).
Just like those who left their mark with a spray can at the time, Clarke Jones left an indelible stamp on the world of surfing, and Australia's psyche, once again proving that nobody has bigger coconuts than an Australian on a surfboard.
And the mad bastard is still doing it.
Available from September, Warpaint is Quiksilver's homage to this creative era.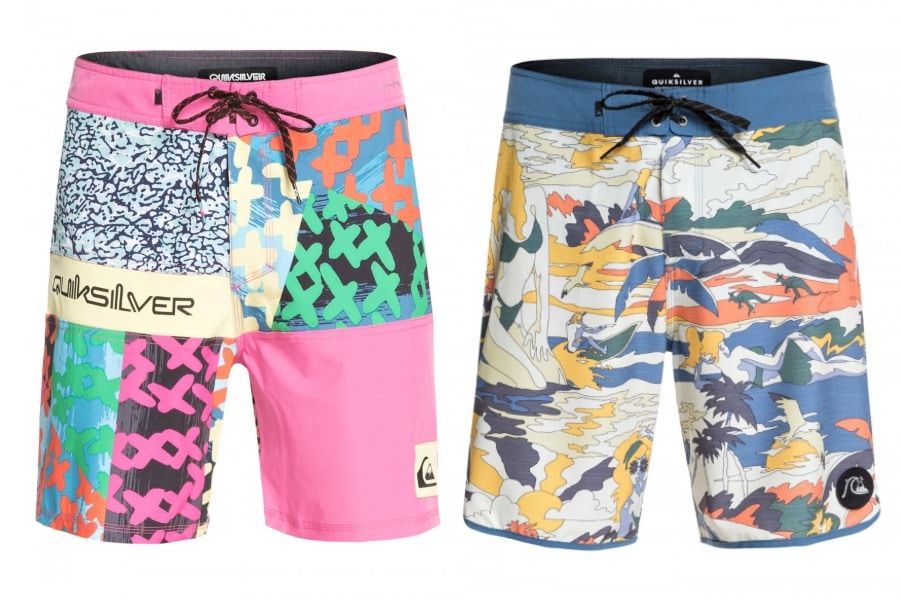 Quiksilver's Evolution
The very nature of surfing's continued development in all of its aspects leaves little space for brands to rest on their laurels. As Quiksilver nods to their heritage with these exclusive capsules, released sporadically throughout the year, they're still most noted for their tireless commitment to developing better boardies. And there are plenty of surfers who see the hi-tech side of modern surfing as a major drawcard, and would rather ride with the latest and greatest gear rather than a wave of nostalgia.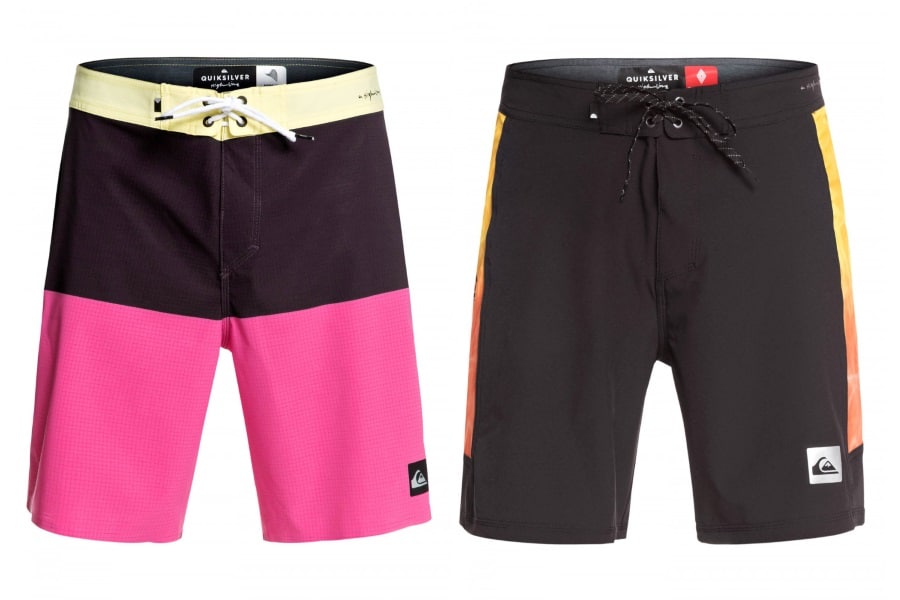 Quiksilver's ongoing Highline collection is developed with the company's family of pro surfers, culminating in a range of modern designs that are all manufactured for comfort, durability, originality and versatility. The moisture-wicking quality of the sustainably produced materials is so comfortable and practical it's even become the go-to garb of choice for gym junkies looking for a better-suited type of hard-wearing active wear.
These are the boardies worn by some of the biggest names on the professional circuit. From Jeremy Flores to Mikey Wright; Kanoa Igarashi to Jesse Mendes, those who spend more time on a beach than they do in bed are still enamoured with Quiksilver's ability to create the best set of boardies money can buy.