Aquajet H2 Water Scooter Takes Flight Under the Seas
Flippers might be good for a casual snorkel, but propulsion under the water is that much easier with the Aquajet H2 Water Scooter. If you dive, then you know the importance of oxygen preservation. A big culprit for burning up oxygen is all the effort it takes to dive (and stay) under the surface of the water. The Aquajet H2 Water Scooter takes over that job for you.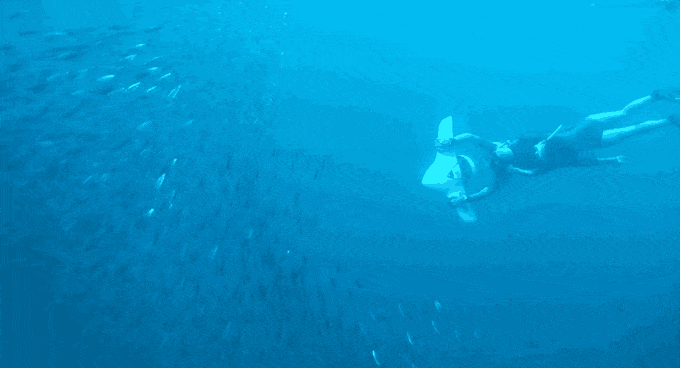 The Aquajet H2 looks like a flattened torpedo with wings. Those wings provide handholds and controls for the diver, while the right-hand switch controls acceleration with three different speeds (three, six, and nine km/h). The left-hand turns the unit on and off; direction happens by tilting the wings or the nose. The Aquajet H2 is electric, but the battery has an extra-long life of over 100 minutes (and because it's electric, you won't have to worry about spooking marine life because of a loud motor).
The Aquajet H2 has a positive buoyancy, so it won't get lost to Davy Jones' locker if you lose grip. You could even use it as a flotation device in emergencies, and speaking of, the Aquajet H2 is powerful enough to pull four adults, so you can use it in rescue missions. It's powerful enough to deal with ocean waves, something other DPVs have struggled with, and you can also mount you GoPro to capture underwater footage in depths up to 60 feet.
You can pick up an Aquajet H2 Water Scooter on their campaign page on Indiegogo for an early bird price of $799.
Have you subscribed to Man of Many? You can also follow us on Facebook, Twitter, and Instagram.