Oceanco's 109m Yacht Comes to LIFE
Oceanco has a new, innovative approach to yacht building: LIFE. An acronym for "Lengthened, Innovative, Fuel-efficient, Eco-friendly," LIFE, developed by Lateral Naval Architects, uses intelligent naval architecture to find a balance between a yacht's power, weight, technical areas, and, of course, luxury. The first yacht to come out of this approach is the Oceanco 109 meter Project Bravo, which was launched on November 17, 2018.
You'll also like:
This Superyacht Was Once a Russian Navy Ship
IWC Pairs with Solaris Yacht for Nautical Precision
Lamborghini Partners with Tecnomar for a 4,000hp Luxury Motor Yacht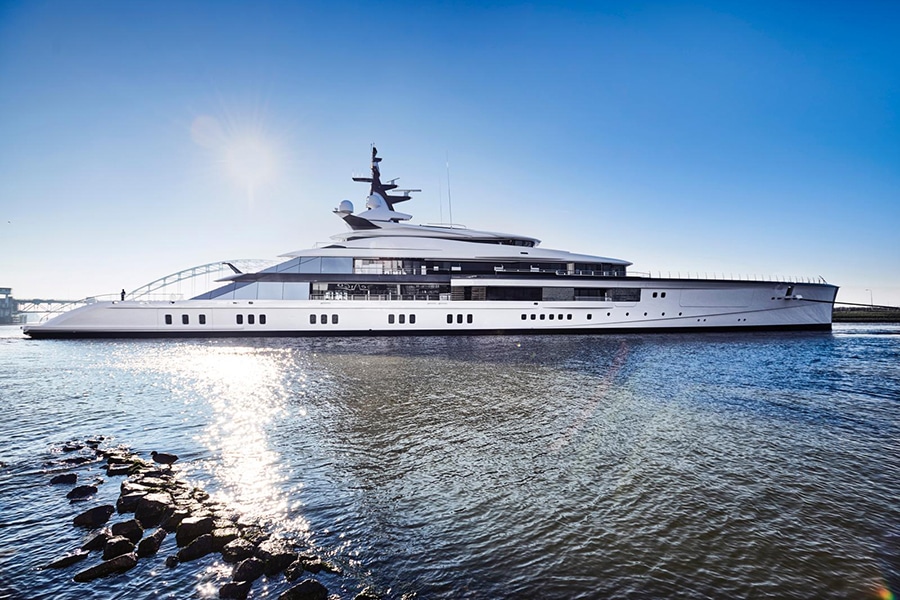 "A bespoke project of such magnitude and splendour will always present interesting challenges and opportunities," said a spokesman for the yacht's owner. "With Project Bravo we created a truly spectacular yacht whose excellence is a clear reflection of the commitment of a dynamic and professional project team." That's slightly understating things. Project Bravo was the largest yacht to be built in the Netherlands at the time of its launching. It also featured a single-tier engine room that was equipped with a hybrid propulsion system. The battery capability of this engine made the yacht more eco-friendly, but it also increased the availability of interior space. Lateral Naval Architect's director James Roy explained, "The LIFE design's use of advanced hybrid propulsion incorporating significant battery capability, combined with a single tier engine room, allows novel use of space to deliver areas of outstanding luxury accommodation." That luxury accommodation was achieved by using custom artwork, fabrics, and furniture. The result was an interior that is warm and inviting.
Project Bravo maximizes that space without compromising the sleek design of the yacht. Measuring 109 meters with a 16.3-meter beam, the yacht is massive but doesn't appear to be. "Our approach with Bravo was to maintain a stunningly sleek profile without sacrificing any interior space," says Dan Lenard, a senior partner at Nuvolari-Lenard. "The new exterior style concept is bound to create a new design stream. It is important to us that we started this new stream together with Oceanco."
You'll also like:
This Superyacht Was Once a Russian Navy Ship
IWC Pairs with Solaris Yacht for Nautical Precision
Lamborghini Partners with Tecnomar for a 4,000hp Luxury Motor Yacht