Safehaven Marine's XSV 17 Thunder Child is the Stealth Fighter of the Open Seas
Safehaven Marine has designed a speedboat meant for naval, law enforcement, and offshore patrol—the XSV 17 Thunder Child. The straight lines and sharp corners is reminiscent of the f-117 Nighthawk, the first aircraft designed with stealth technology. While the Thunder Child has no reported stealth capability, the look is similar, making it appear to be invisible to radar. Regardless, you wouldn't want this boat sneaking up on you. Slap a bat insignia on it, and the Dark Knight would proudly patrol the seas in this intimidating craft.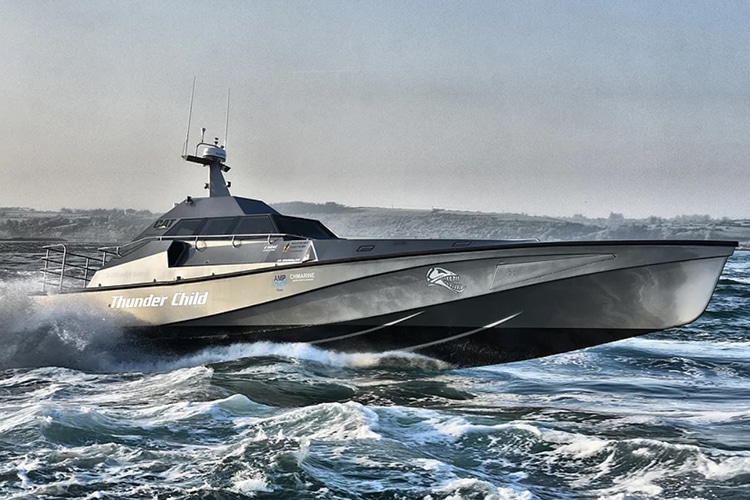 Safe Haven Marine claims that the Thunder Child is a "very high speed, wave piercing, low interceptor" and they have the power to back it up. Thunder Child is powered by a pair of Caterpillar C12.9 engines that are not only turbocharged, but supercharged as well. The engines are intercooler diesels capable of 1,000 horsepower each. With a propulsion system created by Metamarine in Italy, the Thunder Child is capable of maximum speeds of 54 knots (that's a little over 62 miles per hour). Thunder Child also has long range fuel tanks, giving the boat a range of over 750 nautical miles.
Thunder Child isn't a two-seater, either. You can comfortably seat 10 passengers, with a separate head and sleeping compartment in the forward cabin. Crews are kept safe in four water tight compartments and with Thunder Child's self-righting capsize recovery ability. Pirates and smugglers beware—you won't outrun Thunder Child and its large crew capacity makes for an intimidating boarding party.
Have you subscribed to Man of Many? You can also follow us on Facebook, Twitter, and Instagram.