Audi TT RS Heritage Edition: A Fond Farewell Release
The Audi TT RS has been a fan favourite amongst Audi aficionados since its release in 2016. Powered by that iconic 5 cylinder engine, the RS was finally the powerplant we deserved to match that stylish exterior.
Unfortunately, 2022 will be the last year North America gets to see the TT RS before it's retired to the history books. But, Audi has decided to give the 5-pot a well earned send off with the TT RS Heritage edition.
Only 50 of the cars will be made available, designated by five unique paint combinations. The heritage colours pay homage to the legendary Audi Ur-Quattro, which was the car that cemented the 5 cylinder engine in folklore.
The engine featured in numerous motorsport victories from rally to tarmac, including the legendary 24-hour Nurburgring race. It even earned the "International Engine of the Year Award" nine times in a row.
But let's face it, it's always been the sound of that rare motor that's captured hearts around the globe. Due to the odd number of cylinders, and the 1-2-4-5-3 firing order, the Audi five-cylinder engine's sound is unmistakable and (according to Audi) " presents a symphonic rhythm that is accompanied by deep tone characteristics. " AKA, it tickles you in special places.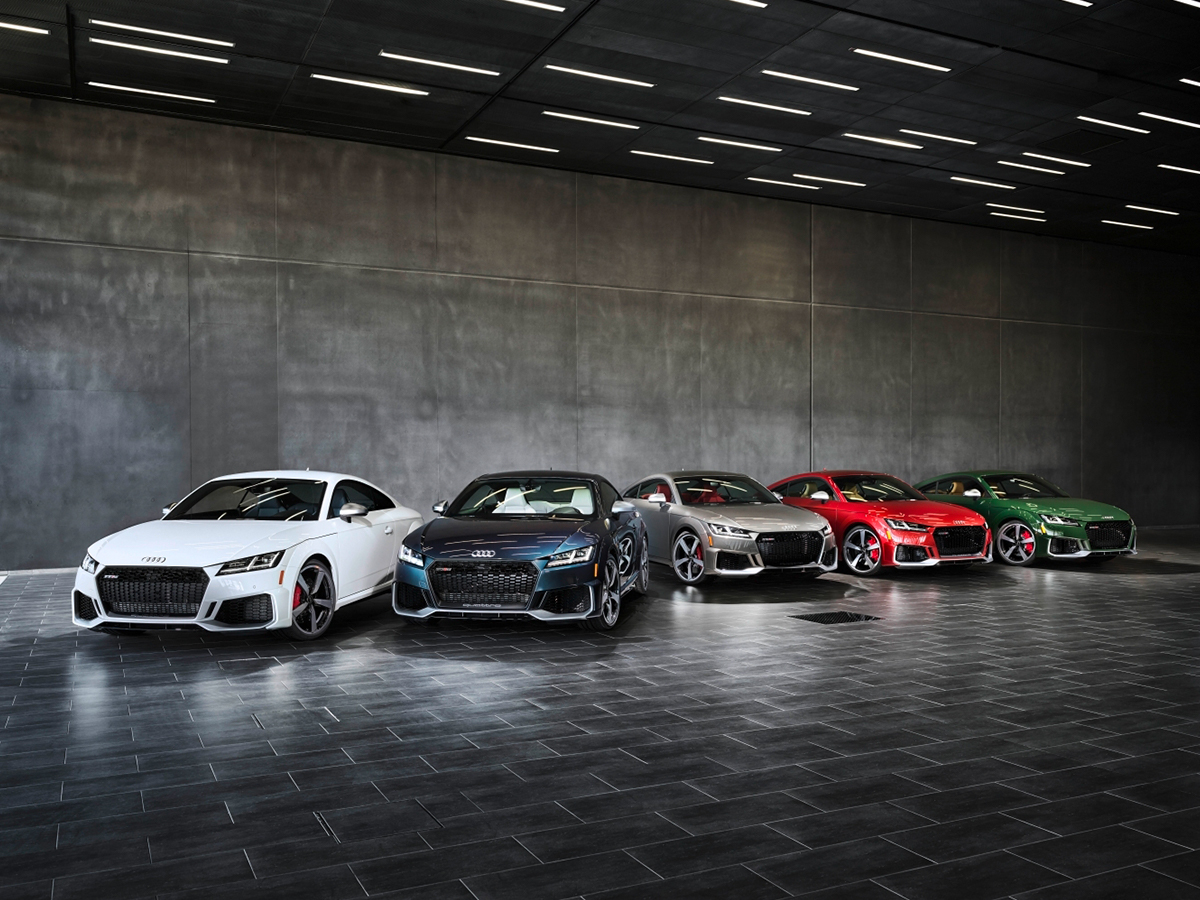 The colours are listed below (in the five-cylinder firing order) and are limited to only 10 units of each:
Alpine White with Ocean Blue leather and Diamond Silver stitch
Helios Blue metallic Diamond Silver leather and Ocean Blue stitch
Stone Gray metallic with Crimson Red leather and Jet Gray stitch
Tizian Red metallic with Havanna Brown leather and Jet Gray stitch
Malachite Green metallic with Cognac Brown leather and Black stitch
While 2022 is the last model year for the TT RS in the U.S, other markets should still hang on to the German coupe a little while longer.
No doubt Audi collectors and enthusiasts will be swarming over the fanboy colour combinations that deliver a tasteful nod to that legendary Audi five-cylinder engine history. The 2022 Audi TT RS Heritage Edition and the 2022 Audi TT RS model are expected to go on sale in the U.S. toward the beginning of 2022.  The Audi TT RS Heritage Edition is priced at USD$81,450 with the 2022 Audi TT RS going for USD$73,200.
2022 Audi TT RS Heritage Edition Technical Specs:
20" 5-arm cutter design wheels in bi-colour anthracite finish
Audi exclusive etching in rear quarter glass
174 mph top speed limiter
Alcantara covered steering wheel with 12 o'clock marker in leather colour
Alcantara covered shift lever
Alu-optic exterior elements including mirror housings
OLED taillights
RS logo floor mats with contrast stitching
Sport exhaust with black tips
Electric spoiler / rear wing delete
You'll also like:
2022 Porsche 911 GT3 Track Review: The Purist's Porsche
Project MAYBACH is Unlike Anything We've Seen from Mercedes-Maybach
2022 Ford Expedition Timberline: 440HP Urban Off-Roader Unveiled