For those unfamiliar, 'Shooting Brake' might seem like a curious name for a vehicle, but it's actually a term that's been in use for well over a century. With an origin that extends way back to the 1890s – when horse-drawn wagons were used to transport hunting parties that would otherwise have been overburdened with their equipment and game – it's remained a part of the vernacular despite the rapid evolution of our vehicles as we've traded the power of horses for horsepower. And while those 19th-century hunters certainly would've had their jaws on the floor if they'd had the good fortune to somehow lay eyes upon the Genesis G70 Shooting Brake, don't be surprised if – despite your modern sensibilities – you do the same.
The Genesis G70 Shooting Brake carries on the term's legacy by seamlessly combining elements of both the station wagon and coupé body styles. But what sets the G70 apart is the sheer elegance of its design both inside and out, all while maintaining the practicality of the roomy interior traditionally associated with Shooting Brake vehicles.
Maximum Space, Maximum Style
Obviously sharing a considerable percentage of the DNA present in its sedan counterpart, the G70 Shooting Brake's exterior embodies an athleticism rarely seen in vehicles of its kind. With its low-set crest grille and wide-spread front quad lamps evoking the posture of a sprinter awaiting for the starting pistol, the G70 Shooting Brake always looks ready for whatever you might throw at it. The vehicle's rear is equally striking, with another set of quad lamps and a single-piece glass hatch with integrated spoiler creating a streamlined aesthetic while maximising internal space and optimising ease of access.
Inside, fans of the recent Top Gun sequel will surely find much to like, as the incredibly polished driver-focused design clearly takes many a cue from fighter jet cockpits. Saying that, the G70 Shooting Brake's offering is considerably roomier than the source of its inspiration, as is the rest of its interior, with a trunk that's 40 per cent larger than the sedan edition. Combining that with a rear seat that can be folded at a ratio of 4:2:4, the G70 Shooting Brake can carry a payload large enough to put any fighter jet to shame.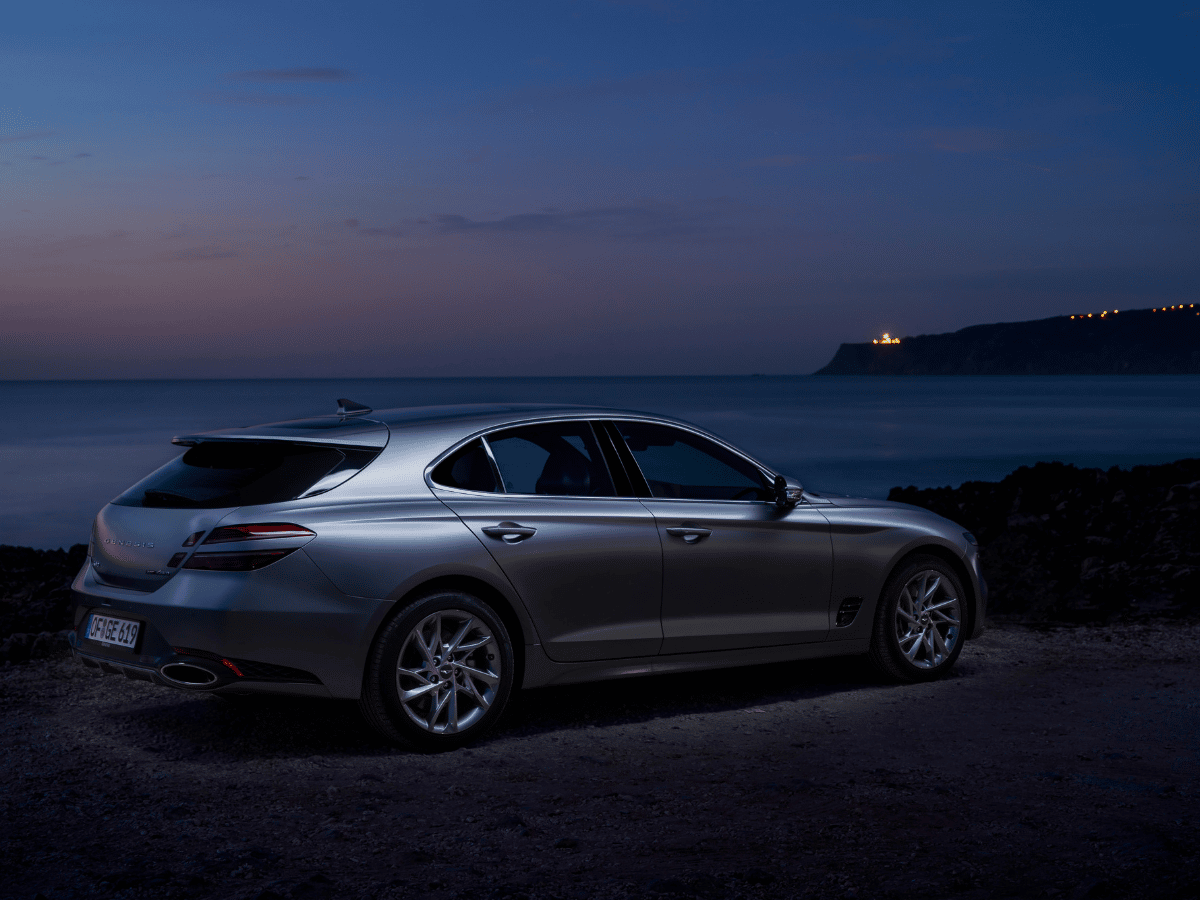 Sophistication & Safety
Stretching the Top Gun comparisons further than perhaps we should, the G70 Shooting Brake also features sophisticated safety systems that go far beyond Maverick's eject button. From its 10 airbags for maximum passenger protection, to a series of systems designed to help avoid forward, rear, and blind-spot collisions through alerts and automatically activated braking, the G70 is designed to keep its occupants (and its stylish paint job) as safe as possible. It even has your back after you've parked, thanks to a Safe Exit Warning system that helps to prevent you from climbing out while an approaching vehicle is detected in its blind spot.
With its impeccable mix of style and function, the Genesis G70 Shooting Brake takes the concept of a station wagon x coupé mix (with a little fighter jet thrown in for good measure) to new levels of sophistication and refinement. Its generous interior and immaculate exterior combine to create an elegant yet highly practical offering that's sure to turn heads and drop jaws no matter where you're headed.