Hennessey MAXIMUS 1000 Jeep Gladiator Truck Goes Beyond Ultimate
Jeep already has a reputation of being the rough and rugged ride that will go anywhere. With a strong military history, Jeep makes regular appearances as an off-road beast. When the 2020 Jeep Gladiator Truck was announced, Jeep lovers felt that the time had finally come. Never one to be outdone, John Hennessey took the Jeep Gladiator and turned it into a real powerhouse.
"We wanted to create the ultimate Jeep Gladiator," says John Hennessey of Hennessey Performance. The MAXIMUS 1000 drops a 6.2-litre supercharged V8 Hellcat engine into the Gladiator frame, mating it with an 8-speed automatic transmission. The end result is a monstrous engine capable of 1000 horsepower and 933 lb-ft of torque. Hennessey revamped the ECU, wiring harnesses, radiator, and fuel system, while also adding in a stainless steel exhaust system.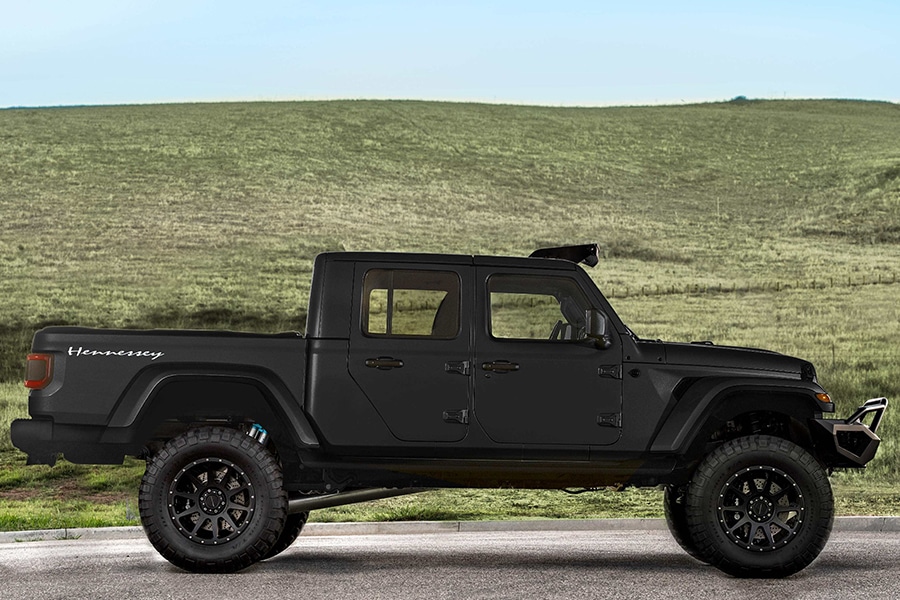 The front and rear bumpers also received the Hennessey treatment. The 1000 rides on a set of Hennessey 20-inch wheels shod in BFG 20-inch KD Off-Road Tires, which meant giving the Gladiator an upgraded suspension with a six-inch lift. It wasn't enough to just do the outside, however, so Hennessey also reworked the interior with custom leather upgrades and MAXIMUS embroidered seats.
Hennessey is keeping production of the MAXIMUS at a limited number of only 24 examples—the company will only build two a month for one year starting in July.
One of these ultimate Gladiators can be yours for just USD$200,000.