Isuzu D-Max Arctic Trucks AT35 is an Apocalypse-Proof Explorer
Explorer trucks live a tough life as they often have to go through some of the most inhospitable terrains and Isuzu D-Max Artic Trucks AT35 is well kitted out for that. The standard D-Max is an admittedly impressive canvas while nearly everything has been ripped out and re-engineered to conjure up this beast of a car.
You'll also like:
Dual-Cab Ute Power Comparison: How Does the V6 Ranger Stack Up?
FIRST LOOK: Ford Bronco Raptor is a Rock-Crawling Behemoth with 400HP
2023 Hyundai Palisade Ups the Luxury with Tonnes of Tech
Isuzu has built this truck in collaboration with Arctic Trucks technicians and significant changes have been done to the body, frame, drivetrain, suspension, wheels and tyres. It's also having a more intimidating stance thanks to the massive 35-inch tyres being fitted as standard while a lot of bodywork was modified to fit those ginormous 315/70 R17 all-terrain tyres wrapped over 17-inch matt black alloy wheels.
The suspension too gets an overhaul thanks to Bilstein front springs and dampers, rear dampers and additional front and rear body lift. As a result, the D-Max Artic Trucks AT35 seems to have gained a meaner stance while standing 50mm higher over the standard D-Max. It sure looks like an apocalypse proof truck with those comically large wheel-arch extensions and the increased ride height.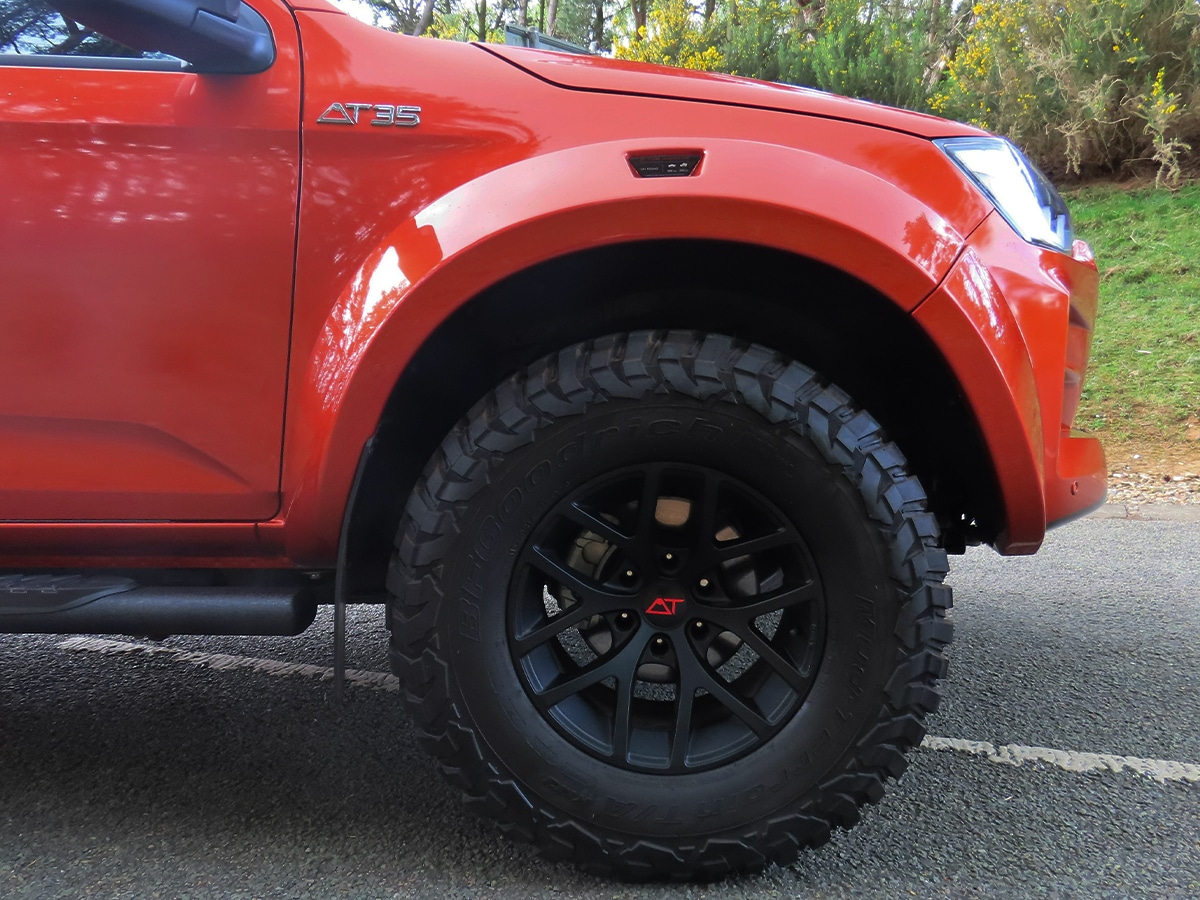 Off-road ability now takes centre stage with the ground clearance being increased to 266mm at the front and 290mm at the rear while it now has an approach angle of 35°, a departure angle of 29° and a break over angle of 34 degress. Hence, this monster truck can nonchalantly climb over literally anything while being unperturbed by large rocks.
Amidst all this, the D-Max Arctic Trucks AT35 gets basic creature comforts along with a dose of luxury as well thanks to a leather interior, 9-inch touchscreen, smartphone connectivity and an eight-speaker sound system. Special Artic Trucks appointed Isuzu dealerships are selling these in the UK while Isuzu partnering with a similar specialist for a tougher D-Max is very much a tantalising prospect for the Australian market too.