Jeep Overlander Concept is Farout
You've got to know if you work at Jeep and you're creating a new vehicle, somewhere along the line you're going to have to consider an overland version. Jeep is delivering on that with the new Gladiator Farout concept. Leveraging its class-leading 4X4 payload as well as the 3.0-litre EcoDiesel V6 engine, the Gladiator Farout goes a step beyond the Jeep Wayout Concept from last year.
You'll also like:
This 1984 Land Rover 110 is a True Gentleman's Dormobile Overlander
This Resto-Mod 1967 Dodge Charger is Downright Menacing
Land Rover Defender Shows its Mettle in No Time to Die Promo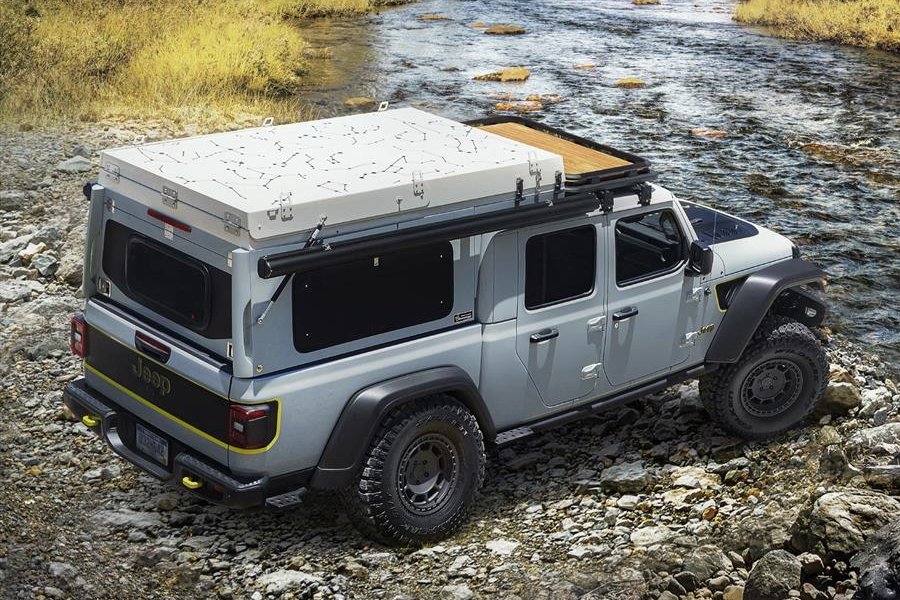 "Although we didn't get to celebrate in Moab this year with our latest round of concept vehicles, we're pleased to introduce the Jeep Farout concept today as a vehicle that blends Gladiator EcoDiesel's fuel efficiency with an area of features fans of overlanding will love," says Jeep's Head of Brand for FCA North America. "Building on the popularity of last year's Gladiator Wayout concept, and as overlanding continues to grow in popularity, this year's Farout concept is another opportunity to gather feedback from our passionate customer base."
The foundation for this build is the EcoDiesel V6. New for the 2021 model year, this engine is rated at 260 horsepower and boasts 442 lb-ft of torque. Boosting its eco-friendliness and its fuel efficiency, the new engine also features engine stop-start technology, and can achieve 28 miles per gallon of highway travel and a 538-mile range. To make it a true overlander, Jeep outfitted the Farout concept with a customized deployable roof-top tent. The tent measures 16 feet in length and is 7.5 feet tall, providing plenty of space for up to four adults to sleep.
Jeep also stepped up their interior game, lining the Farout with wood accents, dark smoke blue leather, orange stitching, and plaid flannel seat inserts. Soft ambient light lets you use the fully functional refrigerator and stove, as well as hanging storage racks, built-in seats, and table space. The exterior is just as handsome with its new "Earl" colour and chartreuse accents. A two-inch lift kit courtesy of Jeep Performance Parts offers more ground clearance—not that there isn't already plenty thanks to the 17-inch matte charcoal rims with 37-inch mud-terrain tires. The concept also comes armed with a steel bumper, a 12,000-lb Warn winch, custom front and rear rock rails, FOX performance shocks, and rear tailgate tow hooks. No word on pricing, but the concept is available for ordering.
You'll also like:
This 1984 Land Rover 110 is a True Gentleman's Dormobile Overlander
This Resto-Mod 1967 Dodge Charger is Downright Menacing
Land Rover Defender Shows its Mettle in No Time to Die Promo