M-Town: The Quickest Way to Destroy a Brand New X3 & X4 M Competition
There's something biblical about wide-open spaces and fast cars. Like vegemite and cheese, pitbulls and children, it's a match made in heaven. If there was ever a group that truly understood this, it'd have to be the boffins over at BMW. So, with that in mind, we joined BMW Australia in the middle of f*cking nowhere to try out their latest addition to their fleet of high powered M Series.
BMW M's newest performance offering comes in the form of an X3 M Competition & X4 M Competition. Typically considered a car for the eastern Sydney soccer mum, we'll excuse you for wondering what the bloody hell BMW was thinking when they gave these SUV's the M division upgrade.
However, while BMW reigns supreme in the luxury SUV offerings in Australia, they've always struggled to compete with the likes of Porsche, Audi and Mercedes who found a foothold in the mid-size performance SUV market.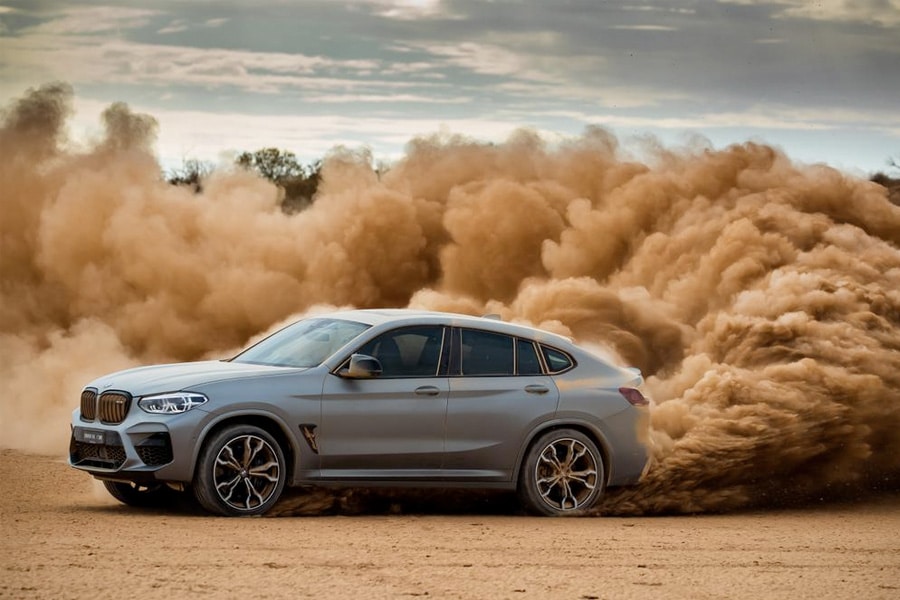 That is, until now. Boasting an almost entirely redesigned 3.0-litre twin-turbo inline six-cylinder petrol engine, the X3 M Competition & X4 M Competiton doesn't leave much to the imagination.
We'd love to sit here and talk you through exactly how these performance SUV's are the perfect blend of family-friendly and weekend warrior, but honestly, we can't. As far as how many school backpacks and squirming kids you can fit in the back, we don't have a bloody clue. But, if you're wondering if exactly how the X3 M Competition handles around an outback bulldust rally course, we might be able to help you out.
Located 400kms from Adelaide at the foot of the Flinders Ranges, this sunburnt countryside is about remote and desert as it gets. Without even a sprinkle of rain in over three years, not much survives out here. On one hand, it's one of the harshest environments on earth… But, on the other hand, it's got the makings of a bloody good rally course.
So, without further ado… Welcome to M-Town. BMW Austalia's petrol head utopia, where too much is just right. Yep, this sounds like the perfect place to put these SUVs to the test.
What followed can only be described as the manifestation of a 15-year-old petrol head's wet dream. Remember when you used to take mum's Mitsubishi Magna down to the stadium car park and chuck skiddies in the dirt? Well, it was exactly like that, but you've swapped the that '97 shitbox for a 375KW (that's over 500hp for you old-timers) twin-turbo SUV.
This is usually where we'd give you the old 'don't try this at home' adage, but honestly, we can't recommend it enough. Throwing the X3 M Competiton into a clay pan corner at 90kmph is about as close to divine as you can get with two hands, two feet and two tonnes of metal. It's only when the 21-inch performance Michelins dig into the bulldust and you see it spray over the bonnet that you start to wonder – how much damage is this actually doing to my fresh new X3. So, with that in mind, 'don't try this in your own car'.
Despite an official 0-100kmph reading of 4.2 seconds, those who know say the X3 & X4 M Competition's real reading is closer to 3.8 seconds. This puts it in the ring with the likes of the AMG GLC 63 S and even a stone's throw away from the Lamborghini Urus. But, Where the BMW SUVs find their footing is the dynamism, agility, and precision that comes with the unique M xDrive configuration. As you pull the trigger on the shotgun throttle, the X4 M Competition will quickly find itself at 150kmph and looking for more.
The interior styling has also received the typical M Series makeover. With Carbon Fibre trim, leather merino Msport seats and a big red 'Start/Stop' button, the X3 M Competition doesn't sacrifice luxury for performance. This is, of course, replicated in its sloped roof big brother, the X4 M. It's been a couple of years since the X Series refined the monstrous 'box on wheels' aesthetic and the, now distinctive, profile radiates an understated elegance that is sparse in the modern SUV range.
One of the first things you notice when you slide into the driver's seat is the two red tabs on either side of the steering wheel. The left reads M1 while the right, you guessed it, M2. Each M-mode stores a very different, individually selected setting suite. M1, described as the driving Ms. Daisy mode, represents the pleasant comfort mode for when you're taking the X3 M around your leafy Double Bay culdesac. Conversely, the M2 mode could be likened more Scarface. Violent, gritty but a helluva lot of fun.
If you're in the market, you'll be looking at a minimum spend of $157,900 for the X3 M Competition, and $164,900 X4 M Competition. This places them at the higher end of the performance SUV price point, but there are inimitable BMW touches to these SUVs that could, arguably, justify the extra coin. In terms of comparison, the only thing that separates the X4 M from its twin X3 M is a moderate loss in boot space. If Monday through Friday you are running the kids about, you'll probably want to fork out the extra seven-grand for the extra space, but other than that there we're splitting hairs.
We're yet to hear exactly how these suckers run on the road. But, our guess is the M Specific Chassis and Suspension will struggle to translate into the comfort you expect from a luxury SUV. Our advice before you start splashing any cash – take one for a spin first.