McDonalds Serving Up Nissan GT-R NISMO's Inside Happy Meals
In celebration of the latest unveiling of the 2022 Nissan GT-R NISMO, the brand has collaborated with McDonald's Japan. Announcing at its headquarters in Yokohama, that they will be serving up diecast models in McDonald's Tomica Happy Set (Japan's version of the Happy Meal). The 2022 GT-R NISMO be offered in both 'Stealth Grey' and a special 'Golden Arches' colour that will be highly sought-after.
You'll also like:
Style Guide: How to Dress Like Travis Scott
Burger Lords Carl's Jr. is Officially Coming to Sydney
25 Best High Protein Snacks for On the Go
We can't think of a better way to promote the most famous car moniker to ever leave the shores of Japan. And this latest 2022 NISMO variant will be the fastest and most 'track orientated' version yet. Serving as a reminder, the GT-R's 3.8-litre twin-turbo V6 delivers just under 600HP to all four wheels through a six-speed dual-clutch automatic transmission, that propels the 2021 car from 0-100km/h in 2.8 seconds. The latest 2022 variant will feature new weight-balanced engine internals for increased turbo response and faster revs, so expect that time to drop.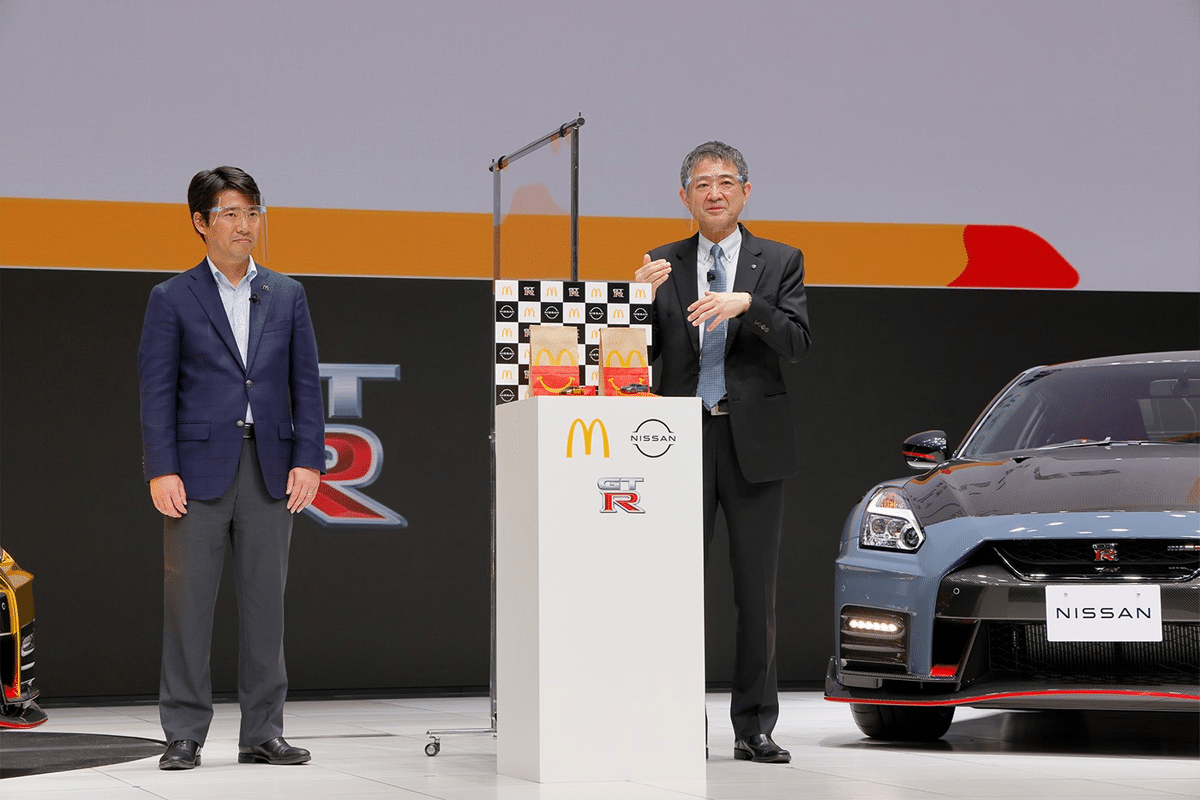 All NISMO special edition variants are built to order and feature hand-built engines, an exclusive clear-coated carbon-fibre bonnet and a set of Rays 20-inch forged wheels with red accents. All of which can also be found on the McDonald diecast models found in Happy Meals throughout Japan. The most sought after model will likely be the golden Tomica, which was unveiled alongside a life-sized version of the car and drove out from a massive Happy Set box at the unveiling, epic.
The collection also features die-cast versions of the Toyota 86, Suzuki Jimny, and Mitsubishi Delica. But unfortunately, the Happy Set Tomica GT-R promo will only be available in Japan for now between April 30 until May 13. We hope to see the GT-R McDonalds collection land on shores throughout the globe, but if we're honest, that's fairly unlikely.
You'll also like:
Style Guide: How to Dress Like Travis Scott
Burger Lords Carl's Jr. are Officially Coming to Sydney
25 Best High Protein Snacks for On the Go