Ricardo Militarizes 2019 Ford Ranger
Ricardo has built its business around creating vehicles—either bespoke concepts or adaptations of existing vehicles—for armed forces around the world. The company recently demonstrated a version of the 2019 Ford Ranger that could have military applications.
With a background of creating a fleet of WMIK light attack Land Rovers and the new Foxhound vehicle for the British Army, Ricardo is well equipped to modify and adapt vehicles for military use. The Ford Ranger, already Europe's best-selling pickup, also has a history of being a workhorse in industries ranging from construction to agriculture. Ricardo's vision is to provide a cost-effective transport that can fulfill several roles in security applications.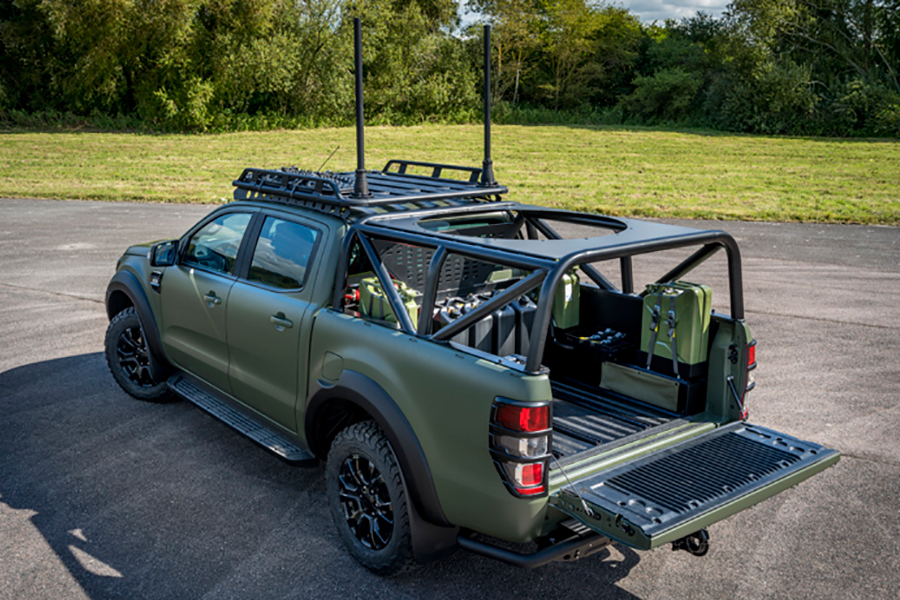 "The adaptation of existing and well-proven automotive platforms for defense roles provides an opportunity to deliver a robust, fit-for-purpose and highly cost-effective package that is easy to maintain, benefiting as it does from an established international supply chain of parts and service" states Ricardo special vehicles director Paul Tarry. "However, it is also crucial in such adaptations to engineer a solution that meets the exacting requirements of the intended applications; even the most robust commercially available vehicles is unlikely to meet this threshold without careful, role-specific adaptation of the type that Ricardo is ideally placed to provide."
For Ricardo, that meant adapting the Ford Ranger in a number of ways with even more options. The Ricardo version of the Ranger comes with different powertrain options, including the 213 PS 2.0L Eco Blue Bi-turbo diesel from Ford. Ricardo can also add on other options, like rollover protection or a ring mounted weapon system (similar to that of the WMIK). Militaries can also elect to have an armored ballistic underfloor and armored glass. Lightweight or heavy duty front and rear bumpers are also available. For off-roading, Ricardo applies skid plates for the radiator, powertrain and fuel tank as well as rock sliders. The Ranger can also be outfitted for wading and fording bodies of water. Upgraded springs, dampers, brakes, wheels, all-terrain tires, and a lift make for even easier off roading. The Ranger comes with NATO IRR paint/camouflage. The electrical system is upgraded as well in order to meet the power requirements and EMC protection needed for defense vehicles. While this may be intended as a military vehicle, these kinds of upgrades could easily find their way into civilian vehicles—especially those meant for harsh environments and adventures.