Saleen Takes the New Ford Bronco to the Desert
It's hard to argue with good logic. For instance, consider this statement from the CEO of Saleen Automotive, Steve Saleen: "With the popularity of off-roading, it makes perfect sense to further our off-road lineup with the Saleen Bronco." Of course, with off-roading being so popular, and with so many outfits jumping on the bandwagon, you've got to be able to differentiate yourself from the competition. Fortunately, the Saleen Bronco does that very well.
You'll also like:
Porsche Cayenne Turbo GT is a Record Setting Super SUV
The GT of Utes – The New VW Amarok Walkinshaw Series
An Icon Returns: Toyota LandCruiser 300 Series Launching in Australia this Year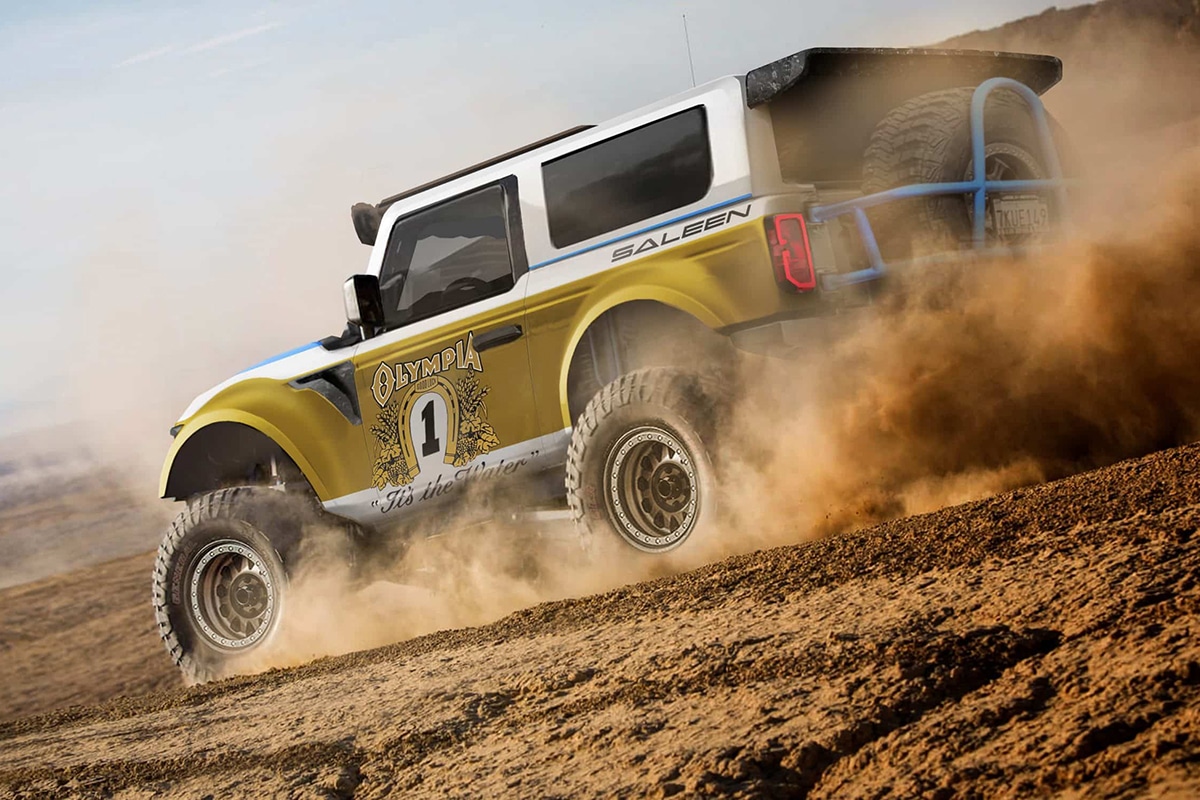 Saleen took a modern Bronco to create the off-roading vehicle, but they turned back the pages of history to find inspiration for the build. In the early 1970s, "Big Oly" earned a reputation for off-roading prowess, claiming the Baja 1000 title in consecutive years (1971 and 1972). The modified Bronco was driven by the legendary Parnelli Jones. The iconic Bronco recently sold at auction for $1.87 million. Such was the inspiration for Saleen, who started by dressing the new Bronco is the same livery—a gold and white scheme bearing the Olympia Beer logo on the side.
In addition to bearing the colours of Big Oly, the Saleen Bronco features a list of special parts developed by Saleen especially for the project. The rig also sports a new front bumper and a carbon-fibre skid plate. The grille is a Saleen special and features a blue accent. The front and rear fenders are also new and feature carbon-fibre vents. The hood has a Saleen "Power Hood" grafted into it, while out back a rear roof spoiler hangs out above a rear tire carrier. A large light bar finishes off the build.
Saleen hasn't shared much in terms of what else has been put into this build, but given their own history of excellent builds, you can bet that the Saleen Bronco will live up to the Big Oly colors that it wears. You can request additional information, such as availability and pricing, directly from Saleen Automotive.
You'll also like:
Porsche Cayenne Turbo GT is a Record Setting Super SUV
The GT of Utes – The New VW Amarok Walkinshaw Series
An Icon Returns: Toyota LandCruiser 300 Series Launching in Australia this Year